Pictures, pictures, and pictures…photos have now become a part and parcel of each of our lives. Whether we go to a restaurant to have food, or to a shopping complex to buy something, we tend to take pictures anywhere and everywhere…
And, now the latest craze is that of selfies and groupies. People used to click selfies and keep it to themselves or probably post them on social media platforms like Facebook during the initial days. But, Instagram has made this experience hassle-free as well as all the more exciting.
In this entry, I decided to write a post on how to get Instagram for iPad as it is a little tougher over the conventional ways of getting applications downloaded on smartphones.
But, before we get there, let us understand what is Instagram used for, how does Instagram work, what is Instagram app for iPad, how to download Instagram on normal mobiles and then, how to download Instagram for iPad.
If you write a lot of iPad, a physical hardware will work better. Here is how to use Keyboard on iPad.
Instagram – The Biggest Rage in Photo Social Networking
Instagram is one of the most popular apps for photo social networking, available with Facebook account integration to share pictures. It started with basic features of sharing pictures and now has evolved to be one of the global leaders in the application industry.
What is Instagram Used For?
Instagram was then used to share memories in the form of pictures and is still used for the same but adding on to the list of the features is now another feature which is videos. You can now also post videos and make your sharing experience better than ever before. Different people use Instagram for different reasons – for branding, for expression and some even for the pleasure of regular social networking.
How does Instagram work?
Well speaking about the functionality of Instagram and how it works there's nothing too complex, but let me explain to you in a few simple steps how it works and how you can make the best out of your Instagram account.
You will first have to download the application which I will discuss later in this article.
Ensure that your Facebook account is logged in into the phone which you have used to download the Instagram application.
Once you have downloaded the application, you will have to open it and wait for a while till it gets initialized
Following to the initialization is a screen which will appear with an option called log in with Facebook.
You have already got your Facebook logged in the phone you are using, now click on the option.
Once you have clicked on login with Facebook, Instagram fetches the basic information what it needs to create your profile automatically from Facebook
And then your profile is Instantly created.
Your profile is created! Now, what? Once it is done, you will have options to edit your profile and make it look more interesting. You can add or delete any information you want to. Start adding pictures and getting followers to kick start your Instagram profile! Remember, it is very important to have a catchy Instagram username to build a strong Instant presence and a following.
How to Getting Instagram for iPad
Well, the user perception on all the social media platforms has been common -"follow me and I will follow you back" and it goes the same with Instagram as well. Hence, following  more people and having interesting pictures on your profile builds a stronger following for you (not the same case for female accounts, though, just kidding!)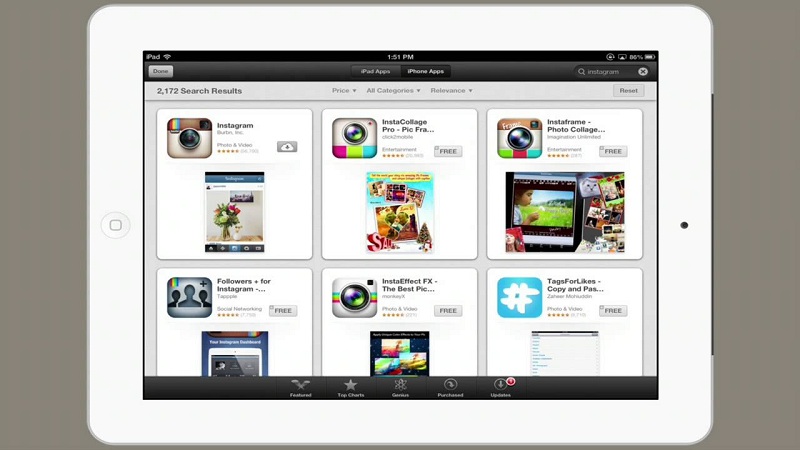 How to download it on an Android phone?
Well here the process isn't tough and nothing unlike the rest of the applications. You will have to follow the same process to download it on an Android phone. Check if you already it and then navigate to the google play store. Once you are there search for Instagram and the application will appear on the first result. Click on the application and you will be able to read more about the application what people have felt about it, you will find people sharing their experiences of using the application.
Now click on Install and the download starts. Once you have downloaded, you have a choice of directly opening it from the same screen you did the download from, or you can close the google play store, and you can open it from the menu where a new application logo would have already appeared. You may need flash player for running videos on iPad. You can see this which is clearly telling about getting Flash Player on iPad.
What is Instagram app for iPad?
Instagram for iPad is nothing different over the Instagram for the other phones; it is just a different version which you will have to download for your iPad. Well, the process might differ a little, though, but the user experience remains the same.
How to download iPad for Instagram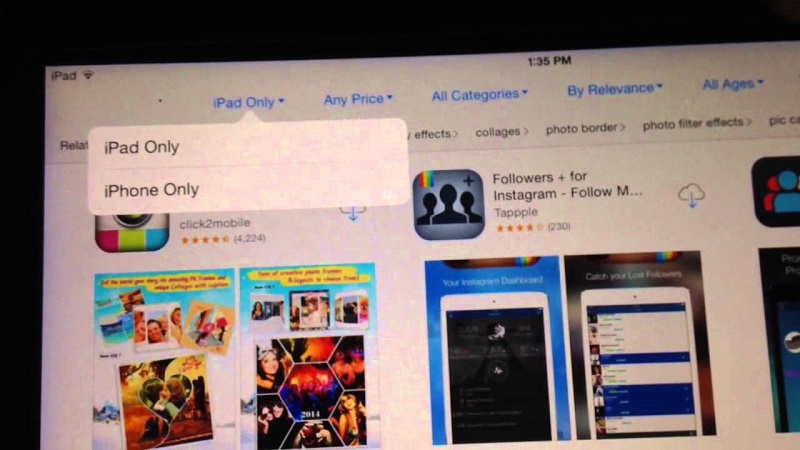 You will first have to go to the I store and do a check on all the applications you have bought.
If you have already used it before, you will get Instagram on the screen
Select the icon which appears and click on download.
Another way of downloading Instagram for iPad is through the featured search, on the right tab search for Instagram and it will prompt to you that it is only for iPad, choose on only for iPhone and click on download. It will automatically get Installed.
You might also choose to open your Instagram on your iPad browser and log in from there and use it but using applications have always been easier.
In this entry, we have briefly discussed about what the application Instagram is and how it can be downloaded on an iPad and used. The process is quite simple but a little tricky in some ways for the Apple users.
If you looking to take some screenshots of Insta pictures, here is how to take screenshots on iPad.
In our next entry, we will cover how to get more followers on Instagram and how having more followers on Instagram can help you build a great online presence apart from just being popular on the application. Well till then, click as many selfies as you can and post them on Insta, happy clicking!