I am sure that you have seen at least one Facebook verified page. But have you ever thought of how to get verified on Facebook?
The verified tick proclaims the authenticity of a particular page that you can trust them. A lot of celebrities and business ventures have been reaping benefits from the Facebook verification process.
Do you know it is impossible for you to get verified on Facebook? Then, you have just landed in the right place as I am going to show how to get the Facebook verification badge on your fan page. Also, get to know how you can verify Twitter Profile.
How to Get Verified on Facebook?
Getting verified on Facebook is not a tough row to hoe. You need to do a series of actions systematically so that you can verify the Facebook page.
Before getting deep into the core of this post, let me just tell you a few basic details about Facebook page verification.
Actually, there are two methods to get verified on Facebook. One is manual and the second method is automatic. In the manual method, you (or the page moderator) need to submit the required documents for verification. On contrary to this, FB automatically detects the profile to be authentic, and your page will get a verification tick mark. As an alternative method, you can seek help from FB offices to get verified.
You know how to know whether a page is verified or not on Facebook, don't you? The blue sign on the right to the page name indicates its verified authenticity. Before a year ago, they have launched the verification program for small businesses. Unlike for celebrities and renowned personalities, the verification tick for those is grey.
Requirements
You need the following to have a verified Facebook page.
#1. A Facebook page (quite obvious, huh?)
#2. An ID proof (you can use any id like driving license, birth certificate, passport or any other recognized id with your photo on it).
#3. A completed About section of your page.
#4. A link to your website (It's not mandatory, but FB recommends having one).
With that being said, let us look into the process of getting verified on FB.
How to Verify Facebook Page?
As I said earlier, your FB page can get verified in three different ways. The one is an automatic method for which you can do nothing. And the other one is an offline method that you need to visit an FB office.
The last one I am going to mention here is an online method in which you have to submit your ID proofs for the reliability of the page.
So are you ready to get started? Here you go!
Step 1: Check your Facebook page for the eligibility to get verified. In this method, FB doesn't allow you to verify business or service pages. You can verify personal fan pages of reputed persons to get a blue tick mark. You can read more of their guidelines here.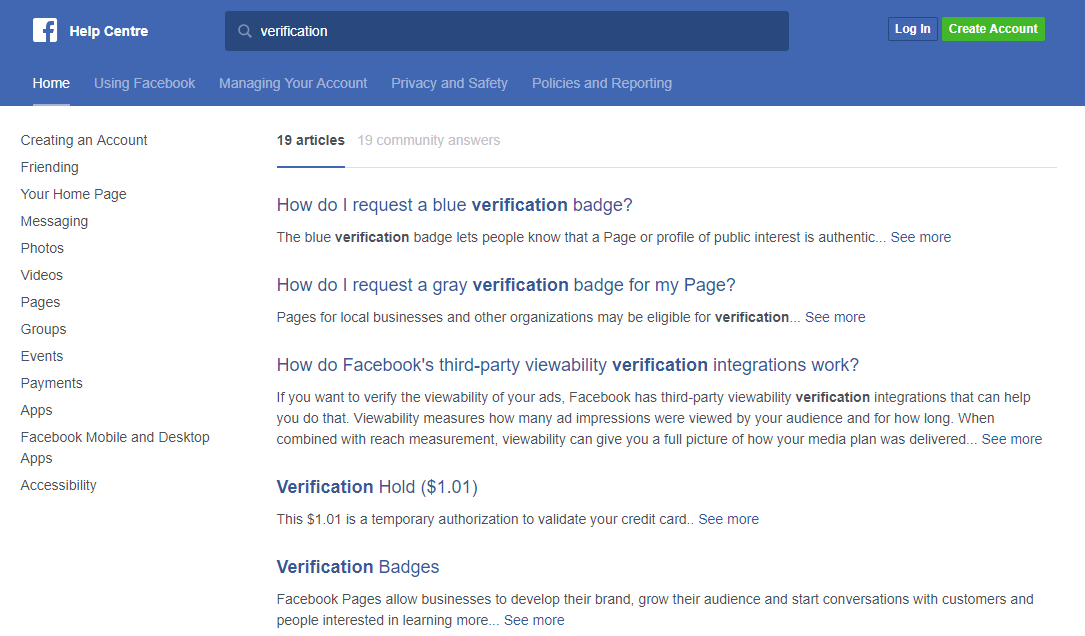 Step 2: Set all the prerequisites for the verification process like the ID proof and About section. Don't forget to have a digital version of your ID so that, you can upload it later.
Step 3: Visit this page to get the Facebook page verification form. For some countries, you can't get the form. But it is easy to bring the same on your computer screen by using a proxy or VPN (I use Hola extension for Google Chrome, and it works flawlessly to visit any web page from any country).
Step 4: You need to provide three things here (the third one is optional though). At first, you have to choose the page that you want to get verified. Here in the image, you won't see any of my pages because nothing is eligible for verification.
Step 5: This step is most crucial as you are about to upload the digital copy of your id proof here. Just click on the Choose Files button there and you will get a Browse file dialogue box. Then, you should click Open after selecting the file.
Step 6: The last field asks you to enter the official website. Not every person, looking forward to verifying his/ her FB page has a website. That's why they have made this step optional, not mandatory.
If you have a website, don't forget to add the link there. Make sure the site looks professional and includes more details about you. Yes, adding a URL will increase your chances of getting verified).
Step 7: On the finishing note, hit the blue Send button down below. And you are done! Hurray!!
You will get an email about the submission for the verification right away. After 2-3 days, you will know whether the page gets verified or not.
Misconceptions on Facebook Page Verification
Many people have misconceptions about the verification procedure of Facebook. Here are some popular ones.
#1. You Need 10k or more Likes
No, you don't! I have seen many people saying that you need a specific number of likes to get verified on FB. Some say 10k and some others say 20k or more. But the truth is you don't need to have even 1k likes as I saw many FB verified pages with a few hundred likes. So don't try to buy fake likes as it diminishes your chances.
#2. You Need to Know FB Officials for the Offline Verification
The second popular myth is this. I know how this myth became popular. There are a lot of companies offering FB verification through the offline method. They boast that they know some officials personally for you will get the tick mark soon.
But don't believe them. Even you can carry on with the offline verification. Just visit the Facebook office and submit your id proof there. That's all.
And, the mediators can't do anything better than you for sure.
Wrapping Up
I hope you now know how to get verified on Facebook. As you saw here, it is not a process of lifting the mountain. Just follow the procedure correctly and you will see the tick mark on your page soon. Also, take a look at the guide explaining how to delete a Facebook page.