We all have that kind of people around us that love to peek into other people's phones, let it be any family members, classmates, work people, etc, etc!
Perhaps, they do not understand the term "Privacy" and will touch your phone even when you clearly tell them not to because even if we do have passwords on our phones, there are always times when we unlock the phone for our own use, but some sneaky person gets hold of it.
This is one of the major reasons why a lot of people want to know how to hide apps on iPhone. Another reason is that iPhone comes with a lot of default apps. Apple might believe that we need these apps or that they might be useful, but, come on! Do we really need those apps? All of them?
I don't think so. They take so much of our limited storage space and also take up space on our home screen. Once you learn how to hide apps on iPhone, you can, at least, hide these unwanted apps to avoid confusion and clutter on your home screen. If you have android smartphone also, here is how to hide apps on Android.
Here Are The Basic Steps for Understanding How to Hide Apps on iPhone
Step 1 – Create a folder on your iPhone in which you wish to hide several apps.
In this folder put in all those apps which you want to protect either for your privacy and to keep them away from nosy people, or because these apps are inbuilt but utterly useless for you, and they are just taking up extra space on your home screen, or for whatever your reason is. Put all these apps in this folder. Through this method, you can hide any app you do not want to see.
Step 2 – Now, you need to tap and hold an icon. Do this till they all start to jiggle. When the apps begin jiggling, you can rearrange them.
Step 3 – Now the next process can be a little tricky. Grab any of the apps in this folder that you've made. Drag this app to the right, even beyond the last tab that is in this folder.
Step 4 – While you are still holding this app icon at the same moment press the home button.
Step 5 – The app disappeared! When you are done hiding all of these apps, and when you go back to the home screen, the folder also disappears on its own.
Step 6 – Pretty cool right? All those unwanted apps have disappeared. This still does not remove all those unwanted inbuilt apps from your phone. When you reboot your iPhone, those apps will come back. Now, this was for people who wanted to learn how to hide an app on iPhone but those apps which they never.
If you just want to hide apps from other people but still want to be able to use those apps, the above method is not for you. You can try this other method through which you can easily hide apps as well as use them whenever you want to.
You can also unhide them according to your usage and convenience.
Step 1 – Create a folder for the concerned apps (that you wish to hide) just like you did above.
In this folder, you will have to put those apps that you want to hide from everyone.
Step 2 – Now create one more folder.
Step 3 – Put the first folder that contains all those apps that you want to hide in the second folder.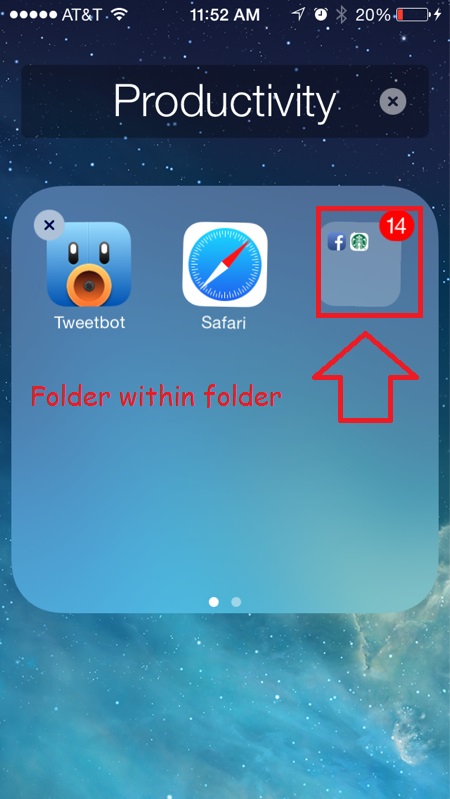 Step 4 – Now that the first folder is in the second folder, remove all the apps from the second folder leaving just the first folder in it.
Step 5 – Now this folder will look like a total blank folder on your home screen.
Step 6 – You will have another open space in your home screen. We have to fill this open space up by dragging any one of the apps from your home screen, into that spot.
Step 7 – Go to the second folder and then highlight the first folder.
Step 8 – Drag the first folder outside the second folder and down into the dock area. Now because of this the second folder will disappear just after a second or two.
Step 9 – As soon as this happens, release the first folder in the dock.
Step 10 – So instead of searching for space on your home screen, it will just vanish, and your work is done! Now you know how to hide an app even for those apps that you want to use again. You cannot find these apps that you have hidden anywhere.
Now if you have a question, how to find hidden apps on iPhone? The answer is pretty simple too.
You have an absolutely full access to these apps even if they are not visible on your home screen. Just use the search feature of your iOS.
Step 1 – Touch the center of your home screen and then pull down. You will be able to see the search bar.
Step 2 – To be able to use the hidden app just type the name of which of the hidden apps you want to use and you will find it there. You will be able to use this app perfectly just like you did when it was not hidden.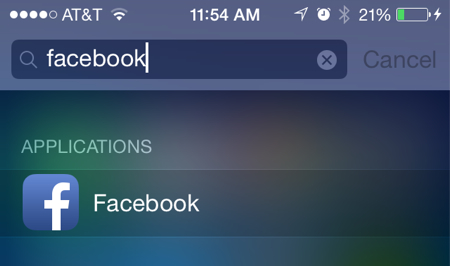 Hidden apps on my phone that I do not want to be hidden anymore, how do I undo this hiding of apps – All you have to do is restart your iPhone. Not just by restarting, you can also unhide your apps by going to the 'settings' app on your phone.
Step 1 – Go to the settings option in your home screen.
Step 2 – Click on the hidden app.
Step 3 – Activate it.
Step 4 – Now deactivate this app.
Step 5 – Done! Doing this will bring back all those apps that you hid. They will all come back on your home screen.
Final words
There had been many inquiries regarding – can you hide apps on iPhone? If you don't want to hide the app, you can lock it. Here is guide to lock the apps on iPhone.
Now you know how to hide apps on iPhone, how to find those hidden apps as well as how to bring those apps back to your home screen and unhide them.