I loved those days when knowing answers to questions like How to Hide Files and Folders on Every Operating System made me feel like a pro hacker, although that's not the case anymore.
Just about anyone with a working computer system can find his way around answers to questions like How to Make an Invisible File, and How to Make an Invisible Folder.
And trust me some of the methods in this article were actually "discovered" by me back when I was around 12. Of course, others might have known about them already, but I didn't and I came across those methods just because I was desperate enough.
But before getting into the details of How to Make an Invisible File on Your Desktop, let me get into some of the basics.
Let me tell you, you don't need to download any software, neither paid not free, all the methods I'm discussing are pretty straight-forward and are almost the official features of Windows (they were intended for different purposes, but we will be using them to our advantages!)
How Far "Hidden" will These Methods Be:-
So okay you might be wondering how good will these file hiding methods be.
Let me tell you, Windows has an official "hiding" option, which isn't really hidden anymore so although I'd be discussing it, I'd say it's 2/10 on a rating scale.
Although the other methods I'd be discussing are almost like password protecting the files and folders, just without using any software or code or anything, so let's scale them 5/10.
And then there's one final method which literally is a "password protect" method, so considering it's a real password that method goes for around 8/10 (because it still can be cracked with Brute force or good-guessing!)
But well considering you don't work for the FBI or the NSA, you don't need 10/10 methods either, so yeah these methods will do for you.
How to Hide Files and Folders on Every Operating System:-
Method #1 to Hide Files and Folders:-
Select the file you want to hide, and right-click on it, then select Properties.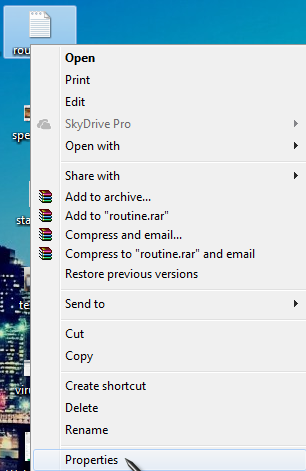 Now click on the "hidden" checkbox, and click on OK.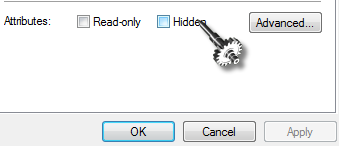 Done! The file is now hidden.
Now this is the first method I was talking about, and it's not exactly a secret anymore as it exists from the days of Windows XP so every guy knows about it, so it's the least secure way to hide files and folders, but it's still away.
Method #2 to Hide Files and Folders:-
These are the methods I said I discovered myself (and later found out on the internet that the world already knew about them, my bad!)
This method comes in handy if you're trying to hide a "file" and not a folder. I mean something that has an extension, like album.jpg document.dox notepad.txt etc.
So okay select the file you want to hide> Right-click > Rename.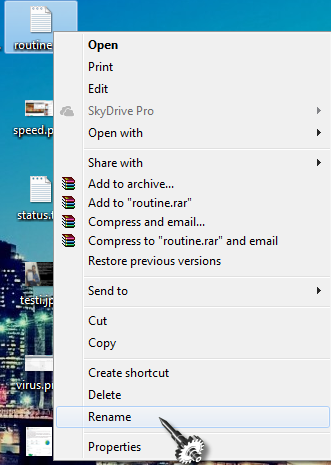 Now check out the extension of the file, whatever it is, change it to something else. Some common extensions you can mixup are:-
.jpg
.docx
.doc
.txt
.png
.psd
.raw
So you can change your files' extension to any other extension from the above list (or even any other extension types you know!)
For eg., if I want to hide password.txt file, I can rename it to myphoto.jpg (I've renamed the name to make it look less suspicious)
And when a box like the following comes up, just click on OK.

So what you did is, you made a notepad file look like a photo. First of all, a photo is not something as interesting as a "password" file. And secondly, it's originally a notepad file, while I used a photo extension (.jpg), so it partially corrupts the file and it won't open.
Additional Security:- Now if you want to make it totally "hidden", I'd suggest placing it with other filetypes of the same type.
Meaning I'd place this photo (really the password file) with some of my other photos. So anyone looking in the folder will think it's just another photo file that was corrupted for some reason among other photos.
How to Get the File Back:-
Just rename it back to the original extension. The "name" doesn't matter. Meaning if originally your file was "passwords.txt", even renaming it back to "I want my file back.txt" will work, just keep the extension same.
Method #3 to Hide Files and Folders:-
This one consists of "password protection" but I'd still scale it below the above method when it comes to security, because of passwords? If you ask me, I'd say they're the least secure part of your digital life.
So anyway, this comes in handy in almost all the situations, if you're trying to hide a single file, or if you're trying to hide more than one file, or if you're trying to hide folders well it covers everything.
Just select the File / Files / Folders you want to hide, and right-click > Add to Archive.

Now go to the "advanced" tab and click on "Set Password". Where a new pop-up box would come up, and you just enter your desired password in the box and click ok.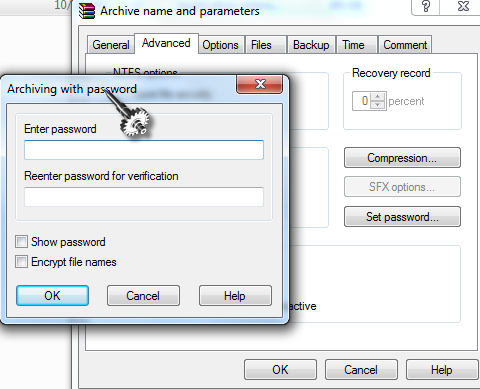 Done! This will compress all your files and folders into one single file (if you've more than one file you're trying to hide!) and password-protect them.
So next time anyone tried to decompress the archive, they'll be asked for the password.
Final Words:-
So that was all I had on How to Hide Files and Folders on Every Operating System guys. Although let me tell you there's one more method How to create blank folder names in Windows but for some reason, it stopped working with the new windows releases so I omitted it from this article.
But anyway I'm pretty sure the methods I've discussed will help you out with hiding your files and folders good enough.
If this piece helped you, do spread the word by sharing this on your social media timelines, that's the only return we ask from you guys.