A person who has gotten stuck in an unwanted group text knows how annoying it is and how terrible it can be. Your phone blows out of proportion, and all you hope for is to quiet down the thread soon. Here are details on how to leave a group text.
For quite a long time, the only solution to get out of a group text was to block your friends, or flat-out asking them to stop texting you. But luckily, Apple's latest mobile operating system update, the iOS 8 version, fixed this issue. If the recipient is using iOS 8 and iMessage has been turned on by them, then he/she can leave the group text.
Among the features in the newest Apple's operating system were many improvements. The improvements in the messaging system were also done. This app includes numerous functionality upgrades that magnify the most-used aspects of the older version, from the great iMessage compatibility to more control over how texts are shown and responded to.
iMessage already has a well-featured group texting system – it left something to be craved, and it was tough to wade through the mass of notifications, especially when dealing with groups consisting of many people. How to get out of a group text details are mentioned below.
How to Leave a Group Text in iOS 8
The steps to follow for how to leave a group chat are mentioned below.
To get the advantage of this feature, one needs to download the iOS 8 version. Navigate to Settings, go to General, then Software update on your device.
If your device already has iOS 8, then the first step is not required.
Open the group text you wish to leave. Select the thread you wish to exit.
Select 'Details' located in the upper right corner of the screen just under the menu bar. Selecting this option will bring up a new menu with various options related to the group conversation.
Here, you will be given with options to interact with individual contacts, add different people to the conversation, and delete yourself from the particular group. The option of sharing your location with people is also given if you are all attempting to search for each other.
Select 'Leave this conversation'. If you decide you don't want any kind of involvement in the group conservation, this is the best option for you. When a person chooses to leave the conversation, he/she will not get notified about further messages, and will not be able to read or respond to the messages in the group.
There is also an option of 'Do not Disturb'. This mutes the conversation you don't want to get notified about. But you can read and respond to the text messages normally; it's just that your phone will not buzz every time a new message is received.
But there is a catch! According to iPhone FAQ, you can only exit iMessage group chats if there are four or more than four participants. But if you are in a group conversation, which has only two or more people, the option to leave the group conversation will be grayed out.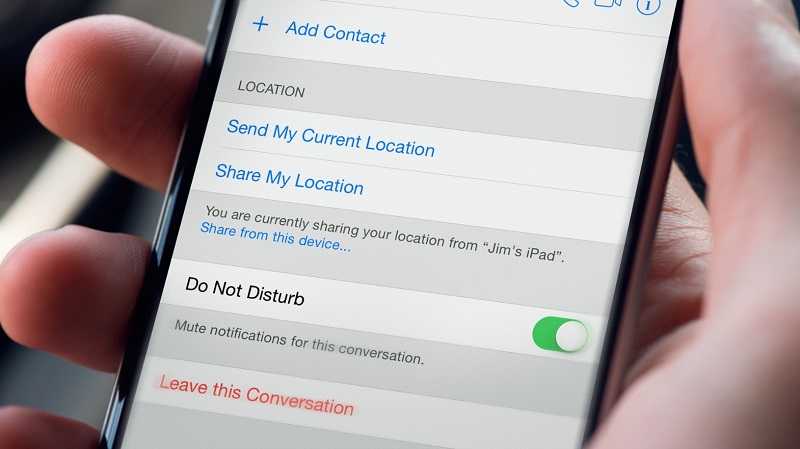 The information on how to remove yourself from a group chat is given. Group chats facilitate some amazing conversations with your buddies and are also the best way to update many people without having to send individual text messages.
But as amazing as they can be, they can also be equally irritating. We have all been there. We either get pre-occupied with some other thing or lose interest in having the conversation, yet your friends continue to buzz on.
There are notifications after notifications, which force you to keep your phone on silent mode. But fortunately, there are ways to leave the group. This content will let you know how to get out of a group text.
GroupXit is another app designed to exit the group. The app pulls the group threads a person that is currently in from the native messaging app, permitting him to choose which thread he would like to erase from sight and even which particular friend he would like to mute.
And not to worry about being missed-out important updates because you can opt to get an alert for particular keywords. But this app only works on SMS and MMS messaging and not on Apple's iMessage Protocol; it is only valid on Android and an upcoming iPhone version. This is how to leave a group message.
When a given message is sent or received, mute an annoying group thread, or 'lock' a text that is especially important. A person can even swap in an entirely new messaging app if he/she is not satisfied with the 'Stock' one. There is an app called Android Stock Texting. The steps to follow are
Log in your Android phone's stock texting application.
Search for the 'Settings' option by clicking on the multiple lines on the left side at the end of the phone screen.
Select the 'Message Settings', where a person can set some basic controls for individuals and group conversations.
Enable the 'Thread Group Conversations' option by being sure that the checkbox next to this option is green and highlighted. Enabling this option indicates that if a person gets a group text message, he will only be replying to the sender if he chooses to reply.
When replying to a text message, check to see if it is a group message before sending a reply. If there is an indication with multiple gray heads in the corner of your Android screen or if the message lists more than one contact, it is a group conversation.
When replying to a group text, hold down your finger on the text and choose the 'respond to sender only' option. In third-party apps, do some research and get educated on how to use these apps.
Finally, if you are a sender of a group conversation, you might want to think about issues of privacy and if this is the facility you must use, then look for a third party app that controls the group conversation and offers protection for privacy features and the capability to set up various 'groups.' Hope the above information on how to get out of a group message helped.
And with this, we come to the end of our article on how to leave a group text. if you have any queries, do leave them in the comment box below.