Animated videos are a great medium to explain your things. So, do you want an explainer video for your firm or startup? Or do you want to know how to make animated videos?. If yes, then this article will make you aware of the processes required for creating an animated video.
So, let's get started:


How to make animated videos?
Step #1: Plot the story.
This is one of the most important phases in the process of making animated videos. A video without a story is like an actor without emotions. Plotting the story will give you a rough idea about the screenplay.
This will also help you to execute your plans as per your requirement regarding the animated video. Plotting of the story includes rough idea about characterization, design, screenplay, music and all. This step is basically all about a rough draft of all the prerequisites required for making an animated video.

Step #2: Draw the characters.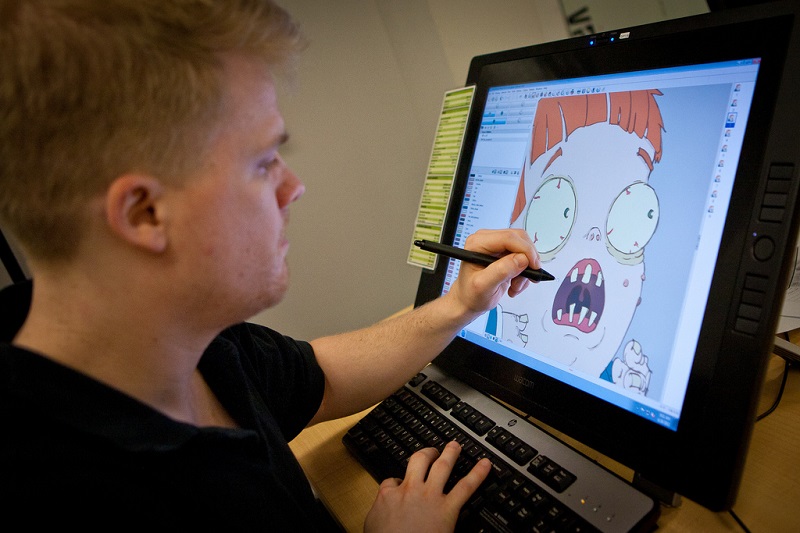 Once you are done with the plot of your story then as the next step you are required to draw your characters. Drawing the characters will reduce the edit time efforts as you will have your basic characterization with you.

Step #3: Filming the video through a dedicated animation program.
Now, once you are equipped with the plot of the story and the characters then all what you require is to look for a dedicated animation program or application. There are plethoras of animation software's and web based applications available and you can choose from those whichever provides you with the needful.
For the ease and convenience, we are listing some of the editing programs which you can consider using in order to make an animated video.

1: Powerpoint.
If you just want to make a very basic animated video then Microsoft office Powerpoint will serve you for the purpose. For this, you are required to follow the following steps:
Step #1: Open powerpoint and then click on getting started and after that click on "Slide Transition".
Step #2: In this step, you are required to uncheck the "on mouse click " checkbox. After this you need to check on  the "Automatically after" checkbox and then set a value between 0 or 0.5 sec.
Step #3: Now, all that you require is to draw characters for the various stages of your animation video. For this you can consider using any of the available graphics editors. Since, we assume that your animation video is quite a basic one so; even paint will do the needful for you. Once you are done with the graphics, then you are good to go to the next step. You can also draw the images manually and then scan the images to your computer.
Step #4: Now, you need to import the first "frame" onto slide 1 in Powerpoint. After this, you are required to duplicate the slide and move the frame or import the frame if are equipped with the next slides.
Consider repeating the steps until the movement is not completed.
Step #5: After step #4, all what you require is to save and play the movie. This will create a basic animated video for you.

2: Windows movie maker.
Windows movie maker is quite good video editing software by Microsoft. The codename of Windows movie maker was Sundance. This tool contains a timeline view and a storyboard view which serves the users with good editing transitions.

Another good alternative for Windows movie maker is Camtasia 2022 by Techsmith. You just need the best video editor tool that is good for newbies as well.
3: Powtoon.
Powtoon is a firm which provides a product which is cloud based used for creating animated presentations and animated explainer videos. It was founded in January, 2012. You can also create free animated videos which are accessible with some restrictions like you cannot download the video and the video will come up with the watermark.
In order to get rid of this, you can consider going for the premium model which allows you a hassle free service with no restrictions.


4: Adobe After Effects.
If you are dead serious about editing a video then you should go for the After Effects by Adobe. It is a powerful platform to edit videos. Though, this product is quite expensive but the results are quite phenomenal and is worth of each and every penny.
As per Wikipedia,
Adobe After Effects is a digital visual effects, motion graphics, and compositing application developed by Adobe Systems and used in the post-production process of filmmaking and television production. Among other things, After Effects can be used for keying, tracking, rotoscoping, compositing and animation. It also functions as a very basic non-linear editor, audio editor and media transcoder.

5: Toon Boom.
Toon boom is a specialized firm which deals in animation production and storyboarding software. It is a Canadian software company. 2005 was the year when Toon Boom was awarded with the prestigious Primetime Emmy Engineering Award.
You can consider going for this because this will help you to make quality rich animated videos.


Some tips for creating a good animated film.
1: Story is the king. Try to showcase a story and connect the dots.
2: Pay utmost heed while characterizing the main leads. Make a storyboard and try to execute it well.
3:  Edit the film using some professional tools or you can also hire professional designers to do so.
4: If a voiceover is necessary then do that and try to avoid noises.


Wrapping Up.
This wrapping up section brings us to the end of this tutorial cum guide on How to make animated videos? We hope that we were efficient enough to satisfy your curiosity about this topic.
We firmly believe that we have left no stone unturned while getting into the nitty gritty of the topic and making you understand the entire concept of it. But if you still have any query regarding creation of an animated video then feel free to drop your query via comments below. We will try our level best to resolve that.
Moreover, if you found this article helpful and worthy, do show your love by sharing it socially.
Thank you for passing by and giving it a read.