Icons are the small graphical user interface on a desktop. These are basically the shortcut icons of the programs and software on your computer.
When you install new software on your system, a shortcut to these software gets created on your desktop. And when you double click this icon, that software gets launched/opened.
This is a basic introduction to icons! But why I'm telling you this when the core purpose of this article is to learn how to make desktop icons smaller?? Well, that's because we believe in providing in-depth knowledge.
We will definitely tell you how to change desktop icon size and how to make icons smaller but along with that, we will also tell you how can you make desktop icons missing and make them reappear.
Playing with desktop icons is extremely easy. You can easily change desktop icon size, make them go disappear from the desktop and you can easily show them back!
You might wonder what's the need to change the size of desktop icons. Um, you are asking this means probably you have not formatted your computer ever or you haven't installed windows on your computer by yourself.
After the installation of windows, the desktop icons come in a larger size by default. Oftentimes, we don't like seeing large icons on the desktop and we prefer keeping them small to free up some space for other icons and to not make our desktop look overstuffed.
If you are thinking that its a time taking a procedure, then you are wrong! Changing the desktop icon size in all won't take more than 2 minutes of yours.
Depending upon the operating system you have, the method to change the size of icons on the desktop may slightly differ.
How to Make Desktop Icons Smaller:
The below guide is compiled in a way that you get to learn how to make desktop icons bigger and smaller in multiple windows including windows XP, 7, 8, Vista and Windows 10.
You can follow the steps according to the operating system you have and tweak desktop icon size the way you wish to. Let's start our guide from windows XP
#Windows XP:
If you have not upgraded your windows yet, and you are still using Windows XP, this module of the guide is dedicated to you. Here's how to resize desktop icons on Windows XP.
Go to your windows desktop, and right-click on the empty area and go to Properties. Similar to the below screenshot.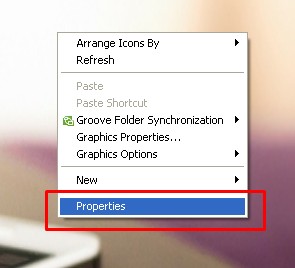 Now in the Display Properties window, go to the Appearance tab and click on the Advanced options. A screenshot for the same is given below if you find it difficult to locate the options.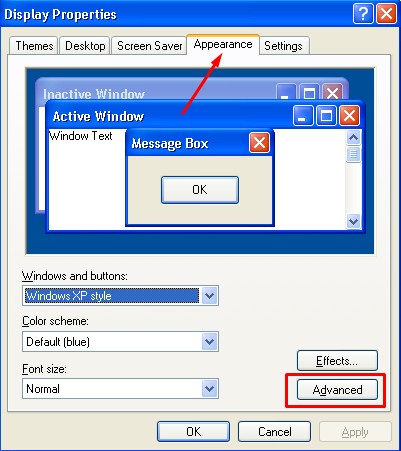 In the Advanced Appearance dialogue box, select Icon from the drop-down menu under "Item" and select the icon size of your choice. You can make it up to 72. Once you are done selecting the size, click on Ok and the icon size would be updated.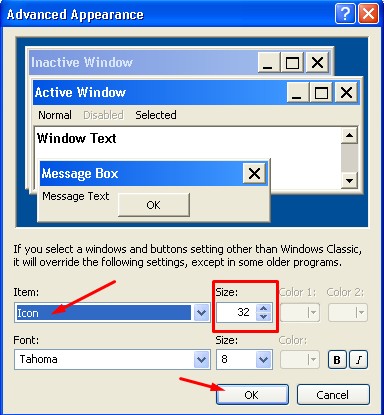 #Windows 7, 8 and Windows Vista:
Now coming to one of the wildly used operating systems i.e windows 7. In this section of the tutorial, I'll tell you how to resize desktop icon size on windows vista and windows 7.
In both the windows, the method of customizing icon size is identical. So here are the exact steps you need to follow.
On your desktop, right-click on an empty area. Now in the options menu, hover your cursor over the first option i.e. View, a new sub-contextual menu will open up.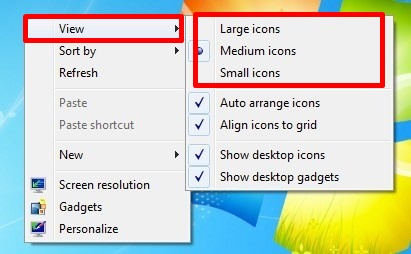 Now you can select between Large icons, Medium icons, or Small icons as per your need. But this method has a drawback that it limits you to only three default sizes.
But, if you want to have more control over the size, you can try this alternate method. This method is even simpler and gives you access to the custom size.
Just select any icon on your desktop, press the control key and scroll the mouse wheel up and down to resize the desktop icon. With the moment of your mouse wheel, the icon size starts to move, you can set it according to your choice.
If you are still not satisfied with both these methods and you want something more, we have an alternate method for you too.
Just right-click on an empty space on your desktop, like we have been doing in every method and choose Personalize. Now in the new dialog box, choose the Windows Color and Appearance on the list, and click the last link Open classic appearance properties for more color options.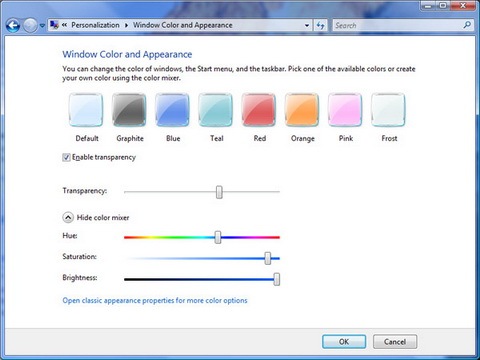 A new window like the above picture appears. Click on Advanced, Under Item chooses Icon, Set the size as per your liking, hit OK and again hit OK on the second dialog and complete the procedure. This method is similar to what we did in Windows XP.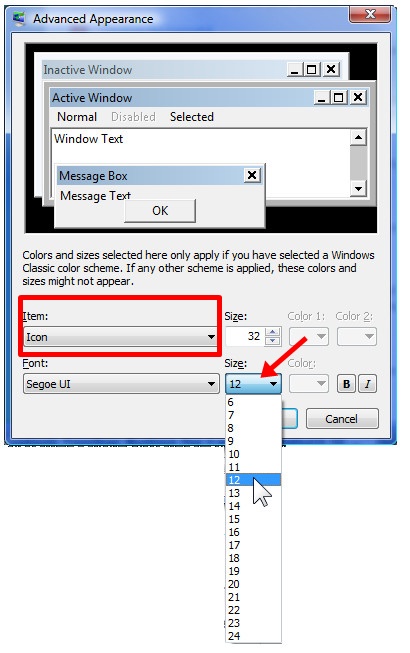 #Windows 10:
There is nothing different in changing the windows icon size in windows 10 from changing it on windows 7, Vista or XP. All the simple three steps are needed to be followed.
Right-click on the empty area on your desktop, hover the cursor over View, select the icon size Small medium or large as per your suitability.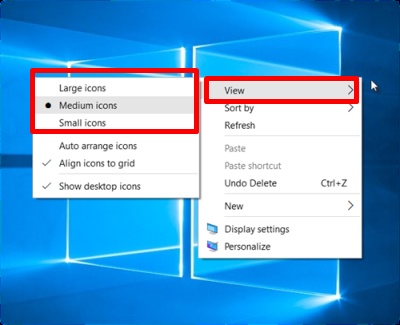 You can also use the Ctrl+mosue wheel role to adjust the o\icon size as this key combination is applicable on windows 10 also.
#Mac OS:
Changing icon size on mac OS is a little different from the windows. Although, it easy on mac too!
To change desktop icon size on mac, right-click on any empty area on the desktop, select Show View Options in the contextual menu appeared.
In the Desktop dialog box, adjust the slider under Icon Size and set it to the desired icon size.
That's it for the guide. Still, have any doubt on how to make desktop icons smaller?? I believe it's a NO!!
Most probably this guide must have satisfied all your queries and none of you have any doubts remaining after reading this comprehensive guide. But still, you can ping us below if there is any, we love hearing back our readers.
If you found the guide helpful and worth sharing, don't forget to hit the share button and show your thankfulness.