You hate it! I know. Every time your computer goes into not responding mode, you just stay here cursing the computer. You don't know how to make computer faster.
Don't worry! I have got your back. In this article, you are going to find out the ways to speed up Windows 10 without spending even a single dime.
So without further ado, let's get started.
How to Make Windows 10 Faster?
Microsoft Windows is the most popular computer operating system available today. The company has released multiple versions and Windows 10 is the latest above all.
Windows 10 running slow issue can occur due to many reasons. In this article, I will try to eliminate all the issues so that, you can have a speed boost at the end.
#1. Disk Cleanup Windows 10
The very first thing you should do is eliminating junk from your computer. If you don't do so, unnecessary files of whopping size will occupy your drives.
Let me tell you how you can do it.
First, you have to open This PC. Choose a disk you want to clean up. Just right-click on it and choose properties. Alternatively, you can press Alt+ Enter as well.
Can you see a Disk cleanup button there? Clicking on the same will start analyzing your disk for junk and internet residual files.
The utility will present a result before it cleans up. So, you can always choose what to clean or what not to.
#2. Disable Startup Programs
If you are asking yourself how to make speed up my computer, stop right there! You can do a lot more than asking yourself.
One of the biggest reasons most of the computers go sluggish is a large number of startup programs. Microsoft has included a built-in option on the task manager interface to manage all your startup programs.
First, open Task Manager. You can do it by right-clicking on the taskbar and choosing the appropriate option. The best way is hitting Ctrl+ Shift+ Esc.
Go to the startup tab. There you have it! You can disable the programs you rarely use. Make sure you don't disable antivirus, graphics and audio drivers.
#3. Disable Animations and Visual Effects
Everyone loves to see some animations while opening new applications. But you know what? It adds extra weight to the performance that you can have a speed boost if you turn them off.
Follow the steps given below to optimize Windows 10 by turning off the performance-affecting visual effects.
Also Read:- How to Remotely Shutdown or Restart a Windows Computer?
Step 1: First, you have to open the system properties. Press Win key+ R to open Run dialogue box. Then, type sysdm.cpl and hit Enter. (The faster way)
Step 2: Go to the Advanced tab and hit the Settings button under Performance.
Step 3: If you want to solely improve the performance, you can choose to Adjust for best performance option.
I personally don't like how the display turns out to be after selecting that option. So instead, you can disable the following options to get the maximum out of it.
Animate controls and elements inside windows
Animate windows when minimizing and maximizing
Animations in the taskbar
Fade or slide menus into view
Fade or slide ToolTips into view
Fade out menu items after clicking
Show shadows under windows
I hope your quest to find how to make Windows 10 faster ends here.
#4. Disable Background Apps
Your Windows 10 computer runs almost all the universal apps from Microsoft in the background even though you don't open them. Obviously, it will cost you more system resources causing you a considerable drop in the speed.
You know what? You can turn them off!
Hit Win key or click the start button. On the left side of the screen, you can see a gear icon. Hitting on the same will bring you to the Settings panel.
Click on Privacy and choose Background apps from the panel given to the left. You can see all the Windows 10 apps that have the potential to run in the background and transfer data.
You can turn all the apps you don't use. In my case, almost all the apps are unnecessary. If you regularly use the internet on your computer, you must disable those.
#5. Uninstall Applications You don't Use
If you look at the list of applications installed on your computer, you will realize the fact that you don't need many of them. No wonder you are searching for how to speed up Windows 10.
You must uninstall the applications you don't use because they take up your space and badly affect the performance as well.
Also Read:- How to Disable Windows 10 Notifications?
Click on the start button (or hit the Windows key) and search for Control Panel. Once you open it, look out for Programs and Features. As you click on it, you will get the complete list of programs installed on your computer.
Thoroughly go through the list to find out apps you don't use at all. Maybe, there are some programs you installed for one-time use. Include those into your elimination list too.
Double-click on them to initiate the uninstallation process. There you go!
#6. Eliminate Bloatware from Your Computer
Sometimes adware and bloatware can be the biggest threats to your computer. Sometimes manufacturers inject such programs into your computer to promote their products.
You can optimize Windows 10 by getting rid of bloatware. Microsoft has included a decent antimalware tool with Windows 10 called Defender.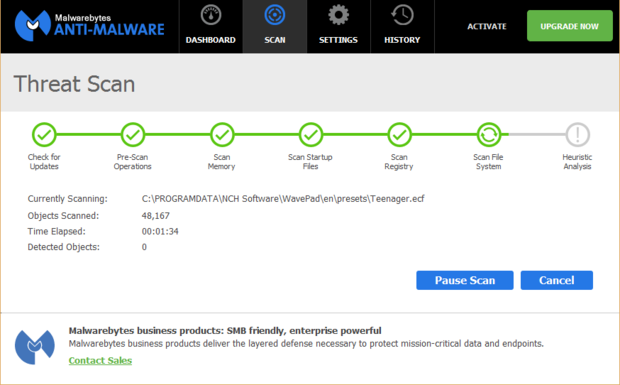 If you want another tool, my recommendation is Malwarebyte's Anti-Malware. I have used it and got positive results.
Wrapping Up
I hope you know how to make Windows 10 faster now, don't you?
Just follow all the steps to speed up Windows 10. In case you need any help, drop a comment below. We will get back to you at the earliest.
Don't forget to share this article on social media. Just like you, there are tons of people, who want to know how to make computer faster.