PDF is the most reliable document format in current use. A PDF file can be opened on any computer irrespective of their hardware specification. That's what made Portable Document Format (PDF) very famous. There are many people who like to read a PDF ebook rather than a paper book.
What if you've got a single PDF file in many parts? People usually split high- sized files for the convenience to transfer them.
It will be an annoying task to read the same document from different files. So, we need to merge those files to make it a complete one.
Here in this post, I will be showing how to merge PDF files quickly. It's not at all a tough row to hoe. There are many methods to merge PDF files. But this post includes two of the easy ways.
Let's get started.
How to Merge PDF File
Here, I am showing two easy methods with which you can merge your short PDF files to have a complete one. If you want to get your files combined within a matter of seconds, go with the first method. For that, you should have an internet connection.
But, the second method requires software. After installing that, merging PDFs can be done right away.
Choose the one that fits you the best.
#1. How to Merge PDF Files Online
This is the easiest method to combine multiple PDFs if you have a stable internet connection. That is the only requirement you should have.
Get the short PDF files ready in your PC. Then proceed to the following steps for combining them.
Visit pdfmerge.com. It is a complete tool for merging PDFs. As you can see in the image, there is a link to htmlpdf.com, which helps you to convert any web page to Portable Document Format.
You will see a button says 'Choose File.' By default, there are four buttons to browse for files. If you have more than four files to merge, just click on 'More Files'. By this way, you can add as many files as you want.
After choosing files, click on 'Merge!'. That's all. You will get a final file containing all the details of the short files you have inserted. Download it and you are done.
Now you can answer anyone who asks you how to merge PDF files.
N.B: pdfmerge is not the only tool to merge PDF files. Many tools are out there like pdfjoiner, online2pdf, pdfjoin etc. But still, the first one is the best.
#2. How to Merge PDF Files Offline
What if you don't have an internet connection? You need a third- party software to serve this purpose. Download the software using the internet connection of your friend or neighbour.
Here, I am explaining the method of combining multiple PDFs with PDFsam software.
Click on this link to download the software. As you lack an internet connection, bookmark the link and use it when you get access to the internet.
Run the installer file and open the UI after the installation process is completed. Choose Merge/ Extract option from the left tab.
You have to select the destination folder and some additional settings (not at all hard).
Then click on the "run" button. That's all. The output file will be saved in the directory you have chosen earlier.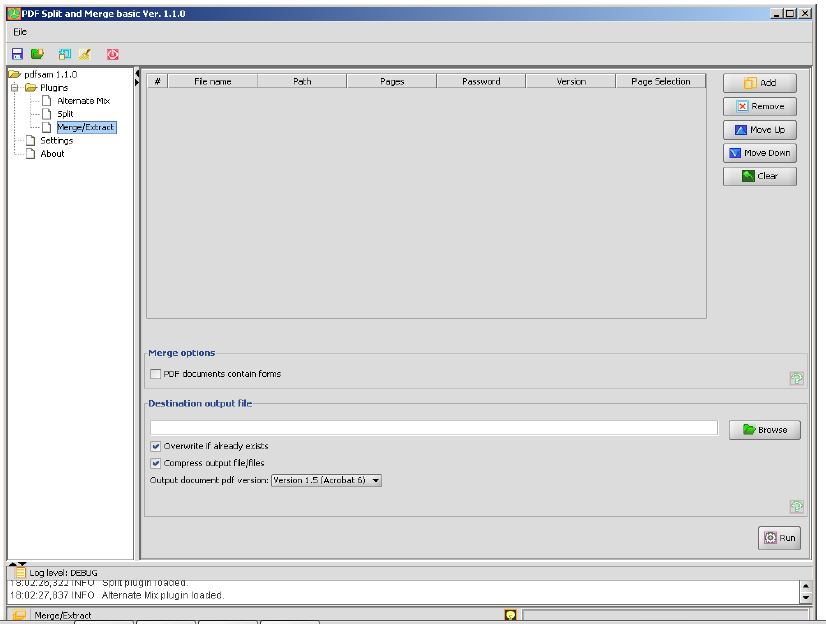 PDFsam is one of the many tools to help you combine your short PDF files to make a complete one. Use which suits you the best. Every tool has a similar tool, and you have to do the same steps like browse files, choose the output folder, click Run or Merge or Combine. That's all.
P.S.: Foxit and Adobe have dedicated PDF tools. Adobe has the well- known Acrobat kit that is a complete collection PDF utilities. Foxit too has utilities that serve the purpose of editing, creating, merging and splitting of PDF files.
But the fact is that you can't get all the features with a free version. If you want a professional toolset for Portable Document Format, don't hesitate to purchase them. You will not regret the moment you did it, I swear.
Final Thoughts
Merging PDF files is not at all a difficult task.
How to merge PDF files easily? Even daily computer users don't know the answer to this question. That's why I came with a Quick Tip.
The above two are not the only two methods. But still, those are the quickest. No need to download a dedicated PDF merger if you have an internet connection.
Just proceed with the first method. It is very fast and convenient. You might have to wait a bit to download the final file. So, have an idea about the speed of your connection before inserting large PDFs to merge.
Try them and let us know your thoughts via comments. Spread the word and share this article with your friends!
If you want to know more about PDF converters, be sure to hop on over to this article right here.