How To Password Protect Any Windows Program? That's your problem? Well, it gets solved right here and right now. That's what this article is about but that's probably already clear is it not?
Now it's easy hiding files and folders on windows, but when it comes to how to set a password for Program (Application) in Windows that gets a bit complicated doesn't it?
I mean you don't have to "hide" it, you've to password protect it. And then it's not a file or a folder, it's an executable, an application, a software. So well yeah I do agree it sounds a bit complicated, but it's not.
I'll just go with some of the traditional methods to password protect any Windows program without any software first, and then I'll list a couple of third-party freeware (free software) too if you don't want to do it manually.
Well before getting into all those technicalities, let's get into some basics.
What is the Difference Between Password Protecting and Hiding a Program?
Password Protecting an application and hiding it is basically meant to the same end, keeping the application safe and restricted to unwanted access.
But there's this difference between password protecting and hiding the applications. When we hide them, others don't know they exist so they don't try to access them. But when we password protects it, it's not always necessary that they're also hidden (although that's an option). 
Hiding is a basic level of security, which if bypassed reveals the files and folders. While Password protecting isn't as easy to bypass, because even if the programs are already revealed, cracking a password isn't that easy.
So okay let's get down to business.
How To Password Protect a Folder in Windows:-
Now there are numerous ways to go about it. Let's start with the one that's the simplest.
Steps:- I'm listing this as the simplest method because you don't need any other third-party software to do it apart from Winrar. (Which 99.99% of Windows operating systems already have!)
So Right-click on the folder you want to password protect, and click on "Add to Archive".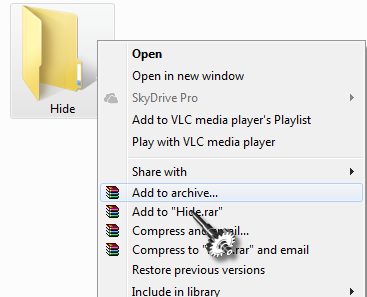 Now click on the Advanced button and click on "Set Password".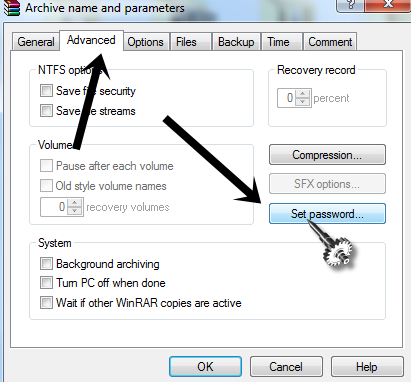 A popup would come up asking you for the password you want to set for it. Just set the password and click on Ok.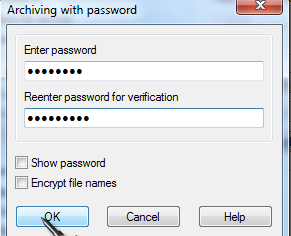 Done! Now whenever someone tries to extract the file, they'd be prompted to enter the password for the file.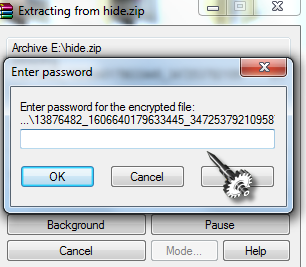 Simple enough isn't it? Well, this is the fastest and simplest method to Password Protect a Folder in Windows.
How To Password Protect Any Windows Program:-
Now that we've password protected a folder, let's get down to password protecting the Windows Programs.
Again, I'd say Winrar can be our simplest solution.
Well to access any application on Windows, we need to double click on the "executable" or .exe file of that application, right? So it's basic knowledge that password protecting that .exe file would password protect the whole application.
So the simplest solution to Password Protect Any Windows Program is:-
Copy the executable file of the application you're trying to password protect to a new folder.

See? The .exe file is now in a folder. And delete the original .exe file from the desktop or any other place it might exist. That way, the only copy of the .exe file of the application that exists on your computer would be this file in your folder which you just copied.
Once that's done, just proceed with the same steps as mentioned in the above section. Right Click > Add to Archive > Advanced > Set Password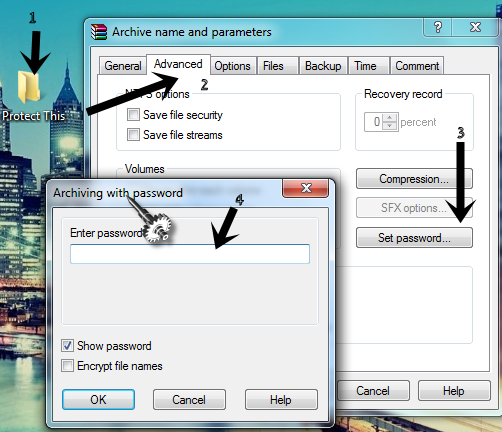 Done!
Now I do agree the above method was just a "solution", the simplest one probably but not a very professional method to achieve the goals. If you're looking for more professional methods, continue reading.
Method #2 to Password Protect Any Windows Program:-
You need to download WinGuardPro.  It's a free application that supports Windows XP, Vista, 7, 8, and even Windows 10. So you can also use this as an answer to questions like How to lock specific apps in window 10.
Now It's only around 3mbs, so yeah it's light. Once you've downloaded it, install it and run it.  It'll ask you to set up a new password for the application, so set your password.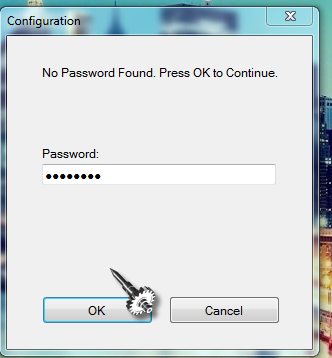 Once you're done, run the program you want to lock. Meaning double click on the application so that it's running on your system. And then click on the "Lock program" button inside WinGuard Pro.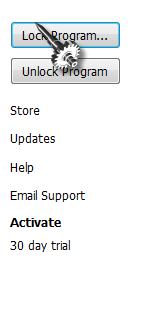 Now it will show you all the running programs on your system. Just select the program you want to lock, and click on Lock.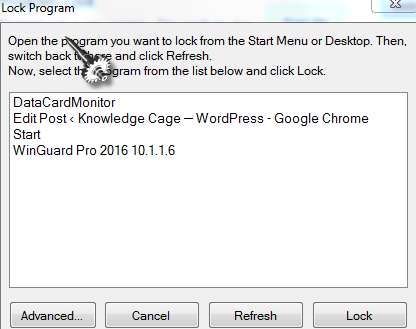 Done! The program would be locked. Now every time someone tries to access that application, he would be asked for the password you set with the application.
Also, the added bonus is, WinGuardPro doesn't just lock any specific .exe file copies, it locks the whole code. Meaning even if there's a copy of the .exe file somewhere else on the computer other than the one you locked, still it won't be accessible without the password.
Final Words:-
So that was all I had on How To Password Protect Any Windows Program guys. I hope this piece helped if it did I'd love to hear your feedback in the comments section.
Also, do let me know if you're facing an issue, and if everything worked as planned, I wouldn't mind you guys hitting the share button and spreading the word around.