Instagram! One of the most popular photo-sharing social web services. You might be aware of Instagram and its popularity. If not then let me give you a short intro,
Instagram is a photo-sharing/video-sharing mobile application that enables its users to take photos/videos and share them on social media platforms.
With Instagram, one can share their life in the form of pictures. Instagram is basically a photo-sharing app, but it also supports video uploads. Yes, you can post your pictures as well as videos on Instagram. Now the question might be sticking through your mind how to post on Instagram whether it is videos or photos, Right?
I have seen many people wondering and searching all around the web like how to post pictures on Instagram, what to post on Instagram, etc.
So, today, you are going to get all the answers to all queries related to Instagram. In this article, I will tell you how to post to Instagram, things that should be posted on Instagram and how to post on Instagram from PC.
Now you can guess how useful this post is going to be for you and all the Instagram users. Now without wasting more time let's head towards the actual guide.
How to Post on Instagram
Instagram app is basically available for iPhone, Android, and Windows Phone. And the procedure for pictures to post on Instagram varies for all the phone. There is another thing you can do on Instagram and that is Repost. Repost means to post someone's post through your account. If you wanted to repost a post, here is how to repost on Instagram.
Though there is not such a tiring process or hard steps that have to be followed to post images/videos, whatever it is, it varies a little in all the devices.
Assuming, you have an Instagram app installed on your phone and you are logged into the same. Now to learn how to post pictures on Instagram follow the below guide.
For iOS and Android Users
Launch the app on your device.
When you open the Instagram page, you will be redirected to the news feed section, just like it happens on Facebook.
Now as you want to post a picture, what you need to do is, tap on one of the buttons displaying on the bottom of the app. Any doubt? See the image below. I have marked the icon with the Red box.
You can share photos from only two sources one, your existing photos from the gallery or by capturing the new photo.
Now to start posting photos tap on the button, I showed in the above image. Once you tap on the button(), the mobile will be turned into a camera mode. Capture any photo if you want or if you want to use an existing photo, tap on the open the gallery icon tap (iOS) or (Android) and pick the photo you wish to post on Instagram.
After selecting a photo, you can edit that by using the effects given in the Instagram app. You can also use a filter and apply it to your images if you want.
Once done selecting and editing the photo, tap on the Next button(

). 
This is the last step; here you can specify the caption of the image. You can also use # tag to your images to make your images more categorized. Though this is not necessary, you can use it to make your images more attractive.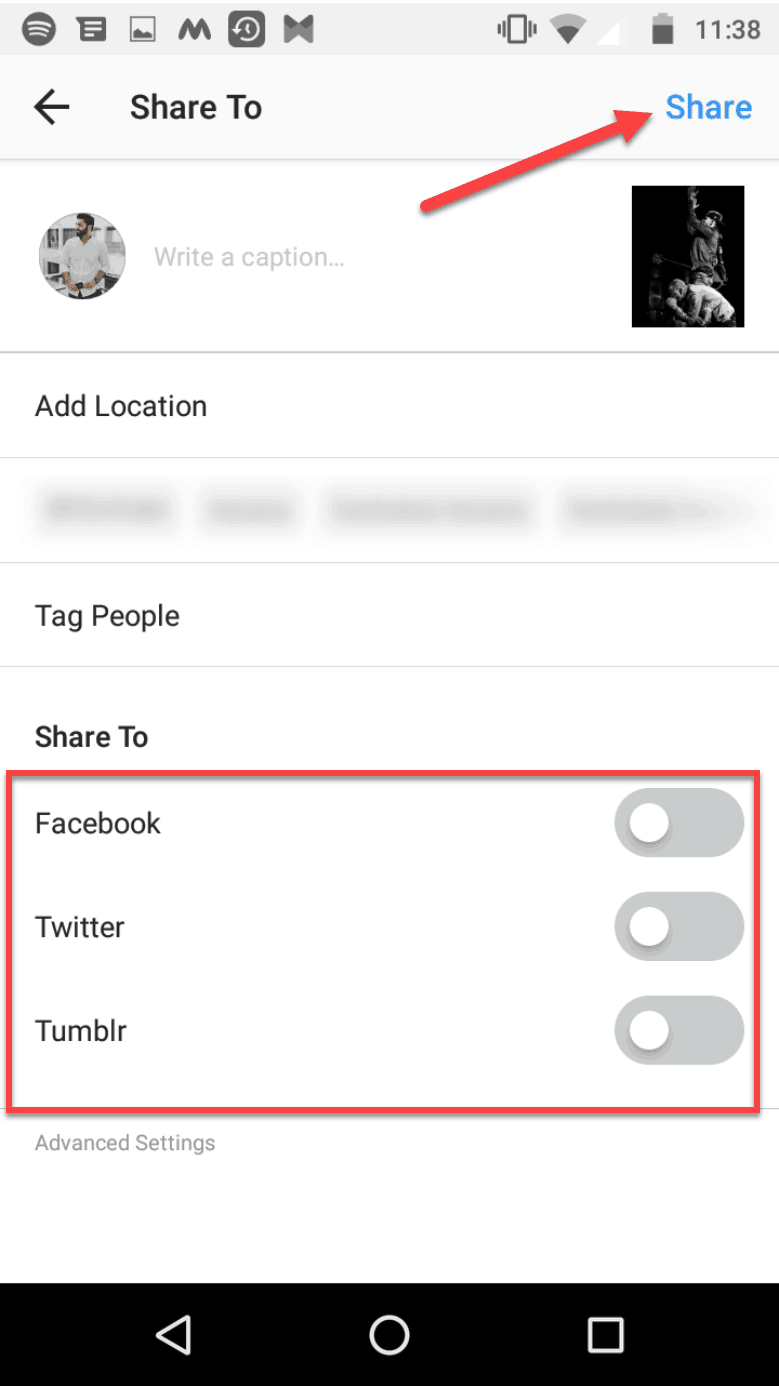 You can also share your photos to Facebook, Twitter, Tumblr, etc. by using Instagram by simply tapping on them. Emoticons can turn a simple post to a more attractive post. Here is how to add emoticons on Instagram.
At last, tap on the checkmark("✓") from the top right corner of the screen to post the picture. Yay, your picture is now live on Instagram.
Now all your followers will be notified on their news feed. If you want to check if your pictures are posted or not, you can do that by going to My Feed.
For Windows Phone Users
For Windows users, the procedure is almost the same with just a slight difference that too in icons. I will show you how.
In the Windows phone, you will see the camera icon  (). Tap on the icon to turn your phone into camera mode and capture the image.
To upload a photo from your phone's library, tap Camera Roll and select the photo you'd like to share.
Once done selecting the picture tap on the checkmark ("✓"). Now add the caption and tap on Share on Instagram option. And your picture would be posted on Instagram.
This is how we post images or videos on Instagram. After reading the above article, would you still ask anyone like how do you post on Instagram or how do I post on Instagram? I guess no.
So, now moving to the next part of the guide that is:
How to Post on Instagram from PC
However Instagram is basically a mobile app, but it can be still used on our computers. To upload pictures to Instagram from your computer, you'll need to run the Instagram app on your system. Once you install that app on your computer, you would be able to upload photos on Instagram via your computer.
I have summarized a brief guide to using Instagram on your PC. See below.
First of all, Download and Install BlueStacks. (In order to run the Instagram app it is must-have on your system).
Once done, download and install Instagram by double-clicking the .apk file. And launch the Instagram app from the library.
That's it!! Now sign in to Instagram and use it accordingly.
After the Instagram app is installed on your system, use it normally as we do on smartphones. And post pictures or videos follow the same procedure mentioned above.
I think now you have got How to post on Instagram. Instagram app is equally easy to use like all other apps are. Once you install the app on your device, you will hardly face any difficulty using it.
No matter you are a user of android or windows phones, posting pictures on Instagram is almost the same for all the devices. Have you ever get an idea to print Instagram Photos? Yes, then print it. Here is how to print instagram photos.
I assume you enjoyed the guide if so consider sharing it on social platforms. And if you have any problem or confusion regarding the guide do ask via the comments in the comment section.