Want to remove an annoying application or an application which is taking too much of your system storage or whatever might be the case. The bottom line is that do you want to know How to uninstall an app or program in Windows or How to uninstall program on Windows? if yes, then you are indeed at the right place.
In this article, we will make you aware of the inbuilt windows feature and the third party software which will ultimately help you know how to remove programs in Windows 7? So, let's get started:
How to remove programs in Windows 7?
Method 1:
Step #1: Windows has an inbuilt feature which lets you remove or uninstall programs in Windows 7. So, this very first step marks the beginning of the procedures required for the same.
So, in order to get started, you will have to navigate to the start section of the Windows 7 and make a click on it. This will open the start menu for you from which you are required to locate the control panel option. In order to make things easier for you, the control panel option is usually found in the right pane of the start menu.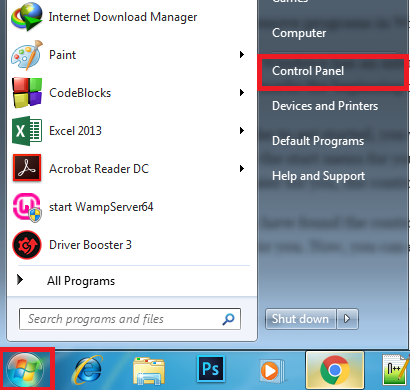 Once you have found the control panel then obviously you have to click on it. This will open the control panel window for you. Now, you can easily go to the next steps for further instructions.
Step #2: Now, as of now, you will have the control panel window in front of you. Based on your personalized view, you might have any of the three views. So, by default, you will have the following window. If you are having this window then you need to make a click on the "Uninstall a program" option which is placed under the "Programs" header.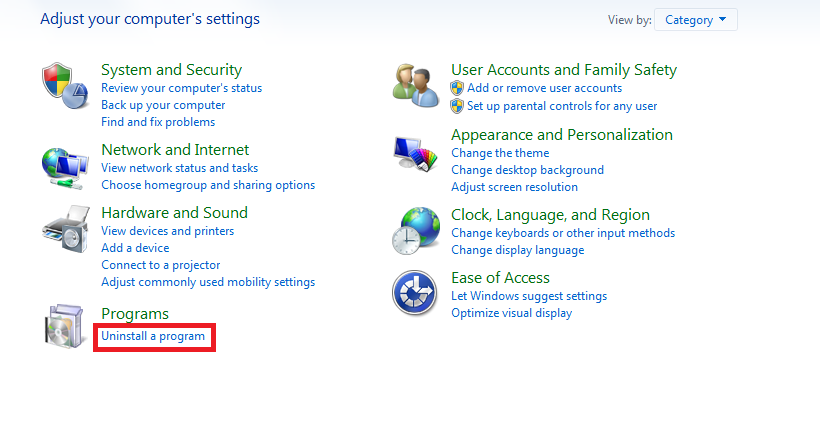 However, if you have changed your view settings to "large icons" or "small icons" then you will have to search for "Programs and features" option and make a click on it. The outcome of this will be the same as the previous one.
Step #3: After you have successfully completed step #2, you will have the list of all of your installed programs in front of you. Now, in this step, you will have to look for the program which you want to uninstall.
Let's say, for instance, we want to remove the utorrent application for the system. So, all that we require doing is to select the program by clicking on it. After this, you need to click on the uninstall option positioned as shown.

After this, you will get a usual prompt which will ask you to provide the permissions to uninstall the application from your system. Just after you have granted the required, you will see the normal rituals you need to perform while uninstalling an application. You need to perform those just by following the onscreen instructions.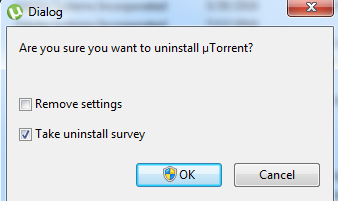 Within a while, once you are done with all these, you will have the program removed from your system.
Method 2:
This method involves a third party application named Iobit uninstaller. Though there are many such applications out there I found this tool quite useful and impactful. So, first of all, you will have to download the Iobit uninstaller application on your system.
Step #1: First of all, you will have to download the application on your system. You can either make a Google search or else you can download it from here.
Step #2: Now, once you have downloaded the application then you now need to launch that application. After you have opened the Iobit uninstaller, you will see the list of all your installed programs.
So, now you are required to look for those programs which you want to remove. This uninstaller allows you to batch uninstall a handful of programs at once. So, if you want to make use of that then you can do that as well.
So, in order to install a single application, you need to select that application by clicking over it and then either click on the uninstall button at the bottom or go with the bin icon in front of the program itself.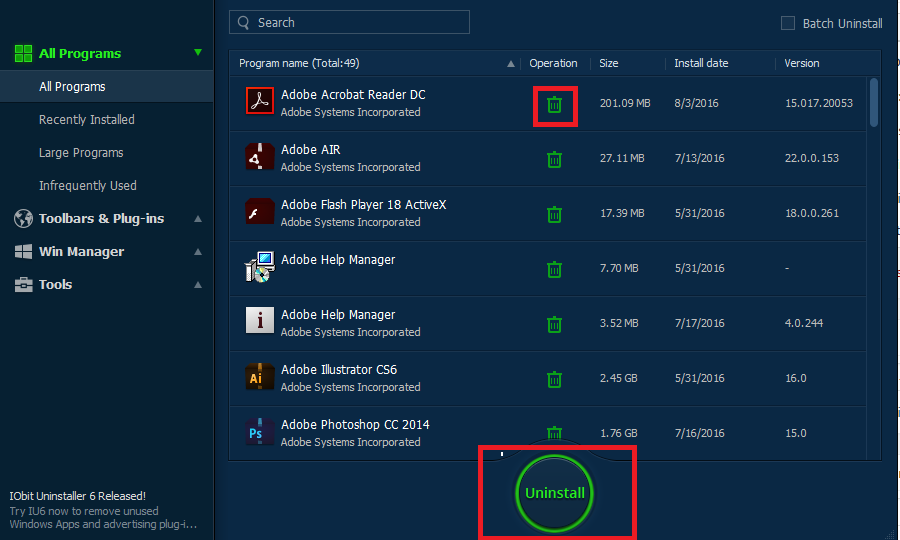 Step #3: Now, after hitting the uninstall button, you will be prompted to confirm your action. The prompt will look somewhat like this. You need to make a click on the "Uninstall" button in order to proceed forward.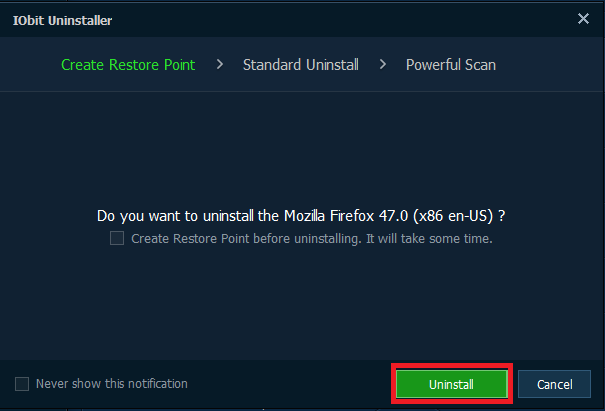 Additionally, if you don't want to make space for any mishappenings then this tool also provides a facility to create a restore point before uninstalling. So, just in case if any blunder happens you can always restore it to the previous point.
Step #4: Now, after step #3 the usually uninstall wizard of the application will open up and you are now required to follow the onscreen instructions to reach up to the final steps.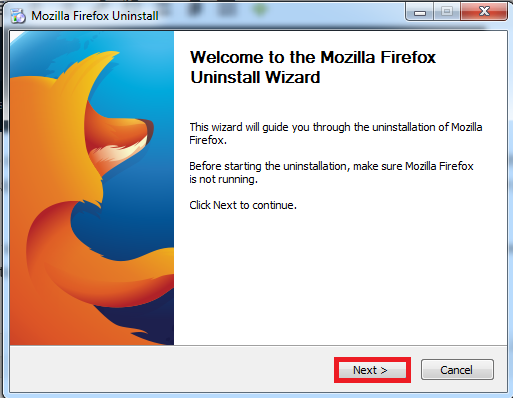 Step #5: As the final step, if you wish, you can run the powerful scan option. This powerful scan searches the system against the leftovers of the program which you have just uninstalled which is no longer required. Since those files are primarily considered as junk so, it is recommended that you should run this wizard.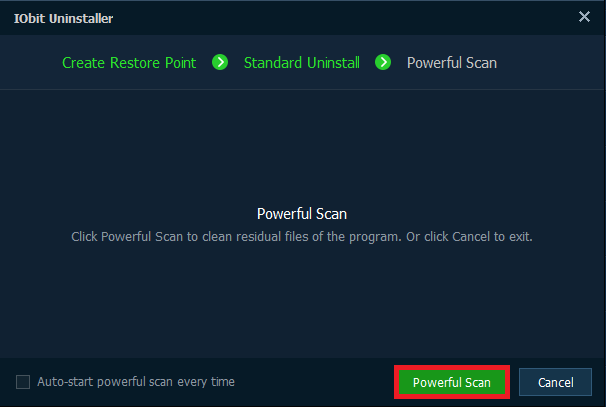 After the scanning, you will be provided with the leftover files and you can now delete those. Just in case, if you do not want to delete some specific files then you can always uncheck such files and delete the rest.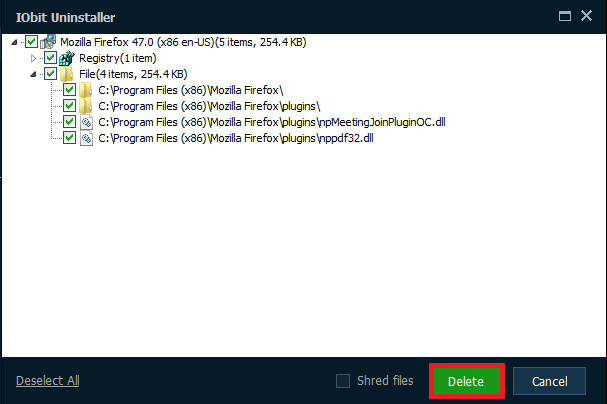 This way, you will have your program uninstalled using a third-party uninstaller.
So, this was all about How to Remove Programs in Windows 7? We hope that after going through this very article, you must be able to do the desired work.
So, if you liked this article, then do let us know through the comments section down below. Additionally, do not forget to give us a thumbs up through our Facebook page and share this as much as possible.
Thank you for giving it a wonderful read.
Keep visiting and stay tuned for more of such informative articles on Windows 7 and others.