If you have ever made queries on google like how to sign out of Gmail, how to log out from Gmail and so, then my this guide is definitely written for you. Just keep on reading!!
Gmail is indeed one of the best email services by Google which is also free. We receive hundreds of emails but not every mail is important to us. That's why people create the folder in Gmail. If you wanted to create folders in Gmail, must check out.
Signing into any website is easy but many people get stuck while logging out of it. Same is the case with Gmail. Nowadays, as sending/receiving emails have become common so is the queries regarding how do you sign out of Gmail, how do I sign out of Gmail, and so forth. This is the reason I have come up with the article how to sign out of Gmail.
How To Sign Out Of Gmail
While using public computers like in the cyber cafes, library or college, sometimes we forget to log out our email accounts from the system and we close the browser which is quite un-secure. There are good chances for your account to get misused at any time if someone finds that opened. To prevent such mishaps, it becomes necessary to log out of Gmail accounts we were logged in through.
So today, I will show you how can you log out of Gmail in different ways. In this article, I will tell you three varied ways to log out of Gmail accounts.
#1. Simply by clicking on sign out option from your browser
When you log in to your Gmail account, at the top right corner you will see a photo of your Gmail account or the email ID. Click on that.
Once you click there, you will see a sign-out option there. Click on it and you will be logged out from your Gmail account.
Though this option is very easy to navigate through, but if you have any doubt I have mentioned the screenshot as well have a look on that.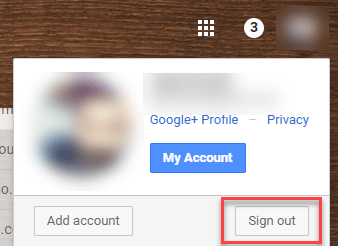 #2. By signing out from all the sessions
The preliminary way of signing out from Gmail account is the first method I have shown you above. But sometimes while using the public computer if you missed out to sign out, in such case what would you do? how do you log out of Gmail?
In such case, you can make Gmail sign out by logging out from all sessions at a time. I will show you how.
First of all, log into your Gmail account and scroll all the way to the bottom of the page.
Below the last mail, you will see an option Details. Click on that. Have a look at the screenshot.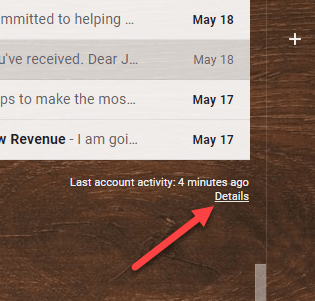 Once you click on Details option, a new window will be opened. Here all you have to do is click on the Sign out of all other web sessions button.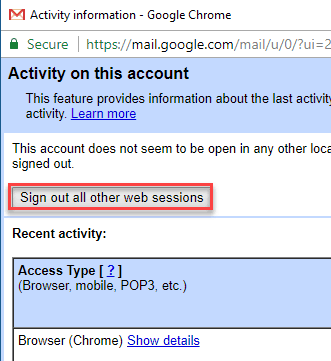 After clicking on Sign out of all other web sessions, you will be logged out from all the computers except for the one you are online now.
This is the best way to prevent other people to use your Gmail account if you have mistakenly left the account open or forgot to log out from the public computer. There are alot of time when we start getting irrelevant emails or spam mail. In that case, you can block those emails on Gmail.
#3. Logout Gmail from your phone
If you are an android user and still don't find the way to log out of Gmail then see the below method.
To sign out Gmail from your Android phone, firstly go to your Gmail account by entering your email Id and password.
Once you are logged in, you will see the main page i.e. main page of the Gmail. Here click on the three horizontal lines at the top left corner.
Once done, you will see a screen where you will have to click on the drop down arrow just beside your email ID.
After clicking on the drop-down arrow, you will see a new screen where you will see all the email Ids you had opened on your android phone. All you have to do is tap over the sign out of all accounts.
And you will be logged out from all the accounts you were signed in. The steps for logging out may vary if you have a different mobile handset, but that would be a slight difference you will find the options easily.
These were the different methods to sign out from Gmail account with different places. I hope you found all the ways to log out from your Gmail account and found the solution of your queries.
In case you wanted to change your Gmail password, it happens, you can easily change it. See this to Change Gmail password.
Now, you don't have to be worried if mistakenly you left your Gmail account open on the public area or have opened up your Id on friend's mobile phone. If it is so, simply follow the above methods accordingly and make your Gmail profile secure.