As we all know, in this modern generation Internet has become as important as water and oxygen. Without the internet one's life is boring like a lazy sloth. The Internet helps us to connect with the world. And needless to say, a simple source of internet is a WiFi.
WiFi, i.e. wireless fidelity, which provides a wireless connection to the internet in a particular area. Users can connect to it from their Android devices and laptops just by putting the required key and can enjoy the benefits. It is really annoying when your WiFi speed works like a snail, and I can understand that feeling since I am also a regular user of wifi.
But don't worry you can anytime upgrade your connections to enhance the speed. But before that, you will need to check the actual speed whether it's actually slow or its just a network problem. In this article, we are gonna show you how to test WiFi speed. Follow the guide and learn to check WiFi speed just by following few steps.
How To Test WiFi Speed:-
As I mentioned, there are many tricks of speed test WiFi, we can use websites as well as some features which are already available on our computer but we are unaware of it. In this article, I have covered both the ways. Let's head over it.
#Method 1. By Using Third Party Websites
First of all, you can use the OOKLA speed test website. The OOKLA is one of the best and true websites for checking the speed of your wireless connection of internet. This website is very easy to use and can give the results faster than any other website. But remember, to use this website you will need a software called adobe flash player.
If you don't have adobe flash player you won't be able to use this trick and you will have to drop the idea of using OOKLA and have to try out other methods which I've shown below in the guide. To use OOKLA speed test track, you have to go to the website http://www.speedtest.net.
As sooner you visit the website, you will see an awesome background and a laptop type structure in which a world map is shown and a meter which shows your internet speed. Now just click on the big green button of Begin Test and it will select the best server based on ping.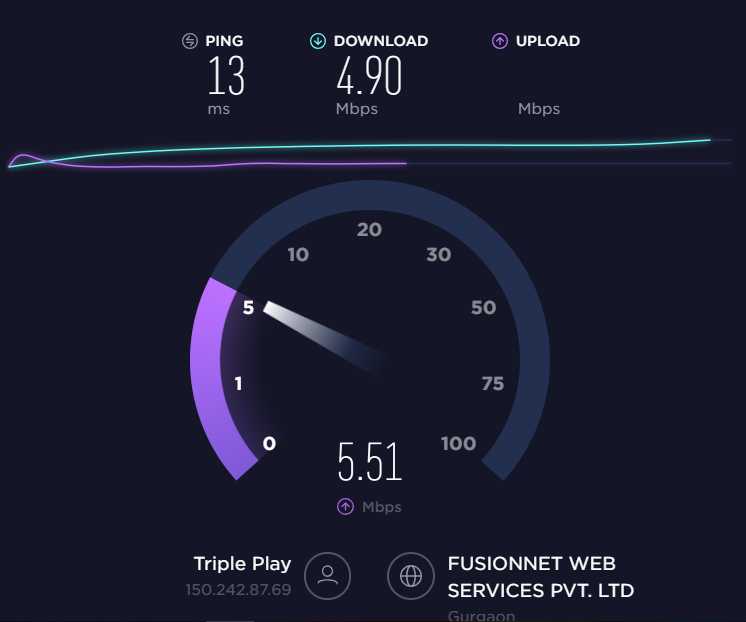 After that, it will test your download speed, you just need to wait for a few seconds. Once the test is complete, you will get notified about your download speed.
After the downloading speed check is complete, the OOKLA will test for your uploading speed and again in a few seconds, it will show your uploading speed. My internet is too slow as you can see in the image 😛
This is an awesome website to check the speed of wifi, whether it's downloading or uploading speed. And if it is not working fine on your Pc or doesn't support to your device, then here is another good website which is also powered by OOKLA speed test.
The other website for speed test wifi is http://www.timewarnercable.com/en/support/speed-test.html. Just click on the above link and you will land on the new page of Time Warner Cable website of testing the speed of your internet.
To use this, just click on the Begin Test button and wait for a few seconds.
And it will show you the download speed and upload speed as well.
OOKLA is the best software for checking the speed of your WiFi. I think you don't need any other way to check your wi-fi speed, but as I promised above, let's check out the method to check wi-fi speed without any website.
#Method 2. Without Using Any Websites
We can check our internet speed without any software or any website within our computer or laptop. Just follow these simple steps. But remember, the method I'm showing you is applicable for windows 7 users or above.
If you are using Windows XP then stay tuned, I will show the method to check the internet speed on Windows XP too.
Following are the steps to check network speed on windows 7, just keep calm and follow these simple steps:-
Step 1. First of all, you need to go to Control Panel.
Step 2. Open Network and Sharing Center as shown in the below-given image.
Now a new window will open up with the details about your internet connection. Under View your active networks section, there are three options:_
: Access type:
: Homegroup:
: Connections:
You can see in the connection section, a cable icon is shown which means my internet is connected through a cable.
Step 3. The next step is to click on the option which is shown in the connection section like mine is Local Area Connection.
After clicking on that, a new pop-up window will open up with all the details about your connections. You can see the below screenshot in case of any doubt.
You can see the fifth point 'Speed' which means with how much speed your internet is running. I think you are shocked by watching my speed (100.0 Mbps)!! Guys don't worry, it happened because I am using the internet by cable but it will show the real speed when you are connected with WiFi.
Now for the Windows XP users, if you want to check the speed of your wifi without any website and any software, stay tuned and read the next few simple steps, I think they might be helpful to you 🙂
Step 1. Go to start menu and open Control Panel.
Step 2. Then select Network Connections as shown in the given image.
Step 3. Now under LAN or High-Speed Internet section, two computers and a cable-type structure are shown, just double click on that.
And again a dialog box will pop-up and under the connection section, you can see the speed of your internet connection.
That's all for the guide!!
We hope the tutorial helped you learn how to test wifi speed. Now you can perform wifi speed test without taking any one's help!
There are many other websites and software to check the speed of the internet which you can get by searching on google and if you want to check your internet speed on android, there are many apps for that too!
You just have to search it on google and You'll be provided with several such apps and websites.