Smartphones are everywhere. While our first phones were probably black and white Nokia devices that could barely hold more than 200 contacts, even sixth graders now own smartphones, iPhones at that. This actually reflects the breakneck pace at which the advancement of technology has taken place.
Now, when it comes to smartphones, they are broadly divided into two categories – iPhone and Android depending on the OS (operating system) they are based on. Apple launches new models of its iPhone, iPads, and all other devices every year. Each of these newly launched devices comes with some kind of hardware upgrade or a brand new feature set.
So, you might wish to upgrade to the recently launched iPhone and ditch the current gen device. But before you can do that, one question must be circling in your mind is how you will transfer contacts from iPhone to iPhone
In, spite of there being several third party apps that can help you by migrating your data from one phone to the other, contacts, are something that most backup software skip over. Even cloud storage solutions offer only backup options for your multimedia needs.
So, the biggest issue arises while transferring the contacts from your old iPhone to the new one, since neither of the tactics mentioned above implies on contacts. The situation may become so pathetic that you choose either of the two options – drop the idea of buying a new iPhone or copy each and every contact manually.
OK, you can manage with the second method too, but only if the number of contacts is limited. But what if, the number of contacts is quite large? And, for local backup purposes, if you wanted to copy your iPhone contacts to Mac, well, you need to see this where you can Imports contacts from iPhone to Mac.
Yes, then begins the hunt for some tips, tricks, and how-tos to transfer contacts from one iPhone to another or import contacts to new iPhone, or ultimately export contacts from the older iPhone. All of them serve the same purpose. So let's have a look at some very easy methods to transfer contacts from one iPhone to another iPhone:
#1. Transfer contacts from iPhone to iPhone Using Anytrans app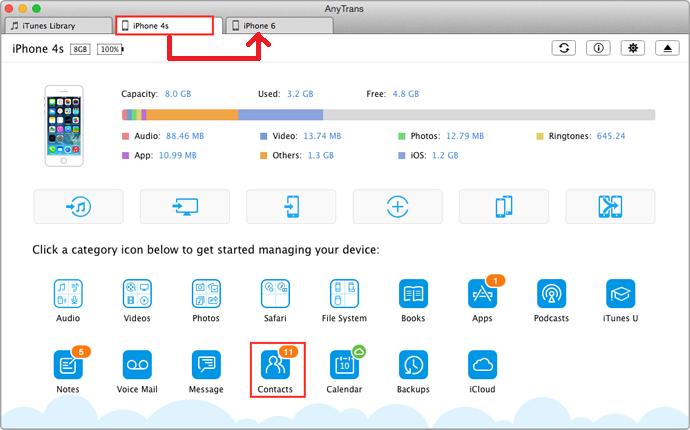 Anytrans is a channel or a medium through which you can quite easily transfer contacts from one iPhone to another in a matter of minutes. It is very advantageous as this medium is time-saving as well as less energy consuming.
Moreover, the biggest upside of this app is that it is user-friendly – meaning that anyone and everyone can apply this method very conveniently.
1. Before having to use Anytrans, you must download and install it to your system
2. Once you are done with downloading and installing, you are simply to launch the app. The installation process won't take much time.
3. After you have successfully installed and launched Anytrans, it will let you connect the two iPhones to your personal computer
4. After connecting both the devices to the PC, click on the old iPhone tab displayed on the screen
5. Just after clicking the old iPhone tab you can see all the category icons to manage your device
6. Look up for contacts on category icon
7. You will now be presented a list of all the contacts that were saved on your old iPhone. Select the ones that you need to import from one old iPhone to the new one.
8. On the same page at the right-hand side, you will be able to see a device button.
9. Click on the concerned button and voila, you have successfully completed the process to transfer contacts from iPhone to iPhone!
In case you got the duplicate contacts in your iPhone, here is how to delete multiple accounts.
#2. How to Transfer Contacts from One iPhone to Another Using iCloud
But before proceeding directly to the steps to transfer contacts from iPhone to iPhone, let us know something about iCloud too. In simple words, iCloud is a cloud storage service just like Google drive.
iCloud is officially owned and managed by Apple Inc. Using iCloud, users can easily store their data like photos, media, etc. and then access it whenever to wish to. Here is how to backup iPhone to iCloud. If you already have backup on your icloud account, here is how to restore iPhone from iCloud.
Each Apple user gets access to iCloud as soon as they buy an iPhone. For iCloud, the Apple id credentials are the ultimate login details. However, regardless of the various uses of iCloud, here we will be using it to transfer contacts from iPhone to iPhone. So the steps are: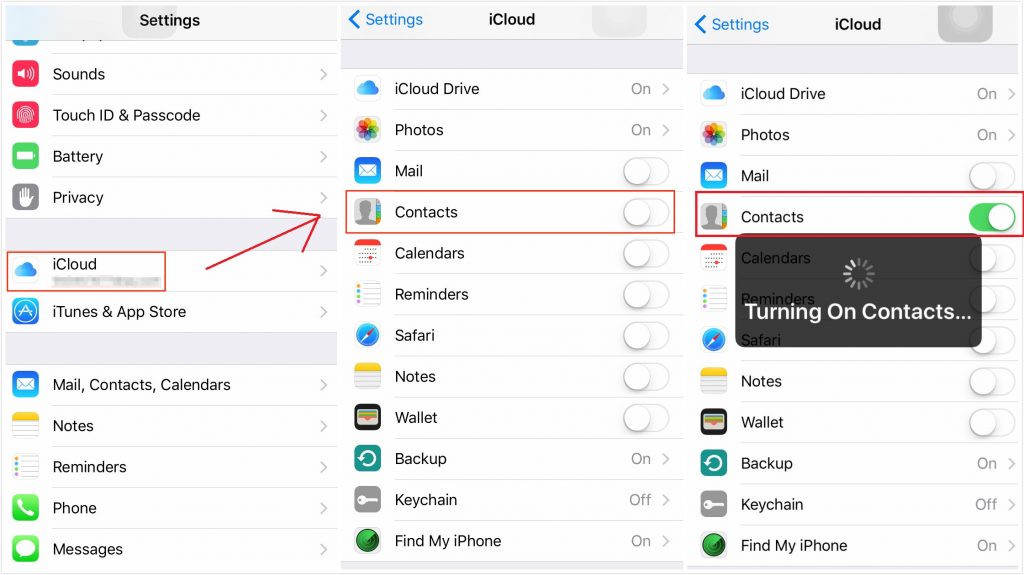 1. For this process to be executed, your smartphone should have an internet connection be it through cellular data networks or via WiFi.
2. Look up for settings icon on the home screen of your iPhone device.
3. Turn on your contacts if by default they were in off mode just by tapping on contacts.
4. Again search for storage and backup point by scrolling down this page.
5. Now you need to turn iCloud backup "on" if by default it was kept in the off mode.
6. Tap on the "backup now" button to make sure that the process is successful, to continue further.
7. Now switch on your new iPhone device.
8. Tap Restore from iCloud backup option in setup assistant menu of your new iPhone.
9. But make sure, you have logged in with the same Apple id which was used on old iPhone or else the you will not be able to see any of the backed-up items (contacts, here) on iCloud.

This happens because since you had backed up all your items to your old Apple ID, they are stored with that id. Now if any other Apple ID is entered instead of the one which is supposed to be entered (old one), there won't appear any backed up items in the list. Hence, the process tends to be terminated unsuccessfully.
10. The previous step ends the process, and your job to import contacts to iPhone is successfully executed.
This method will not work if you want to transfer selected or fewer contacts instead of all the contacts. So, in this case, opt for the first method
Make sure you login with the same apple id on both the iPhones (new and old) and do not forget to connect them to a network.
Final Words
Hopefully, now you know how to transfer contacts to new iPhone. The methods mentioned above are very convenient and may stand next to a toddler's pram on the scale of easiness. You can also transfer contacts from iPhone to Android and also transfer contacts from iPhone to Android, I mean, just in case you needed.
So, what did you use to transfer contacts before you came to know about these methods? We would love to hear your awesome responses and stories.