After reading the title, you must have got the idea that we are going to talk about firewalls here. For those who don't know, What is a firewall, A firewall is a software program that helps protect your computer from unauthorized access to or from a private network. It also prevents viruses, worms, and malware that try to reach your computer and it also keeps unsavory traffic out. Check out the Top 5 Free Firewall Tools.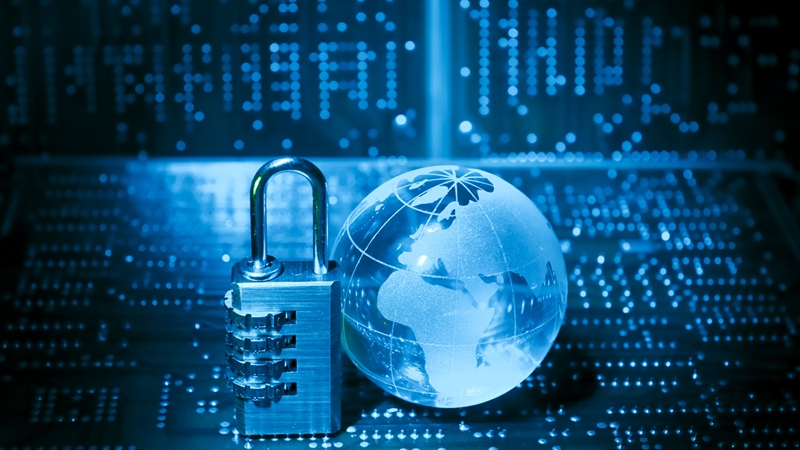 To protect you computer, it is necessary to keep your firewall ON. But in some instances like to install any program, you might want to temporarily disable windows firewall. Or while running a program you might face difficulty in its working because it's conflicting with the firewall or due to any other reason, if you want to turn off windows firewall, follow the below steps.
How To Turn Off Firewall
Turning off firewall is never recommended. If you are disabling firewall make sure to update antivirus and anti-malware program to help protect your computer. If you don't have any anti-virus programs installed on your system, do install it and keep your system safe.
Once you have anti-virus on your system, you can disable your firewall programs.
#1. Turn off firewall on Windows
The method I have mentioned below works in almost all windows. Follow the steps and learn how can you turn off  the firewall on windows.
To turn off firewall from windows, go to start menu and in the search bar type windows firewall and hit enter.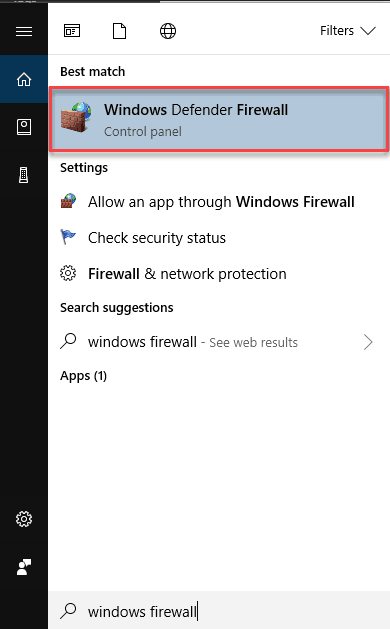 Once you press enter, you will see the handful of search results there including windows firewall with advanced security, windows firewall, allow a program through window firewall, and check security status. All you have to do is select "Windows Firewall"  from the list.
From the left sidebar, select the option Turn Windows Firewall on or Off.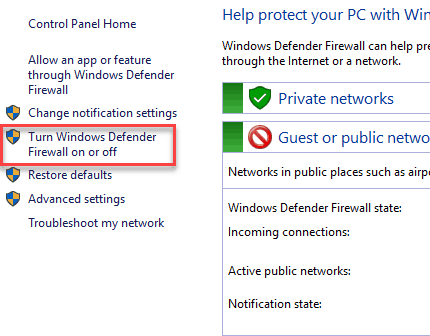 Once you click on that you will see a window. Where you will have to select the option accordingly. If you want to turn off the windows firewall then click on Turn off Window Firewall(not recommended) and click on Ok.  Have a look on the screenshot.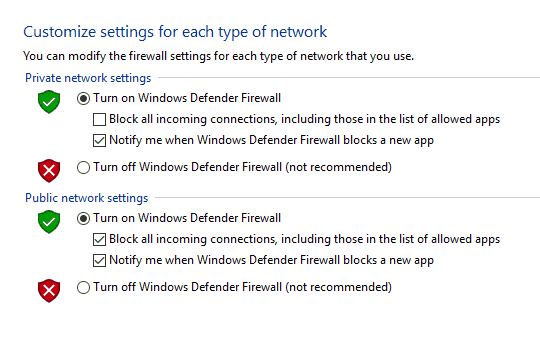 #2. Turn off firewall On a Mac
To turn off firewall On a Mac, go to system preference and then security(which you will find at the top line of icons).
Once you are there, click the Firewall tab.
Click on the small padlock icon from the bottom left corner and enter your password to authenticate with your Mac's administrator.
Click on the Stop button to turn the firewall off and you are done.
#3. Turn off firewall On Windows XP
T o disable windows firewall on windows XP follow the below instructions.
First of all, go to Control Panel and select Network Connections.
Now, within the Network Connections, right-click on the Local Area Connection and go to properties.
In the Local area connection properties, go to Advanced tab and then select Setting.
After clicking on settings, you can see a new window Windows firewall has opened up. Now select the option accordingly. As you want to disable the firewall, make a selection from the given radio buttons and click on OK. Your firewalls would be disabled.
Now whenever you feel the need of enabling the firewall, simply follow the steps again and select On(Recommended) radio button.
#4. Turn off firewall On Windows 8
For Windows 8 users, the method for disabling firewall is given below.
Firstly, go to control panel and select System and Security.
Afterward, go to Windows Firewall.
Once done, you can see options to turn on and off windows firewall. Simply click on Turn Windows Firewall off.
Now whenever you want to enable windows firewall follow the steps again and make the firewall enabled.
Tip: If you don't want to go through the long procedure, then follow this shortcut >> Click on the Start menu and type windows firewall in the search box and select  "Windows Firewall" from the search results that appear abruptly.
If you are a Windows XP user, Then Go to Start menu>Run> and then type firewall.cpl and hit enter. You will see the same Firewall Window. Now make the selection as per the requirement and click on OK.
Note: Disabling firewall is never recommended. The disabled firewall can make your computer more vulnerable to destruction. So, it would be much better if you have at least a hardware firewall between your computer and the Internet. Or having an anti-virus programmed installed would also be okay.
If your computer has been infected by a virus, here is how to remove virus without using Antivirus.
So, this was all about how to turn off firewall on windows. I hope after reading the complete article till the end, you have got the answers of your queries how to turn off windows firewall, what is firewall, and how to change firewall settings. If you enjoyed reading the article share it on all your social platforms to make it reachable to the indigent people.
If you have any queries or doubt regarding the firewall or similar to that, do ask by dropping your comment in the comment section.