Chrome is a web browser developed by Google, and it comes free of cost. It uses WebKit layout fork, Blink. It is a software application, which is used to retrieve, present, traversing information resources on the World Wide Web. The word browser originated prior to the web, which is used as a generic term for a user interface that allows you to browse files and information online.
Technically, it is a client program that uses Hypertext Transfer Protocol to make a request to the servers throughout the Internet on behalf of the user. Most browsers use specialized client program.
The first browser was called World Wide Web, and it was created in 1990. Later, the name was changed to avoid conflict with the developing information space, which is known as World Wide Web. Mosaic was the first web browser, which had a graphical user interface; it was first introduced in 1993.
Then it came to Netscape Navigator, which had a similar user interface and features like Mosaic had. After sometime, Microsoft launched its own browser called Internet Explorer.
Until September 2006, Internet Explorer was the most commonly used browser, and then Netscape came with the latest features and ever since the browser war started.
At this time, Mozilla also developed its browser called Firefox, which is an open source version of Netspace. Flock is another open source browser based on Firefox and it is optimized for web 2.0, which offers blogging and social bookmarking. Apple is present with its new browser Safari; it is the third most popular browser.
For UNIX Shell and VMS users, Lynx is used for a text-only browser. Opera is another browser, which is fast, stable and compatible with most operating systems.
Google Chrome was first launched as a beta version for Microsoft Windows on 2nd September 2008, and on 11th December 2008, it was first launched as a stable version. It is now the most used web browser with 58% market share in desktop browser. It is not only famous on desktop, but also in the mobile browser category.
Across all the browsers, it positions itself at the top with 45% market share. Its success led to other products using the name Chrome, such as Chromecast.
Google releases majority of Chrome's source code in an open source project called Chromium. And one of the interesting functions it has is that it is embedded with Adobe Flash Player. So, you don't have to download it separately. We must understand the usage of the browser; so to use it, we have to download and install the same.
To download Google Chrome, you have to go to any browser and type Google Chrome browser download. You will get several links from where you can download the setup file, which can be used to download the actual browser. The file, which you download, is called setup file. The basic functions are written in this, and it has the instructions to enable the download after hitting the download option in the setup file.
You are now ready to download the browser from which you can visit the World Wide Web. After completing the download of the setup file, you must check where it has been downloaded and then locate the folder. Go to that folder and after finding out, the file, single-click on the setup file, which will ask you whether you are interested in the download.
Click on yes and then the browser will start downloading. This process will complete after some time and then you will be asked whether you would like to make Google Chrome as your default browser or not. If you want to make it default, hit the 'yes' button. In this scenario, all the search work will go via the Google Chrome browser by default.
How to Uninstall Google Chrome?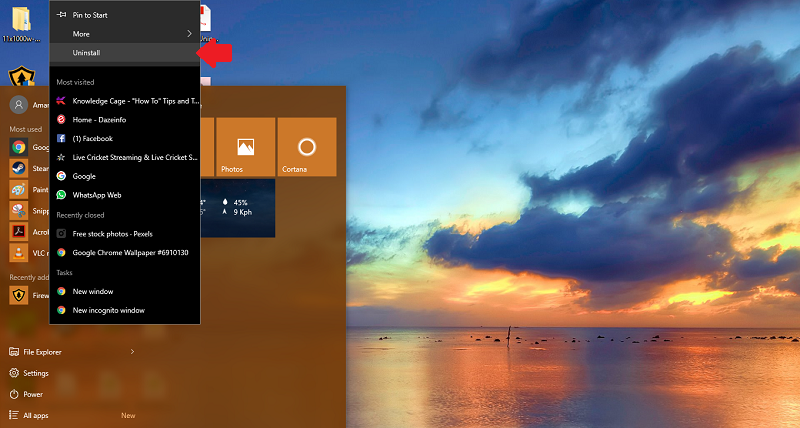 But sometimes, you may face some issues like corrupt browser, shut down of the browser or unresponsive browser. In this case, what you can do is very simple and can be done by a layman too – uninstall Google Chrome. If you're thinking how to uninstall chrome or how to remove Google Chrome, here's a quick guide.
Uninstalling Google Chrome is a straight and easy process, yet you can face some issues if Chrome isn't functioning properly. Here in this article, we will discuss about a solution for your query related to how to uninstall Google Chrome or how to delete Chrome in Windows PC.
If you have a problem with uninstalling Google Chrome, it will never open at all or the browser will not run at proper speed or it may run very slowly.
Log in to your computer with the admin account and close all the opened Google Chrome windows. Open control panel; from here, you can access the start menu. If you are using Windows 8/8.1/10, right click on the Start menu or use Windows sign key + X and select the control panel.
Click on the 'Uninstall a program' option, which will be seen on the right-hand side of the control panel. If you are using Windows XP, then select 'Add or Remove Programs'. From the installed program list, select Google Chrome and click the uninstall button.
This will uninstall Google Chrome from your PC. Hopefully this article has taught you How to Uninstall Google Chrome. If you have any more queries or comments on this topic, be sure to leave a comment down below.