If you have never come through the term Dropbox and don't know how to use Dropbox to share files and folders, probably you are missing out something!
Dropbox is an online storage service which lets you save your data including all your photos, videos, documents and everything you prefer saving on your desktop.
Gone are the days when we used to rely on our desktop and computers to store our important files. With the emerging technology, everything has become online and so is the way we used to deal with our data. If you have a kindle, you can also share Books on Kindle.
Cloud storage services like Dropbox, Google drive, and Microsoft OneDrive not only let us store our important data online, they have made sharing data online way too easier! Besides these two mentioned features, there are many features offered by them which make them very beneficial for official as well as personal use.
The cloud storage service we will be discussing in this article is Dropbox. There are certainly a lot of advantages of Dropbox that you should not miss! This article is devoted to teaching you everything you need to know about Dropbox from what is a drop box to how to use drop box. 
How To Use Dropbox to Share Files and Folders
You have a great song on your computer, and you want to share it with your friend who is currently online with you in a chat, how will you share that file with him? Or you have zip file of a marriage album which you have to send to your relative who attended the wedding with you, how will you send that file to him??
If your answer is via Email, then let me remind you email services have a limit of sending files. You can't send large files over the emails. Then how would you do that?? Well, the answer to this question is Dropbox.
Dropbox let us share files and folders online even though the receiver does not necessarily have the Dropbox account. If you are a Mac user, you can still download Dropbox on Mac. I know after getting to know a little about What is Dropbox app; you can't wait to learn how does dropbox work! 
In order to start using Dropbox, the thing you need to do is drop box sign in. And presumably, you need to have a Dropbox account.
To create an account on Dropbox, Go to Dropbox website and create an account by filling out the necessary details. Once the details are filled, click the Sign up for free button.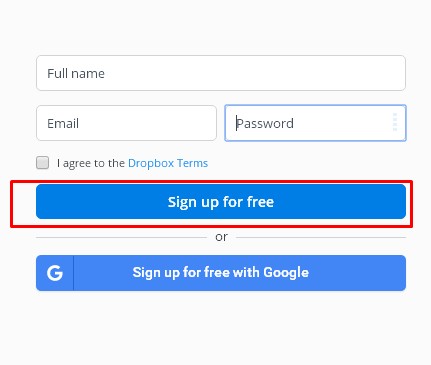 Or sign in, if you already have an account. After the drop box log in, you will be landed on the homepage of Dropbox account. The screen will look like the below screenshot!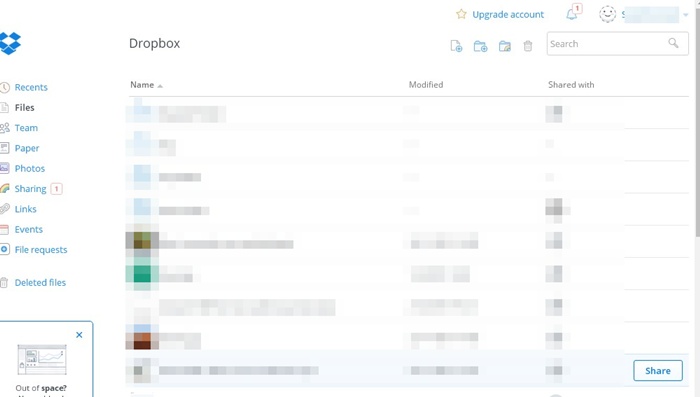 Now in order to share the files and folders on Dropbox, first we need to upload them to our dropbox account and then we can share them with anyone we want.
So to upload the files and folders, click on the upload option located on the top right corner. If you can't locate the option, see the below screenshot.

Now click on Choose files option and navigate to the files you want to share. Once the file is selected, click on Open. You can also upload more than one files at a time.
Once the file uploading is completed, click on done.
As sooner you click on Done, you will be redirected to the home page where all the files and folders stored on your Dropbox account resides. Now hover your cursor over the file or folder you want to share, and click on the Share option. A screenshot for the same is given below. 
There are two ways you can share your file. Either you can invite people to collaborate, or you can just share the link with someone in the Chat box.
If you want to invite people for collaboration, choose the first option. Else select the second option i.e., Send link.
To invite people for collaboration, click on the file option in the above screenshot and write the name of the person you want to collaborate with. Once selected, that person would be able to view, edit and comment on the file. But you can change the user permissions if you want.
And if you want to send the link to someone either via chat or email, select the second option. You will see the following screen.
In the above screenshot, the highlighted link is the one to be shared, copy it and send it via email or in the chat box. The person who clicks on the link can view this file. 
Under send this link to, type the email ID of the person you want to share your file with and also you can add a note. Once done, click on the send button. Mails would be sent to the person containing the link to the file.
So this is how we share files on Dropbox including videos, photos and any document you want.
The above method helps you share single files. But if you want to create a dropbox public folder, then follow the below steps.
Click on the Share a folder icon on the top. You will find this option just beside the upload file. Once you click on the Share a folder option, a new popup window will open up. It will look like the below screenshot.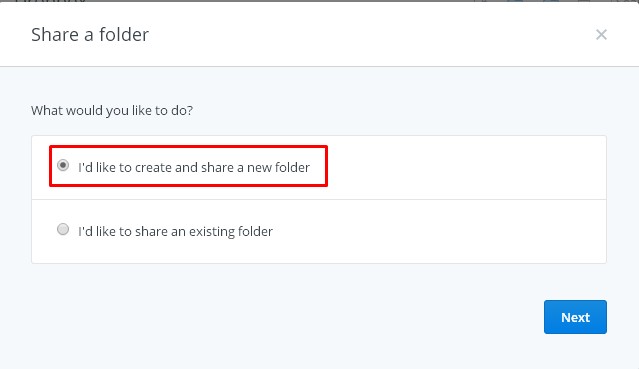 Now select the first option if you want to create the folder, or select the second option if you want to share the existing folder. I'm creating a new folder, so I'm selecting the first option. Now click on Next. Now you need to type the name of the folder, once done, click Next. 
Now in the next screen, type the email id of the person you want to share your folder with and click on Share Folder, your folder would be shared. 
And if you want to share an existing folder, click on the share button next to the name of the folder when you hover the cursor on it, and rest of the sharing procedure is same. 

These are the multiple ways on how to use Dropbox to share files and folders. Apart from Dropbox, there is another service by Google that you can use to share data online. You can also make Google Doc and directly share it with your colleagues, friends or anyone for that matter.
For any doubt or query, you can drop your comment below!