Google is now owned by its parent company "Alphabet". And you might be surprised to know that the Parent company got its name because now Google reportedly owns at least 1 company starting with each and every letter of the alphabet, from A-Z.
That's what got me into scribbling this guide on How to use google drive efficiently down. Let's start from the basics.
What Is Google Drive?
Google Drive is an extended service from Alphabet, under Google which offers you extra storage space, for free. You can use it to store your files on the cloud and access them anytime, anywhere.
Apart from just "storing" files, Google Drive can also be synchronized with a number of other platforms to achieve a variety of functions.
Basically, I consider Google Drive to be the online version of Microsoft Office. This isn't the official definition and is being quoted only to explain to you the "resemblance of functions and features" between the two platforms.
Just like with Microsoft Office you get MS-Word, MS-PowerPoint, MS-Excel, etc, similarly Google Drive to offers you a complete document solution.
Google Drive consists of:-
Google Docs (Functions resemble that of MS-Word.)
Google Sheets (Functions resemble that of MS-Excel.)
Google Slides (Functions resemble that of MS-Powerpoint.)
Disclaimer:- Apart from the resemblance among the "features and functions" of the two platforms, there's no link between MS Office and Google Drive. They both are operated by two different companies with different perspectives in mind, as MS Office is a paid solution, while Google Drive is totally free.
Is Google Drive Free?
This needs to be explained as a lot of people have confused answers to this. Yes, Google Drive is free, up to a storage limit of 15GBs.
But this 15GB isn't granted to you exclusively for Google Drive only, instead, it's the total space you get from Google, combined for your Gmail, Google Photos, Messages, and Drive as well.
Post the 15 GB limit, you can purchase additional space at a nominal fee.
What File Types Are Supported On Google Drive?
As I said, it acts as an external hard disk for you. So you can store just about any kind of file on Google drive, be it a folder, a zip file or a simple photo.
Just as long as it's not a virus or file containing malicious codes, it can be uploaded and stored on Google Drive.
How To Use Google Drive Efficiently?
Using Google Drive is fairly simple, just like with almost any other Google product.
Just head over to Google Drive and log in using your Gmail ID. As you might already know, one single Gmail ID can be used across all Google products, so you won't have to create a new ID.
Once you've logged in, you can see that the user interface has been designed pretty luxuriously as you can access almost every option you need from the left-sidebar.
The New button at the top-left corner is the most used button. You can click on it to:-
Add a new folder.
Upload a new file.
Upload a new folder.
Create a new document in the other drive subsidiaries, ie. Google Sheets, Google Forms, Google Sites, etc.
Drag And Drop:-
As this article is about using drive "efficiently", I've got to mention that you can upload any file/folder on your drive simply by dragging and dropping that file on your Google drive screen. Yeah, no need to click on a single button.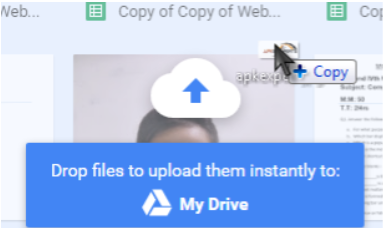 Creating A New Folder:-
Just like you can have folders on your HDD, similarly, you can also create folders on Google drive. Simply click on the New > Folder button. This would bring up a pop-up, where you enter the name of the folder and done.
Moving Files To And Fro Folders:-
You can move files between the primary drive and other folders simply by dragging them from the main "my drive" screen, to the particular folder you want them to be.
Or, you can right-click on the file/folder, and click on the "Move to" button to move the file to different locations within Google drive.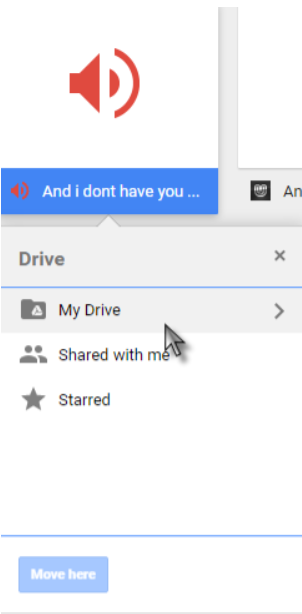 Extended Options:-
Just "Right-click" on any file/folder and that's your "features' heaven". You'll find every option that exists for that specific file/folder on Google drive right there.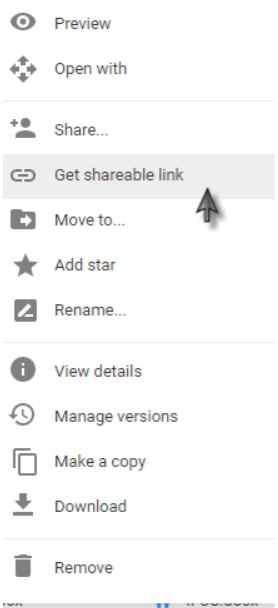 What you can do:-
Preview the file.
Get a link to share with your friends and family.
Move
Rename
Download
View actions on the file.
Basically, anything and everything about a file is right there.
Use The Search Bar:-
The search bar searches and displays any files you have for the specific keywords you enter. So if you ever lose a file, instead of fishing for it manually, just enter the name (or a part of it) in the Search box above, and Drive will find it out for you.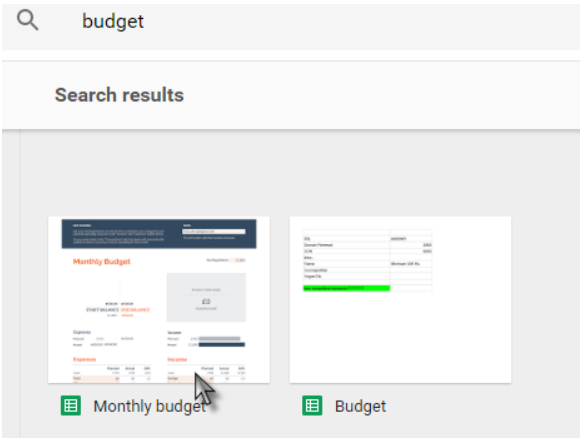 How To Use Google Drive On Android:-
Google Drive is pre-installed on most of the smartphones available in the market today. But if your android device doesn't have it, you can download it for free from the play store.
Once you download the app, just tap on it and log in using your Gmail ID. Once you're logged in, you can see that the interface for the cell version too is pretty straightforward.
You can tap on the red + button at the bottom-right corner of the app which would bring up the options required to upload the files to Google Drive.
You get three primary options once you click on the button:
Folder – Let's create a new folder for your Google drive.
Upload:- Let's you upload a file/folder directly from your android device to Google drive.
Scan:- In case you need to capture a physical document, you can scan it using the camera of your device and it automatically gets stored on Google drive.
You can use the "My Account" button (the three horizontal lines at the extreme top-left corner) to access everything else about your account. Your previous uploads/ on-going uploads/ thrash/ recent uploads / settings/ storage details. Basically, anything and everything can be accessed from there.
How To Use Google Drive On iPhone?
The app for iOS and Android are exactly of the same built. Meaning, apart from the difference in the operating system, you won't even know that you're using it on an iOS device and not Android.
So all you've got to do is, download Drive for iOS from this link (or from iTunes using your device) and you're done.
Quick Links
Final Words:-
So that was all I had on How to use google drive efficiently folks. Hope this piece helped. If it did, I'd love to hear your feedback in the comments section.
Not to mention that I wouldn't mind if you hit the share buttons and share this piece with your folks on Social media as well.