Mobile phones have been so much revolutionized that we can share files within a matter of a few seconds. Near Field Communications aka NFC is a technology that helps you do the same thing.
Not just file sharing, it can read NFC tags and return appropriate responses as well. Here, I will help you use NFC on Android.
So, without further ado, let's dive into the core of this blog post.
How to Use NFC on Android?
Before you proceed into the usage of NFC, you should know what it exactly is.
What is NFC on My Phone?
The name says it all. Near Field Technology makes communication between two devices easier when both of them stay in the closer proximity of each other. The distance should be less than 10 centimeters.
NFC became popular when Android 4.0 Ice Cream Sandwich had come out. Google has included a faster file sharing facility called Android Beam with it.
The data transfer occurs in the form of radio waves. Along with the transfer, you can read or write NFC tags as well.
I hope you know what is NFC on the phone now.
Does Your Phone have NFC?
How to find out whether NFC is available on your phone or not?
You can check out the mobile phone packaging first. Most of the smartphones with NFC has a label on the package. In case you don't see any, remove the back cover and have a look at the battery. Samsung phones come with an NFC label on the battery.
What if you can't see even a single NFC label at all?
Well! Navigate to Settings>> More. There you go! If your phone supports NFC, you can see it there.
Now that you know what NFC on Android is and how to check the availability, let's move on to the core of this post.
How to Use NFC?
First, you have to enable NFC on both the devices taking part in the communication. Follow Settings>> More>> NFC. There it is!
Most of the time, Android Beam gets activated right when you turn NFC on. In case it doesn't happen, you have to manually do it.
When you are about to share data between two devices via NFC, you have to check the following things.
NFC on both devices should be turned on
Don't separate your devices during the beaming process
The devices should not be locked or in sleeping mode
How to Beam Content Using NFC on Android?
Let's say you want to share something with your friend, who has an Android device with NFC facility.
So, how can you share the content?
Just follow the steps given below.
Step 1: The very first step is opening the content on the sending device (be it Maps, Photos, web pages, or contact info).
Step 2: Once you open the content, make sure NFC is turned on. As I already mentioned, you can do it by following Settings>> More>> NFC.
Step 3: Now you have to pick up the secondary device; the one you want to send the content to. Turn NFC on it too.
Step 4: When you turn NFC on both the devices, place their backs against each other. (The center of NFC is on the back).
Step 5: You will see that the sender's phone screen shrinks and displays Touch to Beam on top. The shrunk screen proclaims the content is ready to share over NFC.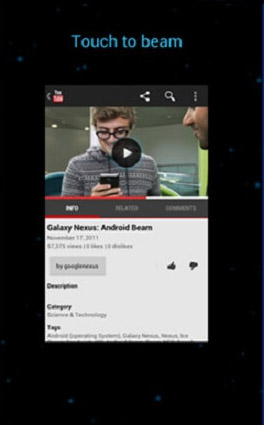 You have to touch the sender's phone to start beaming. Once the process starts, you will hear a sound.
There you go! When the beaming finishes, you will hear a sound and get a notification as well. On some devices, the shared content gets opened as soon as the transfer process completes.
Yeah, you can share multiple items via NFC. Let's check out what they are.
Sharing Apps
You can share applications with another device over NFC. Unlike common sharing methods, you won't get the APK file of the application on the receiving end. What you get is the link to its Play Store page.
The receiver has to manually install the app from the Store.
Sharing YouTube Videos
Similar to apps, you get a link, on tapping which the YouTube app starts and navigates you to the video.
Sharing Photos
In this case, the receiver gets the complete file. You can open the image with any viewing application. Still, not every phone supports photo sharing over NFC.
Sharing Contacts
Once you get contact via NFC, the device will ask you to choose a Google account if you have many sets upon it. In case you have only one on your phone, you won't have to do anything.
Sharing Web Pages
When you open a web page and beam the same, the phone on the receiving end gets the URL, not the content that can be accessed offline.
Making Mobile Payments
Yeah, you can make payments via NFC. No need to carry cards!
There are many apps like Google Wallet, PayPal, SquareWallet that help you make payments using NFC.
Using NFC Tags
You can automatically configure some settings of your phone or tablet using NFC tags. Let's say you have an NFC tag in your office that keeps mobile phone silent. Whenever your phone gets to its proximity, it will automatically switch your phone to silent mode.
An NFC enabled smartphone can read and write NFC tags. In order to feed data to a tag, you need a specialized app like Trigger.
It can do a lot of things; making a phone call, setting events, alarms, display settings, etc.
Wrapping Up
I hope you know how to use NFC on Android now, don't you?
Although the technology isn't so common, we can expect it to be in the near future. In case you have any doubts regarding this, feel free to ask in the comment section down below.
I appreciate it if you share this on social media.
Do you use NFC? Have you got any tips to make the process easier and efficient? Let us know in the comment field.