One of the most common questions from Roku users is how to use it to browse the web. Unfortunately, a Roku device does not feature a native web browser as one of its channels.
The Media Browser and the Reddit Browser are the only web browser channels available. Neither are they full-fledged web browsers.
The Media Browser can only play movies, TV shows, and music. It's essentially a video browser for the internet. The Reddit browser simply allows you to see Reddit posts. The Reddit browser does not come cheap.
This does not imply you are completely out of options. Fortunately, there are two methods for displaying a browser on your Roku device.
Cast a Web Browser to Roku From Windows 10
Casting a browser from your Windows 10 PC to the Roku device is the simplest way to use a Roku web browser. It's also the best technique to cast the clearest web browser with the least amount of resolution distortion.
This solution is made feasible by a technology known as Miracast. You can project your display (even in Extended Mode) to any device that supports this technology, such as Roku.
Projecting to the Roku Device
To use this technology, you must be running the most recent version of Windows 10. As a result, ensure that you've installed all of the most recent updates on your Windows 10 laptop.
When you're finished, click the small notification icon in the lower right corner of the Windows 10 taskbar.
A Project symbol will appear in the list of features. Choose that. This will activate the Windows 10 project function, allowing you to project your screen to any wireless monitor on your network.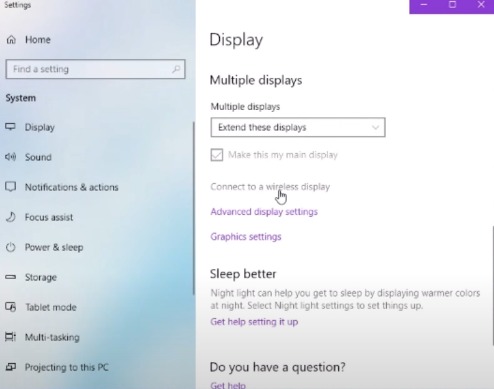 You must decide how you wish to project the screen.
Options include:
PC screen only

: Displays only on your PC, not on any other screen

Duplicate

: Mirror your main computer screen onto the Roku

Extend

: Connect an additional monitor to the Roku device

Second screen only

: Display only the Roku device on your PC and not anything else
Select your preferred choice. Extend is the most popular option because it allows you to continue using your other screens while utilising the Roku device's web browser on the TV.
However, if you don't want light from your other screens to distract from the TV display, choose Second screen alone.
Choose your option, then scroll down to the bottom of the screen and click Connect to a wireless display.
When you do this, you'll see a list of all network devices to which you can project. These are typically devices that support Miracast casting via Microsoft's technology.
If you've paired any Bluetooth devices, they'll most likely appear here as well. You won't be able to cast a Windows 10 screen to Bluetooth devices, of course.
Choose a Roku device from the list.
Within a few seconds, you will see your Windows 10 PC's background image on your TV. The Roku device transforms your TV into an extended computer monitor thanks to its ability to connect to the internet.
You may also Read:
Using a Web Browser on Your Roku
With Windows 10, the TV becomes an extended screen for your computer, allowing you to launch your favorite web browser.
View any page on the web. Web browsing activity can be seen by anyone who can see the TV.
The simplest method of playing videos from streaming sites is to visit the site and choose the video you wish to watch.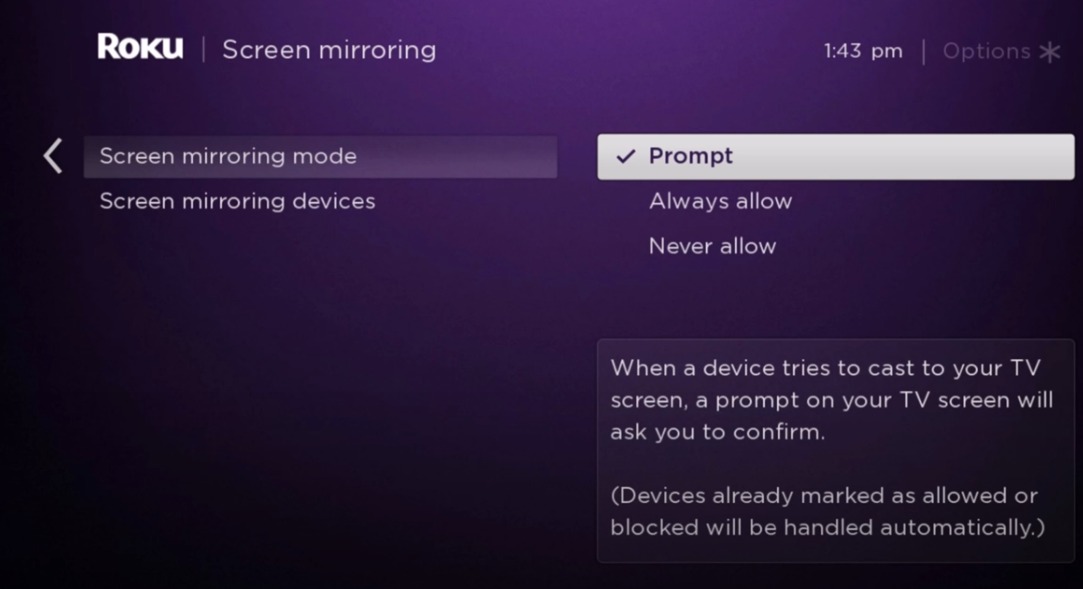 Keep in mind that any video sound will emanate from your computer. So, if you want everyone in the room to hear the audio for whatever you're streaming, connect your computer to speakers or a sound system that's loud enough.
Disconnecting From Your Roku
Return to your main PC monitor once you've finished casting your web browser to the Roku device. At the top, you'll see the Roku device's connection status. To disconnect the connection, simply press the Disconnect button.
The TV display will now return to your Roku home screen, and you can use the Roku as usual, using the Roku remote or the Roku remote app on your mobile device.
Casting Web Browser From Your Android
You may also utilize a Roku web browser by casting your Android browser to the Roku device. This is possible since the Smart View app is pre-installed on the majority of new Samsung Android devices. If yours lacks it, you can download it from the Google Play store.
The Smart View app will be decommissioned in October 2020. The SmartThings app should then be used. This same functionality is accessible on SmartThings by scanning for nearby devices.
Unfortunately, casting to a Roku device from an iOS device is not yet possible.
Swipe down with two fingers on the main screen of your Android to activate Smart View. Choose Smart View from the list of apps. It resembles a play button with arrows above and below it.
When you do this, your Android will search the network for wireless display devices that are supported by Cast. On the list, you will see your Roku device. The Roku device should be tapped, and when Smart View is prompted, select "Start now".
Your Android screen will appear immediately on the TV to which your Roku device is attached. If you tap the settings button, you may change the display's aspect ratio so that you can cast your Android in full-screen mode.
If you cast from your Android device, your notifications will show the Smart View status. Start browsing using your preferred browser app. Your Roku device will display your mobile web browser on the TV.
You may now display anything from your online browser on your TV. Because all audio will come from your Android, you'll need to connect your Android's audio connection to an audio system or speakers if you want everyone in the room to hear it. Bluetooth speakers would also work.
When you're ready to disconnect, just scroll down on your Android's main screen and hit the Roku icon (the same icon as the earlier Smart View icon), which will disconnect your Android from the Roku device and end web browser casting.
Conclusion
The Roku web browser is a great tool that can make watching TV more interactive and engaging. You can use it to look up information about the show you're watching, find new shows to watch, or even play games. What's not to love? Give it a try today!