How interesting it would be if we could revert our mistakes back in our lives and make everything as good as before! Ahh, I wish we could do that! However, we can't undo our mistakes in real life, but we can surely do that in our windows!
Yes, we can undo our mistakes in Windows 7 and roll it back to its previous stage! This process as a whole is called system restore. I know I know you desperately want to know how to use System Restore in Windows.
Don't panic, we will walk you through the step by step guide on How do I use system restore in Windows but before that, we will get to know a little more about system restore.
Windows come with the inbuilt feature of system restore. This is a great feature of windows and comes out really handy while troubleshooting system errors.
Whenever we make any changes in Windows like updating any driver, installing/uninstalling any software or while installing/updating windows, our windows create a restore point automatically.
These are the rollback points, which means if something goes wrong and your system gets frozen, or anything similar happens, you can get back to the previous stage of windows and get the problems resolved.
You can even manually create the restoration points on windows if you want to! We will get to how to do system restore, how to disable, enable and use this feature in windows in the below guide. Shall we start?
How to use System Restore in Windows:
The system restores feature is surely an amazing feature of windows and helps us resolve most of our system problems. This is the feature that lets you roll back and get to the previous stage of the window before the problem occurred.
But don't fully rely on the features of this window unless you are sure this feature is enabled. However, by default Windows has system restore feature On, but in case it's not, you will have to enable this feature before you can troubleshoot your system.
So, here are the steps to enable and disable system restore. The guide is dedicated to Windows 7 users specifically, but you can still use the same steps in all the versions of windows.
How to Enable/Disable System Restore:
If system restore is not already enabled in your windows, you need to enable it manually. Here is how to do that.
Step 1. To enable or disable system restore, you need to go to the System Protection tab. There are two ways you can do that. The first way is to, click on the start menu and type in System Restore in the search bar.
On doing that, you will see multiple options. Out of all these options, you need to select Create a restore point.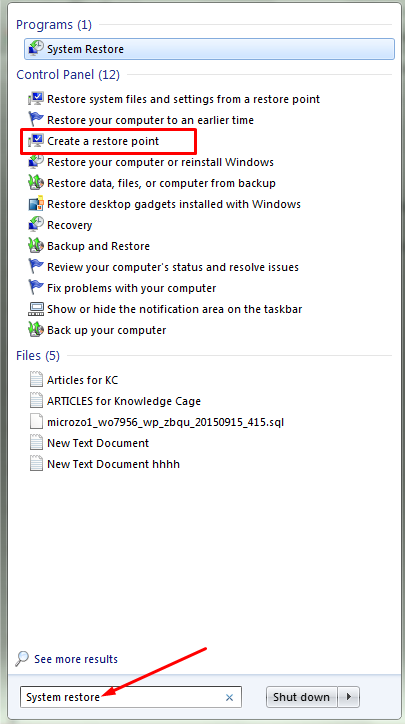 Alternatively, go to Start Menu, right-click on My Computer and select Properties. In the left pane, select System Protection. See the screenshot below to locate the options easily.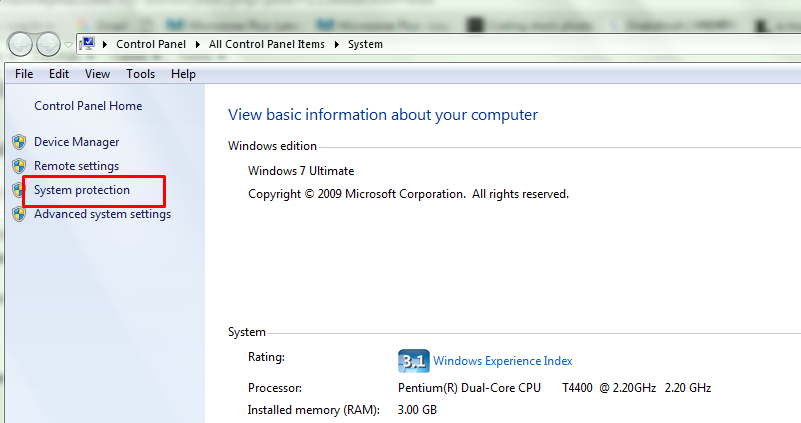 Step 2. Once the System Protection tab is opened in the System Properties window, you can check whether System Protection of different hard drives on your computer is turned ON or Off under Protection Settings.
See the screenshot below to understand the options.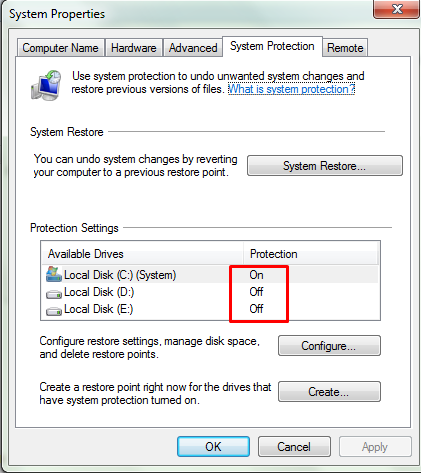 In my computer, system protection is ON for Local disk C but not for disk E and D. To change the setting of the disk, select the disk from the list and go to Configure and select Restore system settings and previous versions of files.
You can also select the disk space used for system protection. Choose it accordingly, 3% is ideal in any way. Once all the changes are done, click Ok to save the configuration.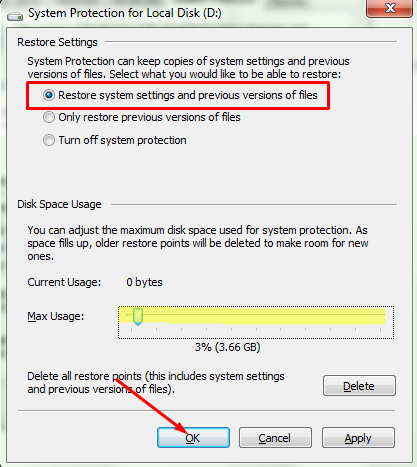 Step 3. Click Ok in the System Properties window too, to save the changes and close the window.
Following the same way mentioned above, you can disable the system restore feature of Windows, you don't require to do it, though!
How to Create Restore Points Manually:
If you manually want to create a restore point, you can do that easily. Here's how,
Step 1. Go to the System Protection tab. Do I need to tell you again how to reach there??
Step 2. In the System Protection tab, click the Create button at the bottom. Can't locate the option?? Have a look at the below screen.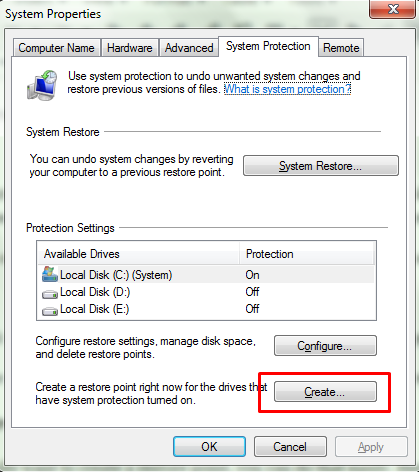 Step 3. In the new window, you need to name the restore point. Name it with the current date or something memorable. When done, click Create. See the image below.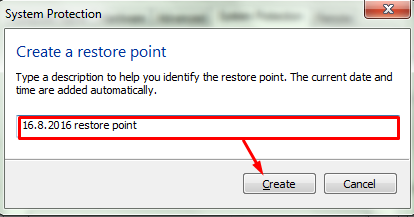 Step 4. On clicking Create button, you will see the following progress bar for a couple of seconds.

Step 5. When the restore point is created, you will see a success message informing about the completion of restore point creation.

How to Perform a System Restore for Windows 7
After going through all the different sections, now it's time to learn the actual steps to restore a system. Here's how to do that.
Step 1. Click on the start menu and type in system restore there and press enter. You will see the following window after that.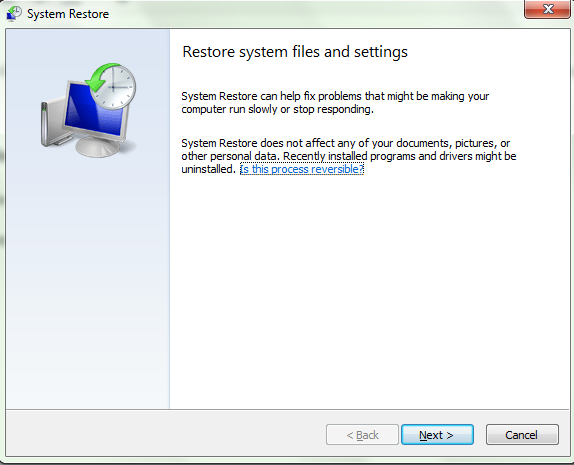 Alternatively, click on the System Restore button in the System Protection tab. Both the way will lead you to the System Restore Window. See the screenshot below.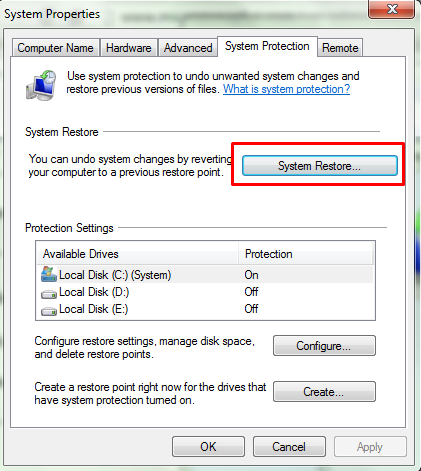 Step 2. Now click Next and you will be provided with all the restoration points available in your windows. Choose any point out of them and click next. If you want to see even more restore points, click Show more restore points.
I have highlighted all the options in the below screen.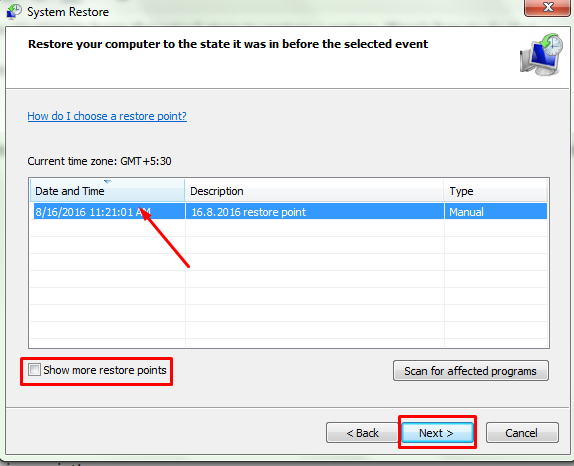 Step 3. In the next step, click Finish and you will see a pop-up window notifying you that you can't interrupt the process while processing the restore. Click okay and the restore process will begin.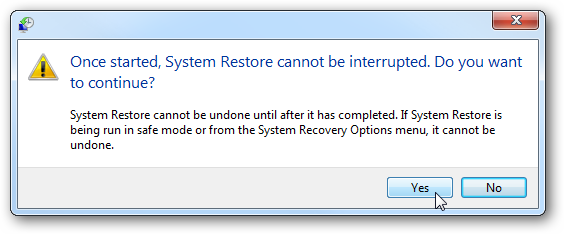 within half an hour, your system will be restored to the previous point!
Windows create restore points every time we install new software, update a driver, update windows, uninstall any software, etc. If no changes happen for a long period, windows create a restore point every 7 days, to ensure system safety.
Now whenever you face any trouble in your windows 7 or any other windows version, you won't have to bother how to use System Restore in Windows, just go through the above guide and get your problem resolved!
Do let us know your feedback in the comment section below!