Wi-Fi Direct technology allows devices to connect directly to each other; this makes things like Sync, print, sharing, convenient, and straightforward. Devices with Wi-Fi Direct functionality are able to connect without the need of joining a hotspot network.
In this article, you'll discover how to use WiFi Direct, so next time you'll able for a better peer to peer data transfer. Also, if there is an active internet connection on the host device, you'll able to surf the internet through the second connected device. The file transfer rate is really fast as compared to Bluetooth. You can also be able to use a fast internet connection using Wifi Direct. Here is how to check the wifi speed.
You can connect devices using wifi direct, even if they are from different vendors. For example, you can connect notebook with netbook and smartphone with tablet. But the process can be more sophisticated compared to connecting devices of same vendors (such as Samsung) which use their inbuilt software and compatibility to make the process easier.
Benefits of Wi-Fi Direct.

You'll able to transfer data between devices, and the process is really simple. However, at this point, the wifi direct technology is emerging. here are some more benefits of using wifi direct.
Wi-Fi Direct is an official standard as it is developed by wifi alliance.
Wifi direct has a minimal user interface, which helps users to transfer data easily.
Print your documents on the go.
You will able to share internet connection. You can access internet anywhere.
No need to put a password manually (unlike you have to set a password in legacy wifi).
Creating and joining is faster compared to typical wifi connections.
Wi-Fi Direct is a feature in newer  Android, BlackBerry, iOS, and even new Xbox.
How wifi direct works
To learn more about how wifi direct technology works, you will love to read this section. However, if you just need to know how to use wifi direct, skip this section.)
When you enables wifi direct on a device, a Soft AP (software access point)  will be created which can be embedded into another device.
The Soft AP creates a wifi protected setup which uses WPA2 security. to connect devices you'll need to pair them, and it can be done in multiple ways; push-button – "press the button on device A and then the same on device B", using Pin, QR codes or even NFC
The Soft APs could be simpler or more sophisticated according to requirements. Like in digital cameras, the soft ap is simple as it only needs to connect and upload images.
However, in Smartphones, wifi direct might create a more sophisticated soft AP because a bridge is required to function data tethering. (this will enable internet sharing)
Devices will be able to connect one-on-one or one-with-many, there is no specific requirement to have both devices as Wi-Fi direct certified. You'll able to connect a legacy wi-fi device to wi-fi direct host.
How to use wifi Direct
First, you need to check whether you gadgets are wifi direct compatible or not. check your device's specifications to figure this out.
You need to enable the wifi direct option, which uses WPA2 security as it prevents such John, Michael or Ravi from connecting to your stuff.
As an example, Samsung devices have excellent inbuilt wi-fi direct capabilities and can be connected to each other very easily. On Samsung devices, the wi-fi direct option should be at the bottom of the 'wi-fi networks' menu.
Navigate to your phone's Settings → WiFI → Advanced WiFi and Tap on Wifi Direct, the phone will start looking for other wi-fi Direct capable device within the range and will display them.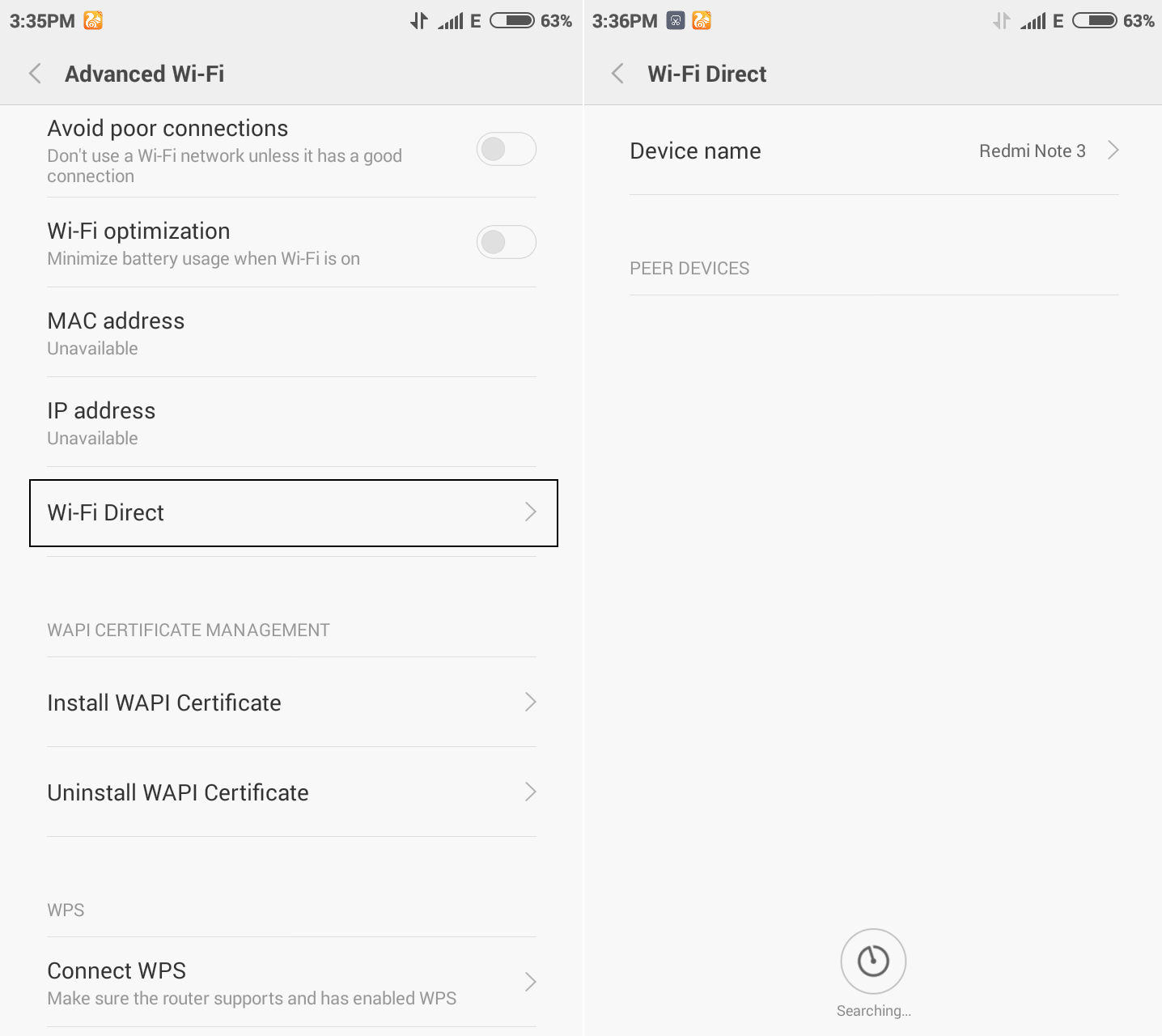 To connect a device, tap the device's name, this way you can choose which device you want to connect.
An invitation should be sent to be received by the second device. A wi-fi direct connection would be established after successful acceptance by the second device. For this, you need to pair your both gadgets.
The pairing can be done in multiple ways; push-button – "press the button on device A and then the same on device B", using Pin, QR codes or even NFC. If you are using Wifi direct to provide internet access to another person, it is always a good idea to put password on Wifi so that other people in the range cannot be able to access your data connection.
As soon as your devices are connected, you can transfer & sync data, print documents on the go. You can also share one device's Internet connection with another.
Example, sharing a picture via wifi direct.
If you are connecting devices manufactured by same vendors, you will notice that establishing a wifi direct connection will be fast and very easy. Connecting devices of different manufacturers can be uncertain and buggy at this point of the time.
Special: If your devices are not connected at all, this may be because of their wi-fi software differences, In most cases you can get rid of this problem by using third-party Wi-FI direct apps from play store, such as superbeam app.
I hope your devices are connected successfully; now you can transfer data between both devices. I'm sure now you know how to use wifi direct if you have any problem make sure to read the next section.
Some misconception about wifi direct
---
My phone support wifi direct, how to transfer files?
If both of your devices are wifi direct certified, use gallery's share button to transfer images and File manager to transfer other types of files. However, you can also use third-party apps (i.e. superbeam) to transfer any files. Superbeam transfers data across devices using Wi-Fi Direct and uses legacy wifi in case your devices does not support Wi-fi direct.
I do not have wifi direct gadgets, how to transfer data?
If your phone does not have or you are having a problem, you can always transfer files using legacy wifi hotspot. You need the following app,
WiFi file transfer – Download and install the app on your Android phone and turn on wifi hotspot. On the other device turn on the 'wifi' and connect to the host hotspot.
How fast is Wi-Fi Direct connection?
The transfer speed of wifi direct will be same as legacy wifi speed. it can be high up to 250 Mbps. (Bluetooth 4.0 offer a transfer speed of 25 Mbps, just for comparison.)
However, depending on some factors (such as distance and wifi signals) the speed may vary.
How many devices can connect?
Some vendors allow one-to-one connections and some other support one-to-many connections.
Conclusion.
In this post, we had discussed how to use wi-fi direct technology, as well as a step-by-step procedure to connect two wi-fI direct devices.
you'll able to use wifi direct to connect devices from same vendors. please note that major of Wi-Fi Direct certified devices should be connected to each other even if they are from different vendors.
At this time wifi-direct has various advantage; it is a respectable choice for peer to peer data transfer. however, if you have two new laptops supported by wifi direct. you may assume that it would be easy to transfer files using wifi direct, and it should be quick. but, at this point of the time, you are wrong. as well as connecting an android phone to windows laptop through wifi direct has nothing to do much, at yet. it is a long go for wifi direct to be used by ordinary people.
Besides, if you were to ask your tech-savvy friends 'how to use wifi direct,' I'm sure they have nothing much to say about it. If you have any query or question – Hail, hail the gangs is all here.