Texting is fun! This is no secret because there are so many instant messenger apps right now that App Stores have a dedicated category for them! However, only a few of them can make it big like WhatsApp, Kik or iMessage.
One advantage that iMessage has over everyone one of these is that it comes pre-installed on all iOS devices and thus has an enormous user base from the get-go!
If you are invested in the Apple environment and have friends and family who use iOS as well, then iMessage is the easiest way to communicate!
It's free, doesn't need a sim hence can even be used iPod and iPad users and is overall just a blast to use. So when it stops for some reason, we tend to get really angry, real fast! But don't you worry I'm here to remedy just that!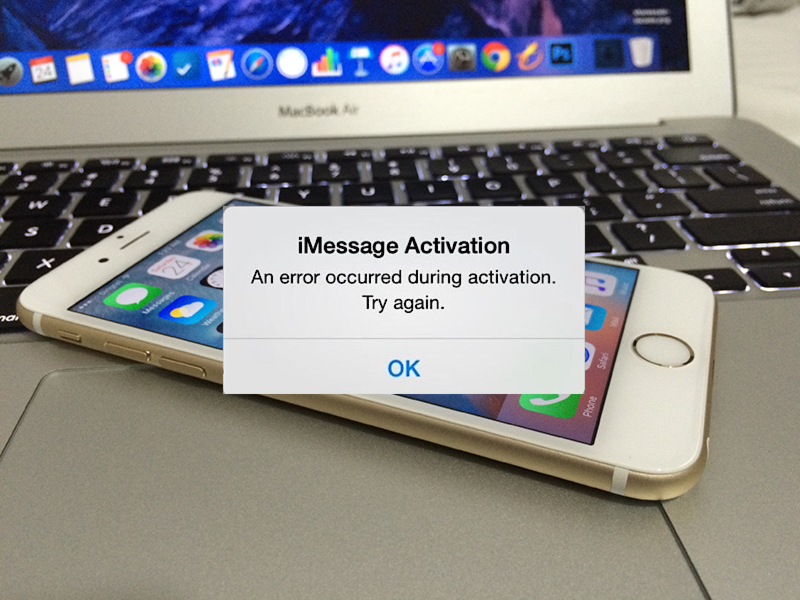 Unfortunately, there is no single solution to this problem we have on our hands! A whole bunch of reasons can cause iMessage problems and the best solution that we have seen work for us to try a whole bunch of solutions until one of them fixes the problem!
With that said, there are quite a few things to go through, so let's just dive into the solutions one by one!
How to Resolve If iMessage Not Working
Yes yes, I know the title says iOS 9. But honestly, you should all be on the latest iOS version by now. And if for some reason you are still running on older versions of iOS, you can follow this guide as well; the steps work just fine no matter which version of iOS you run!
1. Check Network Settings / Wi-Fi Proxies
iMessage needs an internet connection to work! As simple as that! So if you face iMessage problems, the first thing you should do is check that you have a secure and reliable connection to the internet.
Often if you are on cellular networks and the connection is spotty, you might face problems in the delivery of messages. In that case, the best solution is to move to an area with better data connectivity. If that's not possible, try rebooting your phone. It often helps.
If you're facing this issue while connected to a WiFi network, then you should try to move closer to the source of the signal so that you get a better connection!
Also, do make sure that proxies are not hindering the flow of data through the network. For mobile connections, double check your APN settings with your cellular service provider and make sure your cellular data pack is working!
 However, iMessage not working due to network issues is a relatively rare occurrence hence we move onto the next solution to this problem!
2. Turn OFF and then Turn ON Again
Like so many things in tech, turning it off and on can often fix a whole host of issues from app data corruption to the app being booted from memory.
Navigate to Settings → Messages and turn OFF iMessage if it's switched ON already.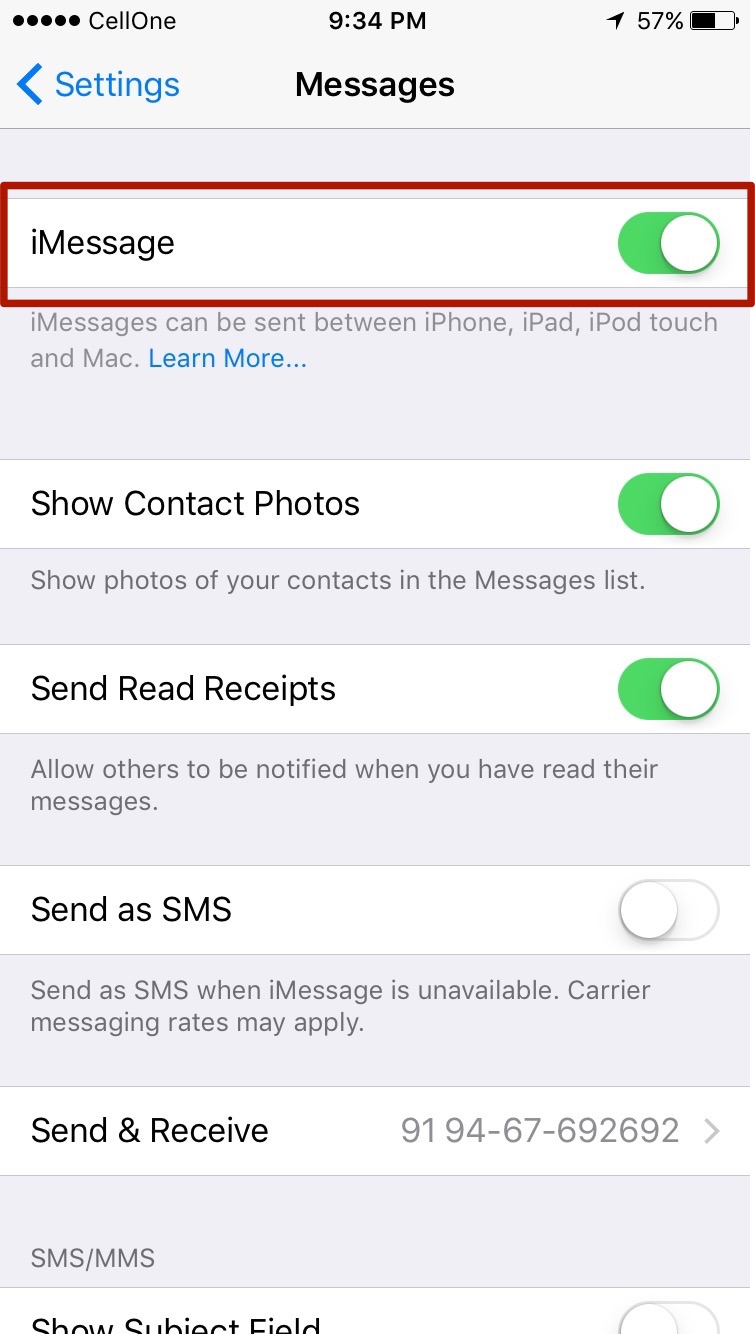 Now, switch it ON back again! Be patient and wait for it to reactivate! Make sure you have an active network connection!
Now try sending an iMessage to someone who's already an active iMessage user.
Should this happen to not work out for you, you might need to resort to signing out of Apple ID (go to Send & Receive) and then signing back in again. Repeat the turn OFF-ON steps after this to get rid of your iMessage problems!
3. Send & Receive Options
You'd be surprised how often the problem is in the settings of these little buggers. So if your iMessage not working problem hasn't been solved yet, be sure to give this one a try!
Step #1. First, we navigate to Settings → Messages → Send & Receive.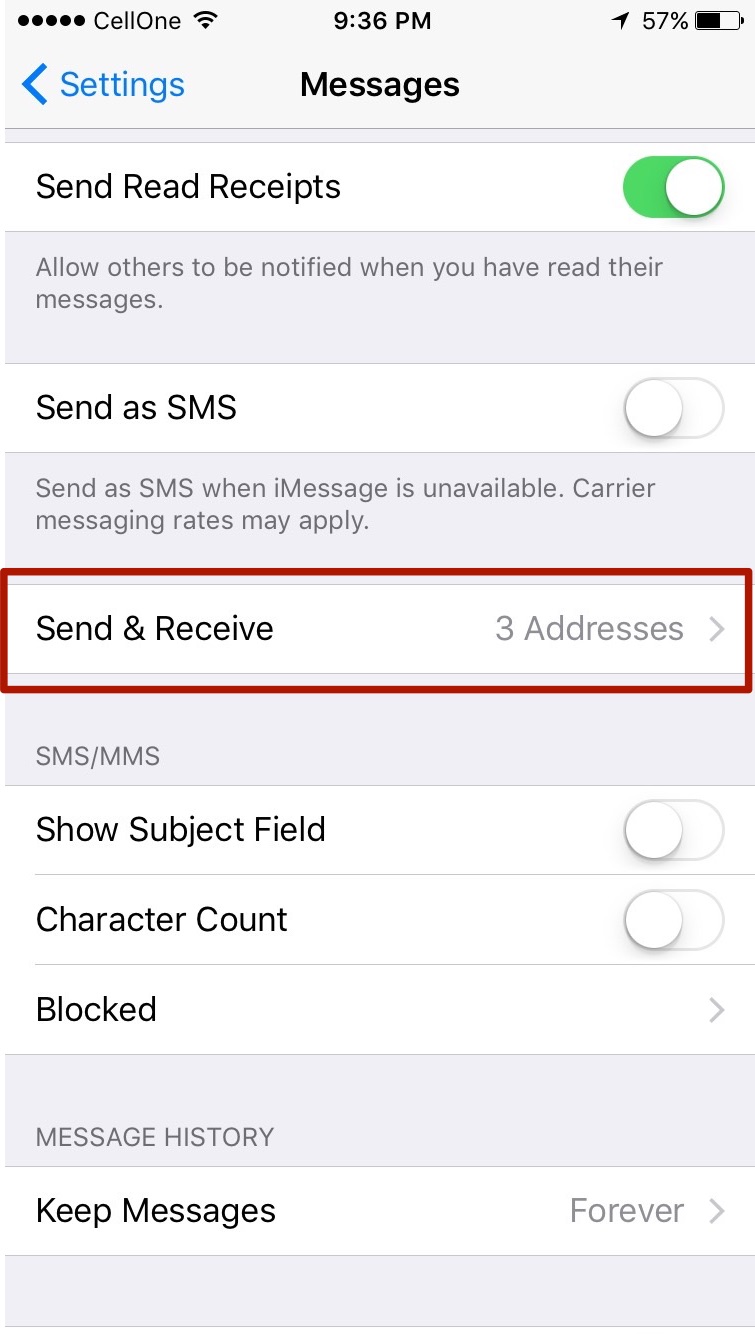 Step #2. Next up, you can see your phone number and an associated Apple ID listed on the screen. You can configure the options of this list.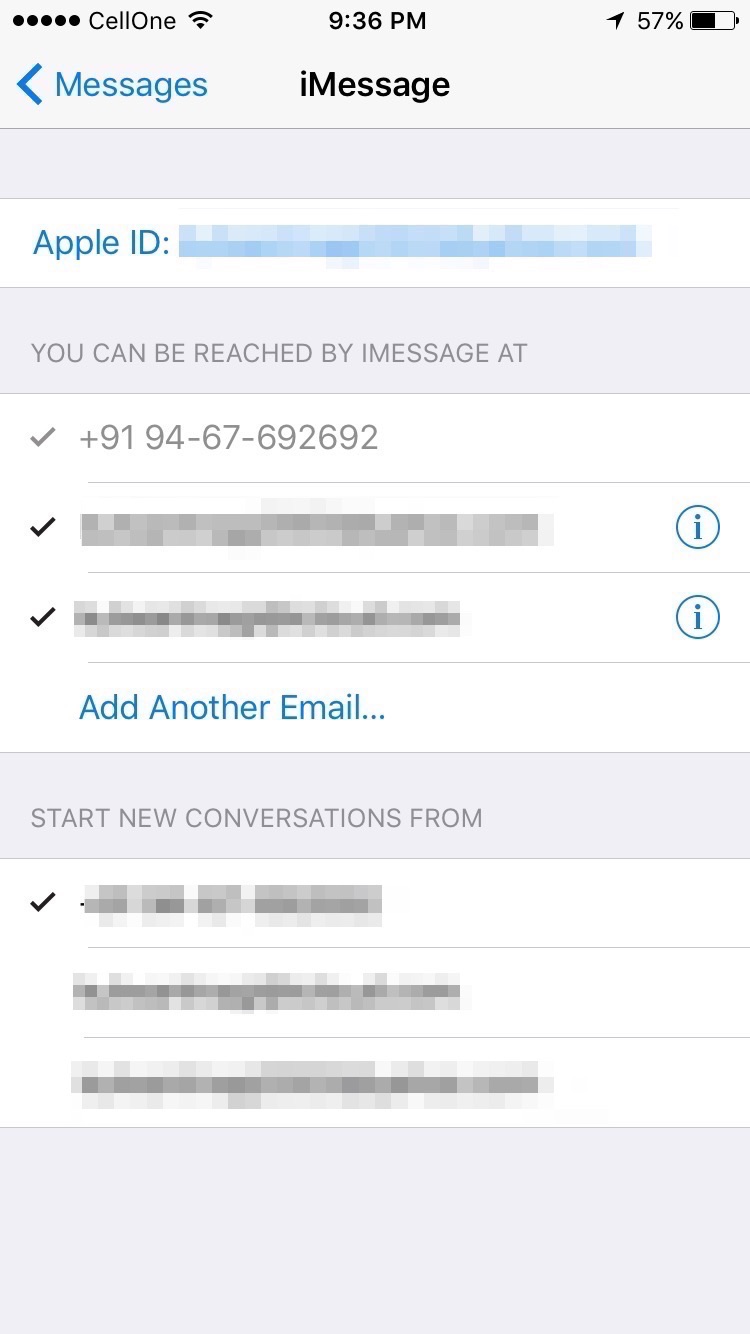 Step #3. The next is a bit of a trial and error so just go through almost all of them one by one and see which one works out for you!
First up to try removing the email ID and keep only the Phone number.
If that doesn't work, try the opposite! Select either email or phone number and test if iMessage works with any of these.
Third times a charm! Right? For this one, we need you to select an email AND a phone number as well. After this, you'll see another section with the text "Start New Conversion from:" – select your original phone number and it should work!
4. Some Other Methods
While these have no technical reasoning behind them, they have been often found to work so I'll list them below as well:
Deleting old texts can sometimes do the trick and get iMessage working again.
Another such method is to do a restore (and set up the iPhone as NEW) and iMessage problems should disappear.
Set the date to auto-update. This has been found to fix the issues surrounding iMessage (and FaceTime, too). To do this, navigate to Settings → General → Date & Time and turn the switch on Set Automatically to ON.
Well, these are all the methods that I resort to getting iMessage working on my device! If you have any more nifty tricks up your sleeve to solve iMessage not working, do leave them in the comments below.
And if you have forgotten the password to your Apple account, then you can check this article on how to get it back!