Looking for a trustworthy JustHost review for 2023? Are you considering utilising JustHost to host your website? In this guide, you will find all the pertinent information about the product, including its features and cost.
Did you know the most crucial aspect of creating a profitable blog?
Web hosting will suffice. Your fate is determined by where you host your WordPress blog or website.
Not only is your website's speed dependent on your hosting provider, but also your search engine rankings. Choosing a free or unreliable hosting provider to save a few dollars could cost you significantly in the long run.
JustHost is my top recommendation if you are looking for the ideal WordPress hosting service.
In this JustHost tutorial, I will discuss a few features that make it remarkable, as well as a few reasons why you should consider JustHost for hosting your WordPress websites. Let's get started.
JustHost Review 2023
What is JustHost?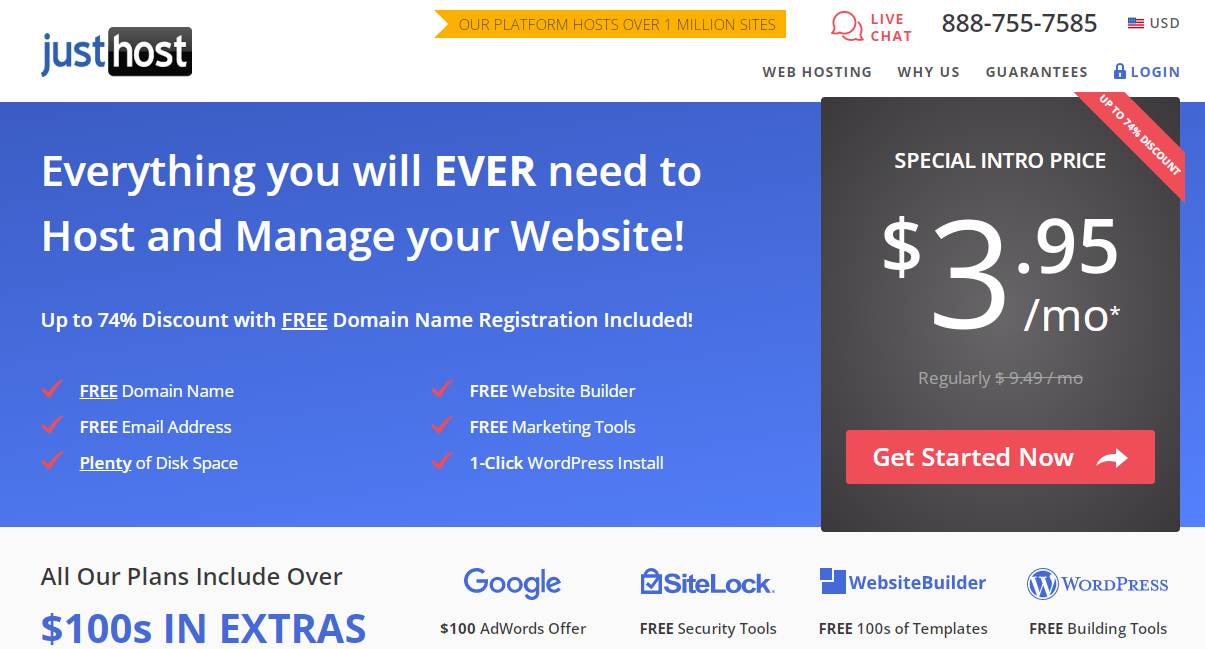 JustHost is a web hosting service based in the United States that hosts over one million websites on its platform.
It offers a variety of payment options and has a reputation for providing exceptional value. It includes a surprising number of features in its most inexpensive plans.
Features of JustHost
Simple Site Set-up 
The ease of setting up a website with JustHost is one of its most important features.
If you select the "Basic Plan" and a domain that is available, you will be presented with a variety of additional features.
Some of these extras are already checked for you by default. For some, this is an immediate deterrent because there are additional fees, such as $.99 per month for Domain Privacy Protection and $2.99 per month for Site Backup Pro.
After completing this step, users are presented with a variety of website-building tools. One of them is the leading free website builder, Weebly.
Weebly enables users to quickly incorporate buttons, slideshows, YouTube videos, and other content into their websites.
Instant Server Provisioning 
It is not uncommon for hosts to require lengthy sign-up procedures for new accounts. This implies that you may need to call in to verify your identity, especially if you are an international user.
This results in a tedious, frustrating, and irritating procedure. In some instances, phone conversations with customer service have lasted up to one hour.
Nevertheless, there is good news. JustHost provides instant provisioning for customers interested in its Prime Plans.
Money Back Guarantee 
JustHost provides a standard 30-day money-back guarantee if you're unhappy with your hosting service for any reason. Their guarantee only applies to the hosting service, which is an important detail to remember.
Thus, this will not apply to your refund request if you have purchased a domain. JustHost will therefore deduct a non-refundable fee of $15.99 to cover their expenses.
However, if you decide to switch web hosts, you can transfer your domain. It is not possible to transfer a newly registered domain to a different host within the first sixty days of its activation.
Numerous Integrations and Add-Ons 
Once users begin using JustHost, they will discover that it easily integrates with Google Apps and other popular platforms.
Additionally, seamless integration with over 100 open source applications is provided. JustHost also provides free advertising credits for Bing and Google for those interested in generating online sales.
Free Domain Names 
No matter which hosting plan you choose, all new account signups receive a complimentary domain name. You only need to confirm that it is available.
This feature is especially useful for users with limited website-building experience, as it gives them a sense of what it's like to build a site, from selecting a domain name to moving on to the website builder, without being intimidated by pricing.
No-Cost Script Library 
Everyone who signs up for a JustHost account receives free access to a script library. Users select the scripts they desire for their website, and SimpleScripts instals them seamlessly and automatically.
Included among the available scripts are Joomla, phpBB, osCommerce, and WordPress. Users can include scripts on their websites without needing to be coding experts.
Simple Ecommerce Set-up 
Users who wish to establish an online store can do so easily. Users need only visit the Mojo marketplace and select one of their "one-click install" options. Magento, Opencart, and ShopSite are among the alternatives.
For instance, ShopSite makes it simple for users to add a banner, logo, products, and social media links. It is also possible to monitor and track sales using a dashboard.
There is also a Seller's Guide available for users who require additional assistance.
Decent Security Features 
On the Add-Ons tab of the control panel, JustHost provides a variety of security features. Given that security should be a top priority when choosing a web host, it's a relief to find so many options here.
For instance, users of the Basic Plan will receive complimentary website backup. Those who desire an advanced plan, however, will incur an annual fee of $19.99.
These plans include both individual file and folder backups. SSL certificates are also available for those who wish to secure their transactions, starting at $69.99 per year.
A monthly fee of $1.99 is also charged for SiteLock, which includes malware scanning and removal.
What are JustHost's hosting features?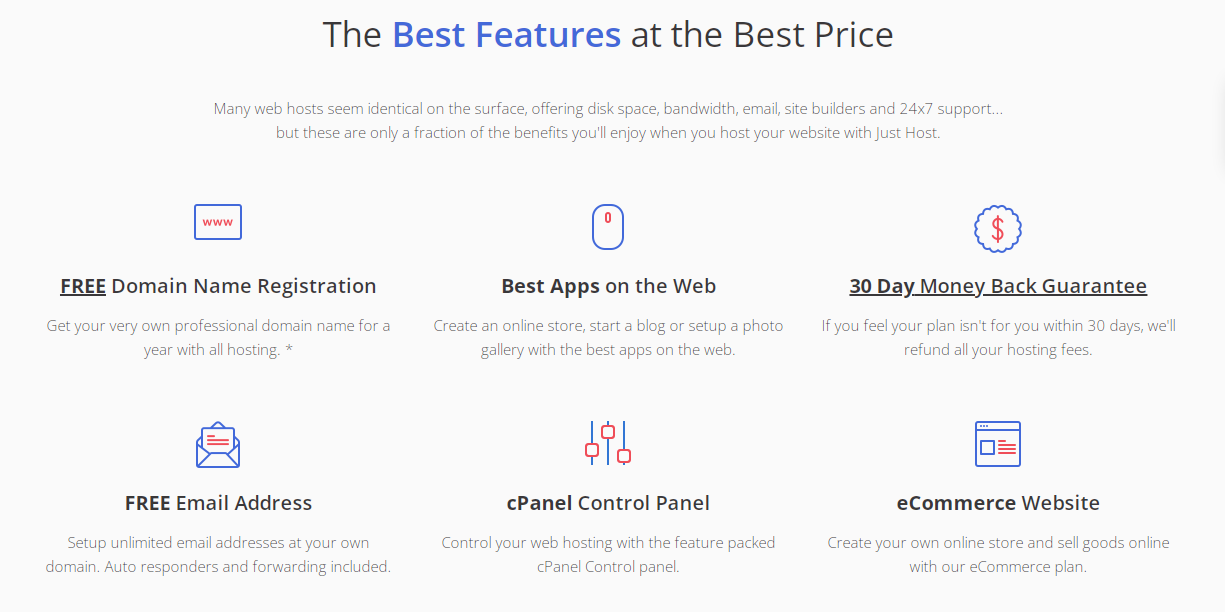 Regardless of the plan you select, JustHost provides a good number of essential features. These hosting features can facilitate the development, maintenance, and optimization of your website.
JustHost cPanel and interface
The JustHost control panel is accessible to all JustHost customers and offers a user-friendly interface that makes it simple to manage a variety of hosting account features.
In fact, the JustHost interface is one of its primary advantages over more complicated web hosting providers.
As a web hosting service that is ideal for new websites, the straightforward account management interface is a definite plus for novices.
Databases
Here are some of JustHost's most popular services:
Python

Ruby

Perl 5

CGI-BIN and CGI Library

Javascript, DHTML, Flash and Shockwave support

MySQL: and PostgreSQL databases
Getting started with a new company or website requires all of these services.
Cloudflare CDN
JustHost is compatible with Cloudflare, and it is simple to enable it via the JustHost control panel for shared hosting plans.
Cloudflare is a free system that caches your site's static content, which can improve your site's performance and help identify and prevent malicious threats.
CPU Protection
On its shared servers, JustHost employs a system that monitors server resources such as CPU and memory to ensure that each site receives its fair share of those resources.
This theoretically reduces the likelihood that sites on the shared server will experience performance issues.
Simple WordPress installation
While JustHost does not offer a managed WordPress hosting plan, installing WordPress on your site is incredibly simple, allowing you to run a WordPress blog, for example.
After the installation is complete, managing WordPress core, themes, and plugins on your cPanel is incredibly straightforward.
Weekly backups
Unfortunately, manual backups are required if you use a Basic hosting plan, which many small businesses may choose. This means that you must remember to back up your data manually or risk losing it.
To receive automatic backups of your website, you must subscribe to the Choice Plus plan.
Easy-to-use website builder
All JustHost customers have access to Weebly's website builder at no cost.
Weebly, a drag-and-drop page builder with hundreds of templates, is an ideal starting point for those who find the idea of using WordPress or a content management system intimidating.
It's also a more affordable option for startups that aren't prepared to hire a developer or don't have the time to run a business while learning to code.
Is JustHost fast and reliable?
A fast and dependable server is arguably the most important factor to consider when selecting a web hosting service, as it affects both site performance and the user experience.
Unfortunately, JustHost has significant issues in this area. Let's look more closely.
Server response speeds
Google recommends that you aim for a speed of 200 milliseconds, and anything over 500 milliseconds is problematic. JustHost-hosted websites are likely to have slow response times.
JustHost has a low overall speed rating. It consistently performs poorly in terms of time to first byte. This means that your site may take a while to load for some users.
Uptimes and downtimes
Uptime and downtime are crucial components of a web hosting service, and JustHost's uptime of 99.95% over the past year indicates that it meets the industry standard for keeping sites online.
It is important to note, however, that JustHost does not compensate for any downtime. Therefore, you will receive nothing if your website goes down, even if revenue is lost as a result.
While JustHost has headquarters in the United Kingdom, the United States, and Australia, its sole data centre is located in Utah.
Since its acquisition by Endurance International Group (EIG), the company has relocated its data centre from Illinois in order to enhance its infrastructure, reliability, and connectivity.
Justhost services and customer support
JustHost provides chat, phone, and email support around-the-clock, which is ideal for users who are new to managing an online business or their own website.
However, JustHost's current TrustPilot rating is a pitiful 1.2 stars, which suggests that its existing customers disagree.
Despite this, it is noteworthy that we received prompt and helpful responses to questions during testing.
Free domain name for new accounts
Regardless of the hosting plan you select, JustHost provides you with a free domain name, relieving you of one concern. If you cancel your account, however, you will be charged $15 to keep your domain.
Phone support only for dedicated hosting customers
Customers on shared and VPS plans have access to chat and email support, but only those on dedicated web hosting plans have access to phone support around the clock.
While we did not experience any problems during our testing, JustHost's live chat and ticketing system has received mostly negative reviews from its customers.
Is it a good choice for businesses and developers?
JustHost appears to be a good option for startups and developers in need of a wide range of free resources.
Because of its user-friendly interface, it's a good choice for those who have never managed a website before, as opposed to more advanced hosts.
However, despite JustHost's customer service options, the company has a poor reputation. Nonetheless, this is hardly shocking, given that it is one of the least expensive choices out there.
You can give it a try without risk because it comes with a 30-day money-back guarantee if you don't like it.
The slow response time is especially concerning for a new business or professional web developer because it may discourage visitors and result in lost sales.
For startups and smaller businesses operating on a shoestring budget, it's not a terrible choice. Unfortunately, larger websites will experience difficulties due to its slow response time.
We recommend upgrading to a faster product like HostPapa or SiteGround if you have the means to do so.
Quick Links:
Our verdict: JustHost Review 2023
JustHost has some advantages, such as reliable uptime, useful features, and the availability of virtual private server (VPS) and dedicated server (DS) hosting options, but it falls short in terms of server response time.
However, you'll need to commit to the service for at least three years, even though the prices are relatively low individually.
JustHost is a good choice if you're on a tight budget. However, we believe that services like BlueHost and HostGator, which are similarly priced, offer superior features.
The slow response time, however, is an issue. The cheaper plans aren't as appealing because they don't come with automatic backups.
If you're willing to pay a little more, you can find a host that offers much faster page loads and better support.
Furthermore, the efficiency of your website should be a top concern for your company. We don't think it's a good idea to give in on this front.