If the word kindle is new to you and you are thinking what is kindle, let me give a precise introduction of the kindle to you. Kindle is an e-reader, which allows us to read e-books online without having to carry traditional paper books.
There was a time when we had to carry paper books along with us to read books on the go. But now, after the discovery of gadgets like e-readers, tablets, we can carry not a single book but a library of books along with us without any trouble.
In my previous article, I told you about how to get free e-books for kindle. Many of our readers must have thought kindle e-books are only accessible by those, who have kindle e-reader (i.e. hardware). But, this is not the case.
Today, I'll show you how to get a kindle for PC and how to read kindle books on PC without actually having a kindle e-reader. Confused?? Actually, to read kindle books on PC, you need to have a kindle reading app. Don't panic, I'll show you how. If you want to produce some awesome grooves on PC, you should download Garageband for PC which is indeed an amazing app for producing music.
How To Download Kindle For PC
To read kindle books on PC, you need to download kindle app. This app is very convenient to use and totally free. You don't even have to pay a penny for the app and you can enjoy reading free e-books right away.
All steps that are involved in the whole procedure from kindle for PC download to getting a collection of free e-books is given below. Just don't stop reading.
#1. As I stated, to read kindle e-books on your PC you need to download amazon kindle for pc app. Once you are done, install that app on your PC by double-clicking on it.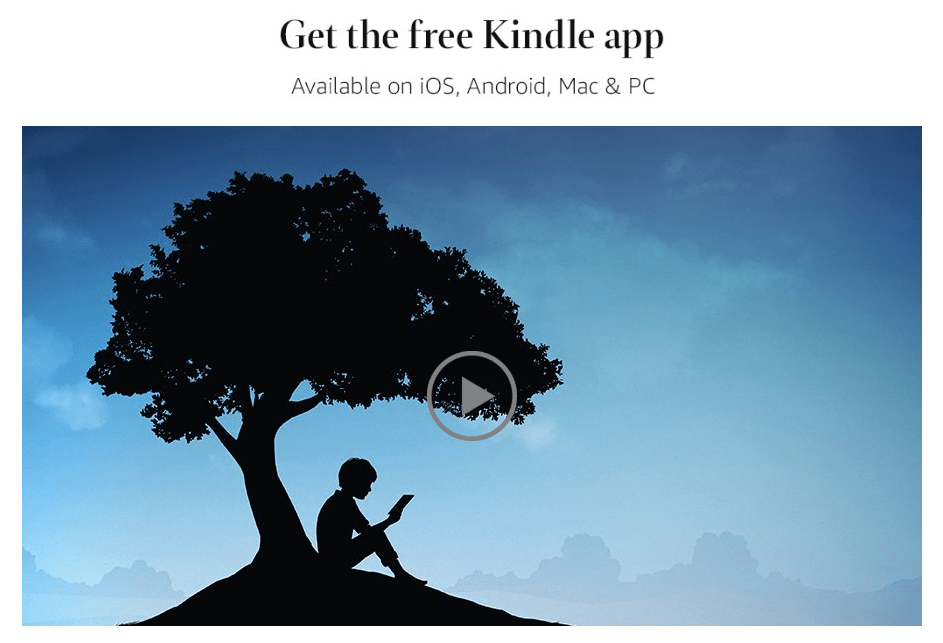 #2.  To Get access to the kindle library, you have to be a registered user of Amazon. If you already have an Amazon account then you can use this account to log in.
And if you don't have an Amazon account already, you'll be asked to create one when you install the kindle app.
#3. Once you are logged in, you can see three free ebooks are already there to read. Pick any one of them by clicking over it and start reading right away.
To turn the pages, you can use arrow keys on your keyboard or scroll down button on your mouse. Kindle for PC app is very easy to use. You can customize settings of your ebook according to you to make it more readable.
#4. In this app, you can change font size, highlight particular portions of the e-books, take notes and also it offers a free dictionary to find out the meaning of the difficult words.
Note: Since this app has only a few options and settings, I won't go into the details. You can try them out by yourself.  
Now you know, how to set up kindle app and read books. But, as you can see there are very limited(three) e-books are available to read. Now, I'll tell you how can you get more e-books (free+premimum) from Amazon to read on your kindle app.
#1. To get more ebooks for the kindle app, you need to go to the Amazon book store. For this, click on the Shop in Kindle Store button on the top right corner of the homepage of the app.
#2. As sooner you do this, you'll be redirected to the Amazon book store. If you are interested in buying premium books, thousands of options are available for you. Choose any of the books which best suit your needs.
#3. In case, you are fond of the free stuff, then Amazon has a big collection of free e-books as well. To get free e-books, you need to go to the Amazon store, as I described above.
#4. Then scroll down the page and stop by the 'More about eBooks in the Kindle Store' section. Here, you can see books are arranged in the order of their popularity. You need to sort the order by low to high.
For this click on the option sort by: Here, a handful of options are given select Low to High.
#5. As even you do that, the list will be sorted in lower to the higher price order. The e-books with the minimum price i.e. $0.00 will be shown in the top of the list.
Navigate through the books and pick the one you want on your kindle app.
#6. To select the book, click over it and you will be redirected to the shipping page. Here click on Go To Kindle For PC button. As sooner you do that, the free e-book will be loaded to your kindle library.
If e-book doesn't show up in your library, choose Sync from the menu and check for the new items as instructed in the shipping page.
That's it. This was a complete guide on how to get the kindle app for PC and read kindle e-books without having an actual kindle e-reader.
And if you find any trouble in setting up the kindle reading app on your PC, don't hesitate to ask. We are here to help.
Do you use Whatsapp. Obviously. But do you use Whatsapp on PC? Maybe not. Here is the guide explaining how to use Whatsapp on PC.