Are you looking to expand your digital marketing portfolio, but don't know where or how to start? You've come to the right place. Leadbolt is an all-inclusive digital ad platform that allows businesses, both small and large, to experiment with different strategies for maximizing their reach and influence.
If you're a beginner in digital marketing or just want to learn more about Leadbolt's services, this guide is perfect for you. Get ready to gain insight into what Leadbolt has to offer so that you can make informed decisions and get the most out of your campaign investments!
Leadbolt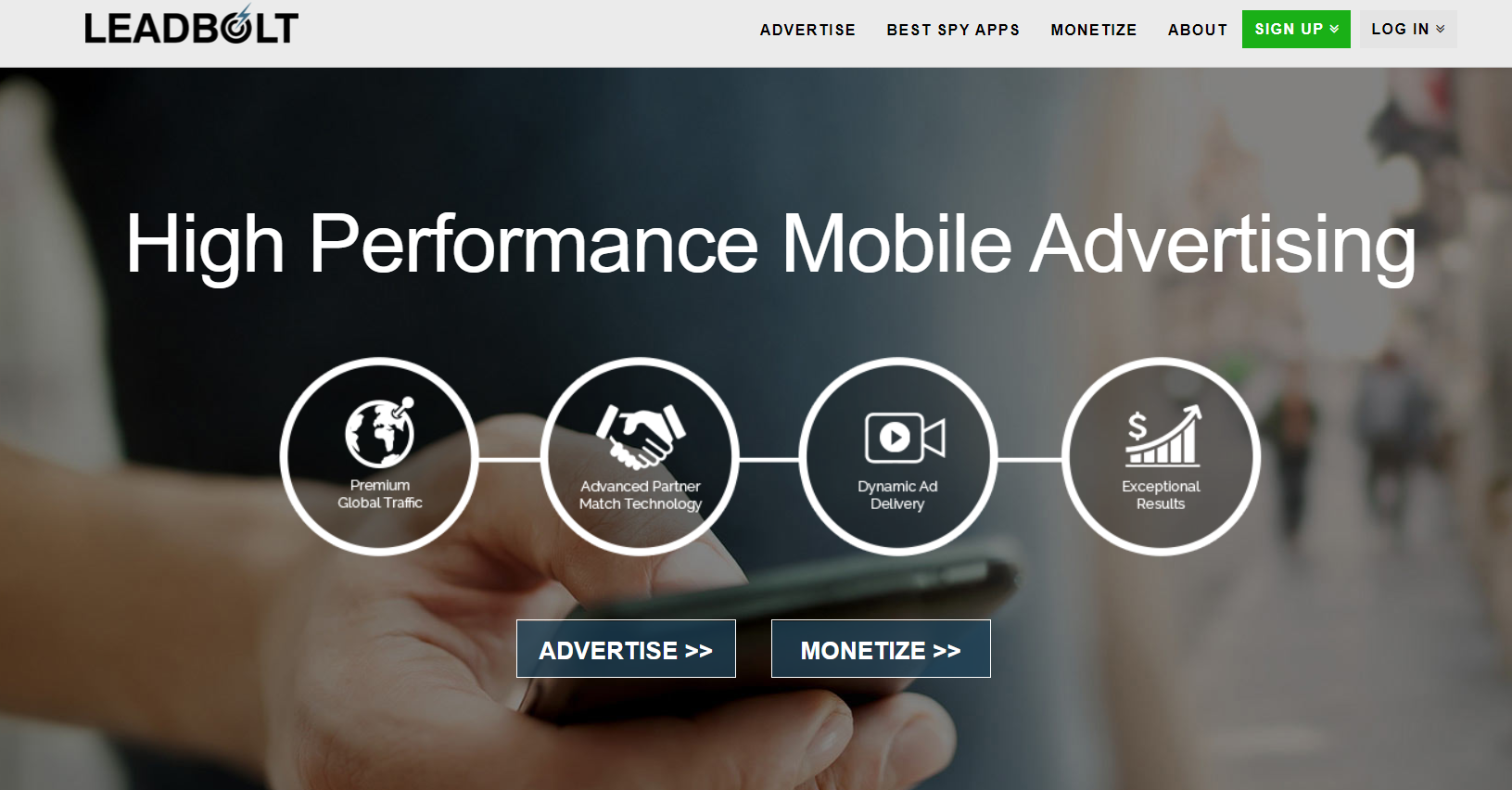 Leadbolt is an innovative mobile advertising platform created by the Australian team of the same name. The platform provides real-time access to important insights about user behavior and engagement, giving users a better experience than ever before.
It is designed to help advertisers maximize their reach and return on ad spend, as well as providing tools for advanced targeting.
Leadbolt offers four main features: Performance Monitoring, Targeting & Optimization, App Discovery, and Revenue Generation. The Performance Monitoring feature lets users track their campaigns in real time and gain valuable insight into how they are performing which helps them make informed decisions about future campaigns.
Targeting & Optimization gives users access to powerful optimization tools that enable them to tailor ads to their target audience with precision.
Additionally, App Discovery allows users to discover new apps and games that may be of interest to their customers, while Revenue Generation provides monetization options such as in-app purchases or offers from third parties.
Leadbolt also provides users with a range of powerful analytics tools that allow them to track key performance indicators like cost per install (CPI) and cost per action (CPA).
This gives marketers a better idea of which strategies are working best for them and helps them focus their efforts on activities that drive the most returns for their business.
Furthermore, Leadbolt leverages machine learning algorithms that analyze user data collected over time to identify patterns in order to deliver more effective ad campaigns with higher conversion rates.
Leadbolt is an ideal solution for businesses looking for an efficient way of managing mobile advertising campaigns. With its comprehensive set of features available at competitive prices, Leadbolt offers advertisers maximum performance without breaking the bank.
Additionally, its sophisticated analytics capabilities make it easier than ever before for marketers to measure results and optimize campaigns accordingly – thereby ensuring optimal ROI on every marketing dollar spent.
Leadbolt Key Features
Leadbolt is a powerful and cutting-edge monetization and marketing platform for mobile applications. It was founded in 2011, and since then, it has grown to become one of the leading solutions for app developers looking to increase user engagement, maximize revenue opportunities, and amplify their reach.
Leadbolt has several key features that make it an ideal choice for those wanting to get maximum ROI from their mobile campaigns.
The first feature of Leadbolt is its dynamic ad delivery system. The platform automatically delivers ads to users based on the demographics of the user base, meaning that all ads are tailored specifically to each individual user's needs.
This means higher-quality ads that target relevant audiences and generate more leads and higher conversion rates. Additionally, this system helps optimize ad delivery which can result in greater efficiency when managing campaigns.
Another key feature is Leadbolt's advanced analytics capabilities. Through its detailed dashboard, users can gain insight into how their campaigns are performing in real time.
They can view metrics such as cost per acquisition (CPA), total revenue generated, total downloads and impressions, as well as any other metrics they wish to track. This allows users to fine-tune their campaign strategies over time in order to maximize ROI from their mobile advertising efforts.
Leadbolt's flexible billing system is a third important feature to note. With this feature, users are able to choose between CPM or CPC ad models as well as pay-per-install or cost-per-mile pricing models depending on their needs.
This allows them to tailor the pricing structure of their campaigns according to what works best for them rather than having a one size fits all approach like many other platforms offer.
Finally, Leadbolt offers top-notch customer support which is always available 24/7 should you have any questions or issues with your campaign management or analytics tracking processes.
The team of experts at Leadbolt is always on hand to provide assistance whenever needed so you can be sure you won't be left hanging if something goes wrong with your account or your campaign performance isn't up to scratch.
Overall Leadbolt provides an effective solution for app developers looking for an easy way to monetize their creations while also being able to track performance with customizable analytics tools and top-notch customer service whenever help is needed along the way – making it an ideal choice for anyone hoping to maximize return on investment from their mobile advertising campaigns!
Leadbolt Reviews
Leadbolt is a popular mobile advertising platform for app developers, brands and agencies. It helps advertisers and developers to monetize their apps with a range of features, including in-app video ads, full screen interstitials, rich media banners and more.
The platform has become one of the most successful mobile ad networks with millions of users across the world.
Leadbolt's main advantage is its comprehensive suite of mobile advertising tools. Advertisers can use the platform to create high-impact campaigns that are customized according to the needs of their target audience.
Developers can also benefit from Leadbolt's wide range of unique solutions, such as personalized ad formats and optimized targeting options. Furthermore, the company provides detailed reports on user engagement for better performance optimization.
Another great feature offered by Leadbolt is its flexible payment plans, which allow developers and advertisers to select a suitable plan that meets their budget and objectives.
For instance, there is an unlimited impressions plan with cost per impression pricing or a Starter Plan that comes with no commitment to impressions volume or minimum purchase requirements.
Moreover, Leadbolt has recently introduced a new subscription model which allows developers to pay just once per month while still getting access to all services offered by the platform.
In terms of customer support, Leadbolt offers 24/7 support services through email and phone hotline so that customers can get assistance anytime they need it.
Additionally, there are also frequent live webinars where experts discuss various topics related to mobile marketing strategies as well as answer any questions related to Leadbolt's services.
Overall, Leadbolt is an excellent choice for both developers and advertisers who want to maximize their ROI from mobile advertising campaigns in a cost-effective manner.
Its comprehensive suite of features provides an array of options for creating highly targeted campaigns tailored specifically for a brand's target audience while offering flexibility in terms of payment plans and customer support services.
With its data-driven approach towards optimizing campaigns plus low entry costs paired with high-quality performance metrics, Leadbolt is definitely worth considering if you're looking for an effective way to monetize your apps or promote your business through mobile advertising channels.
Quick Links
Conclusion: Leadbolt Review: A Must-Read Guide For Beginners 2023
Leadbolt is a powerful tool that can help you get more leads and conversions. However, it's important to remember that Leadbolt is just one part of your digital marketing strategy.
You also need to have a strong offer and a well-optimized website in order to be successful. If you're looking for more tips on how to generate leads and convert them into customers, be sure to check out our other blog posts. Thanks for reading!