Are you looking for an all-in-one solution to build and run your online learning business? Look no further – LearnWorlds is here. This powerful eLearning platform provides everything you need, from course creation to automated marketing features, to launch and maintain a thriving digital education business.
In this LearnWorlds review we'll take a deep dive into its key features, pricing plans, customer support options and more so that you can decide whether or not it's the right fit for your needs.
LearnWorlds Review: In A Nutshell
LearnWorlds is an innovative digital learning platform that provides users with a comprehensive suite of tools for creating and delivering engaging, interactive courses.
With its intuitive design, powerful features, and user-friendly interface, LearnWorlds makes it easy for anyone to create professional-looking online courses quickly and easily. It's an ideal solution for both new course creators and experienced developers alike.
At its core, LearnWorlds simplifies the process of creating online courses by providing users with a drag-and-drop editor, which enables them to quickly put together a course without needing any coding experience.
The platform also includes plenty of powerful features such as quizzes, surveys, video hosting, virtual classrooms, and more. This ensures that each course is highly engaging and interactive while still being easy to manage.
In addition to its ease of use, LearnWorlds offers several unique features that set it apart from other similar platforms. For example, the platform includes built-in analytics tracking so users can easily keep track of their students' progress throughout the course.
It also supports multiple payment options such as credit cards, PayPal or Stripe payments for secure transactions. It even allows users to offer free trials or discounts on their courses if they wish to do so.
LearnWorlds also allows users to brand their courses with custom logos and backgrounds in order to give their content a more personalized feel.
This feature helps make each course look professional and polished while still remaining straightforward and easy to navigate. Plus, users can choose from over 50 different language options when creating their courses in order to reach learners all around the world.
Overall, LearnWorlds is an excellent choice for anyone who wants to create an engaging online course without having extensive coding experience or technical know-how.
Its comprehensive suite of tools help make it simple enough for beginners while still offering plenty of advanced features that experienced developers will appreciate too.
Plus, its intuitive design ensures that each course looks great no matter who creates it thanks to its customizable branding options as well as its multilingual support capabilities. So whether you're just starting out or have been teaching online courses for years now; LearnWorlds is sure to meet your needs every time!
LearnWorlds: Key Features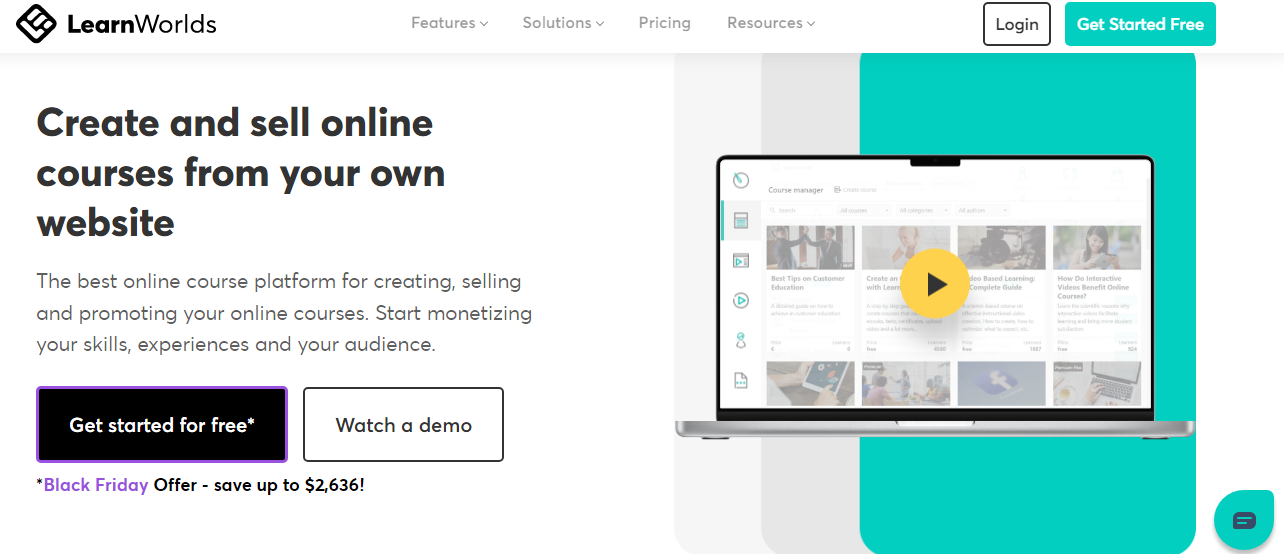 LearnWorlds is an online platform that provides its users with the tools to build and manage their own interactive learning experiences. With a range of powerful features and customization options, LearnWorlds enables users to create engaging learning experiences for their students.
It simplifies the process of creating courses, managing content, tracking progress, and providing feedback to students. Here are some of the key features that make LearnWorlds stand out from other online learning platforms:
Easy Course Creation & Management – Courses on LearnWorlds can be created quickly by uploading existing course materials or creating content directly in the platform. The intuitive user interface makes it easy to drag and drop files, add videos and audio files, create quizzes and assessments, incorporate text materials, and upload multimedia elements such as images and diagrams. This makes it easy for instructors to organize courses into modules, lessons, topics, and activities.
Customized Learning Experiences – With LearnWorlds' customization options, instructors can tailor their teaching style to their students' needs and preferences. Instructors can customize the look and feel of their courses by changing colors, fonts and backgrounds to match their branding or match a specific theme. They can also control access to certain parts of a course by creating individual paths for each student or group of students based on prerequisites or progress made so far in the course material.
Interactive Content – LearnWorlds allows instructors to incorporate interactive elements into courses such as polls or quizzes which help engage learners during the learning process with instant feedback about their progress in each module or lesson. Additionally, instructors can embed 3rd party applications such as YouTube videos within their course materials for more engaging learning experiences.
Automated Administration Tasks – Instructors no longer have to manually grade quizzes or provide specific feedback when grading assignments; this can all be done automatically with LearnWorlds' advanced grading features which save time while ensuring greater accuracy when assessing student performance in a course material.. In addition, automated administrative tasks such as notifications sent out at milestones during a course's duration are also possible with LearnWorlds' automation feature which keeps track of deadlines for projects assigned by an instructor within the same platform..
Comprehensive Reports & Analytics – To gain deeper insights into how learners are progressing through a given program or course material within Learnworlds' platform , instructors have access to comprehensive reports outlining progress made per student . These reports give valuable insight into areas where learners could benefit from additional instruction / support while understanding what kind of content is most impactful across different learner cohorts . Finally , analytics generated from these data points can help inform future decision making surrounding curriculum design , instructional design, pacing strategies, etc.
In conclusion , Learnworlds offers a comprehensive suite of features designed to simplify the creation , delivery , management , tracking & evaluation of online learning experiences.
Its simple yet powerful user interface makes it easy for educators & trainers alike to create customised educational experiences tailored around each learner's needs while leveraging automated processes that enhance both efficiency & effectiveness . As such , this innovative platform has become an essential part of many organisations' training programmes today.
LearnWorlds Creating Learning Experiences
LearnWorlds is an online learning platform that strives to create meaningful learning experiences for its users. It offers powerful tools such as custom course creation, video streaming, audio streaming, interactive games and quizzes, assessments, surveys, forums and social media integration. The platform also has a robust content management system (CMS) which helps users create courses quickly and easily.
At the heart of LearnWorlds is its focus on immersive learning experiences. It enables teachers to create an engaging learning environment with interactive activities and multimedia content such as videos, audio clips and graphics.
This allows users to explore topics in depth while having fun at the same time. To ensure learners benefit from the best possible experience each course includes features such as personalized dashboards for individual learners, badges for recognition of accomplishments and progress tracking for each lesson or topic.
In addition to its inbuilt features, LearnWorlds also provides access to a range of third-party applications that can be integrated into courses including discussion forums and polls, document sharing platforms and virtual labs for experiments or simulations.
This makes it easy for learners to collaborate with peers on course activities or practice new skills in an interactive environment without leaving the platform.
To support learners who are not comfortable using digital technology Learnworlds also provides resources such as step by step tutorials on how to use its tools as well as customer support services including online chat options and phone lines available 24/7.
Learnworlds' commitment to creating quality learning experiences extends beyond just providing access to powerful educational tools – it also focuses on building relationships between teachers and learners through mutual trust and respect. Its 'Learning Community' feature encourages social interaction between students and teachers by allowing them to comment on lessons or ask questions within the platform which are then answered by their instructors in real-time.
Furthermore, Learnworlds emphasizes data-driven decision making by enabling educators to track student progress over time using built-in analytics & reports so they can adjust their teaching strategies if needed based on learner performance data collected from the platform. This additional layer of insight helps educators tailor their instruction according to the needs of their students ensuring maximum engagement throughout each course session.
Ultimately Learnworlds seeks to empower both teachers & learners alike by providing them with a suite of intuitive yet advanced tools designed specifically for creating effective online learning environments – making it easier than ever before for everyone involved in education to take advantage of technology's potential for delivering high-quality educational experiences.
Quick Links
Conclusion: LearnWorlds Review 2023: Should You Go For It? Best Guide
Overall, we think that LearnWorlds is a great eLearning platform with lots to offer users. It's easy to use and navigate, has some really cool features (like the gamification element), and is very affordable compared to other platforms on the market.
If you're looking for an eLearning solution that won't break the bank, LearnWorlds could be a good option for you. What do you think of LearnWorlds? Have you used it before? Let us know in the comments below!