It's a thankless world, no matter what you do, you don't always get the support you deserve or crave for right? That happens with us too. And hence I had to come up with this piece on How to Lock WordPress Content.
At times, after spending weeks on research and hours on the keyboard when I finally get a piece finalized, I expect some support from my readers but that's not always what happens, and hence I'll be teaching you How To Restrict Access To Areas Of Your WordPress Website, now that's something which helps.
What Does Restricting Content Mean?
Well if I'm writing a piece for the audience, what's the point in restricting it, right?
The point is, the restriction doesn't exactly mean restriction, it means partial restriction, let me show you How to Add Content Locking in WordPress, and you'd understand.
#1. Partial Locking:-
Basically it's like the content is locked till a certain action is performed, let's say alike, a share of the article on social media, or a comment!
#2. Password Protection:-
Restricting isn't always for social shares or engagement, at times we also need to Password Protect our content, so that only a select few individuals have access to that content!
This can be used in order to compartmentalize information, or maybe if you're selling a particular kind of content, you can give them the passwords once you get paid.
Anyway, the reasons to lock WordPress content are endless.
What are the Benefits of Locking WordPress Content?
The benefits range from getting social signals, to more engagement!
It's like a cycle, let's say you lock a piece of content and the readers need to share the piece on their social media in order to gain access to the article, so once they share the piece, their friends would land on your site, and they'd share the piece too, hence creating a cycle of unlimited audience.
Not to mention the ranking boost that you'd get with the help of the strong social signals.
Also this way, your blog would attain a certain kind of authority on social media, people would naturally start sharing your content if the content is really good without you needing to force them to do so.
And if you're going with the Password Protection method, I think you already know why passwords are a good thing, right? They help you secure your privacy, restrict unwanted users from accessing content that's not for them and so on.
How to Lock WordPress Content:-
Well, there are a number of ways to lock WordPress content, but we would stick to the simplest and easiest ways to do so.
There are two ways to lock WordPress Content which I'll be discussing:-
How to Lock Specific Content in WordPress Blog Post using Passwords.
Lock WordPress content using third party plugins:-
So let's get along with the first method. That's how to lock WordPress content using Passwords.
This is the simplest method to lock WordPress content, in fact, it takes less than 10seconds to be completed, and doesn't require any third-party plugins or even the need to move away from the page where you're writing your content!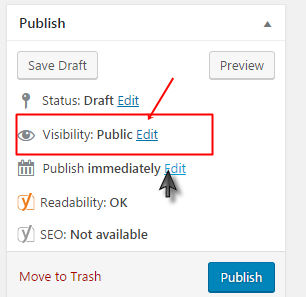 It's pretty easy, just write a post on your WordPress dashboard as you normally would, and then click on the "edit" option under the publish > visibility tab on the right sidebar of the dashboard page:-

Next click on the "password protect" button and enter the password you want to set.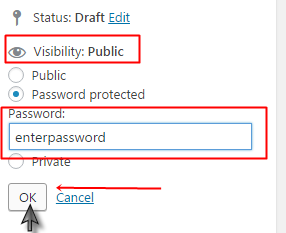 Done! Just publish the article with these settings and it would be password protected. Now only those who have the password to the article will be able to view the articles!
Note that this restriction method is only applied to the current post, meaning for the post which you were writing, it's not universal, if you want this on every post of yours, you'd have to manually do so.l
Method #2 to Restrict WordPress content using Plugins:-
This method is more fruitful if you ask me, basically locking WordPress content with this method helps you get more social signals and exposure.
There isn't a lot of settings you've got to manage either, in fact, it's as easy as "install and use". Of course, there are advanced settings for those who are interested, but the basic settings are preloaded and don't need a lot of effort from your side.
So in order to lock WordPress content with this method, you'd need to login to your WordPress dashboard, and click on Plugins > add new.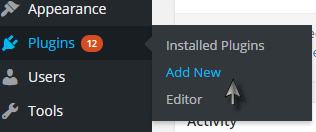 And then search for "Social Locker", and install the below plugin.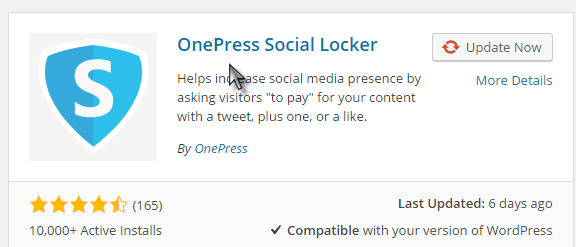 Once it's installed, You'd get the locking shortcode on your WordPress dashboard writing box.

So in order to lock content, just select the text you want to lock, and then click on the shortcode.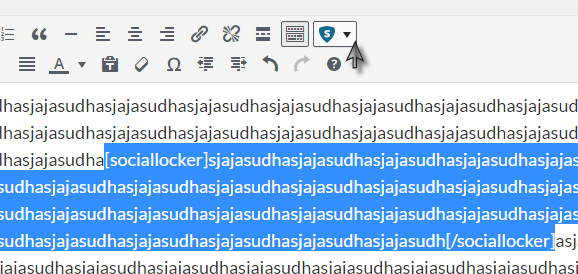 Done!
Let me show you how the locked content looks once it's live!

If you ask me, I'd say the locker does a pretty professional job! And it wasn't hard installing it either was it now?
Final Words:-
So that was all I had on How to Lock WordPress Content guys. I'm sure this piece should've helped you.  If it did, I'd appreciate it if you leave a comment down in the comments section.
Or if you're stuck somewhere and I can help, do let me know. Also, I'd love to hear if you've got your own thoughts on locking WordPress content, maybe a plugin that's better, or maybe a different method altogether?
Basically feel free to speak your minds out.