Animated  GIFs,  literally called JIF are an art form on the Internet,  people over the Internet like to share them for fun. Is there any reason you should not?
But making your own GIF is not simple as drawing something in paint application. But today we are going to help you make your own GIF easy and quickly.
A GIF is nothing more than a silent Internet picture film. A GIF contains images frame by frame,  and they loop after the last frame. You can use a GIF  to express your emotions or to drop a joke on something.
In this guide, We will discuss how to make a GIF from a video, and we are going through many methods so you can make your own GIF easily and quickly.
All you need to follow these steps and in the end, you will have your own GIF,  created from a video. First, we talk about the easiest methods to make a GIF file; later we will go through more sophisticated software and give you step by step procedure.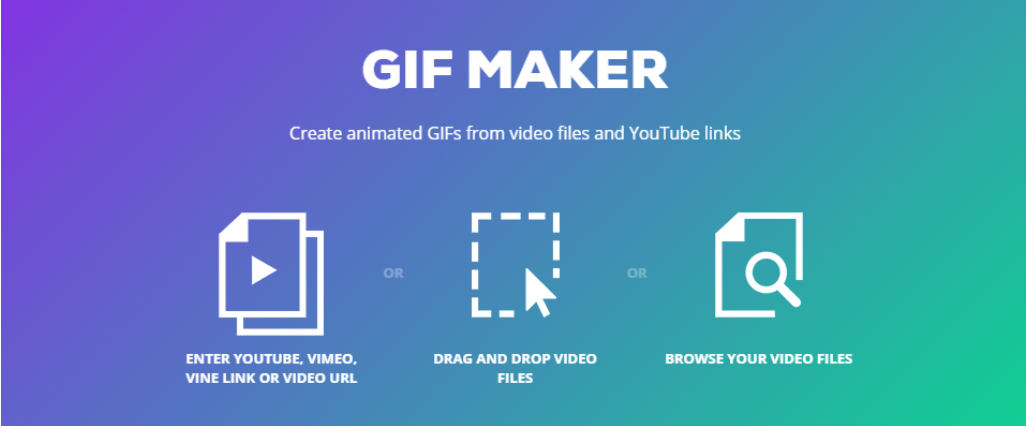 Let's break all the methods into segments.
How To Make A gif From The Video: Using Website
Number one you need to go to gipphy.com and make sure you clicked the 'GIF maker tab'.
Now you can either enter images link or youTube video link from that want a section of something. You also have the option to drag and drop your photos or videos there.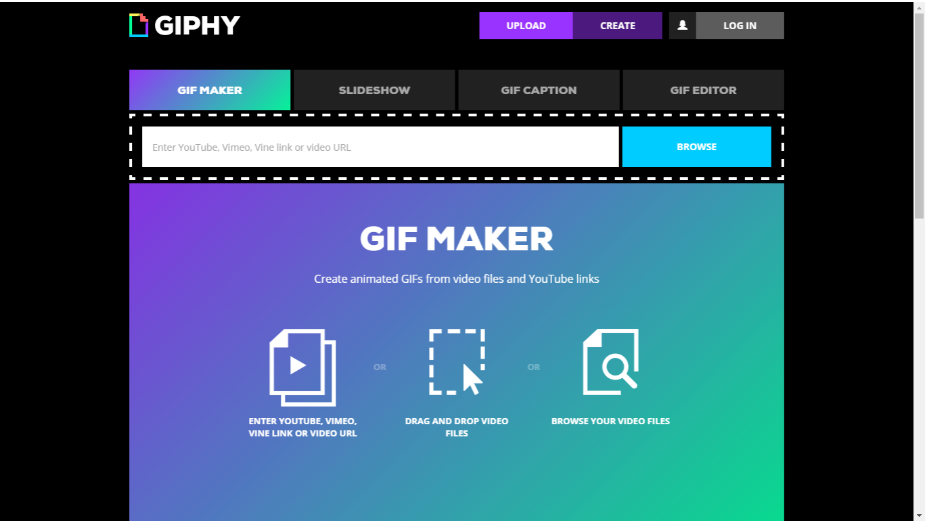 Like if you paste a YouTube video URL, the tool will start analyzing and will show you the video. On that page, you will see some sea options.
For example, If you paste a YouTube video URL in the URL section of the tool, and you have a really good Internet speed, that youTube video will load very fast.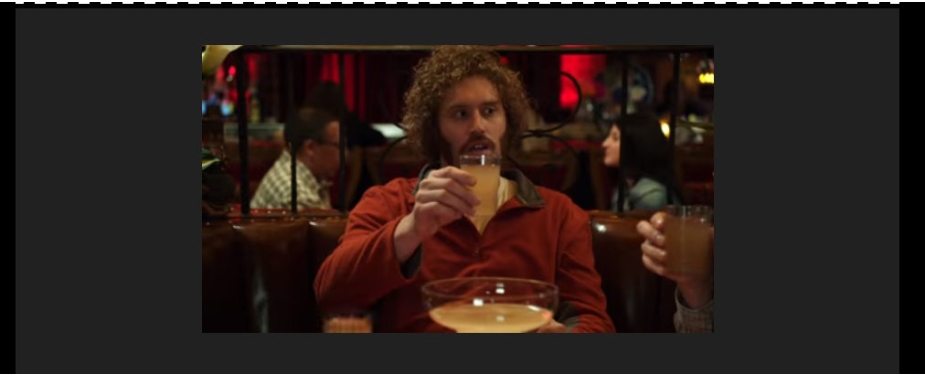 Once loaded, you can choose the length and the duration. Start time means the time from where you want to drag the action clip or something you would like.
The duration is the time after your GIF will loop. Like if you creating a 2.7Sec GIF, it will cut the 2.7 seconds from the video and make its video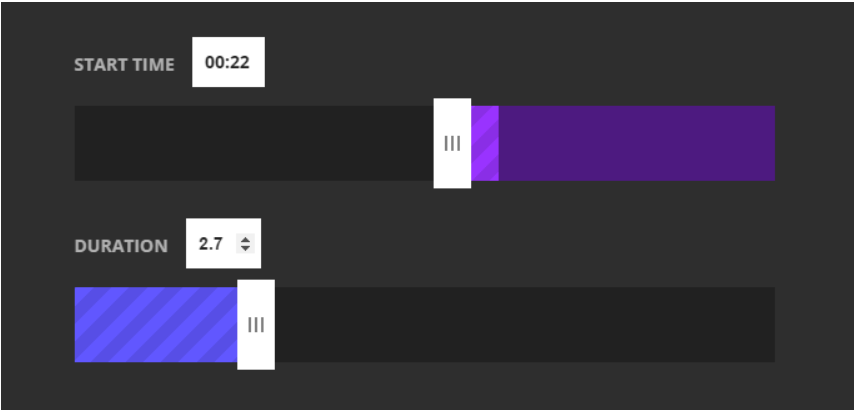 Just when you feel you are good to go, all you have to click on the bottom button that says 'create a gif.'
In a few moments, your video will be processed, and you'll be redirected to the result page. Now you can share this GIF on Social media on Imgur or Giphy itself. Here is a GIF that I created using this tool.
how to make gifs from the video: You need to repeat the steps above to make more than one GIF file. Also, you can make a GIF by uploading many photos on the same website.
Alternatives:
You can also use the imager's video to GIF tool. Which is similar to the tool we just discussed above. But you will only have the option to paste a videos link only.
Turning Own Recorded Videos Into GIF files
Sometimes you feel like 'Hey man I'm good enough to shoot my video and make some funny faces. In that case, you should go to this link and upload your video there. After that, you can choose the length and duration of this section you want to turn into a GIF file.
How To Make an Animated GIF Using Tiny Application For Windows
If you want to capture your computer screen and make a GIF, you can use FastStone Capture. You can also capture anything which is playing on your computer screens such as a Video or some sort of anything.
Once you record something with this app, you'll see an EDIT option just after you finish saving your just recorded video, click on that.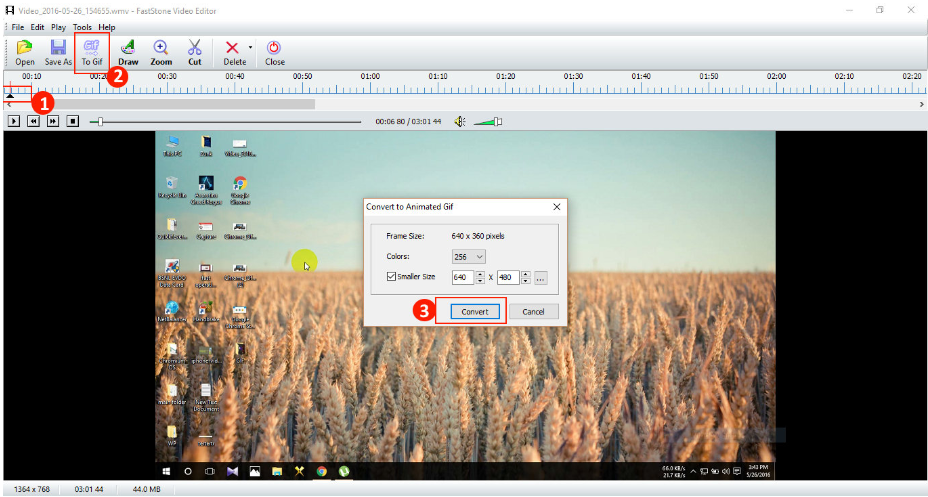 Quick Tip:
If you want to pull out a section from a video, that you have on your computer, you might want to use VLC media player.
Open your video in VLC.
Look for the file menu and under VIEW, choose 'advanced controls'.
Now you will see an extra toolbar just above the playback buttons. Now you need to position your play head before the section you want to record. Press the red button and save when done.
How To Make A GIF From A Video With Chrome Extension
Jiffy is a typical GIF-making Chrome extension. You can install it from here.
If you are feeling very, annoy, and you don't want to use these tools or software. Then this Chrome extension can be handy for you all you have to install on your Chrome. After that, if you visit any video i.e. YouTube
It is for the people who want to capture a moment from a YouTube video, and are obsessed with image quality and fine-tune editing. And yes for people using Google Chrome.
How Jiffy Works: Just install the Jiffy Chrome extension, then every YouTube video you will open will have some sort of control below the YouTube video screen. You will have to enter the start time and end time in the control boxes, the rest of the extension will do.
It will cut the video by timing you defined and will turn it into GIF and auto-upload it to Imgur. In the end, you'll have the Imgur Gif link, which you can share on anything which is on the internet.
Other powerful tools are GIMP and PhotoShop, they have inbuilt options to turn a video or its part into a sublime GIF. But you need extra knowledge about that software because Photoshop is the widely used software loaded with bleeding-edge functionalities.
We are not going very deep in making GIFs using tools like Adobe Photoshop and Adobe Firework. Besides, making a GIF from a video in such tools is easy. but they also tend to make super cutting-edge GIFs, so I'd like to save myself from using Photoshop.
To make a GIF like the above, you need to be an expert in Adobe products. You can also hire web designers to make a professional GIF, for that you can go to Dribbble and Behance.
Quick Links 
Over to you, GIF Nerds.
That was all about how to make a gif from a video, After that, you can share your created GIF with anyone, you can share it on popular sites such as IMGUR and GIFFY and can send them to your boss to turn the situation cool and in your favor.
If you need inspiration you can check the dribbble's gif section, be happy – join the fun.