Are you looking to improve your language learning skills? Whether you're an experienced scholar or just starting out, Mondly could be the perfect platform for making progress in language education.
With features such as native audio clips, speech recognition and personalized AI coaches, there is something for everyone who wants to take their language-learning journey seriously.
In this review, we'll go into full detail about what makes Mondly stand out from its competitors when it comes to delivering the best experience possible. So read on if you want to learn more – we guarantee that by the end of it all, you will have a clearer picture of whether or not this is the right tool for helping you reach your goals!
How does Mondly work?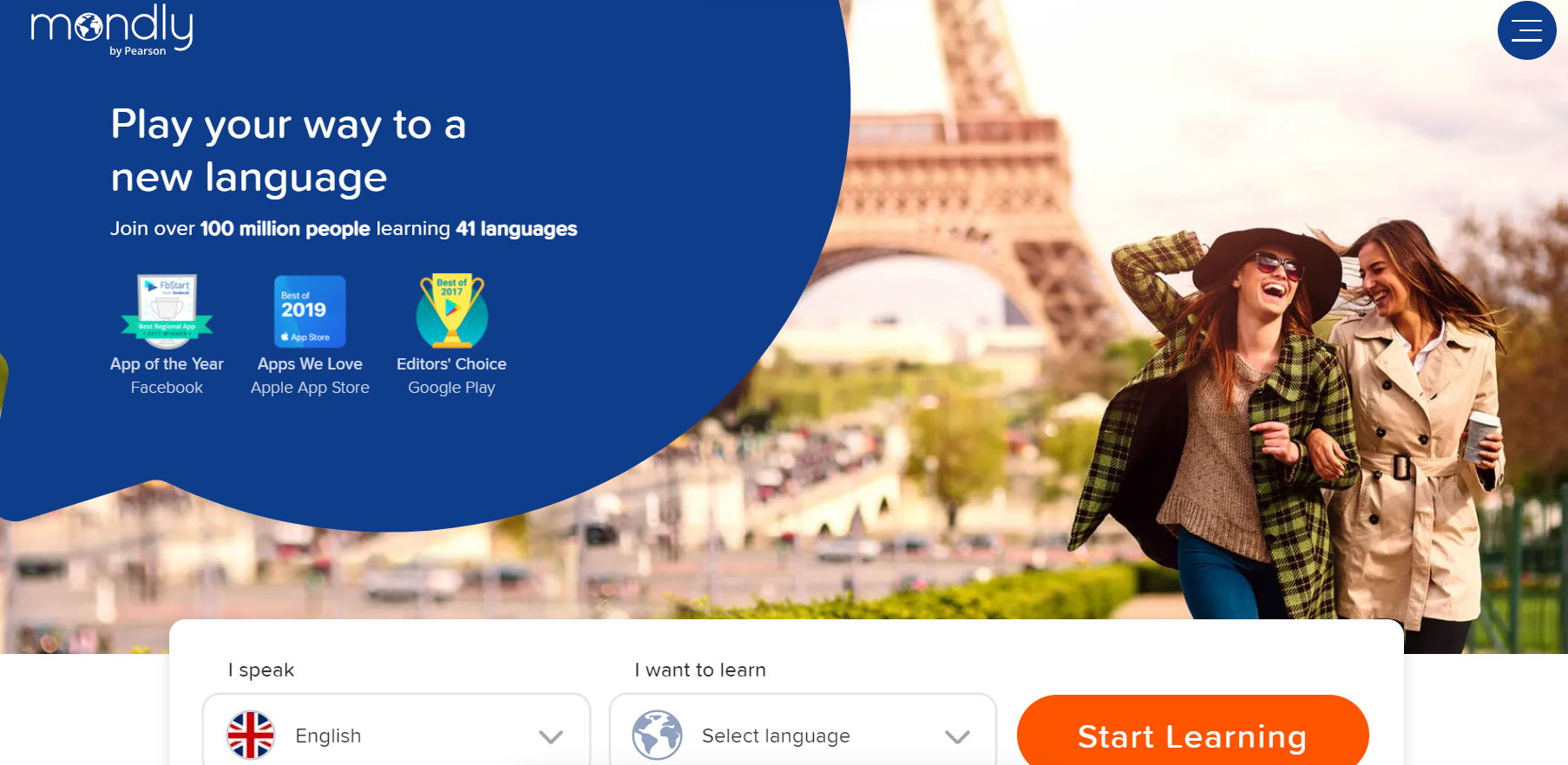 Mondly is a revolutionary language-learning platform that uses Artificial Intelligence to provide users with an immersive and comprehensive language-learning experience.
The platform combines real-time speech recognition with natural phrasing and pronunciation to create a unique and interactive learning experience.
Mondly works by first recognizing the user's native language, then gradually introducing new words and phrases related to the target language.
Through this process, users are able to become familiar with the target language while also improving their pronunciation skills.
The Mondly platform utilizes several interactive features, such as audio recordings of native speakers, quizzes and exercises, personalized feedback on pronunciation, and speech recognition technology.
Through these features, users can practice their pronunciation skills in a realistic environment while receiving feedback from real people on how they can improve their speaking ability.
Additionally, Mondly provides achievements for milestones achieved along the way – such as completing a set number of modules – which act as an incentive for learners to continue studying their desired language.
Mondly also offers tailored courses for specific audiences, such as travelers or business professionals who need to learn certain phrases quickly and accurately.
This personalized approach allows users to focus only on the most relevant topics in order to get up-to-date content within a short amount of time.
Furthermore, Mondly helps learners build vocabulary through its advanced flashcard system which presents words in an intuitive way for faster memorization.
Overall, Mondly is a great tool for those looking to learn a new language quickly and effectively. With its interactive features and tailored courses, it provides learners with a comprehensive learning program that is enjoyable yet effective at the same time.
Key features of Mondly
Mondly is a language learning platform designed to help people learn new languages in an interactive and fun way. It offers a wide range of features that make it one of the best language learning platforms available. Here are some of Mondly's key features: 
Virtual Reality (VR): Mondly was one of the first language learning platforms to introduce virtual reality technology into its lessons. This allows learners to put on a VR headset and be immersed in a simulated world where they can practice their target language with native speakers.
The experience is designed to replicate real-life conversations, giving learners more confidence when speaking with real people outside of the virtual environment.
Voice Recognition Technology: Mondly uses advanced speech recognition technology to enable learners to practice their pronunciation. When reciting words or sentences, users receive instant feedback about how accurately they have pronounced them, allowing them to make necessary corrections and improve their pronunciation faster. 
Lesson Personalization: Mondly's adaptive algorithm tailors lesson plans based on each user's individual needs and preferences, ensuring that lessons remain relevant and engaging for each individual learner.
With over 50 different types of exercises, activities, and games available in each lesson, students can learn at their own pace while keeping the content interesting and engaging. 
Interactive Chatbot: Mondly's chatbot provides an ideal environment for practicing conversation skills without having to worry about making mistakes or sounding foolish in front of others.
The chatbot has been trained using natural language processing techniques and is able to simulate realistic conversations with users while providing helpful hints when necessary. 
Mondly also offers additional features such as voice-enabled audio lessons, quizzes after each lesson, detailed progress tracking tools, user forums where people can discuss topics related to language learning, and much more.
With these powerful features combined together in one package, it's no wonder why Mondly has become one of the most popular language-learning platforms today!
What is the idea behind Mondly?
The Mondly platform offers online courses in more than 30 languages, with interactive lessons and real-life conversations (in both text and audio form) that help users learn new words, phrases and grammar naturally.
The lessons are designed to follow the CEFR (Common European Framework of Reference for Languages) guidelines, which means they can adapt to different levels of fluency from beginner to advanced.
Additionally, the one-on-one tutoring feature makes it easier for learners to have an immersive experience with native speakers.
Mondly also features speech recognition technology which allows learners to practice their pronunciation by repeating what they hear and receive feedback on their accuracy right away.
This helps them become familiar with the correct pronunciation of words and phrases while aiding in gaining confidence when speaking in their chosen target language. 
In addition, Mondly offers virtual reality (VR) experiences designed to simulate realistic situations like visiting a foreign country or attending a business meeting in order to provide users with an immersive learning environment.
This helps them gain more confidence when conversing up close with native speakers in real-life settings.
Mondly's mission is simple – make language learning an easy task for anyone who seeks it without compromising its quality. With its unique approach and combination of technologies such as AI-driven voice recognition software, natural conversations from real people, and virtual reality experiences, Mondly has quickly become one of the most popular language apps available today.
Mondly Review: Pros & Cons
Making the decision to learn a language can be a difficult one. There are so many different ways to learn and it can be hard to decide which one is right for you.
Mondly is an online language learning platform that has been around since 2015 and offers users the ability to learn 31 different languages from their phone, tablet, or computer.
In this review, we will take a look at the pros and cons of Mondly to help you decide if it is the right choice for your language-learning journey. 
Pros
One of the main advantages of choosing Mondly is its comprehensive course structure. It provides both visual and audio lessons with speech recognition technology built in, allowing users to assess their pronunciation as they go along.
As well as the core courses, Mondly also offers supplemental activities such as quizzes and games which help keep users motivated and engaged throughout their learning journey.
The platform also allows users to access additional content in order to supplement their language learning such as articles, dialogues, and conversations with native speakers; all of which can help them gain confidence when speaking their new language.
This is not only great for those who are looking to become fluent in a foreign language but also for those who only want to learn enough basics in order to travel or communicate with locals in another country.
Cons
While Mondly does offer some great features, it's important to consider some potential drawbacks before deciding whether or not it's right for you.
One of the main issues with using Mondly is that there isn't any live instruction available, so if you're someone who prefers more personalized teaching then you might find yourself better suited elsewhere.
Additionally, although there are some useful additional resources available on the platform (such as videos, articles etc.), some users have reported finding these resources difficult or outdated which could lead them astray during their learning journey.
Finally, although there are various pricing plans available on Mondly, depending on what level of access you require from the platform (i.e basic vs premium) the cost can quickly add up; especially if you're planning on taking multiple courses over an extended amount of time – something worth bearing in mind before signing up! 
Overall, while Mondly does offer some really interesting features such as speech recognition technology and additional resources like articles and videos, potential drawbacks such as no live instruction or increased costs should also be considered when deciding if this online language learning platform is right for you!
Quick Links
Conclusion: Mondly Review 2023 — Is It The Language Learning Platform
All in all, Mondly is a great platform if you want to learn or improve a language. The design makes learning fun and interactive. You can also use the app offline which is great when you're traveling.
The only drawback is that it's not free, but with a 7-day trial and different subscription options, it's worth trying out. Overall, we recommend Mondly as one of the best language-learning platforms available.