Have you ever faced problems like long waiting time for a website to start loading or errors like Server not being found?
Well, these errors are because your ISP( Internet Service Provider) is taking prolonged time to change the domain name that you entered into an IP address or sometimes your ISP may completely give up to provide you with the IP address and show an error that says " Server Not Found".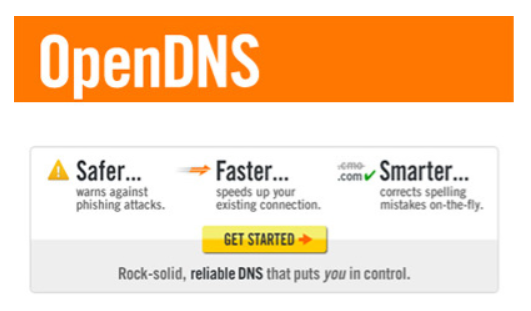 So if you are looking for a solution to this problem, Well the using OpenDNS is the best solution this,
Why use OpenDNS Server? 
With OpenDNS, you will not have to depend upon your ISP for transforming the domain names of the websites to their respective IP addresses. OpenDNS itself stores the IP address for millions of websites, which makes it more reliable than your current ISP.
Manages your TYPOS, for eg – if you're typed in www.technobol.co, it will automatically correct it to www.technobol.com
Its Safer, as OpenDNS blocks all the phishing websites automatically, OpenDNS makes you use PhishTank to know which is a phishing site or not, PhishTank is also used by the big IT giants like Yahoo. Your ISP doesn't provide any kind of protection from phishing sites, but in OpenDNS, this is one of their best features.
Well, some of the working parents may want to make sure that their children at home don't open up a specific site for eg say Facebook, so you can easily configure these settings and can the sites in your free OpenDNS account.
OpenDNS also has an option to prevent opening any adult site on your network, this feature may come in really handy for some workspaces or cyber cafes.
You might be thinking that the tool is useful enough, so where is the paid download link ? well this is the best part of OpenDNS that you won't have to download any software, and it's completely free.
Now let's come down to the implementation of the things we have talking about.
How to use OpenDNS Server?
Using OpenDNS is really simple, all you need to do is follow the steps below:-
Open Control Panel
Get into Network and Sharing Center –> Change Adapter Settings –> Click on Properties button
Now Scroll down and double click on IPV4 and a box will open up
Now in that box enter the following:- Prefered DNS server – 208.67.222.222 and Alternate DNS server – 208.67.220.220
Click on the Save button and close everything.
Once you have followed all these steps properly, you are good to go  :-). Now all your IP addresses will be fetched from a safer and faster place OpenDNS rather than your nonreliable ISP.
Now, if you need to make certain advanced changes, such as disabling adult sites and blocking certain sites, you will have to Sign up on to the there official website and once you are done you will be given a complete dashboard of your own, where you can edit and change the stuff that you want in your network.
Hope this helped your guys out there 🙂 keep stalking for more tips and tricks.
Quick Link