If you want to buy Otter.ai, it can be hard to decide which one to get. There are a lot of details in Otter.ai's Pricing in 2023 models. This can make it hard to figure out which plan is best for you or your business.
In this article, we'll look at the most important parts of each of Otter.ai's four pricing plans. With this information, you'll be able to choose one that meets your needs and doesn't break your budget.
Otter.ai Pricing 2023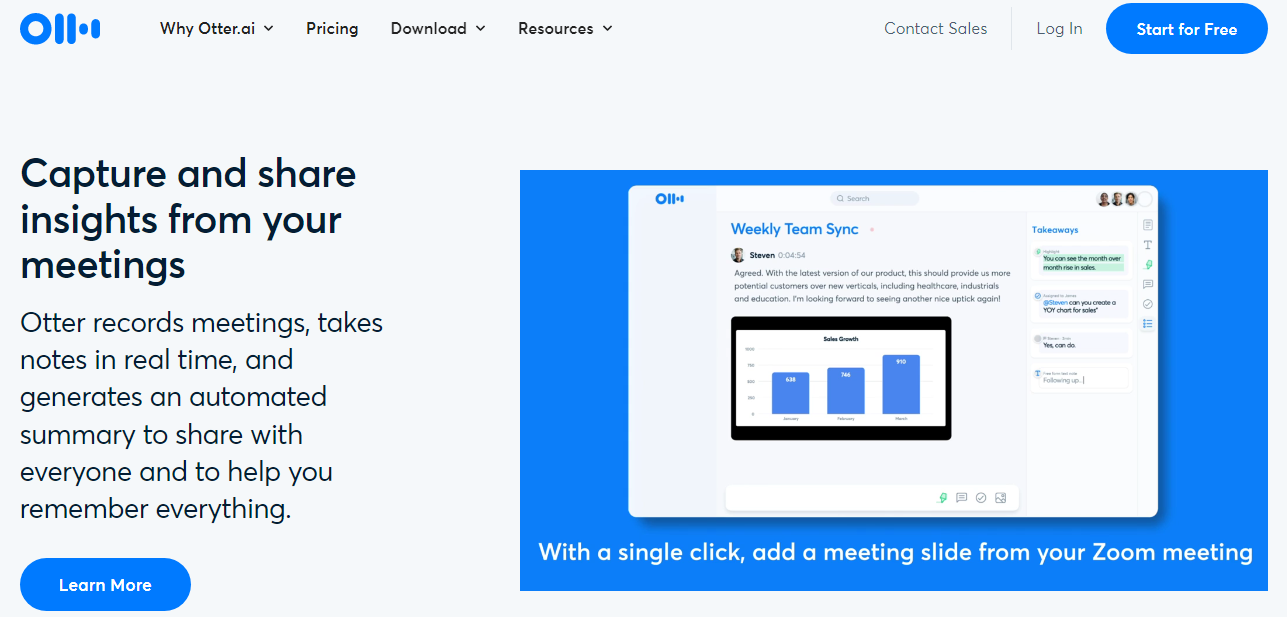 Otter.ai Plans & Pricing Comparison
You can see Otter's 4 transcription plans above. Each one has a different price and set of features. You'll need to think about your needs and budget to figure out which programme is best for you.
Keeping all of that in mind, here's how each plan works: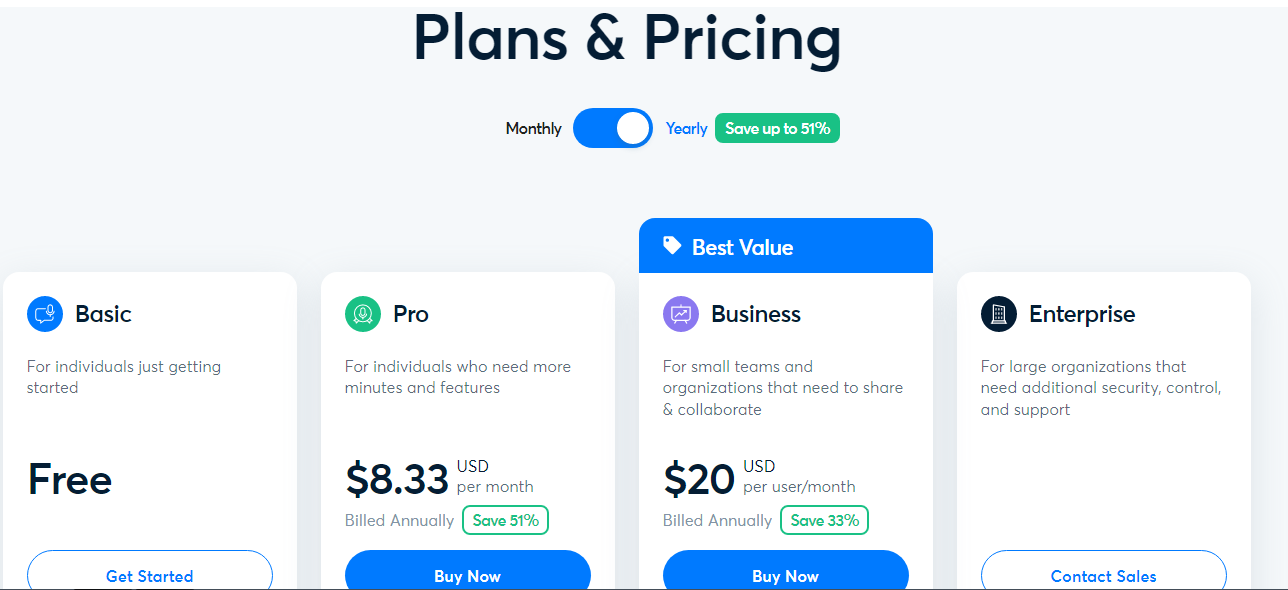 Otter.ai Basic Plan
With the Otter.ai free Basic Plan, you can use Otter AI right away. If you are just starting out with transcription, this plan is a good one.
It can also work if you have some experience but not enough to sign up for one of their paid plans.
You can use this to try out some easy transcription projects first. Then you can switch to a paid plan and start working with videos and files that are more complicated.
Features
With this Plan, you can record web and mobile recordings and play them back. You can also get sound from BlueTooth headsets and microphones. You can also use mobile widgets and highlights that are synchronised.
This plan has everything you need to get started, such as:
Speech-to-text transcription,

Names of speakers

Support for 5 custom vocabulary terms

Live notes

Google Meet captioning
Security
Otter.ai keeps your recordings safe and secure by encrypting them with TLS and AES-256. You can also reach them by email if you have any questions.
Add Speaker Tags
You can edit your transcriptions and add speaker tags to make it easier to find out who said what.
You'll also be able to add notes to comments, highlights, and images in real time.
Otter.ai is a good tool because it has features like summary keywords and word clouds.
These features make it easy to pull out important phrases from an audio file so you can find them again later. You can also quickly find certain parts of the transcript by using the keyword search.
Transcription Length
You can only transcribe up to 30 minutes of audio per audio file with the free version of Otter. You can also transcribe up to 600 minutes per month.
It would be enough for everyday use. But if you want to transcribe a longer audio file, you might want to look for an alternative or go to Pro.
Custom Vocabulary
Otter.ai offers a Custom Vocabulary feature that lets you add five custom vocabularies. This feature helps improve the accuracy of the transcription.
These can be words, names, or common acronyms used in your company or industry. It's a great way to get transcripts of your conversations that are more accurate.
Collaboration
Sending a link to the text transcript is one way to share your transcriptions with other people.
Target Audience
People who want to start transcribing may find that the free plan is just what they need. Try Otter's free plan if you are a student, like to read, or don't want to spend a lot of money.
Pricing:
Key Features:
The custom vocabulary can contain up to five words

Each month, upload three audio files

Monthly transcription of 300 minutes
Otter.ai Pro Plan
With the Otter AI Pro Plan, you can use more features and have more time to transcribe. For $8.33 per month per year or $16.99 per month per month, you can transcribe for 1,200 minutes.
You also get a few things that don't come with the free plan.
Features
You can search in more detail. With this feature, you can look through your transcriptions for certain words or phrases.
There are also eight different speeds to choose from. When reading long transcripts, it can be helpful to go at different speeds.
There are also the following premium features:
Cloud storage support for audio files

Transcripts can be exported in a variety of formats
Upload 10 files per month
With the Otter AI Pro Plan, you can upload up to 10 files to be transcribed, and each file can be up to 90 minutes long. Since Otter changed its pricing model, users can no longer upload as many files as they want.
Transcription Length
With the Pro plan, you get 1200 minutes of transcription per month, and each transcription can be up to 90 minutes long. This gives you a lot of freedom, and it can work well for people who make a lot of audio content.
Collaboration
The assistant only has a few features in the Pro plan. For instance, all meeting notes will be sent to the calendar guests. If you want to turn off this feature, you'll need to upgrade.
It seems like a strange way for Otter to try to sell more of their service, but that's how they do it.
Custom Vocabulary
With a Pro subscription, you can add up to 100 terms and 100 words to the Otter dictionary. It can be helpful if you have to write down a lot of jargon or proper names.
Target Audience
Imagine that you are a person who needs a lot of time for transcription and a custom vocabulary. In that case, you might want to think about Otter AI's Pro Plan.
You get 1,200 minutes of transcription and the option to teach Otter more custom words.
These basic plans are better for single users. The next two ways we'll talk about are more for teams that need to do some heavy lifting.
Price:
$8.33 per month (Paid annually)

$16.99 per month (Paid monthly)
Key Features:
Advanced Search Tools

Monthly transcription of 10 import files

Otter AI assistant
Otter.ai Business Plan
The best value for your money is the Business package. It works best for teams and organisations, and if you pay for it yearly, it only costs $20 per user per month.
If you pay per user per month, it costs $30 per user per month. You get everything the Pro Otter plan has and more.
Features
The Business plan has everything that the Pro plan has, plus tools for working together as a team. Your team can have as many people as you need, and each person will have their own login.
With this plan, you'll get everything you need to record and share your Zoom meetings. Your recordings will sync with Zoom Cloud on their own.
This feature makes it easy to get to them later. The only bad thing about this service is that you need a Zoom Pro subscription to use it. But if you already pay for Zoom, you might want to check out this feature.
Their most popular choice is the Business plan. It gives you access to everything Otter has to offer, such as:
Complete Otter AI assistant configuration for Meet, Zoom, and Teams

Support for customers on a priority basis

Transcripts can be shared with an unlimited number of people
This plan also has live notes and closed captioning. You can keep track of what you say in a meeting with the help of these features.
As the Zoom meeting goes on, live notes show the transcription on your screen. Live notes that are built in are another way to show captioning.
In the business plan, transcription is available through RTMP. Businesses that need to record and transcribe live meetings or interviews can use RTMP to do so.
The only bad thing is that you have to pay extra for this service. But if you need transcripts of your business meetings, the price may be worth it.
RTMP is a protocol for sending media or chat services that are interactive. It can send audio and video data quickly and efficiently.
It works great for VoIP, live streaming, and video conferencing. It does this without sacrificing quality or dependability.
RTMP also gives you more freedom to do what you want. It lets you choose from different kinds of connections, such as:
Multicast

Unicast

Broadcast
The costs of network traffic can be managed with these connections. They only let people connect who are looking at the content at that moment.
Transcription Length
With Otter's Business plan, each user gets 6000 minutes per month of transcription. It's more than enough for the average person and should be more than enough for most businesses.
If you need more, you can switch to Otter's Enterprise plan at any time. But the Business plan will be fine for most people.
When you need to type a lot of audio, Otter's Business Plan can help. You can transcribe up to 4 hours of audio at once, which makes it easy to write down all of your recordings.
Collaboration
All team members will be able to see what other team members have said about a transcript. Only admins will be able to give them the green light. Then, each admin can give other users on the team a role or take one away from them.
Custom Vocabulary
With the custom vocabulary, each member of the team can see up to 800 words. Each team member can add up to 200 words that are unique to them.
Pricing:
$20 per month for each user (paid annually)

$30 per user per month (monthly payment)
Key Features:
Configure Otter AI assistant for Meetings, Zooms, and Teams

Support for customers on a priority basis

You can share transcripts with as many people as you like
Otter.ai Enterprise Plan
For big businesses that need more protection, control, and help
To get Otter set up the way you want, you'll need to talk to sales. It's the Business plan with features that you can change.
Start by filling out a form with information about your business and how you want to use Otter. Then, someone from Otter will get in touch with you.
They will do a video call to explain the plan and what custom features your company will need.
The Enterprise plan has the same features as the Business plan, but they can be changed. It lets companies pay only for what they need at the time they need it.
The service is quick and has many features that businesses can use to their benefit.
You can go back and change when someone says a word in your transcriptions by looking at the time codes. You can choose 0.5x, 0.75x, 1x, 1.25x, 1.5x, 1.75x, 2x, 3x, speed, or skip silence.
With Otter Assistant, you can take a screenshot of your virtual meeting with just one click. You can see what people were talking about and make sure you don't miss anything important.
This plan is a great way for your team to write down their ideas and thoughts. In a general chat, you can share transcripts with other groups. This is a great way to make sure that everyone is on the same page.
A Bulk Export option is available for Enterprise plan users, who can export their audio in TXT, MP3, DOCx, SRT, PDF, and bulk export formats. When transcribing large amounts of audio, bulk export can be helpful.
Transcription Length
This plan starts with a transcription length of 6000 minutes per month per user. This plan can be changed to fit your needs.
If you need more time, you can talk to your account manager about this. They will do what they can to help you.
Custom Vocabulary
One of the best things about Otter for businesses is the Custom Vocabulary feature. You can add terms that are specific to your industry or company that you want them to know.
It's a great way to make sure that meetings about specific topics are transcribed correctly. You can change your own words whenever you want. It might make it easier for you how to keep your transcriptions up to date.
With Enterprise, you can teach Otter to understand up to 800 new words. If you want to change more than 200 words, it can save you money on Otter.ai.
Collaboration
The Single Sign-On Authentication is one of the best parts of the Enterprise plan. It can be used by people who buy at least 100 licences.
This feature makes it easy to keep track of your accounts. You can make sure that only people who are allowed to can see your transcriptions.
Large companies that need more protection, control, and help can benefit from this plan. The enterprise plan also comes with a dedicated account manager and phone support that is available 24/7.
Pricing:
Key Features:
Authentication via single sign-on

Using Otter, you can deploy it across your entire organization

Time codes that can be edited
FAQs | Otter.ai Pricing
Is it possible to pay for Otter with PayPal?
It is not yet possible to pay with PayPal on Otter. Otter may be registering with PayPal at the moment. Otter requires a different payment method if you wish to use it.
Does Otter.ai Offer an Education Discount?
If you are a student or a teacher, you may be able to get a discount on Otter transcription software. Institutions like schools that don't charge tuition are eligible. Accredited primary schools, secondary schools, and colleges and universities Any of the places listed above can get a discount. Click Account Settings and then Student & Teacher Discount to get started. Once you've been verified, you'll be able to pick the plan that fits your needs best. The discount will be added to your subscription by Otter.
How to Cancel Otter.ai Subscription?
Step 1: On the dashboard, click on your name. Step 2: Select 'Account settings'. Step 3: Select 'Delete account' from the drop-down menu. Step 4: Click the 'Verify and continue' button.
Quick Links:
Conclusion Otter.ai Pricing 2023
Otter is pretty good software for transcribing, and it comes with four different price plans. Regardless of which plan you choose, Otter may be able to help you get started with the transcription of your audio.