Site loading speed test is one of the most important tests you could ever perform on your blog if you're serious about it's career. And that's the reason I'm writing this piece on How to Use the Pingdom Speed Test Tool.
Site loading speed is a lot of time confused with a lot of other things. For e.g. most people think "the amount of time taken for a, and that to open" is site speed.
Well, for the users it might be the case. But for Search Engines? Nope, not at all! (I've researched a lot on this exact topic a year back. Hence, all of this is coming through.)
Search Engines takes "site speed" in a very different manner compared to how you or me would judge it, so before getting into the real subject of the article, that's Test Web Loading Speed with Pingdom Tools, let me take you on a ride into some more important, yet unknown small little details. Don't forget to track your visitors and the bounce rate using Google Analytics.
Does Site Speed Affect Search Rankings?
It definitely does. Not directly, but indirectly. (Although some claim it does even directly, but it's not confirmed yet!)
I'm sure the question of "How would Google, an algorithm know how long my site took to load", right? Well trust me Google right now is a lot more advanced than half the human race combined!
What Site Speed Means for Users and How it Affects Rankings:-
When a user lands on the site, the time taken by the site to load completely is termed as "site speed" by most of us.  And well in a general and broader sense, it's correct.
Now it affects rankings as, if a site takes a long time to load, the user would get frustrated and hit the back button (because well, Google has millions of different sites for him), and that's termed as PogoSticking!
Meaning, when a user comes to a site and hits the back button, it's called pogosticking, and it's a negative indicator for Google that the user didn't find what it was looking for.
And for Google, the one thing that matters most, is User Experience. And it does everything in it's power to increase it. So yeah if a user hits the back button, Google would move your result couple places down in the search results.
Because now Google thinks that your site isn't worth being where it is. So see? A poor site speed isn't exactly what you're hunting for. And that's the reason I'll show you how to perform a Site loading speed test.
Before actually getting into the whole How to Use the Pingdom Speed Test Tool thing, let me tell you what Pingdom in itself is.
What is Pingdom?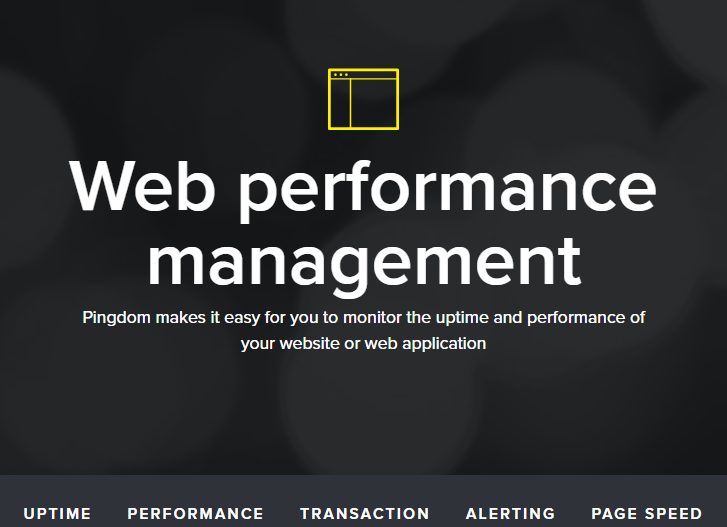 Pingdom is an automated Pinging tool, a tool that pings your site and gets its results and reports to you.
Not just speed! Pingdom also has the features to:-
Monitor Uptime: – Meaning, if your site ever goes down. It lets you know.
Alert Manager: –

Well this neatly crafted algorithm sends you an alert message, and it's pretty advanced as it sends messages only to those people who should be receiving it.
For e.g.,. If there's a speed problem, it'll send the message to the guy who's managing your Site speed, and for downtime, it'll send it to the guy managing your Uptime-downtime thing.
See Also: How to Fully Backup My Site?
You can assign the people their roles inside Pingdom! So yeah see the reason for me adding the "advanced" thing in it?
Page Speed: – This is the tool I suppose you're here for. Well, it's a simple tool that calculates your site speed, shows it to you and not just that also provides suggestions to improve it!
How to Use the Pingdom Speed Test Tool:-
Well, the best thing about Pingdom is that, it's free! Atleast the speed test tool is!
So all you have to do is, head over to the speed test tool from Pingdom. Page.
Once you're there, you'll get a beautifully placed box at the center of the screen. So just enter your SITE URL over there and click on test.

In around 2-3 seconds you'd get the results on the page! Here's how to analyze them:-
Perf. Grade: – It's the overall performance grade of your URL. The higher it is, the better.
Requests: – That's the number of server requests your URL did before returning the page. The lower,  the better.
Load Time: – I don't think I need to spell this out for you, but yeah the lower your load time is, the better it is for you.
Page Size:- Ofcourse you know, the higher the page size is, the longer it would take to load. So well, yeah just reduce the page size.
Well, that's just one box! Telling you all of this. If you scroll down a bit, you'd get a waterfall section. What this section does is, it shows you the exact number of requests, each element of the page consumed!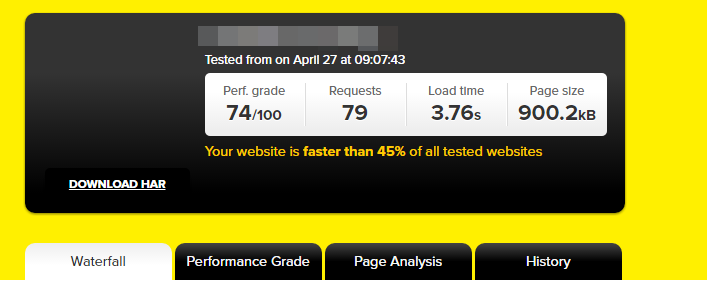 There's a second tab, that's titled Performance Grade! Well, your page is made up of lot's of different elements, right?
The Javascript, the CSS, the HTML and what not! So what Performance grade for you does when it comes to site loading speed test is, it breaks down "individual performances" of those elements!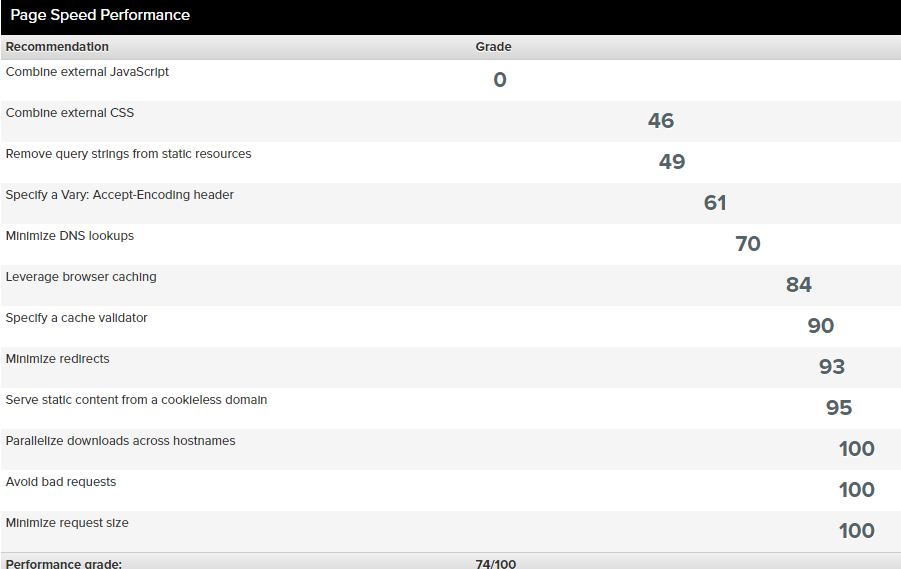 That's a lot of data to work with. You just optimize, improve and analyze your elements and just boost your SERP's with this one site loading speed test!
Server Response Codes: – The third tab, that's the Page Analysis tabs gets you a detailed analysis into the Server response codes of your site!
Well, what it means is, your site is not just your domain, right? A lot of third-party plugins, images, and stuff are used on it. So what it does is, it gets you the response code, performance and resource consumption report of those third-party domains compared to your URL!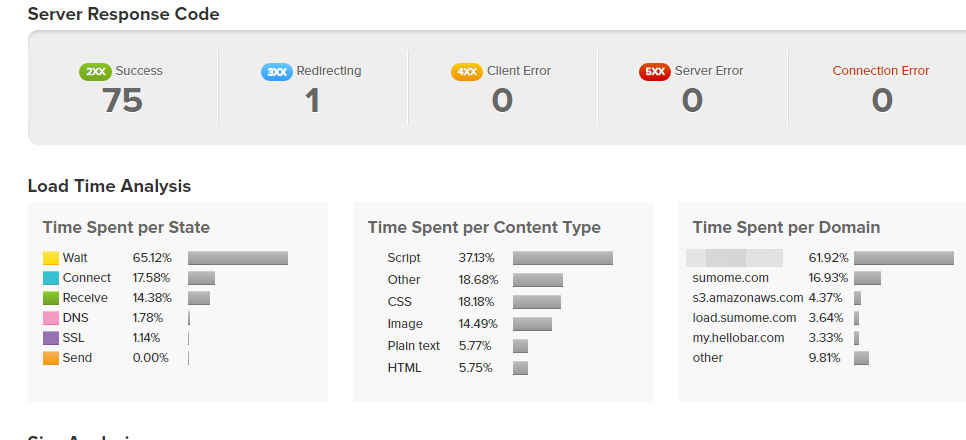 I know it sounds complicated, but you'd figure it out once you're on the page.  And then, you can probably just delete, (or improve if you want to) the third-party plugins and modules that are consuming a lot of resources.
And to top it all up, there's even a history section! Yeah, it shows you how your site was performing in the past!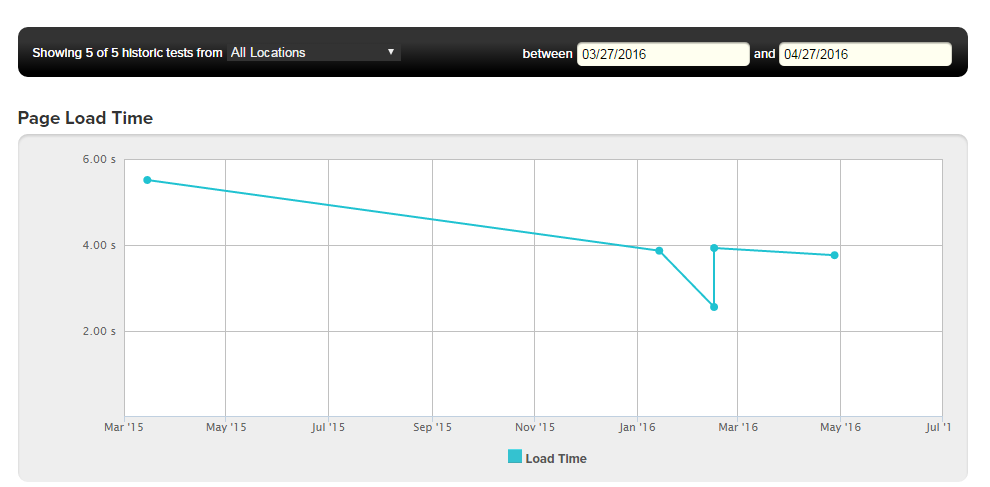 Now that's one hell of a thing because it shouts out to me when exactly (along with the date) was my site at it's best. Then I can just go back to the theme, plugin or whatever Optimization I was on back then.
And it would get my site it's speed back, won't it?
Final Words:-
So yeah that's a lot of FREE stuff to get your hands on, right? I'm guessing this piece should've answered to your "How to Use the Pingdom Speed Test Tool," right? Yeah hoped so. Just in case, you wanted to check the wifi speed, here you can see how to test wifi speed?
There are a lot of times when you may need to move your site from one server to another, in that case, before doing anything, it is important to take backup of the website. Here is how to fully backup your site.
But If I still missed something out, feel free to let me know. Or just pour in your thoughts in the comment box!