Are you having trouble finding the ideal cryptocurrency wallet? Do you need the finest cryptocurrency wallet for your business? If that's the case, we've got something special in store for you. As you may be aware, cryptocurrency is growing right now, and everyone is trying their hand at it.
However, as the number of people using cryptocurrency grows, a reliable crypto wallet is in short supply. You can handle all of your currencies from one location with a crypto wallet. It essentially serves as your own bank.
Cryptocurrencies are providing people with an alternative to the traditional banking system. What is exciting about this new form of currency is that it has opened up a whole world of opportunities for entrepreneurs.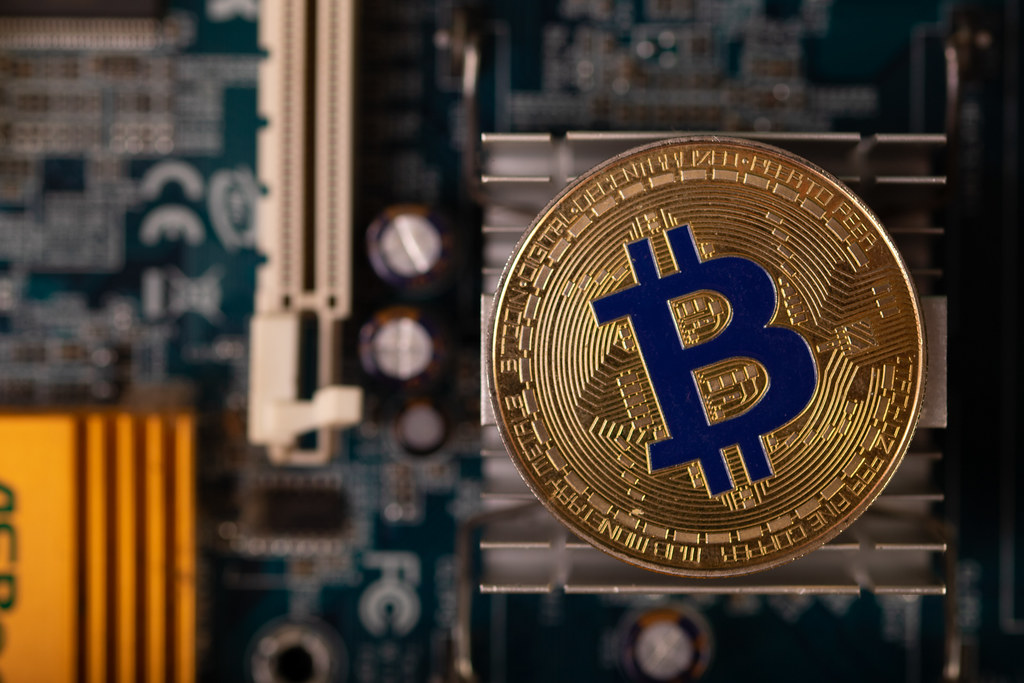 Image Courtesy: Flickr
The Prodoge wallet was created specifically to meet the needs of business owners who have been struggling with finding a way to accept payments from customers in their own cryptocurrency, and not just in fiat currencies like Canadian or US dollars.
In this blog post, we will go through some features that make the Prodoge wallet perfect for businesses so you can decide if it's right for you! 
The Prodoge wallet is one of the best wallets on the market because it offers complete control over your private keys (meaning no third-party involvement).
Prodoge makes it easy for non-technical users to buy and sell cryptocurrencies without needing technical knowledge.
So, let's get started with the review.
Prodoge Overview: (What is Prodoge?)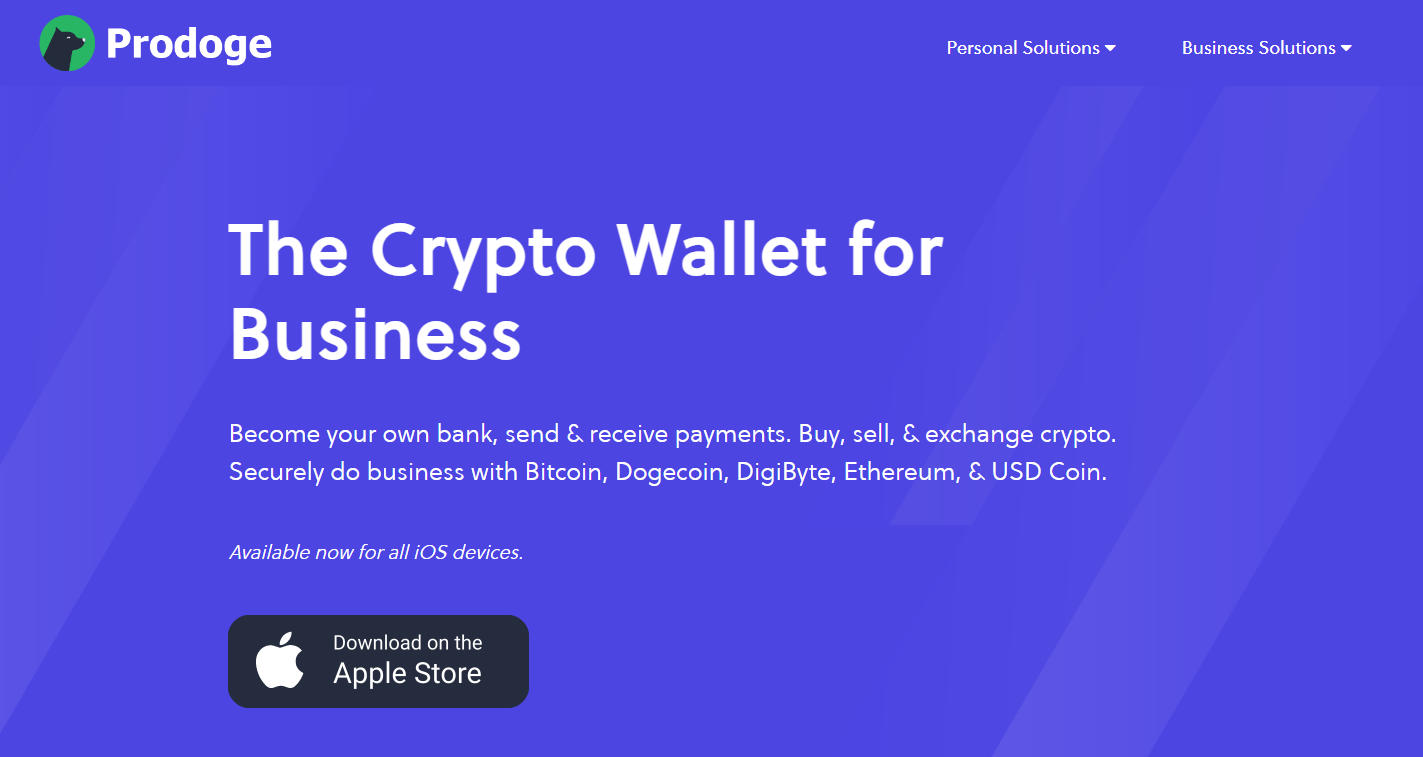 Prodoge is a cryptocurrency wallet that supports Dogecoin, Bitcoin, Ethereum, DigiByte, and the US dollar.It is a non-custodial crypto wallet.
Prodoge is a cloud-based system that assists companies and professionals in automating procedures for taking credit/debit card and cryptocurrency payments online. In-person payments, point-of-sale (POS) transactions, smartphone payments, sales/order reporting, and bitcoin compatibility are all important features.
Teams can create and connect checkout widgets with company websites to accept bitcoin payments without incurring transaction or merchant fees with Prodoge. Individuals may use the service to track website sales and generate data to help them make better business decisions. Users may also find payees by searching for profiles of professions or businesses that provide services to transfer money and support peer-to-peer transactions using the search capability.
You may send and receive money with anybody using Prodoge. It essentially allows you to become your own bank, giving your company the tools it needs to succeed. Prodoge makes it very easy to:
Send/Receive Crypto Payments

Credit & Debit Payments
This may be done with anyone, and there are no restrictions. The best part is that Prodoge makes it simple by allowing you to accomplish everything from a single app. You don't need to install numerous apps on your phone anymore. Prodoge handles the tasks of many applications, saving you the time and effort of switching between them to transfer a payment. People interested in starting their own Prodoge wallets could download the software from the Apple Store and start creating their own crypto wallets.
Prodoge is a great cryptocurrency wallet that offers two kinds of solutions to its users:
Personal Solutions

Business Solutions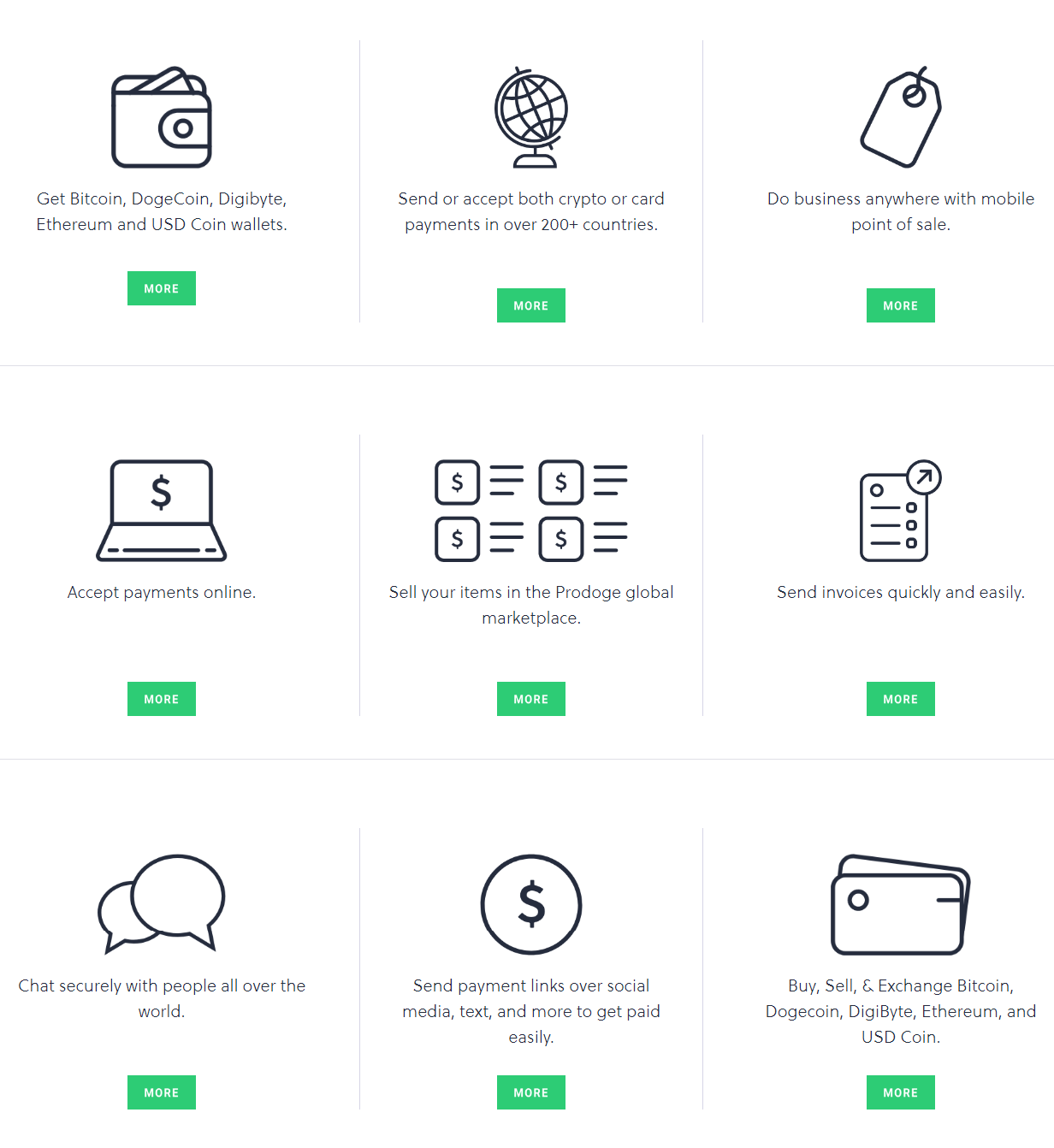 Personal Solutions:
If you're looking for a crypto wallet that's personalized to your specific needs, Prodoge is by far the finest option. It simplifies everything by consolidating everything into a single app. Anything you want to accomplish may be done quickly and conveniently using the app. As a result, the entire procedure is quite smooth, and Prodoge makes handling your bitcoins much easier.
Send & Receive Money Globally
There are several occasions when international money transfers are restricted. That isn't the case with Prodoge. You may transfer money to anyone, anywhere in the globe, with ease. The entire procedure is also rather quick, which adds to the overall experience. Payments may be made quickly and simply using credit/debit cards or cryptocurrency.
Sending and Receiving Cryptocurrency Payments
One of the finest features of Prodoge is the ability to make and receive crypto payments. There are a number of shops that accept crypto as payment, so you may use the Prodoge app to buy items quickly. You may also send any cryptocurrency, such as Ethereum, Dogecoin, USD coin, and so on, to anybody. All you have to do is input the required information and scan the QR code to complete the transaction. To make crypto payments, on the other hand, you may quickly create payment links and much more.
Send & Receive Card Payments
If you're using a debit or credit card, PayPal and Stripe make it simple to submit and receive payments. If a person has a PayPal email address, you may send him money with trust and fast. People who have a Stripe account are in the same scenario. You may also take all credit and debit card payments using your PayPal/Stripe account. As a result, Prodoge makes it simple to send and receive money from a wide range of sources.
The best part of Prodoge is that it functions as your own bank. With Prodoge's assistance, you may simply do international commerce. Here, all of the major cryptocurrencies are supported, and everything in your wallet is yours.
Buying, selling, and exchanging cryptocurrency
More than 100 countries are supported, allowing you to purchase, trade, and even swap cryptocurrencies with ease. Prodoge also makes it simple to purchase bitcoin. Credit/debit cards, bank transfers, and Apple Pay are all accepted ways.
Notifications of Transactions
Prodoge's biggest feature is how simple it makes accounting. You'll receive comprehensive transaction alerts detailing the payments you've made and received. Additionally, you may export the information to a CSV file. Overall, Prodoge ensures that buying and selling crypto/money is done in a secure and reliable manner.
Business Solutions:
Prodoge's solutions aren't just for personal use; they're also for business. The following are some of the highlights:
There are several systems that make receiving money extremely difficult. Prodoge, on the other hand, has totally changed this idea by having being paid an easy task. There is no limit to how many invoices you may send out. As a result, you may begin paying with both cryptocurrency and credit/debit cards. Invoicing is also very simple and intuitive to create.
With the help of Prodoge, you can quickly create professional invoices. Clients may also use the app to pay their invoices. You also get full transaction records so you can keep track of your bills. You can simply customise your invoices with Prodoge premium. Using your company's or brand's logo on invoices is a great way to promote it. This can be quite beneficial to your company.
You may take payments from all around the world with the help of Prodoge. Using PayPal and Stripe accounts, you may be paid in cryptocurrencies or credit/debit cards. You can also simply create Point of Sale checkouts using Prodoge. Prodoge allows you to receive all payments instantly. Prodoge also provides a Point of Sale transaction history, which might be quite helpful in specific circumstances.
You may simply be paid with the use of Prodoge's Payment Links. The payment URL can be sent through SMS, email, or social media applications. These payment links accept cryptocurrency as well as credit and debit cards. Prodoge has simplified the process by allowing anybody to quickly establish a payment link. This payment URL is also simply shared. It is also possible to build personal payment connections.
The best part about these payment links is that they are simple to send via Facebook Messenger, WhatsApp, or text messaging. Payment link transaction histories are also available, and they may be exported.

Another beneficial feature of Prodoge is that it offers you access to a worldwide market. You may post items and services for sale on this marketplace. This marketplace may assist you in growing your business and receiving payments from all around the world. The Prodoge Marketplace allows you to easily set up an online store. You can quickly add product photos, descriptions, and delivery information. You can also get paid in a variety of currencies, such as cryptocurrency or credit/debit cards.
A customer chat function is also included in the marketplace. You may quickly communicate with vendors and customers from all around the world using this chat. This helps you to expand your network by maintaining contact with other companies. There's also a search function that you may use to find certain items, services, or consumers.
 You may collect all donations and payments through your website. Payment widgets may be added to your blogs and webpages. This is a really important tool since it allows you to leverage website visitors to raise funds. You can also choose to get paid in the currency of your choice. Prodoge helps businesses develop quicker by making it easy to track online sales.
Quick Links
Prodoge Review: Pros & Cons
Pros
Well Designed

Simple to Use

A Superb Invoice Solution

Detailed Transaction Reports on the Marketplace 

Major Cryptocurrencies are supported.
Cons
There is no drawback as such, It works really well
Frequently Asked Questions
What kind of deployment is it?
Prodoge's deployment is web-based and installed.
Which mobile platforms is Prodoge compatible with?
IOS and Android devices are supported by Prodoge.
In the Prodoge Wallet app, how can I create a wallet?
Users of the Prodoge App can create several wallets with the same recovery phrase. This new functionality makes wallet recovery and mobility much easier. Make a backup of your 12-word recovery phrase before continuing. You will lose access to your funds if you lose your 12-word phrase.
Is it possible to reverse a transaction from my Prodoge wallet?
No, bitcoin transactions that have already been sent to the network cannot be reversed. The bitcoin protocol has a crucial feature that prevents payment fraud. If you require a refund or a return of wrong payment, please contact the person or business you paid. On public block explorers for Bitcoin, Dogecoin, Digibyte, and Ethereum, you may search and view your wallet's transactions by transaction ID or wallet address.
What is the procedure for exporting my transaction history?
You must upgrade your Prodoge account to their premium plan in order to export your transaction history. The free plan does not allow you to export transaction history. After you've updated, go to your wallet and history pages in Prodoge and click to export your transactions to a CSV file.
Conclusion: Should you go for Prodoge?
As a result, Prodoge is the world's first crypto wallet with such a comprehensive set of functions. If you want to transfer or receive money from anywhere in the globe, Prodoge makes it simple. It accepts most cryptocurrencies as well as PayPal and Stripe for debit/credit card payments.
The setup process using Prodoge is really easy. Their marketplace is incredible, and it offers firms a fantastic opportunity to develop. Overall, Prodoge is the best place to start if you want to manage all of your crypto demands.