How to Recover Deleted Files in Windows 10? If you're asking that question I'm guessing you deleted a couple of important files on your Windows 10 system and now you need them back, huh?
Well, that's exactly what I'll be walking you through. With the help of some free data recovery software, we should be able to bring back your data from the dead in minutes.
Well, I assume you understand I'm not talking about bringing back data from the recycle bin, I'm talking about data you permanently deleted, yeah from the recycle bin or shift alt delete and bringing that back.
Now what happens when you delete a data normally is, it goes into your recycle bins. And in case you delete it from there too, it's supposed that it's permanently gone. Only if it were that simple. The hard-disk is made up of sectors and nothing is always "permanently" gone! There always are some traces left of every file/folder you've ever had on the sectors which can be recovered.
Now it might not be possible to bring back 10/10GB of data, but 80-90% is mostly achievable. And you don't need FBI level of tech to get it back, most of the tools on the internet can do this job, some can do it better than the others while others don't work at all, the point is, these tools are easy to get your hands on, no "hacker level" I.Q required.
So we would be using a deleted file recovery tool to recover deleted files in Windows 10 that goes by the name "Recuva". It's basically a hard drive recovery software that can bring back accidentally deleted data for you, so it doesn't matter if you use it to get back documents, folders, or use it as a photo recovery software
Disclaimer:- I or Knowledgecage is in no way promoting this product specifically. It's just one of the hundreds of other tools available out there. It's just that this is the tool I'll be using for this tutorial. Feel free to go with any other tool out there if you feel it's safe and better.
How to Recover Deleted Files in Windows 10?
So okay the first thing you need to do is, download Recuva.
It's a pretty lightweight program, less than 3MBs so it shouldn't take you long. Once you get it downloaded, just install it on your system. Installing is pretty straight-forward just like installing any other program.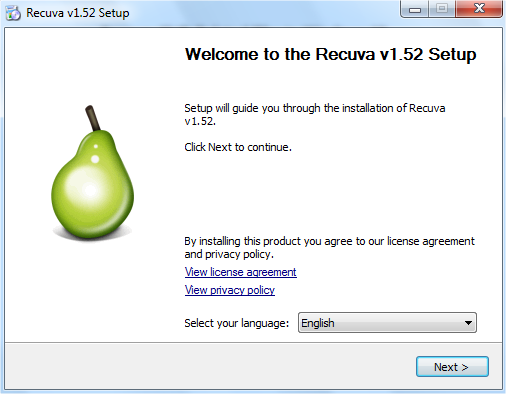 Now once it's installed, you'd want to run it. Which will bring you to the following screen? That is where you select the file type you're trying to recover. Recuva supports almost all the major file types, including:-
Pictures
Music
Documents (pdf, doc, Docx, CVC etc)
Video
Compressed
Emails.
Or just select "All files" if you don't know exactly what you should be selecting.
Now the next screen would let you specify the location of your deleted file. So just select where your file was before it got deleted. The good thing about Recuva is that you can even recover data lost from USB drives, anyway specify your location and click on Next. You can even select the "I'm not sure" option which makes things easier for you although the scan time would be a bit increased.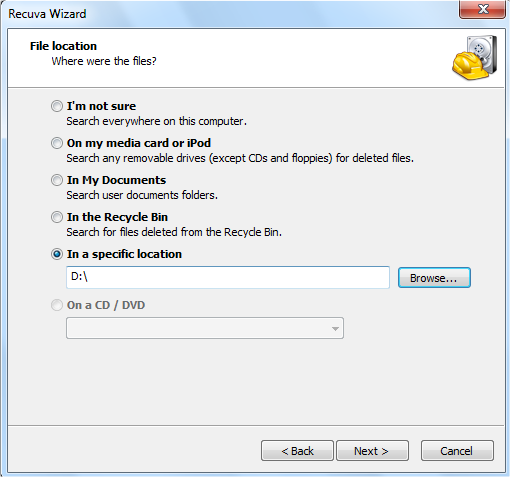 Now the next screen is just a confirmation, just click on "Scan".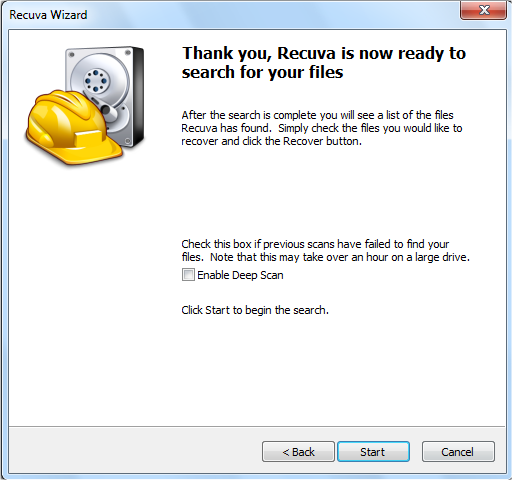 As you can see, on the above screen there's a "Deep scan" mode as well, we will be skipping it at the moment because it takes a very long time but it surely has a better chance bringing your data back. So I'd advise if you by some chance don't get your data using the general scan, only then go with the deep scan method.
Anyway, the next screen is a "Preview" screen. Another one of the reasons why I'm using Recuva here. It actually lets you preview and select which files you want back. So that you don't get back data from years ago which you don't actually need.
So basically just select the files you want back, and click on Recover.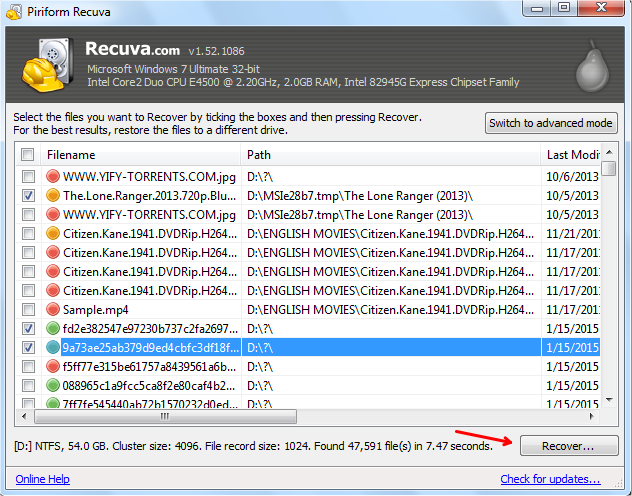 What do the color buttons mean?
Yeah, I understand the colors might be confusing to you, so here's what they mean:-
Red:- The files with this color button basically will be the hardest to recover. So in other words, there's less than 30-35% chance you'll get the files back.
Yellow:- The yellow color represents a 50-50 chance between you getting and not getting the file.
Green:- Yeah you guessed it right! Theses files are 100% coming back to you.
Where to Find the Recovered Files?
Yeah so once the scan is completed you need to know where to get them, right? Recuva doesn't complicate things for you by creating separate folders.
So you can find your recovered file in the exact same location from where it was lost, just get back to that file/folder/USB stick/drive or whatever and the file would be waiting for you.
Final Words:-
So that was all I had on How to recover deleted files in windows 10 folks. I'm sure this piece would've solved your how to recover deleted files problem. If it did, I'd appreciate you hitting the share buttons, or at least leaving your feedback in the comments.
And if for some reason things aren't working out for you or you got a problem, like I always say use the comment box and get back to me, I'll try my best to help you out.