Lost your data?? Concerned?? Well, now you don't have to be! Here I will tell you how can you recover deleted files and documents that you have just lost.
Nowadays, Android smartphones are no longer restricted to basic telephony features! Rather, they are have taken on the mantle of storage devices, music players, portable cameras and a lot, lot more!
Along with that, they also contain all of our contacts; something we cannot afford to misplace at any cost.
However, mishaps do occur! We can lose our data due to various reasons. Maybe due to the lack of knowledge, anger, memory card corruption, or through some mistake. No matter what the reason is, all I can say is this data loss can lead us into big trouble.
But, here is some good news for you! The essential files you have lost do have a backup. Thus, we can recover them easily. Although deleted file recovery is not tough, it does require a few steps to be followed. Here I will show you how to recover deleted files.
How To Recover Deleted Files On Android
To restore deleted files, you have to download third-party software. There are a number of software options out there to help you restore deleted files, but the best one among them is Android Data Recovery utility.
This is the best among the free software and has a fairly high success rate. Let's have a look at the step by step procedure, which will get back your happiness by helping you recover your lost data.
#1. First of all download Android Data Recovery utility, and run it on your system. Make sure you download the correct software from the authentic website with proper care. Because, this utility is what going to get back up your lost data, so no compromises with this.
#2. Connect your Android phone to your PC via USB, as per the instructions on your screen.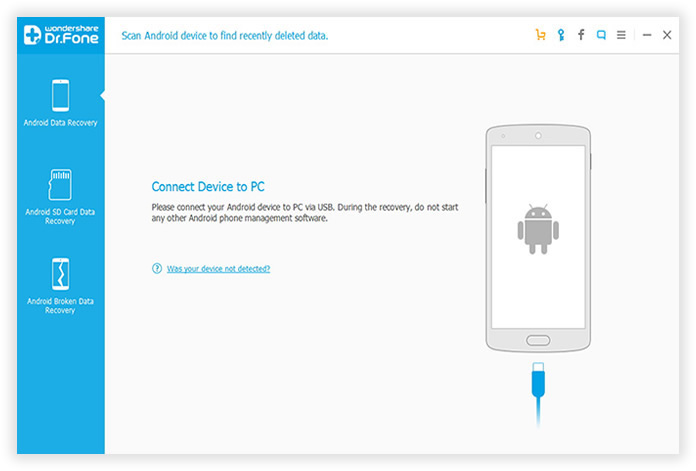 #3. After connecting USB, you'll be redirected to a page with a big Next written over it. Click on that and you'll reach a critical page.
Here you'll be asked to select the types of files you want to recover. Select all if you want to recover all your data including Contacts, Messaging, Call History, Whatsapp messages and attachments, Gallery and more.
If not, select file individually you want to recover and click Next.
#4. Once done, you need to enable USB Debugging on your phone. This is how we authorise Android Data Recovery to get access to our phone's internal memory.
Remember, the method to enable USB Debugging varies according to the Android versions.
If you own an android version 2.3 or earlier, the way to enable USB debugging would be-
Settings>> Applications >> Development >> USB debugging (check this option to Enable it)
For Android version 3.0 to 4.1
Settings >> Developer options >> USB debugging (Check the option)
Android 4.2 or later
Settings >> About Phone >> Build number (Tap this option multiple time until it unlocks the 'under developer mode') >> Back to Settings >> Developer options >> USB debugging (check on this option)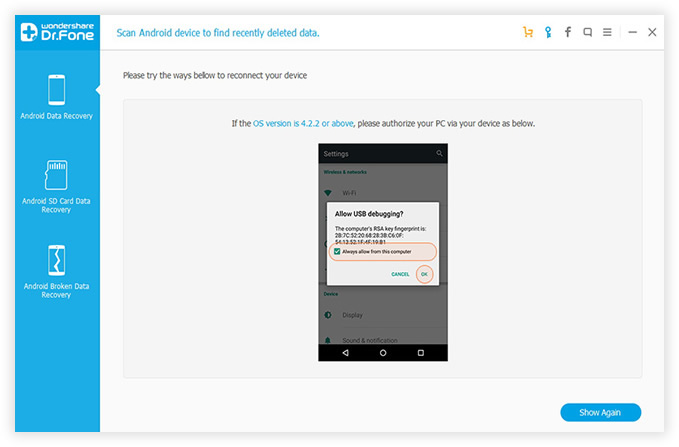 #5. After Enabling USB debugging, you have to do nothing but wait. The recovery software will analyze your phone in-depth and will try to recover your data. This process will take a few minutes so have some patience and wait.
Note: If the analysis gets failed, don't worry. The software is good enough to try alternative methods and get back your data.
#6. Just after the analysis of your phone, you will get a superuser request on your phone to allow superuser authorization. Tap Allow. And click the Start button on the computer screen to start scanning.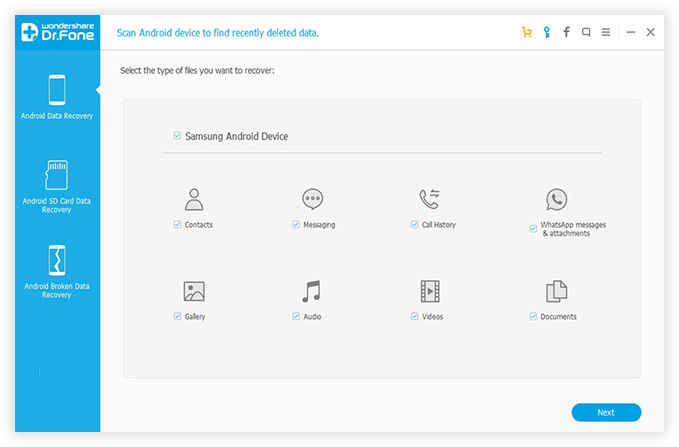 That's it. We are almost done. After clicking the start button, we have to wait until the process completes. The whole process is expected to take a few minutes and can be more depends on the size of data to be recovered.
#7. Once the scanning is done, you will be shown a screen containing all your data which includes contacts, text messages, photos, videos, important documents and everything you had requested to recover.
All the data highlighted with red colour are those you had lost. Select the files you want to recover and save them to any location on your computer.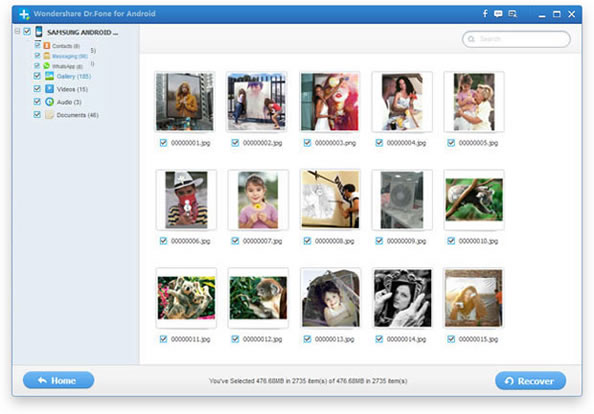 Important- If you have lost your data and have not recovered them yet, don't save any other files on your phone. Else, those lost files will be overwritten by the new files that will lead to permanent loss of data.
Wow, you are done recovering all the deleted files. I can imagine the smile you have on your face!
Losing things is painful that too when there are least chances of getting them back. But, thankfully there exists software like Android Data Recovery, which helps us to restore deleted files.
I hope that after following this guide you'll manage to recover deleted files on your Android device. If you have any queries regarding the tutorial feel free to ask.
If it really helped you to get back your lost data, don't forget to share it your friends, they might be looking for such help!
You may also like to read this article on iPhone backup.