Instagram is able to stand from the crowd in a just short span of 5 years. It belongs to peoples for sharing Photos and short Videos. The Filters always do the magic, just snap a pic and apply filters. The output will be something you can 'Wow'.
With increasing numbers of trends in photos, sometimes we saw a particular pic that makes you 'oh I am going to re-post it. Well, of course, there is no official option for reposting an image or sharing it as yourself. So how do you repost a picture on Instagram?
You Instagram is the property of Facebook company now, but I am pretty sure why they do not have share options in Instagram. Maybe because they have Facebook for doing so, they want Instagram to just simply Dedicated to Images and Images.
However, today in this post we'll talk about how to repost on Instagram so that you can share a picture with your followers. Moreover, Of course, we'll advise you to give credits to the original owner. Otherwise, it can lead your account to be banned.
There are a few workarounds for reposting on Instagram, let's dive into them one by one.
The Native Screenshot Method
A native method is somewhat doing things without any tools. All right, follow these step to repost an image on Instagram.
Open the Instagram app on your smartphone

, login to instagram if you haven't already. Use the search bar to find peoples and images. Open the Image you'd like reposting on Instagram.

Now you need to capture the screen of your device

. You'd be able to capture screen on almost all mobile phones. iPhone and iPad are able to capture the screen by pressing the Power button and Home button simultaneously.
If you have an Android, Take a screenshot of the image. You'll see a confirmation notification of that, tap on that. You may like to crop it, to cut edges and borders. Tap on the "Edit" and crop the image. Once you do that, open you Instagram app's main page.
Press the camera icon

and you'll be prompted to select an upload. Select the captured image, align it to center and try not to have the borders if you have not cropped the screenshot earlier.
Next, you can add filters and blur to the Image; Instagram has so many options for adding effect to an image. When you feel images is good to go, click next.
In the caption area tag the person whom images you are going to repost to your followers. To tag a person tap the 'Add people' otherwise you can also credit to them just by writing 'Credit goes to @user or Repost from @user.'
You may also want to share this picture with your Facebook, Twitter followers. Once you choose appropriate settings, click the Share button. (which is actually tick mark at the top-right side). That is all you just reposted a photo on instagram.
TIP: You can do capture screen when you are browsing Instagram on a Windows PC. Once you capture a screenshot, you may want to crop the image. Then transfer if to a mobile phone, and upload it through the Instagram app.
How to Repost on Instagram using Apps.

This all comes handy with the re-post apps. Re-post apps are available for both Android and iOS users. There are many apps available on the play store in android case. You need to log in with your Instagram credentials inside the repost apps in order to re-post something from other people profile.
Step 1. Download any 'repost to Instagram' app on your Phone. Make sure to choose a good app, because you'll find many apps. You can also check their reviews to pick; it is important because you've to sign into Instagram through the re-post app.
Step 2. Once You Downloaded and installed a repost app. Open your App drawer and tap the app to launch it. The next screen will ask you to login; now you need to trust the apps with your Instagram login details. Many peoples are using this app without any issues. Be careful, though.
Step 3. Find Image to Repost. You can navigate to any people and any image just like you do in the official Instagram app. You'll see an extra button below every image that says "Repost." (The icon is similar to twitter's retweet icon.) Then photo will be posted on your profile with a watermark and credit to the original owner of that picture.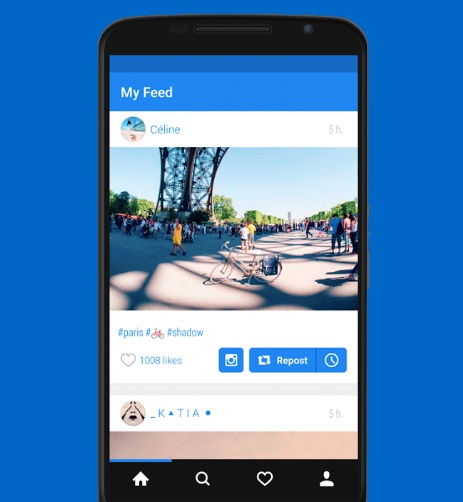 Reposting with the app is much easier compared to the native method. Also, you can repost something from a Web browser, read the next section.
The Web Method to Repost an Instagram Photo
If you are a person using a web Client to browse Instagram. This will help you get the direct link of any Instagram Image. So you can download the image and can upload it later.
Repost Using Website — Websta is a web client of Instagram, where you can login with your Instagram account. You can browser any picture you may want to repost on Instagram. However, that is a tricky one; you need to click on the options icon and choose 'Send me images as email" to get the image by email.
You'll have to download the image and move to your phone's gallery directory. Then upload it from your smartphone Instagram app in the usual way. Don't forget to shout out and give credit in the caption area.
Over to you.
That was all about how to repost on Instagram, Do repost an image with your followers. Remember the advice not to use other people's images without giving them proper credit. This will keep your account safe. Keep sharing the good with the good peoples.