Want to know how to restore deleted photos from Android phones?? Read along, this guide is only for you!!
Android and Photos!! These are the two things in our lives that are no less than a boon to us. The invention of Android and photos has transformed our lives in a good way and has given us the ability to rewind our lives at any point.
Clicking pictures on every moment and saving them on the different devices have become a fashion, habit, and necessity, of course. Photos make us cherish our memory forever and relive them whenever we want to.
Nowadays, taking snaps and uploading them on social media is as important as is taking the breath and the same is the reason that the fear of losing those images makes us frighten!
Although Android and other smartphones gadgets make us store our photos and other important docs into it these data are not 100% secure in these gadgets that we can completely rely on them.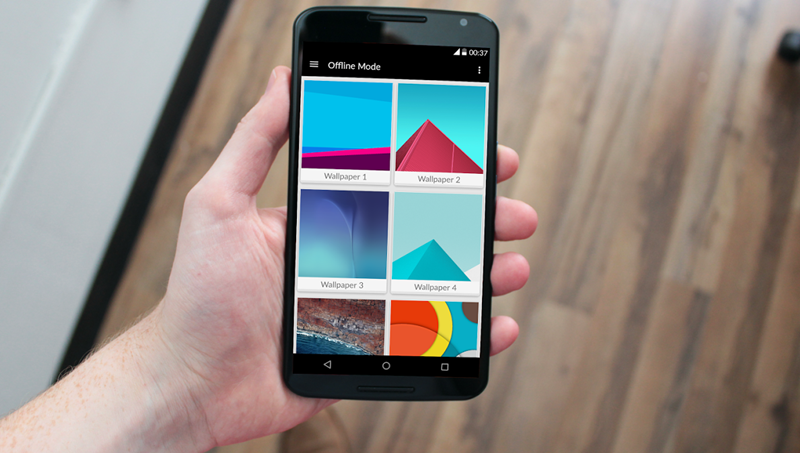 What if you accidentally deleted your last day school photos stored in your Android?? Or your phone got virus-infected and all the media files stored on your computer got deleted?? Even the imagination of this moment gives us the goosebumps, think of the moment when you will really encounter this situation!
We are humans and we all make mistakes at one and the other point and these mistakes make us believe in learning! Learning How to recover deleted photos from android phones is one such article which turns out as a lifesaver when any such situation occurs! let's get started with the guide!
How to Restore Deleted Photos From Android Phones:
Once your photos are deleted from Android phones, it's not 100% guaranteed that they will be recovered completely. But there are good chances that they will be recovered. And when it comes to our photos, we never like taking risks. So why to make a delay?? Let's get started and learn the different ways to recover deleted pictures!
Step 1. In order to recover deleted photos, videos, and other important data, we need to download a phone recovery software called Android Data Recovery. Download the installer file from the link given, save it on your computer and launch it. On doing that, you will see the following screen on your computer.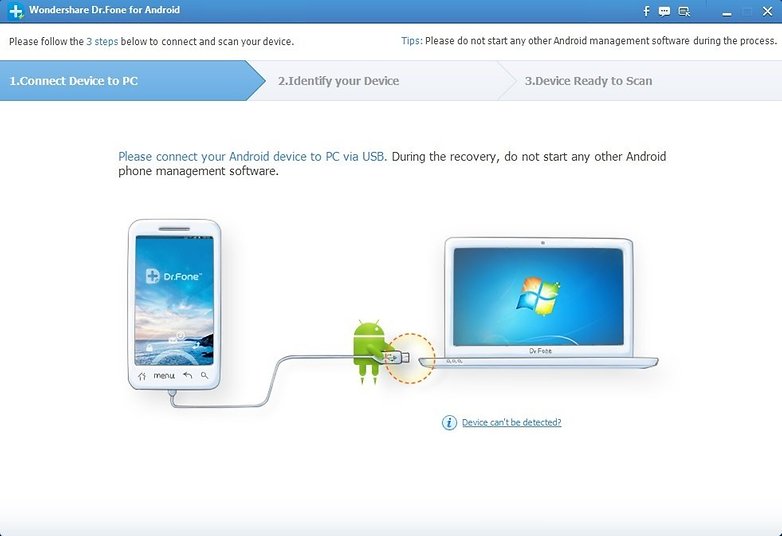 Now you need to connect your phone to your PC as per the on-screen instructions!
Step 2. When the phone is connected successfully, you will require having USB debugging enabled on your android phone. If it's already not done, enable it. Depending upon the different android versions, this process may change.
Here's how to enable USB debugging in various android versions.
Version 2.3 or earlier
Settings>> Applications >> Development >> USB debugging (check this option to enable it)
Android version 3.0 to 4.1 
Settings >> Developer options >> USB debugging (Check the option)
Android 4.2 or later
Settings >> About Phone >> Build number (Tap build number option multiple times until it unlocks the 'under developer mode') >>  Back to Settings >> Developer options >> USB debugging (check on this option)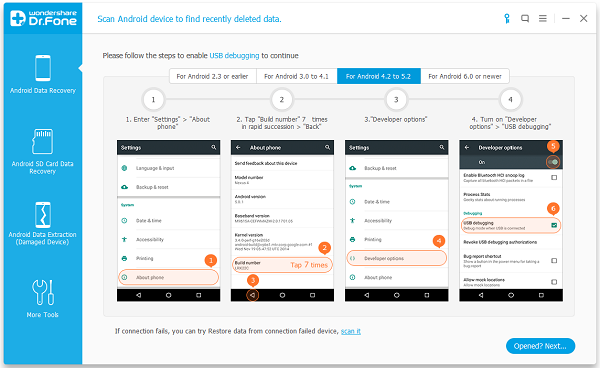 Step 3. Once you are done with the above two steps, you will be asked to select the type of data you want to recover. Since our demand is to recover photos, we will check the Gallary option. You can select videos, messages, and all the options if they have been lost and you want them to recover.
Once done, click Next to proceed further.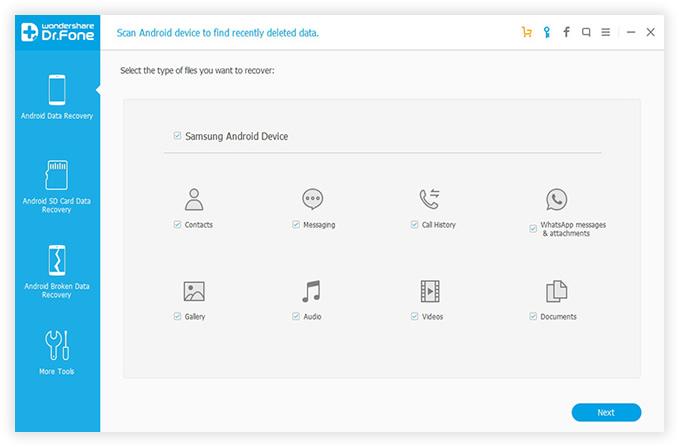 Step 4. When clicking Next, data recovery software will begin analyzing your phone for data recovery options. If this analysis fails, you will see the Retry button instead of the finish. Click retry and let this software try for alternate methods.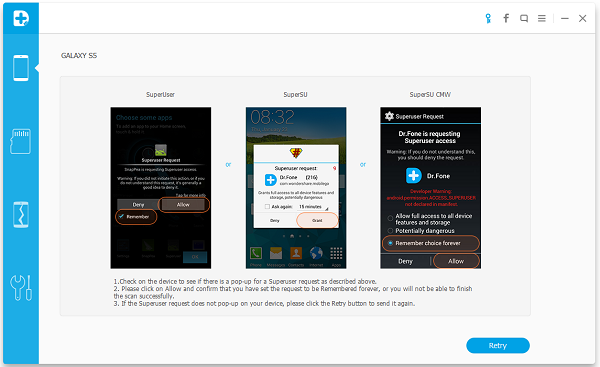 As sooner analyzing is finish, you will get a superUser request on your phone. Click Allow and grant this utility permission to begin scanning for the lost data including photos, videos and everything you selected in step 3.
Note: If you don't see this pop-up on your phone, probably recovery has been failed and you will need to click the retry button. So just don't blindly wait for this superuser request on your phone and have a look on your computer screen to check if the process has been failed!
Step 5. After granting permission on your phone, click the Start button on your computer screen to begin scanning. This process may take a few minutes so have patience and wait for that duration. 
Once the scanning is complete, you will be provided with a screen with all the lost photos along with a checkmark on them. The screen will look like the below screen.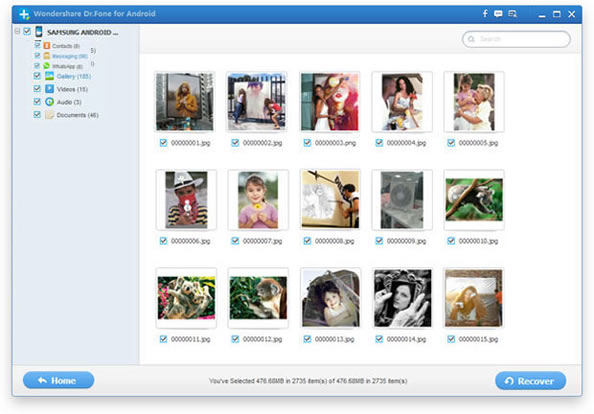 Step 7. Now select the photos you want to recover and click on the Recover button at the bottom of the screen to save the photos on your computer.
That's how to recover deleted photos when you accidentally delete them from your android phone!
But here are a few points you need to take care of.
Don't store other photos on your phone unless previous photos are recovered. Doing that will cause the lost photos to be rewritten and they will not be able to be recovered ever again.
The data recovery from the android phone is not a few minutes process. It might be pretty long and can take up to 15-20 minutes and even more sometimes. So make sure your phone has at least 25% battery remaining before you begin the process.
But prevention is always better than cure! It's always a good idea to keep a backup of your photos and other important docs on your android before they are gone for good. There are countless guides on the web that will tell you how to backup your phone's photos and images.
The guide above or any other tutorial on restore deleted photos doesn't guaranty 100% results! So prefer keeping a copy of your images either on the cloud, external memory card or on the computer and stay safe.
Now It's time for me to wrap us the article. For any doubts or queries, fill the below form and write to us. We will reach out to you ASAP.