Fiverr, is one of the most popular Freelancing and Service outsourcing platform on this planet no doubts to that! Well, all the credit goes to it's extremely feature rich UI and trust associated with it.
Fiverr is a dream come true both for Freelancers, and those who're looking for them! I personally know a lot of Fiverr freelancers who make not less than $5000/month just from Fiverr! Well yup, so it's only justified to me to think of writing this piece on How to sell or buy on Fiverr.
Well but if you've been following my posts, you most probably already know that I can't get into the details, without actually getting into the basics, so well yeah I just have to, have to tell you…
How does Fiverr Work:-
Well, Fiverr is a platform where you can either sell your "service" or hire people for your requirements. It's more or less similar to Odesk /UpWork, or Freelancer.com
So here's how it works:-
If you're a "seller", you'll be getting 80% of your sale amount! For e.g.,. if your service (gig as it's called on Fiverr) is of $5, you'd be paid $4! And the extra $1 is like the commission of Fiverr!
What's the Guarantee of being paid:-
Well, the buyers have to pay the money in "advance"! Ofcourse there's a "refund" option, but yeah the money's escrowed in advance, so yeah you get paid if you do your job right simple as that.
Oh did I mention? Doesn't matter if you're the buyer, or the seller. Signup is like 100% free for both of you!
How to Sell or Buy on Fiverr:-
Well now there are two distinct parts about Fiverr, right? The buying, and the selling! So I'll just separately cover both of them.
How do I order a Gig on Fiverr:-
Considering you're the buyer for now, let's see how you order a gig on Fiverr, right?
Okay so head over to Fiverr.com and Sign up/Sign in
. (Which would take roughly 2seconds if you use the Facebook login option)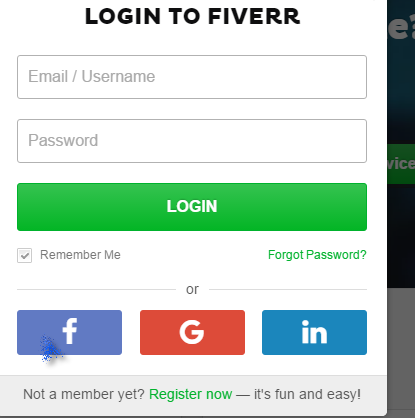 Now just make use of the Search bar above to search for sellers. Let's say I key-in "Graphic Design," I'll get all the sellers associated with the skill-set.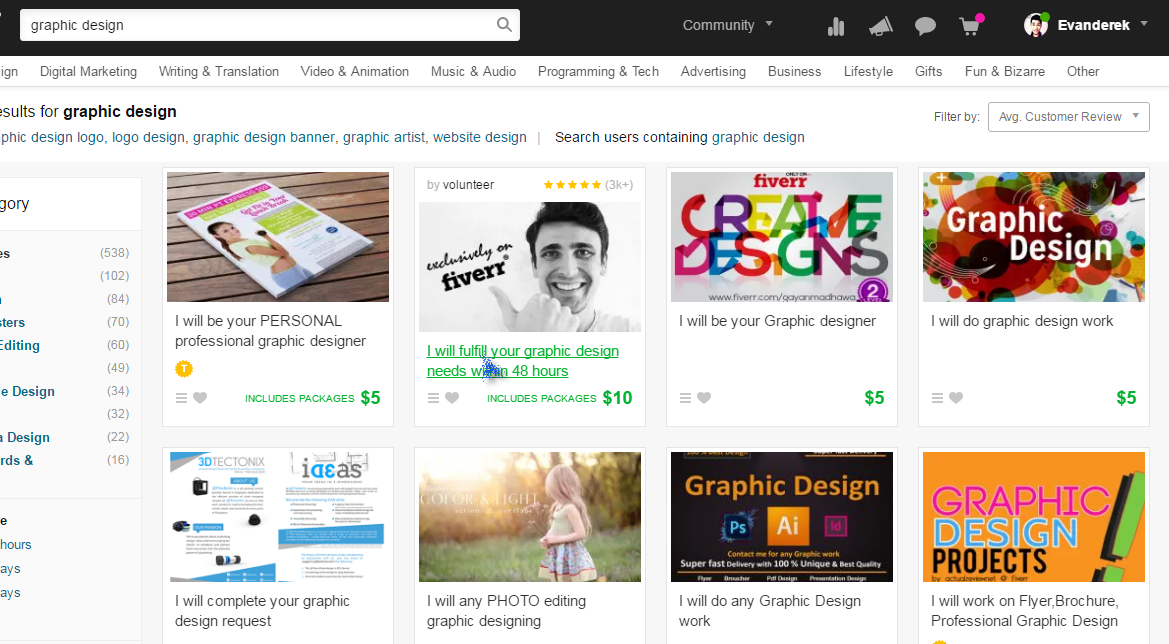 See? Now I just select the one that fits my budget, and has good reviews. For eg. in this case I'm going with the "featured" guy who's doing it for as lo as $10 for me!
Always checkout the "reviews" whenever you hire a guy. For e.g.,. in my case, this guy seems more than just good enough.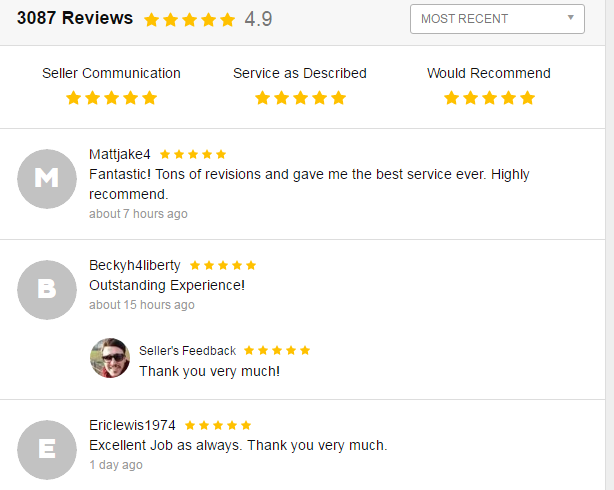 So see? This guy has 3K reviews, and almost 99% of them say he's a great asset. So yeah you can finalize him. (I'm not associated with the person or his gig in the slightest of ways, I'm taking this Fiverr seller just as an example).
So finally you just click on the "Select and Customize" button on the right side.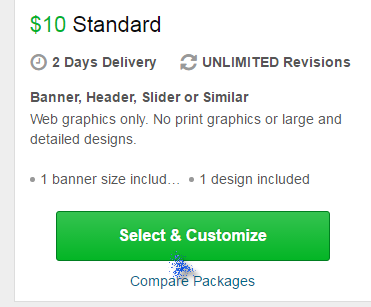 The next page is the summary page. Here you'll get a final look at your order before you place it. So well just click on "Proceed to payment".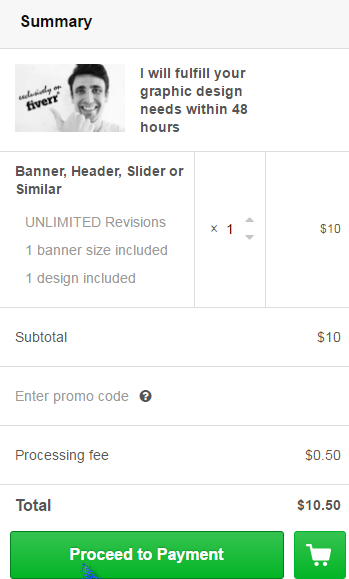 Fiverr accepts three modes of payments. I personally mostly use the visa debit cards. So you can just choose the one you're comfortable with. Fill in the details and click on Make Payment!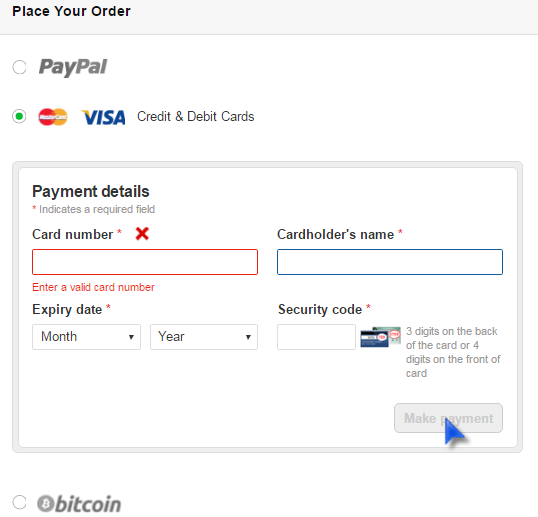 Done! The seller would get the request notification, complete the gig and send it to you! So it's basically like everything happens automatically you just have to wait!
So yeah that takes care of your questions related to how to buy on Fiverr, right?
How to Sell on Fiverr:-
Ofcourse if you've ever wanted to make money online, and have even the distant of skills, then Fiverr is the one option that can make hell lot's of cash for you.
Okay so in order to do that, just Sign in to Fiverr as you did earlier.
When you're in your account, click on your profile picture on the top-right corner of the screen, and select Selling>Create a gig.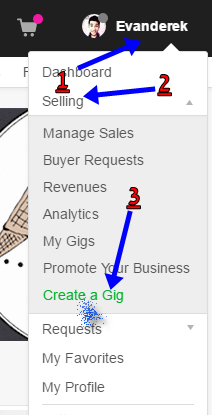 So on the next page just fill-up the form! For e.g.,. set the title of the gig, all straight and simple. All fiverr gigs start with "I WILL….." so after that fill in what you can do.
Then make a good description of your service and click on Save and Continue.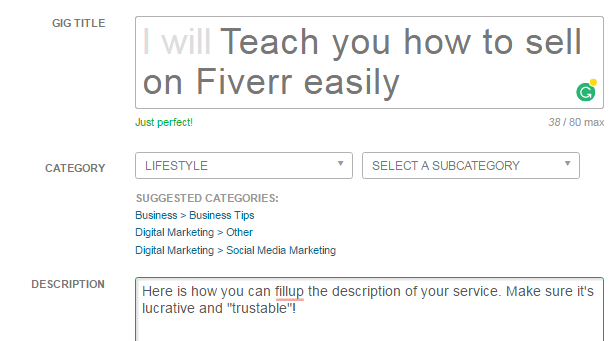 The next page is the payment setup page, means you set the "Gig Extras" (extra service, modules, modifications with the gig), delivery time, and shipping details if your service includes a physical product. So well after setting this up just click on Save and continue.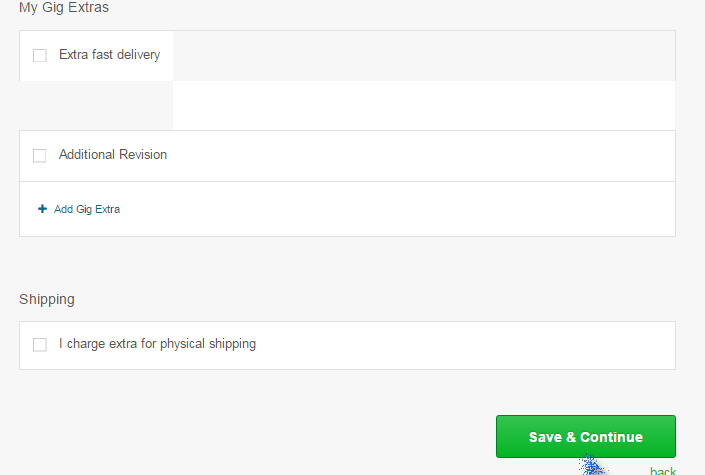 The next page let's you fill up a "requirement" section, so that you can tell your buyers what info you need from them in order to provide the service.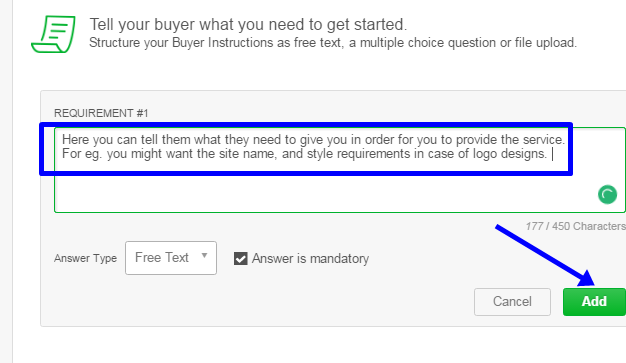 Click on add, and then the final page will let you "visualize" your gig. Means you can add images and videos so as to make them more appealing and credible.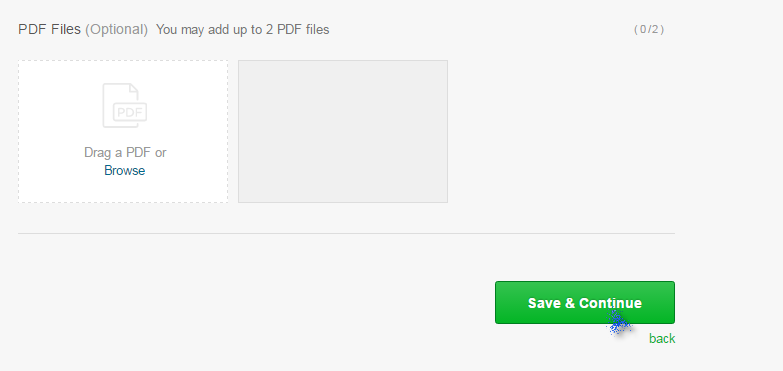 And then you finally click on Save and continue! Finally, just click on Publish gig to Publish it on Fiverr!

When you do so, it'll be available under the category or skill-set you selected, and thus the people interested in buying it will be able to get in touch with you and buy the gig!
Final Words:-
So yeah that was it guys! On how to How to sell or buy on Fiverr, I'm pretty sure I covered all the things huh?
Would love if you share this piece with your fellow mates or maybe leave a comment if you're not so sure about some of the steps! I love answering them!