Facebook is the largest Social Media platform on this planet today, isn't it? Of course, there are enough reasons for it being so. And the reason is, it's a constant update of advanced features! And one such feature which I'll be discussing in this piece is "How to set Facebook featured image." See this if you wanted to change the Profile Picture on Facebook.
But hey, before that let's take a look at what's pushing Facebook to the edge of dominance in this industry, I mean I'm pretty sure this isn't the only update that's responsible for the wild popularity of the Social Network, right?
So hey let's take a look at…
How to Set Facebook Featured Image:-
Like most Facebook features, this one's got an extremely easy how-to-do process too!
Login to your Facebook profile, and head to your Profile section by clicking on the your name on the top left corner to reach your Facebook profile page. If you are facing any problem while login to Facebook account, you can easily solve login issue on Facebook.

Over there, you'd see a neat section saying "Add featured image," click on it.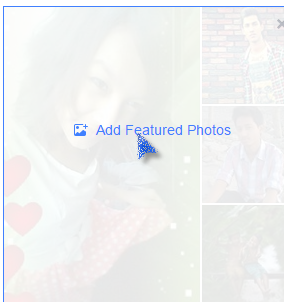 A popup would come up, click on the [+] button to add photos to your featured section from the album.

Navigate to your Photos>See more so as to expand the album section.

Now just click on 5 photos (that's the maximum number you can select for featured images), and click on save.

Done! You just successfully set your Facebook featured image.
Benefits of using Facebook Featured image:-
Well, it totally depends on your creativity, but there clearly are certain benefits.
Promotions: – You can set the pictures to your brand/company logo. Something that clearly tells your profile visitors what you're all about.
You can use a quotation, in a "collage" format to go out with style.
Or hey, you could use it to show off a video about yourself!  I mean that clearly works better than pictures huh?
Other Useful Facebook Tricks:-
So hey that gives your Facebook profile a new "cool" doesn't it? What if I tell you I've got a whole library of those "make my profile cool" tricks?
Yeah, let me share some of them with you.
Update Facebook, Without Facebook: – It's important to keep your Facebook profile updated, so that people don't forget about you and you keep seeing that engagement number scrolling.
But then again hitting up Facebook every time "just for a second to update the status" seems to end up in hours of chats and useless comments don't it?
So well PostCron is one such thing which kind of "automates" your Facebook update process!
Automate Messages:-
We all have friends, and our friends have birthdays don't they? But then again no matter how close that friend is, waiting till 12 AM to wish them happy birthdays isn't my kind of thing.
Or hey there might be some kind of message that just needs to be delivered at one specific time, not before it, not after it but just at a given time.
Now, you might be offline at the moment, or you might be busy, or you might forget about sending it, right? I know I do.
So these are some of the cases when we could really use some kind of genie who would automatically send our messages wherever we want them, whenever we want, automatically, right?
Sendible is one such genie. What it does is, it lets you schedule messages. Those messages get delivered exactly when you set them to!
Change Facebook Profile into Facebook Page:-
This trick is one of the most popular ones as of today.
This is what Mark Zuckerburg himself did to his profile so you might have noticed that he doesn't have a Facebook profile now, just a page.
So in order to convert your Facebook Profile into page, head over to the Migration Center. 
Then click on the Get Started button! This will automatically create a page with your Name and you can start using that.
Final Words:-
Facebook keeps updating itself with fascinating features, in fact I've seen people use the Profile picture+cover combination in extremely creative ways! Well yeah, so it all comes down to creativity.
I mean you could use the featured image section for any number of ideas you want! Just keep playing with your creativity and you'd be surprised with what you can find.
Looking to change Relationship status on Facebook, here is how you can change relationship status on Facebook.
So yeah that was it, folks, that's what I had on How to set Facebook featured image! If you get some creative ideas, do let me know using the comment box.