Yoast is the name that knocks on that tiny little brain of yours when it comes to SEO on WordPress, right? Yeah that I know, and that's the reason I'm showing you How to setup Yoast SEO plugin in the simplest possible ways.
Yoast is one of the best solutions when it comes to best On-Page SEO as well as formatting. Although in my opinion it's highly over-rated, still it does a pretty neat job and hence this article exists today. If you jut wanted to look into the WordPress and its working, you can install WordPress locally using MySQL.
So yeah as my tradition goes, let me first dive into the basics.
What is Yoast SEO plugin:-
It's a plugin, that's available free of cost. It optimizes your web pages with the precision and exactness that the Search Engine Giants want from you. In short this is what solves all your On-Page SEO problems if you're  not sure of them yourselves.
It offers you the changes in Real-time, along with snippet customization. So well yeah, SEO optimization? This is your answer.
How to Setup Yoast SEO Plugin:-
Considering Yoast is one of the most popular and highly sought-after WordPress plugins, it shouldn't be really hard to install it on WordPress, right?
Well, it isn't!
Just head to your dashboard, go to Plugins>Add new.

On the next page, just search for YOAST SEO.

So just click on the Install button and it's all automatic from there. So yeah that's how easy it is to install and set up the Yoast SEO plugin.
Yoast Plugin updated with the updated version of WordPress. So, if you want the latest updates in your Yoast Plugin, make sure, you have the updated version of WordPress. Here is how to update WordPress.
How to Use Yoast SEO Plugin?
Snippet Editor:-
It's main weapon I'm in love with is the #Post title and Meta descriptions optimization. This is what lets me set the Post title to the exact length so as to make it appear perfectly in the search engine
And so it does for the Meta Description thing too. It tells you how long your meta description is, is it optimized enough and does it contain the Focus keyword or not.

#Focus Keyword Settings:- This is the second most interesting feature that I've come across with Yoast. It tells you if the keyword you want to rank is present enough number of times or not.
It does an in-depth SEO analysis of your whole content, on the basis of the Focus keyword you set.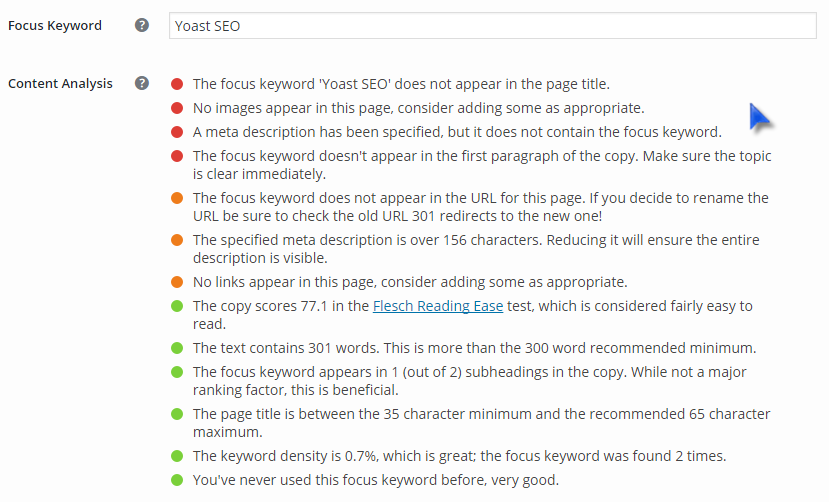 So well that's the real game. the keyword determines if your content is going to be ranked or not, right?
Page Title Appearance:- It's one of the most basic but most important on-page SEO tactics, right? The main keyword must appear in the page title. And that's what the first thing it tells you about your keyword.
Meta Description:- Of course your focus keyword needs to appear in the meta description of your pieces. And that's one of the things that Yoast tells you about.
Alt Tags:- It might not seem important, but it is! So yeah if Yoast says that your focus keyword isn't present as "alt-tags" of your images, correct it right away.
Density:- I'm not sure if you know about this, but well there's this thing called keyword density. Meaning, you can't just over-flood your content with the one keyword you want to rank for.
That way you'd trigger a spam alert. And that's what Yoast's density meter tells you. If it says the density is okay, then it's okay. If not, then I suggest you play with the keywords a bit more.
Uniqueness:- There's another great factor that Yoast tells you about your "keywords". If your keyword is "unique" or not! I mean if you've used that keyword before on your site, it might not be the best idea to use it again.
SubHeadings:- Whether or not your keywords appear in your "subheadings" is an integral part of your page getting ranked, or not! So that's another aspect Yoast covers for you.
So those were the "content" factors! Trust me, those are more than enough to get you a good SERP result. But that's not all, in fact, that's not even the cream on the top it.
Colour Codes:-
Yoast uses some pretty neat color codes to give you an instant insight about the SEO optimization of your post.
For eg. There's a primary colour bar just below your "content writing area" that gets you an instant insight about how your content is doing!

This is the "overall" optimization score of your content! Considering all the factors.
Now, there are total of three colours, that hold different meanings. Here's what they look like.

 Now the "

green

" colour means Good/Ok. So that factor for which the colour is green, doesn't need change.
The "

orange

" colours are "please change if you can" signals. Although not changing them also  works.
The "

Red

" ones are "Change me if you ever want to rank" things. So yeah no matter what, change those which you possibly and naturally can.
Quick Links
Over to You:-
So that was the How to Setup Yoast SEO plugin and use it, folks! I'm pretty sure I made the points clear? SEO is not that easy now. Google Algorithms are getting smarter with new updates.
Google wants user experience and as a webmaster, the first thing you need to do for providing the best user experience is adding a good WordPress theme. You need to choose the best WordPress theme.
If I did, I wouldn't mind you leaving your feedback down by the comment boxes!
Or maybe a share? And hey, got a question? Yeah, even then you can use the comment boxes! I answer all of them.