StackPath and Cloudflare are two of the leading CDN providers on the market. But which one is better for business use?
To answer this question, it is important to understand what a Content Delivery Network (CDN) is and how it works.
A CDN is a network of servers that deliver web content to users based on their location, ensuring faster loading times.
In this blog post, we will compare StackPath vs Cloudflare to help website owners decide which one is right for them. 
StackPath vs Cloudflare 2023: Overview
What is StackPath?

StackPath is the most recent CDN sector entrance, having bought MaxCDN in 2015 to enter the WordPress market.
It then bought Highwinds, Encrypt.me (VPN service), Staminus, and Fireblade in order to expand and consolidate its services.
In addition to CDN and monitoring, StackPath also offers WAF and managed DNS services. In fact, it claims to increase website speed by 68% by retrieving content from 35 edge location servers.
When a user requests data from a website, the closest edge location answers, thereby accelerating the page's loading time.
In addition, StackPath is recognised for providing improved web loading services and protection against dangerous attacks.
In addition, StackPath is well-known for its user interface that is intuitive for novices and its vast product offering, due to its earlier acquisitions.
In addition, its performance is exceptional in western nations, but in other locations, where the number of data centres is lesser, you may observe a performance decline.
What is Cloudflare?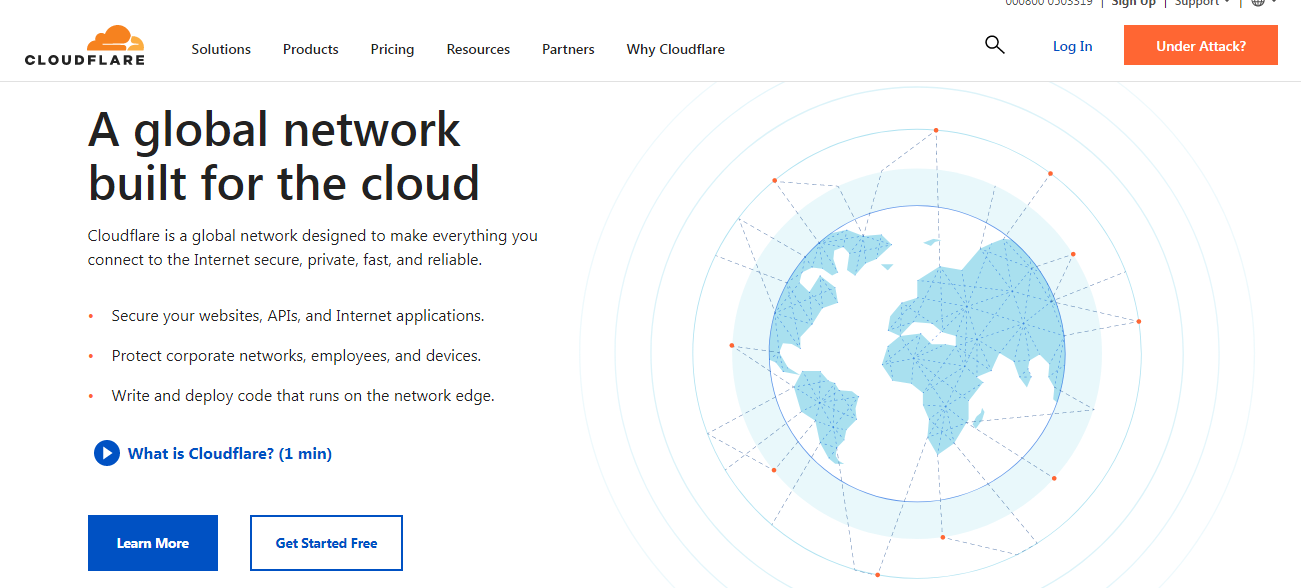 Cloudflare is a content delivery network that was originally designed to prevent scammers from stealing emails from a website.
However, their edge networking ended up drastically boosting website speed.
In layman's terms, Cloudflare is a global content delivery network that was formed quite by accident and offers advanced security protections through its reverse proxy solution.
The data centres are strategically located in various worldwide regions to store static data on their servers, and when a user requests website content, the closest Cloudflare server responds.
It reduces request and response travel time by removing the need to travel all the way to the origin server.
Consequently, the website loads faster while maintaining the user's interest.
It can defend websites against a variety of web security risks, such as email harvesting, comment spam, cross-site scripting, SQL injection, and DDoS attacks.
Cloudflare is an extremely popular content delivery network due to its user-friendliness and expert-level features and capabilities.
However, Cloudflare is not limited to that alone; it has more capabilities. It provides advanced web filtering that prevents bots from gathering email addresses from your website.
In addition, it can control content spam, combat hackers, and effectively mitigate DDoS attacks.
Server Locations: StackPath vs Cloudflare
'Server locations' is a significant consideration when selecting CDN services. You surely do not want to spend money on a network that does not cover your desired places.
Currently, Cloudflare operates over 200 data centres worldwide. They have put servers in nearly every region of the globe.
In contrast, StackPath operates approximately 45 data centres, which is far fewer. Recently, in January 2021, StackPath expanded its sites by establishing edge POPs across Latin America.
Comparing StackPath and Cloudflare Features
Performance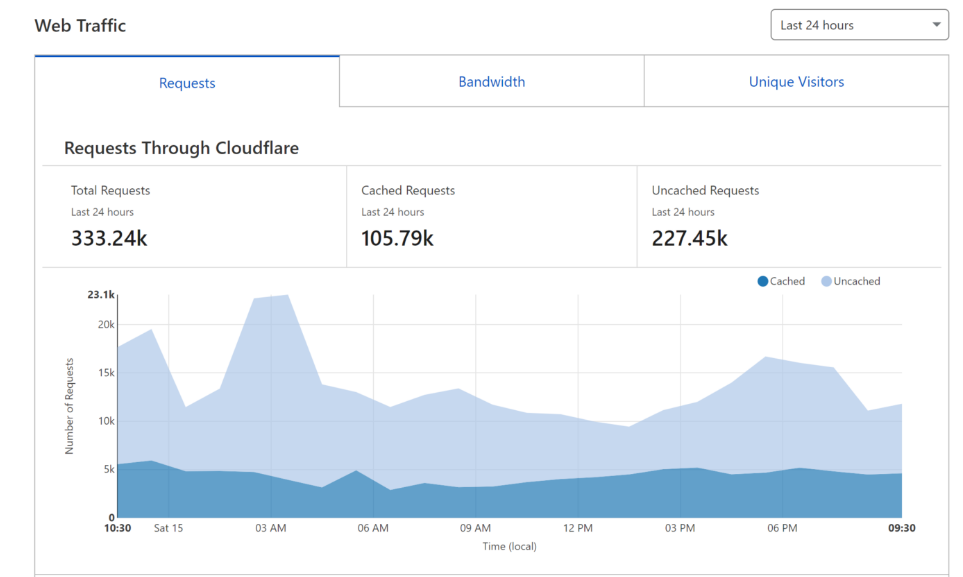 In terms of performance, Cloudflare minimises latency effectively using an efficient load balancing technique.
With over 200 data centres located in various nations across the globe, it covers every imaginable region.
In addition, Cloudflare's proxy technology offers a variety of content optimization tools for intelligent routing and quicker mobile links.
It decreases bandwidth usage and enables content to load faster.
StackPath additionally provides a worldwide traffic management system that not only distributes traffic to the best available path, but also reduces latency by minimising journey distance.

It is fitted with SSDs (solid-state drives) that provide outstanding data durability and uptime improvement with the quickest write or read times, resulting in exceptional performance.
WordPress Integration
WordPress websites receive a significant amount of daily traffic, making WordPress integration a crucial consideration here.
None of the CDN services offer one-button integration. StackPath provides an efficient solution to this, however.
After configuring your pull zone with StackPath CDN, you can integrate StackPath via the W3 total cache plugin.
Cloudflare, however, integrates independently of WordPress. Cloudflare requires that you assign a new DNS server to your domain after signing up.
Security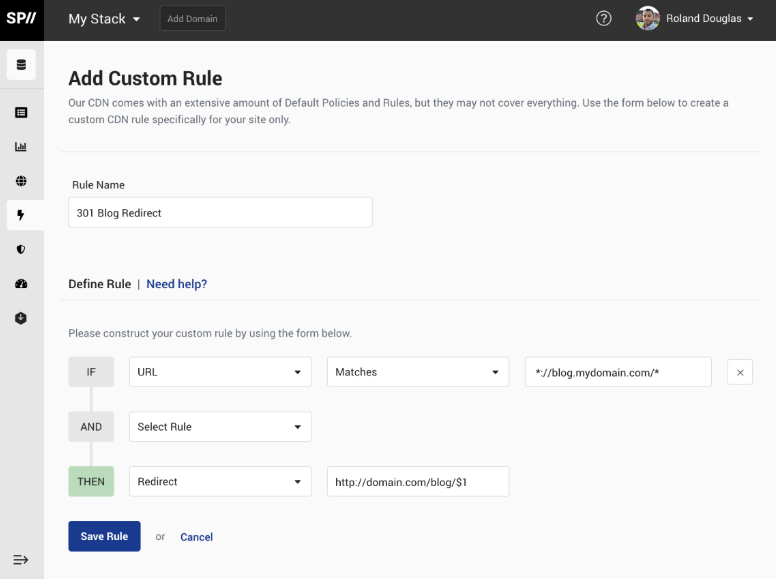 With StackPath, you will have access to numerous built-in security technologies, such as WAF and Mod Security.
In addition, you receive certain additional configuration settings, such as network layer DDoS protection and physical data centre security with biometric and other precautions.
Cloudflare, on the other hand, specialises in security, as its major design goal was to keep scammers off your website.
It safeguards the origin infrastructure and provides enhanced application protection management. Some of its security features include:
Detection and prevention of abnormal traffic

Through security tunnels, direct attacks can be prevented

Attacks are anticipated by sharing intelligence across the entire network

Detection and blocking of bots
Customer Support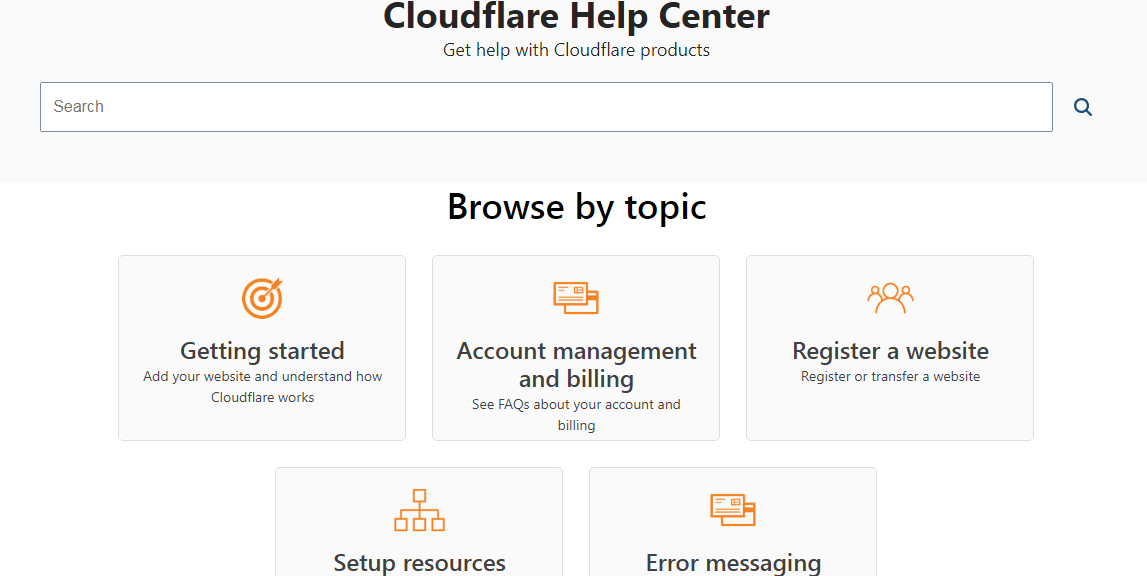 When a problem arises, it is crucial to be able to contact the support team swiftly from a customer service perspective.
When comparing these two CDN services, the effectiveness of a customer care team is crucial. There are numerous situations in which you may want quick assistance, including:
A crash has occurred on your website

At certain locations, the website is unavailable

Setting up CDN services and encountering issues

An increase in bandwid

th is needed
These are some scenarios in which you may want immediate assistance. Every StackPath plan includes access to customer support around-the-clock.
In contrast, Cloudflare exclusively offers customer assistance for paid plans. Nonetheless, the Cloudflare community is sizable and responsive, so you may be able to remedy your issue without needing expert support.
Who uses Cloudflare?
Cloudflare is essentially a reverse proxy, meaning it was designed with security in mind. However, it significantly improved the functionality of websites.
Cloudflare is now not only an excellent protection against harmful attacks, but also an intelligent CDN.
StackOverflow, FounderLY, CodeGuard, Montecito Bank, APNIC.net, and Embed.ly are among the most popular websites that use Cloudflare, along with thousands of more entry-level sites.
Cloudflare is the best option if you're looking for a free CDN solution.
It provides the most generous free plan features. Overall, choose Cloudflare if you have a wide audience from different regions of the world and website security is your primary priority.
Who uses StackPath?
StackPath is the optimal solution for websites seeking superior security and monitoring services. The pricing structure is also customizable, and there are no concealed fees.
Popular websites that utilise StackPath CDN include WPBeginner, WPEngine, BuySellAds, 9gag, WPLift, Yoast.com, and The Next Web, among others.
If you look carefully, you will notice a pattern. Standard WordPress blogs with fewer bandwidth-intensive websites utilise StackPath.
StackPath is preferable than WordPress because of the latter's capacity to gather a substantial amount of traffic.
It previously bought MaxCDN, which has more WordPress configuration options, making it a better fit for WordPress sites.
Quick Links:
Conclusion StackPath vs Cloudflare 2023
StackPath is a highly effective CDN with a very reasonable pricing plan. It is essentially a real-time CDN that enables you to accelerate, control, and monitor your website assets while providing you with relevant data.
However, server locations are limited and StackPath does not provide a free plan.
Cloudflare, on the other hand, is technically not a CDN, but a reverse proxy, which not only boosts the speed of your website but also provides excellent protection against web security risks.
It offers improved coverage and performance with more than 200 data centres strategically located in different regions of the world.
If you're looking for a reliable CDN provider that offers flexible pricing with no setup fees or long-term commitments then Stackpath may be the solution for you!
However – if you're willing to pay a bit more upfront then CloudFlare could be an option worth exploring as well due to its focus on performance rather than security features like DDoS protection & Geo Blocking etc…
Ultimately though – the decision between these two platforms should come down to your individual requirements & budget as some businesses may find one better suited than the other depending on their needs… Good luck!