Do you want to grow your business without using social media? You could try using Reddit.
Reddit is a social sharing website where people post text, pictures, and videos that other people can vote on. Content that gets a lot of "upvotes" goes to the top, while less popular content that gets a lot of "downvotes" goes down.
"Subreddits" are smaller groups that make up Reddit. A subreddit is a board about a single topic. Reddit.com/r is the first part of every link, like reddit.com/r/marketing.
But before you can market on Reddit, you need to know how to do it. Giving your audience something of value is marketing on any social platform, but Redditors are good at figuring out who is marketing. You need to be ready and know how to help the Reddit community or you might get banned.
In this post, I'll give you 21 facts about Reddit that you can use to improve your marketing plan and decide which strategies are worth using.
Let's dive in!
Reddit Content Stats
What Types Of Posts Perform The Best On Reddit?
1. Top Reddit Posts Are Under 120 Characters
Before you post something on Reddit, you can choose to give it a title. The Foundation Marketing team looked at all the subreddits and found that posts with titles between 60 and 80 characters got more upvotes. The worst titles were those with more than 120 characters or less than 20 characters.
2. Posts With Questions Receive The Most Comments 
Upvotes, clicks, and comments are three ways that people interact with Reddit that marketers should pay attention to. Still, different kinds of content can lead to different results. For instance, a title that asks a question is twice as likely to get comments as a title that makes a statement.
3. Posts Without Questions Receive More Upvotes
On Reddit, content that doesn't ask a question gets more than 1,000 more upvotes than content that does.
 4. External Links are the Most Popular Type of Content
Links are what get people interested in Reddit the most. Reddit is where people go to find new brands, websites, tools, and content that fits with their interests. Upvotes let users filter out the noise and look through a feed of high-quality content. But popular posts with links got more than 16,000 more upvotes than popular posts with just text.
5. Videos are the Most Upvoted External Links
Even though links are common on the platform, it's important to remember that not all external content is made the same. A post can link to a website, a site for sharing photos or videos (like Imgur), or another post (e.g. YouTube). Images

 get the most upvotes on average, and then videos. So, the top posts with photos and videos got more than 10,000 more upvotes than links to websites.

One of the most important things learned about the platform is that each subreddit is very different. What works well in one subreddit might not work well in another.

So, our team decided to look at how some of the most popular subreddits' titles and topics follow interesting patterns. And we were able to learn about the following:
6. /r/DataIsBeautiful Subreddit is a Changing Landscape
/r/DataIsBeautiful is one of the subreddits we like the most. It is all about putting information into graphics and animations and showing how data looks. The chart below shows which subreddits users are most likely to interact with based on the words in the original content.
7. New Research and Information Rules Science Subreddits are Popular
Want to know what will happen? If so, /r/Futurology is the place for you. Our team looked at the most popular posts in this subreddit and found that people are interested in technological and human advances.

The three most-used words all have something in common: "the first time," "for the first time," and "a new study" all came up 10 times each. In the /r/Futurology subreddit, there are a lot of posts that look like this.
8. "If You Have" is the Most Popular Headline Phrases in the /r/LifeHacks Subreddit
The people who use the subreddit /r/LifeHacks are determined to find ways to make everyday life easier. The following diagram shows what kinds of "life hacks" people are most interested in based on the most-used phrases in the headlines of posts in this Subreddit:
9. "What is The" is the Most Popular Phrase in the /r/BigSEO Subreddit
What are your thoughts on marketing subreddits like /r/BigSEO? Here are some of the most popular phrases on /r/BigSEO, as measured by the number of comments and upvotes:
And here are the most frequently used terms on /r/Marketing: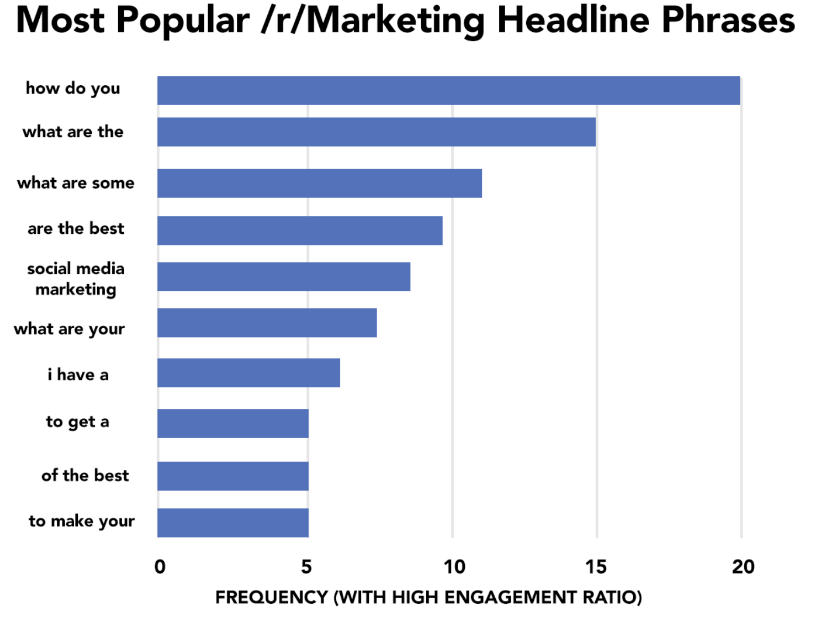 10. "The 2018 article with the most upvotes was "This Is What Happens When One Company Owns Dozens of Local News Stations."
This dataset includes the number of upvotes earned by the most popular posts on Reddit in 2018. The video titled "This is what happens when one firm buys dozens of local news stations" received 313,000 upvotes, making it the most popular post on Reddit.
11. 70% of Reddit Video Views Come From Mobile
Reddit's video content has become very popular, with the majority of video views occurring on mobile devices. In 2018, 70 percent of all Reddit video views occurred on mobile devices. Those that see videos on Reddit also spend nearly twice as much time on the platform as others.
12. More Than 50% Of The Content In Top Subreddits Are Links
More than fifty percent of the information in the top Subreddits is derived from links, making links a significant aspect of Reddit. Reddit is utilized by users to discover new websites, information and resources relevant to their interests. Upvotes on Reddit enable users to remove unwanted information and explore a curated feed.
13. 21 Billion Average Screen Views Per Month
Reddit's Year in Review revealed that members watch an average of 21 billion screens every month. This indicates that individuals spend a substantial amount of time interacting with information on Reddit.
14. Reddit Has One Billion Native Video Views Per Month
In a blog post from 2018, Reddit said that native videos were getting 1 billion views per month. This means that users are posting and watching more videos than even Reddit thought they would.
15. Reddit Has Seen a 38% Growth Rate for Video
Since 2018, the amount of video content on Reddit has grown at a rate of 38%. Since Reddit started hosting videos, a quarter of those videos use their own player instead of a link to YouTube. This means that it's the most common way for people to watch and post videos. As more accounts post videos, it's important to make sure your videos make people stop scrolling.
16. Reddit Saw a 43% Increase for Health & Fitness Content
Reddit is the place to be if you're interested in health and fitness. From 2017 to 2018, the number of health and fitness-related posts grew by 43 percent. The platform is a good place to find this kind of content, and the number of categories keeps growing. Reddit is full of this kind of content, about everything from veganism to the Keto Diet to skin care. This is a great chance for users and businesses to get involved in the conversation.
17. Reddit Users On Health & Fitness Subreddits Spend 15X More Time On The Community
Reddit is the place to go if you want to talk about health and find out about the latest health trends and fitness routines. People who are interested in health and fitness spend 15 times more time each month on Reddit than on other health and fitness websites. With all the health and fitness subreddits, users can talk to other people who are interested in health and fitness. 
18. Reddit Receives 27 Million Visitors to Technology Communities 
Technology is a popular subject on Reddit, from the newest trends to the newest gadgets. In fact, more than 27 million people visit tech communities like r/technology and r/iphone every month. Reddit is a great place to find out about technology, whether you want the latest news about a new product or a review of a gadget.
19. 38% of Users are Technology Enthusiasts
Comscore says that more Reddit users than any other social platform, like Facebook or Instagram, are interested in technology (38%). With this, it's clear that Reddit is where people go to talk about technology in a useful way.
20. Technology Communities Saw a 24% Year-Over-Year Increase in 2018
Reddit's tech communities are huge, and they're only going to get bigger. In 2018, there were 24 percent more comments, posts, and votes in technology Subreddits than there were the year before.
21. 47% of Redditors Love to Buy Technology
A recent study found that 47 percent of redditors have bought consumer electronics and that they are 98 percent more likely to spend more than $1,000 on technology every six months.*
Reddit Statistics Recap
Did not have time to read all of them? Here are the top six statistics you need to know:
Reddit is used by 26,4 million Americans monthly.

There are 330 Million Monthly Active Users on Reddit.

The Most Popular Reddit Posts Are Less Than 120 Characters

Questions elicit the most comments on posts

The most prevalent type of content is external links.

Reddit Has One Billion Monthly Native Video Views
Which Reddit statistic do you find most intriguing? Please share them in the comments!
I'll also leave you with our Reddit Marketing Guide, in which we discuss how to drive attention to your content, reverse-engineer any subreddit, and produce more leads and sales from Reddit.
Quick Links: