Google Chrome is by far the newest kid on the block browser compared to every other competitor. No one thought that a new browser could grab most of the market share from the already established trio of Mozilla Firefox, Opera, Netscape and Internet Explorer.
Google launched the beta version of its freeware web browser, Chrome on September 2, 2008. It had to overcome many obstacles even from the CEO of Google themselves. But Larry and Sergey (the founders) stood stern on their decision to make a browser under the banner of Google.
Tech enthusiasts wrote this decision as uncreative. Firefox was a massive wall before Google Chrome. Everyone thought that no browser could get the popularity of Mozilla Firefox.
But the story has already been changed. Google Chrome has 56% market share of desktop browsers. It is available for every platform whether it is Windows, Linux, Android, Mac, Windows Phone or iOS.
I use Google Chrome and found it comfortable to use. Earlier, I did experience a massive chrome memory leak. You might also face this issue. If you still get headaches from chrome memory leak, read this guide further to solve it right away.
Stop Massive Chrome Memory Leak
Here, I am providing you with multiple solutions for this problem. Hence, you can repair Google Chrome quickly.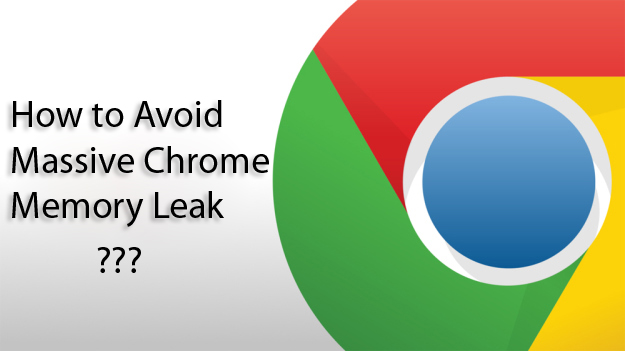 Are you ready? Here we go.
#1. Check Your Google Chrome Version
Google is keen on releasing Chrome updates periodically. If you are using an older version, you may experience a large memory leak. That's why everyone suggests you to be updated with your software.
Sometimes, you afraid to update software. The reason could be because you're running a cracked or pirated version of it.
But here, you don't have to fear or hesitate for a moment. Google Chrome is a free browser. You can get it without opening your wallet. So just update it to the latest version.
For that, just open Google Chrome. Explore the browser menu by clicking on the three small strips on the top right corner. Then select About Google Chrome.
If your browser is up- to- date, you will get a message as an image given above. Otherwise, you will be notified to do the update. Just follow the steps. That's all.
If you don't have an Internet connection, You can use this article to know how to install Chrome using the standalone program. Copy it to your computer and install.
#2. Use Chrome's Task Manager to Optimize
Do you know that there is a dedicated task manager available for Chrome? Using this, you can control the processes within the Chrome browser.
Click on the three strips and select More Tools from it. You can see the Task Manager as the third menu item. Click on it. Now you will get a task manager showing the processes of Google Chrome. Stop those processes you no longer want (Never stop browser).
#3. Reduce the Number of Extensions and Toolbars
Extensions increase the functionality of Chrome. But too much of anything is poisonous even if it is the elixir, right?
You can't clearly see the action of an extension before your eyes. But it doesn't mean that those are not working. Extensions usually work in the background and consume memory.
So, you should remove unused extensions and toolbars. Toolbars consume less memory than extensions. But multiple toolbars take more RAM. Most software installations give you an additional toolbar.
Make sure to read before you tick any checkbox from now on. Developers inject their toolbars via software installations.
To remove extensions, click on Chrome menu and then choose Extensions. Or just type chrome://extensions/ on the address bar and press enter. You will be given a list of installed extensions and toolbars.
There are dust icons on the right of each extension. Click on it to delete that particular one.
#4. Install These Two Extensions
Still 'how to fix Google Chrome' question haunts you? Then, this step will take away your worries.
Some extensions help us to optimize Chrome to a great extent.
The first one is 'The Great Suspender'. After installing this extension, a button will be visible right to the address bar. Clicking on it will give you a list of menus.
Using that, you can suspend a particular tab automatically or right away. If you don't want to suspend one tab, select 'Never Suspend This Site'.
The second extension I want you to know is 'One Tab'. On the image of the Chrome task manager, it is clearly visible that multiple tabs steal more memory. But what if you urgently want more tabs?
Install One Tab. Then, you can see a downward arrow like button right to the address bar. Whenever you want to reduce the RAM load, click on it.
It will combine all the inactive tabs into one thereby reducing the massive chrome memory leak.
Haven't You Got Rid of the Chrome Memory Leak?
I think you now know how to repair Google Chrome for more memory. Follow the methods I have explained above. The issue will be solved.
Reset and reinstall the browser if you find no methods working. That's the final step. But I am pretty sure that the above ways will satisfy you.
Let me know via comments whether my tricks work for you or not. Share this post with your friends.