Google is no doubt the most used search engine on this planet. And well, being honest I'd be broke if it was not for Google. And I'm pretty sure the lifelines of Internet Marketing giants like Neil Patel and his likes would be very different if it was not for Google, right?
I mean I get organic hits from Google for my niche sites, which converts into Adsense. Then I get automated traffic>  sales on my affiliate pages, which acts as 70%+ of my income so overall, without knowing how to submit site to Google, we can't exist.
And that's the reason I'm writing this post on submitting URL to Google, don't worry I'll explain why it's needed and its importance of course.
What Does Google URL Submit Mean?
Well, you write a great piece on something, and then you leave it like that. Guess what, the internet has around 1Billion+ websites. (So in short, no one knows about your "great piece of content"!)
And the time it took you to read the above line, 4 new websites just popped up on the radar! So see? Competition, enough of it, and fast.
So, writing a great piece? No one gives a shit. Not unless it can be found. And it can be found via Google, right?
So that's why you need to submit to Google your website! (I just finished watching Star Wars, so sorry if my style gets a bit deviated!)
Submitting your Website to Google helps Google index your website. And once your website is "indexed", it appears on the Search Engine, and then you start getting traffic!
So it's like setting up a shop and telling people about it.
Unless your website is "indexed", you won't receive a single organic hit from Google, well because Google doesn't even know that your website exists, so traffic? Nope, not happening.
So in other words, in order to tell Google "Hey Mr. Google, I just created this awesome website and content, please let people find it on your Search Engine", you need to submit website to Google.
Can't Google Auto-Index Posts and Websites?
Of course, it can!
You see, Google has "bots". Bots that keep crawling the internet 24X7 in search of old and new websites, pages, links, and whatnot.
But with the number of websites that exist right now, it's not always "easy" for them to find each and every website, right?
100% your website will be auto-indexed no doubt there. But it might take days, weeks or even months! So knowing how to manually do the "google submit URL" thing, you can get your pages and posts indexed instantly!
How to Submit Site to Google?
Google is the world's most used Search Engine, and it's well aware of its importance. (But still, not an iota of pride you can sense in it, right? How down to earth it is!)
So of course, it took special care of its features.
In order to know how to get your website on Google, head over to webmasters.google.com Google Webmasters Tool, and Login.

Now just click on the website for which you want to submit the URL to Google.

Now you'd be taken to the site dashboard. Now click on the crawl button, and then Fetch as Google.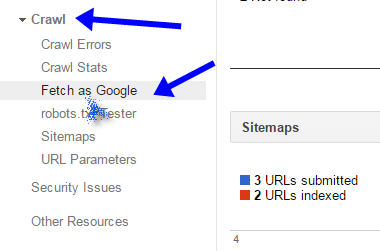 This will take you to the Fetch page, just enter your URL, which you want to submit to Google. Make sure you submit the URL after the "domain extension" and not the whole URL.
For eg., if your page/post URL is Knowledgecage.com/something/2312321, then you only have to paste /something/2312321 in the box.
And then finally click Fetch.

Once you do, the URL will appear on the screen under the "path" section, now just click on the submit to index button.

Now, a popup would appear. Click on the captcha to verify that you're a human. And after that, click on the appropriate button.
Submit only this URL: – You should click this when you've not used any internal linking on the page/post, or if the pages to whom you've linked, are already indexed.
Crawl this URL and it's direct links: – This option should be clicked if you've internally linked to a page that is not yet indexed, so it's like you are submitting all those URL's, along with this URL in this one click!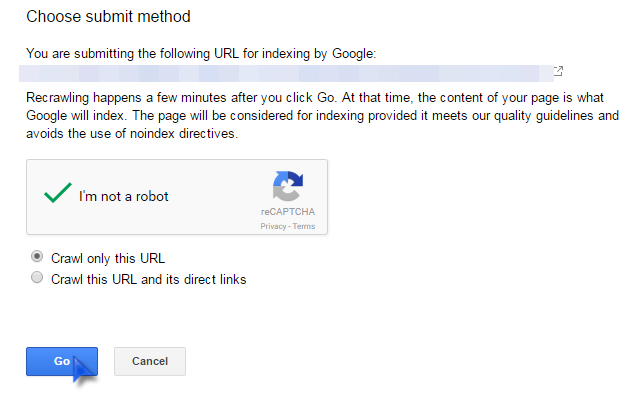 Done! Now just click on the Go button!
If you did everything as explained, you'd get the confirmation message on the next page.

Final Words:-
So that was it, folks, on How to submit site to google, I'm pretty sure I explained everything pretty neat, but there are chances of you still being confused about in a state of delusion.
If that is the case, feel free to leave me a comment, trust me I reply to each one of them.
Note: – Although this method works like charm, and your site gets indexed within seconds! Well yeah, seconds but I'd say don't go fetching as Google frequently. It's like telling Google that you're desperate to rank, isn't it? And that's not the best possible strategy.
Still, there's no "proven" result as to confirm that doing this has any negative effect on your website, and even Internet giants like Neil Patel have voted for this thing, so for the time being, I'd say you're free to use it.