Are you looking for a detailed Tailor Brands Review? Here, our article gives you a detailed review of Tailor Brands logo maker.
It is difficult to brand your company. You'll need a logo, a name that's easy to remember, and a catchy slogan.
It's also critical to get these items right the first time because altering them later in your business's life cycle can be costly and confusing for consumers.
Most people who try to brand their own company waste hundreds or even thousands of dollars on branding products they don't use or enjoy.
And your logo is the first thing that identifies your brand. The most identifiable brand identifiers account for 75% of all logos.
What is Tailor Brands?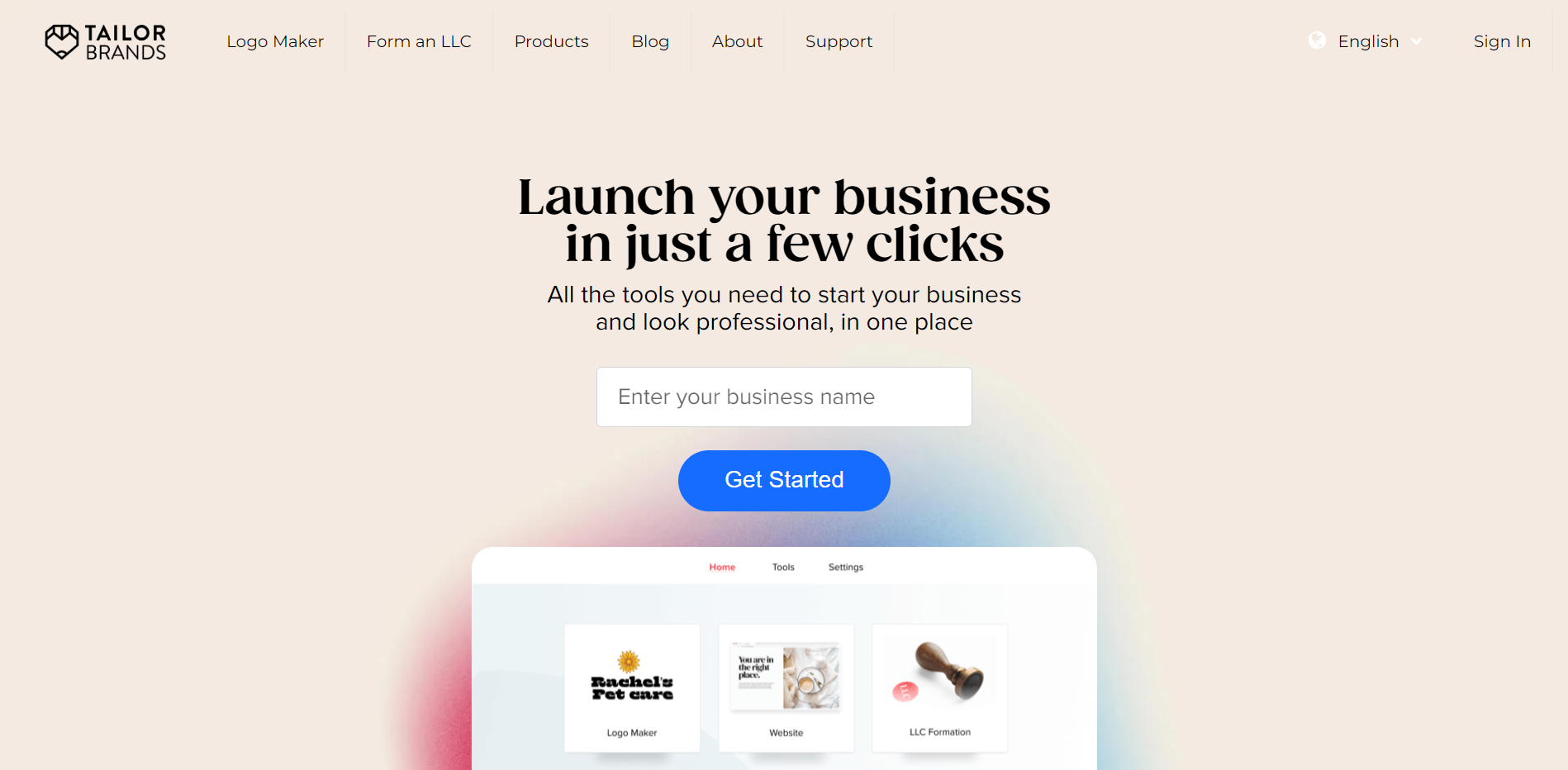 Tailor Brands is a logo maker online tool. An AI-powered logo maker with editing capabilities, business cards, branded products, and a range of social media are among the features. Tailor Brands allows businesses to generate a comprehensive collection of high-quality brand assets online.
It is a machine-learning technology that assists businesses and website owners in creating effective branding. Tailor Brands does not require a large design budget or any technical talent to create a logo.
Although the platform features an appealing, user-friendly layout, users must register in order to view and edit logo ideas. They only have subscription plans, and their editing tools are restricted in their customizing options.
The logo creator software is appealing and simple to use.
The subscription options are reasonably priced, with yearly and biannual subscriptions offering discounts.
All plans come with high-resolution logo assets, stock photo access, and a 3-page website builder.
Features of Tailor Brands:
Logo Maker
The legendary Tailor Brands logo creator was our first trip. On the website, they claim that using it is simple and quick, and that the end product is professional and one-of-a-kind.
In the introduction section, enter in the name of your firm, along with an optional slogan, and offer a brief description of your company and industry.
The Tailor Brands fast logo builder then allows you to select one of three logo types: icon-based, name-based, or initial-based. We chose an icon-based style for our fictitious gaming channel.
To represent your brand, you might use basic icons or abstract geometric designs.
Icon Design
Tailor's icon database is rather extensive and has a diverse range of symbols. On the negative, you can't mix two or more icons or upload your own to create a more personalized appearance.
Design of Geometric Shapes
Now, the abstract Tailor designs are intriguing, and they have the potential to make your brand stand out. However, there are only 20 of them to pick from, and many of them resemble one another.
Font Styles
You may select three font types that complement the feel of your brand. There are 15 different styles to pick from. You may experiment by combining styles such as "Tall," "Elegant," and "Masculine," for example. It's really a shame that the names of these Tailor Brands typefaces aren't known because they're not available.
Finally, depending on your prior choices and business introduction, the AI performs its magic.
But before you can see its birth, they strike you with the "Subscribe" stick. A cheeky technique, but we can't really blame them.
Logo Generator
Following the subscription detour, the Tailor Brands logo creator allows you to browse a collection of produced logos. The issue is that the further you scroll, the less meaningful the results become. So, in the end, you have around 20 good Tailor logos to select from – the rest are repetitious.
Logo customization 
Logo customization  After selecting a logo from the list, you may make the following changes:
The text (font styles, letter spacing, tagline size, etc.)
The Tailor logo design's general form
The symbol (size only, though)
The color (palettes and layout)
The design of the logo (position and alignment).
You may also view your previously saved Tailor designs.
If you wish to receive high-quality logo files in JPG and PNG formats, you must upgrade to one of Tailor Brands' plans (basic, standard, or premium). You must be on the standard plan or above to access the magnificent EPS vector files.
Website Builder 
The Tailor Brands Website Builder can assist you in creating, publishing, and connecting your branded website to your business domain. Tailor Brands subscription users may establish their online store or blog using one of their DIY templates.
The ultimate appearance of your website is determined by its focus: whether it is marketing services, showing items, or serving as a portfolio/CV website.
Surprisingly, two editing modes are available: automatic and advanced.
Automation Builder
This is the standard editor, and you don't need to be a web designer to use it. It's efficient, with totally automated design and reactivity.
This also implies that your editing options are severely constrained. You may pick which parts to include on your site and adjust their appearance. You can make changes to the header, footer, and sections.
Tailor Brands Pricing Plans:
Customers can choose from three different Tailor Brands plans:
Basic: $9.99 per month or $3.99 per month if paid annually.
Standard: $19.99 a month, or $5.99 per month if you pay for the entire year in advance.
Premium: $49.99 per month or $12.99 per month if paid in advance for a year.
If you buy a two-year plan, you can also earn a bonus rebate.
Here's the cool part: you can make and try out multiple logo designs for free. There is a free edition of Tailor Brands that may allow you to experiment and create a logo at no cost.
FAQs on Tailor Brands Review
Are Tailor Brands Good?
Tailor Brands has you covered if you are a small business with a restricted budget. Yes, it is a good service for a rapid and simple business launch.
What platform does Tailor Brands use?
Tailor Brands is a design platform powered by AI that lets users make logos, branding materials, and even small, three-page websites.
Is there a Tailor Brands free trial?
No, however using the logo builder tool to generate a design is free. You simply have to pay for the logo you want to use.
Do TailorBrand refund the money?
Tailor Brand doesn't offer to refund the money because once the design files have been sent to you, you have full control over them and it's hard to tell if they're being used outside of the Tailor platform. But if you have more questions, you can contact their customer service.
Conclusion: Is Tailor Brands Worth The Price?
Tailor Brands is an excellent choice if you need a logo quickly and at a low cost.
If you don't have the time or money to invest in a professionally created logo, or if you're concerned that your IT skills aren't up to par, Tailor Brands might be the solution.
It allows small-business owners and one-man-band internet merchants to punch above their weight and compete with the big boys in the branding arena.
Some of you may be just getting started with branding. You could be unclear of what you want or what is accessible to you. Tailor Brands is a wonderful place to start when looking for logo ideas to assist develop your brand's image.