Are you looking to take your career in creative arts to the next level this year? If so, you might be considering investing in either Teachable or Skillshare — two of the most popular online education programs available today.
Both offer courses and resources aimed at individuals wishing to develop their skills in software development, design tactics, digital marketing tools, and more. Understanding their key differences can help inform which one best suits your needs.
In this blog post, we will compare Teachable vs Skillshare for 2022 to give you an idea of what each platform offers and the benefits associated with its use.
What is Teachable?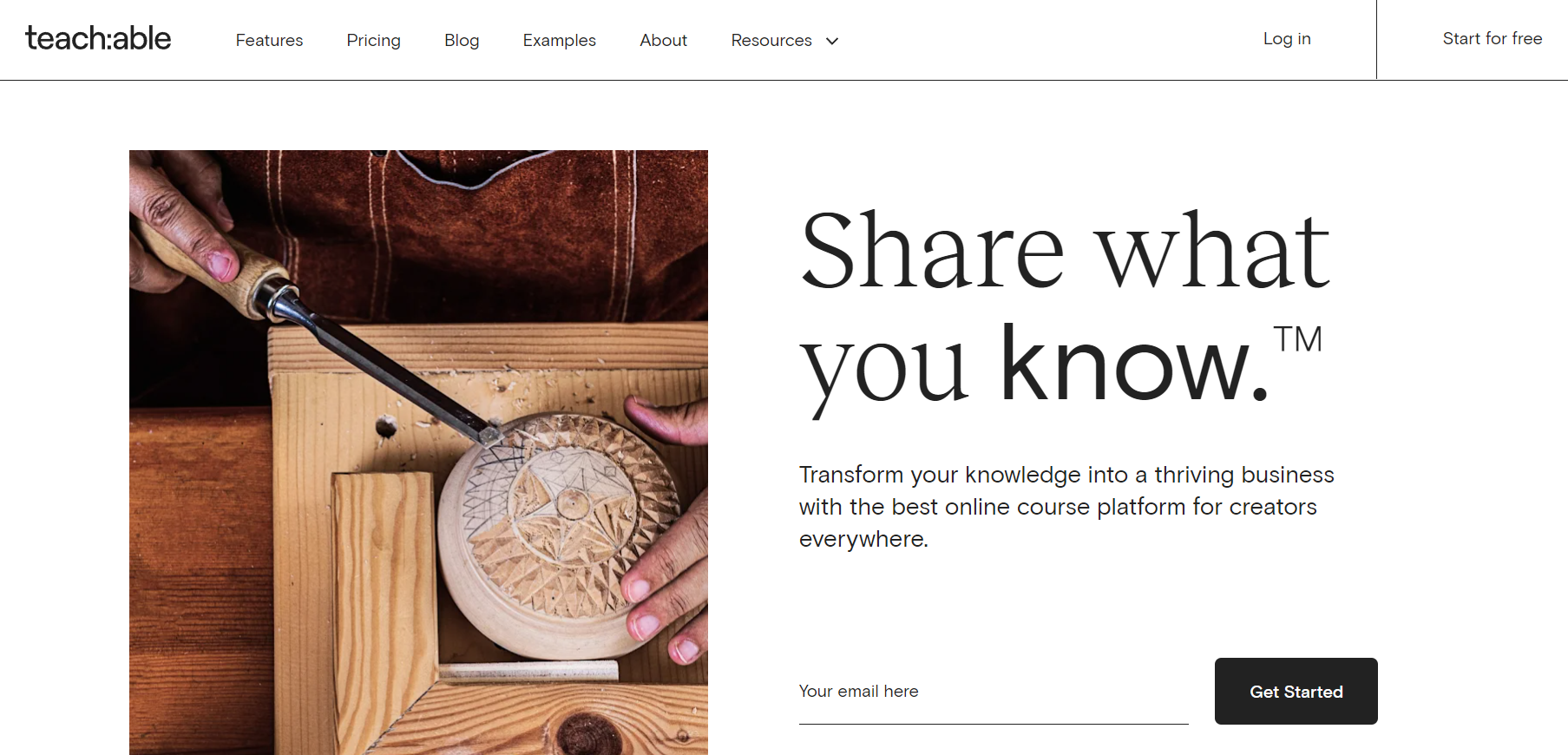 Teachable is an online course platform that allows instructors to create, market, and sell courses to their desired audience. The platform offers a variety of features and tools that allow users to design and develop high-quality, engaging courses with ease.
With Teachable, it's simple to share knowledge and monetize skills by creating high-quality educational resources.
Teachable is designed for anyone who has knowledge or expertise to share. It can be used by teachers, educators, authors, experts in any field, entrepreneurs, bloggers, or anyone else that has information they want to teach others.
It provides all the tools needed to create and launch an online course quickly and easily. Instructors are provided with a powerful suite of tools that make creating digital learning content fun and easy.
The Teachable platform allows instructors to customize their courses as much or as little as they'd like. It also offers rich multimedia capabilities such as video lecture slideshows, quizzes, polls, assignments, and more.
Furthermore, the ability to upload documents enables instructors to make courses, even more, engaging for their students by providing supplementary materials for download such as study guides or worksheets.
In addition to the course creation tools available on the platform, Teachable also provides its users with several marketing tools which enable them to promote their programs effectively.
Features like automated emails help instructors reach out continually to their existing students while the integrated analytics dashboard allows them to track how each element of their program is performing in terms of engagement and conversions.
This helps instructors optimize both the content of their courses as well as how they promote them in order to maximize results.
Finally, Teachable makes it possible for instructors to monetize their courses with multiple payment options such as one-time purchases or subscription plans offered through various payment gateways including Stripe and PayPal integration.
In addition, instructors can also add discount codes so they can offer special discounts on certain products or services at will.
What is Skillshare?
Skillshare is an online learning platform that offers its members access to a wide range of classes in different disciplines. Members have the opportunity to learn from experienced professionals, hobbyists, and entrepreneurs who teach courses in topics such as business, entrepreneurship, technology, design, photography, health and wellness, lifestyle, and more.
It is an excellent platform for those looking to expand their skill set or explore new interests.
Skillshare classes are taught by authors and creators who use their expertise to provide students with step-by-step guidance on how to achieve real-world results. The platform also provides supportive community forums that allow people to discuss their projects and ask questions directly to instructors.
The courses are designed with the user in mind so they can be completed at your own pace — meaning you don't have to show up to a physical location or keep track of deadlines.
Plus, Skillshare offers mini-lessons called 'Class Projects' which allow learners to practice what they've learned right away. As an additional benefit, all classes feature detailed video lectures delivered by top industry professionals as well as downloadable resources such as templates and exercises.
Skillshare also has premium subscription plans that give you access to more classes than ever before – from the comfort of your home! With the Premium Plan, you get unlimited access to thousands of curated videos and class projects from expert teachers around the world – perfect for learners who want to master a subject quickly or go deeper into their studies at any time.
In addition to its online platform for course delivery, Skillshare also provides opportunities for teachers interested in teaching through the platform.
They offer workshops for instructors on how best to utilize Skillshare's tools; provide resources on marketing tactics; and facilitate conversations between teachers so they can share best practices or collaborate on projects together.
They also help promote courses by connecting them with potential buyers through social media channels like Facebook and Twitter.
Teachable vs Skillshare
In today's digital age, the internet has opened doors to all sorts of new possibilities. People from all walks of life have access to an unprecedented amount of information and resources to learn about anything.
This has provided a great opportunity for educators to reach more students than ever before, and two popular learning platforms have capitalized on this potential: Teachable and Skillshare.
Both offer courses on a variety of topics, but they differ in several significant ways. In this article, we'll take a comprehensive look at both platforms and compare them in terms of features and benefits, cost structure, and user experience.
Features & Benefits
When it comes to features and benefits, Teachable has a slight edge over Skillshare. Teachable offers tools that make it easier for teachers to create professional-looking courses quickly.
It also provides users with features like course analytics, payment processing solutions, membership plans, and marketing tools – such as automated emails – making it easier for teachers to manage their business operations.
Furthermore, Teachable allows teachers to set up quizzes or assignments for their students so they can track their progress throughout the course.
Skillshare also offers many useful features that make it attractive for aspiring instructors looking for an easy way to launch their own teaching business.
Users can easily upload or create content for their courses using the platform's straightforward interface; however, unlike Teachable, there are no advanced analytics tools available unless paid memberships are purchased.
Additionally, while Skillshare does offer some promotional materials – including email campaigns – they aren't nearly as robust as those offered by Teachable.
Cost Structure
When it comes to cost structure, both platforms are fairly similar in terms of pricing models but differ when it comes to certain details like transaction fees; however overall they're both reasonably priced options when compared with other online learning platforms on the market today.
On Teachable users can choose between monthly subscriptions (starting at $19/month) or one-time payments (starting at $99). While there is a 3% per transaction fee associated with payments processed through the platform itself, users can avoid this fee if they choose an alternative payment processor like Stripe or PayPal instead (at least if paying via subscription).
Meanwhile Skillshare charges no setup fees or transaction fees regardless which payment processor is used; however there is only one option available: monthly membership plans starting at $9/month or $99/year for individuals who want access to all courses offered on the platform.
User Experience
Both platforms provide excellent learning experiences for students; however, there are key differences between them when it comes to user experience offered by each platform's instructor community and course catalogs respectively.
For starters, both feature comprehensive libraries of self-paced instruction materials created by instructors within each respective platform's community.
However, due to its larger instructor base – more than 35K compared with 4K instructors on Skillshare – Teachable offers more diverse opportunities when it comes down to which topics you'd like to pursue further your educational goals whether you're looking into coding web applications or brush up your knowledge on photography fundamentals among others.
Similarly, while both offer discussion forums enabling peers studying the same courses to exchange insights thereby facilitating a collaborative learning environment this is much better developed within teachable where teachers can respond directly to student questions allowing faster resolution of issues and facilitating a faster learning curve.
In conclusion both Teachable a skill share make great options depending on what type of educational resources you need access to, However, comparing features benefits cost structure user experience teachable ultimately looks like a better choice for those looking to launch the teaching business well-taking advantage of comprehensive library self-paced instruction materials.
Quick Links
Conclusion: Teachable vs Skillshare — Which One Is The Best In 2023?
If you want to learn online, there are many options available. Two of the most popular platforms are Teachable and Skillshare. Both have their pros and cons, so it ultimately comes down to personal preference.
What matters most is that you find a platform that offers courses on topics you're interested in and that fits your learning style. With so many choices out there, there's no excuse not to start learning today!