As marketers, it is becoming increasingly important to understand how to measure the results of your mobile ad campaigns. Doing so can help you determine which strategies work and which don't, allowing you to make adjustments moving forward.
To do this effectively, however, having a strong understanding of the relevant analytics tools can be extremely useful. In this blog post, we will explore some of the top mobile ad analytics options available today, as well as their uses and benefits for making informed decisions about your marketing efforts. Keep reading to find out more!
Top Mobile Ad Analytics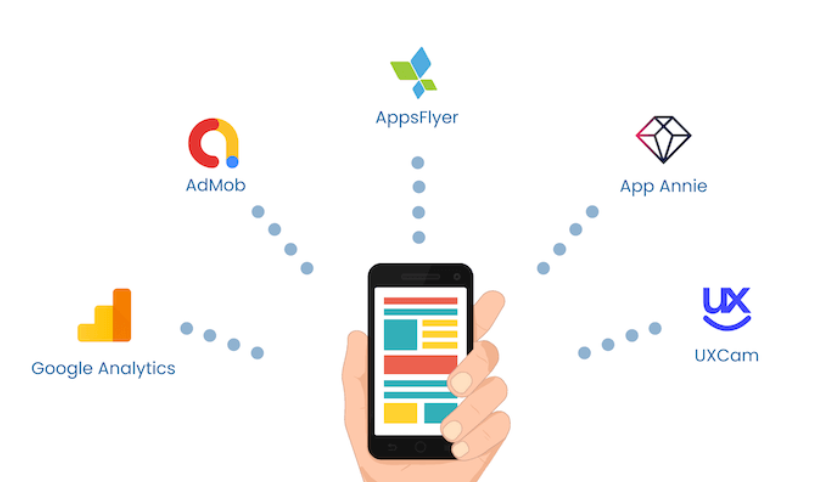 Mobile-first is the new reality. With mobile search and connected devices driving consumer behavior, companies are looking for ways to measure their ad performance and make data-driven decisions.
Mobile Ad Analytics provide insights into user actions and can help marketers understand how users interact with their ads. In this article, we'll discuss why businesses should use mobile ad analytics, what types of metrics are tracked, and the best tools to use for mobile ad analytics.
The rise of mobile applications has changed the way that people consume media. According to Statista, over 2 billion people used a smartphone in 2020 and this number is expected to grow over 5 billion by 2025.
This rapid increase in usage makes it necessary for businesses to optimize their campaigns for mobile devices if they want to remain competitive in today's digital landscape.
That's where Mobile Ad Analytics come in – they track user interactions, such as impressions, clicks, installs, and conversions – so marketers can gain an understanding of how their campaigns are performing on different devices.
The first step in using Mobile Ad Analytics is setting up objectives so you know what you're measuring. Common objectives include increasing brand awareness or driving more leads or sales, but there are many other options too.
Once you have your goals set up you can begin tracking key metrics that will provide insights into user interactions with your app or website. Metrics typically tracked include impressions (how many times your advertisement was seen), clicks (how often users clicked on the ad), installs (how many times the app was downloaded) and conversions (how often users completed a desired action after seeing or clicking on the ad). By tracking these metrics you can gain an understanding of which ads are performing well and which ones need improvement.
Now that you know what types of metrics you need to track let's look at some of the top tools available for measuring mobile ad analytics: Google Analytics, MixPanel, Adjust App Tracking Solutions and Kochava Collective Intelligence Platform are all popular choices among businesses looking to analyze their data from multiple sources including web traffic and apps.
Each tool provides different features depending on your goals: Google Analytics offers detailed reports about visitor behavior; MixPanel helps measure campaign effectiveness; Adjust App Tracking Solutions analyzes user journeys; whereas Kochava Collective Intelligence Platform allows advertisers to access more granular data from across multiple channels like websites, emails and apps.
In addition to these platforms there are also standalone services like Apple Search Ads which allow marketers to monitor keyword performance for iOS apps as well as manage bidding strategies based on budget constraints or audience demographics data generated from iTunes Connect.
Lastly, Amazon Advertising lets businesses target customers who show interest in products related to theirs via automated targeting options like product selection recommendations or custom audiences created with existing customer lists.
Overall Mobile Ad Analytics provide valuable insights into user interactions with online advertisements so marketers can make better informed decisions when it comes time to launch future campaigns or adjust existing ones.
By taking advantage of these various platforms businesses can gain access to detailed real-time reports which allow them to measure success quickly while making adjustments accordingly if needed – ultimately leading them towards long-term success through higher ROI rates than traditional advertising methods could achieve alone.
Top Mobile Ad Analytics Key Features
Mobile ads are the way of the future when it comes to digital marketing. They allow businesses to reach customers on their smartphones, tablets, and other mobile devices through a variety of platforms including apps, websites, and social media. But in order for mobile campaigns to be successful, marketers need an effective way to measure and analyze their ads' performance. That's where mobile ad analytics come in.
Ad analytics provide deep insights into how users interact with an app or website—information that is essential for informed decision-making and optimization of campaigns. However, there are many features that make up mobile ad analytics, and understanding which ones are most important can help you get the most out of your campaigns. Here are some of the top features you should look for when selecting an ad analytics platform:
1. Ad Performance Metrics – Mobile ad analytics help track key performance metrics such as clicks, impressions, conversions, return on investment (ROI), cost per click (CPC), cost per thousand impressions (CPM), viewability rate, and more. This data provides valuable insight into how well your ads are performing and which ones need improvement. It also helps marketers identify trends in user behavior so they can adjust their strategies accordingly.
2. Audience Insights – Audience insights give marketers a better understanding of who is engaging with their ads by providing information about gender, age group, location, device type and OS version. This enables them to tailor their content to better target specific groups of users or optimize campaigns for different platforms or devices if needed.
3. Custom Segmentation – Advanced mobile ad analytics platforms offer custom segmentation capabilities that let you dive deeper into user data by creating personalized segments based on any combination of demographic or behavioral criteria you define—such as location or frequency of use—for more granular audience insights. This lets you tailor your content even further and determine how specific segmented audiences respond to your ads so you can refine them accordingly.
4. Cohort Analysis – A cohort analysis provides visibility into user retention over time by tracking cohorts—defined groups that share certain characteristics such as signup date—over extended periods of time so you can assess user engagement levels within those cohorts and compare results between different cohorts for comparison purposes. This helps marketers understand how often users interact with their app or website after completing certain actions like signing up for an account or making a purchase decision so they can tailor their content accordingly for increased engagement levels over time.
5. Fraud Detection – No marketer wants to waste money on a fraudulent activity that doesn't lead to any real conversions; fortunately many mobile ad analytics tools include fraud detection capabilities that help detect suspicious activity such as bots and invalid traffic patterns before they cause serious losses down the line. This ensures you're only investing in legitimate sources that actually bring in real results without wasting any budget on fraudulent activity.
Overall, having access to detailed mobile ad analytics is essential for understanding how users engage with your content across all channels so you can run more effective campaigns for maximum ROI.
With the right metrics, insights, segmentation capabilities, cohort analysis tools, and fraud detection systems available, businesses have everything they need to make informed decisions about their campaigns from start to finish.
By selecting a comprehensive platform with these key features, organizations can ensure they're getting the most out of their investments while obtaining valuable data points that drive informed decision-making across all departments.
Quick Links
Conclusion: Top Mobile Ad Analytics 2023 Best New Thorough Guide
No matter what type of mobile app you have, it's important to track user behavior and attribute it to specific channels and campaigns. Doing so will give you a clear idea of which tactics are working and where you need to improve.
The good news is that there are plenty of great tools out there to help you do just that. In this article, we highlighted some of the top mobile ad analytics platforms available. Have you tried any of these? Let us know in the comments below!