OCR, which stands for "Optical Character Recognition," is finding a variety of applications, such as scanning books and automating the processing of invoices. OCR software developed in the modern era is both quick and accurate, and it can extract data from scans that have an improper file format, photos of low quality, and even handwritten documents. 
The ability to extract data from documents is made possible by this technology, which paves the way for intelligent document processing.
Optical character recognition (OCR) is a method that uses optical character recognition software to digitize printed text. The market is currently flooded with a wide range of OCR software packages.
These applications have the potential to assist in converting paper documents into their digital equivalents. The question that needs to be answered is how you may choose the OCR solution that is best suitable for your business.
Here is a list of the Top 8 OCR software for your business that you can take into consideration if you are thinking about going paperless in your day-to-day business operations.
Let's get right down to business, shall we?
Top 8 OCR software for your business in 2023
OCR software is utilized to extract characters from scanned images and paper-based documents and transform them into digital text for the purposes of expediting the processing of information and optimizing the storage of electronic documents.
The most advanced OCR software available today is hosted in the cloud and can digitize a wide variety of document types in a matter of minutes.
The following is a list of the top ten OCR solutions that are available for your company:
1. Docsumo
A robust platform powered by AI that can automatically capture data, perform data extraction and processing and handle a wide variety of document kinds. In order to digitize documents and convert them into a variety of formats, Docsumo uses a combination of clever OCR, Artificial Intelligence, and Machine Learning algorithms.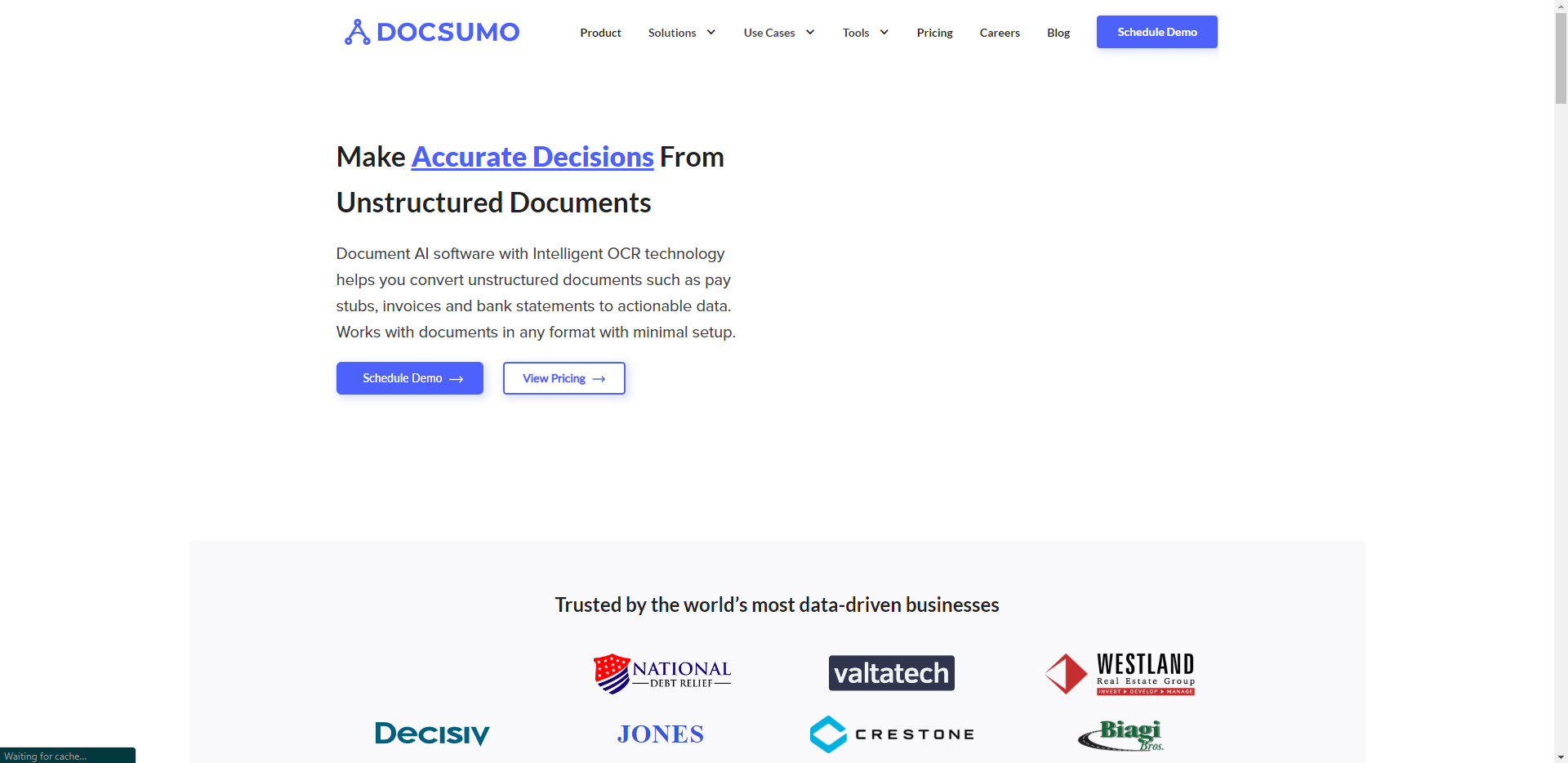 API models go through training to learn how to recognize various document layouts and extract data from those layouts. Users will be able to upload files in bulk, and once APIs get the hang of reading their favorite document kinds, they will not be required to manually review the uploaded files.
Pricing
Ask for pricing.
Pros
Customizable and automatable.

The customer support is excellent.

Integrates seamlessly with popular business systems.
Cons
There is a need for more detail in the API documentation.

Currently, it is still growing.
2. Adobe Acrobat Pro 
Documents can be processed from beginning to end using the Adobe Acrobat Pro DC, which features robust OCR technology. It uses Optical Character Recognition, or OCR, to transform scanned documents, PDFs, and other images into digitized documents that users can search and edit with ease.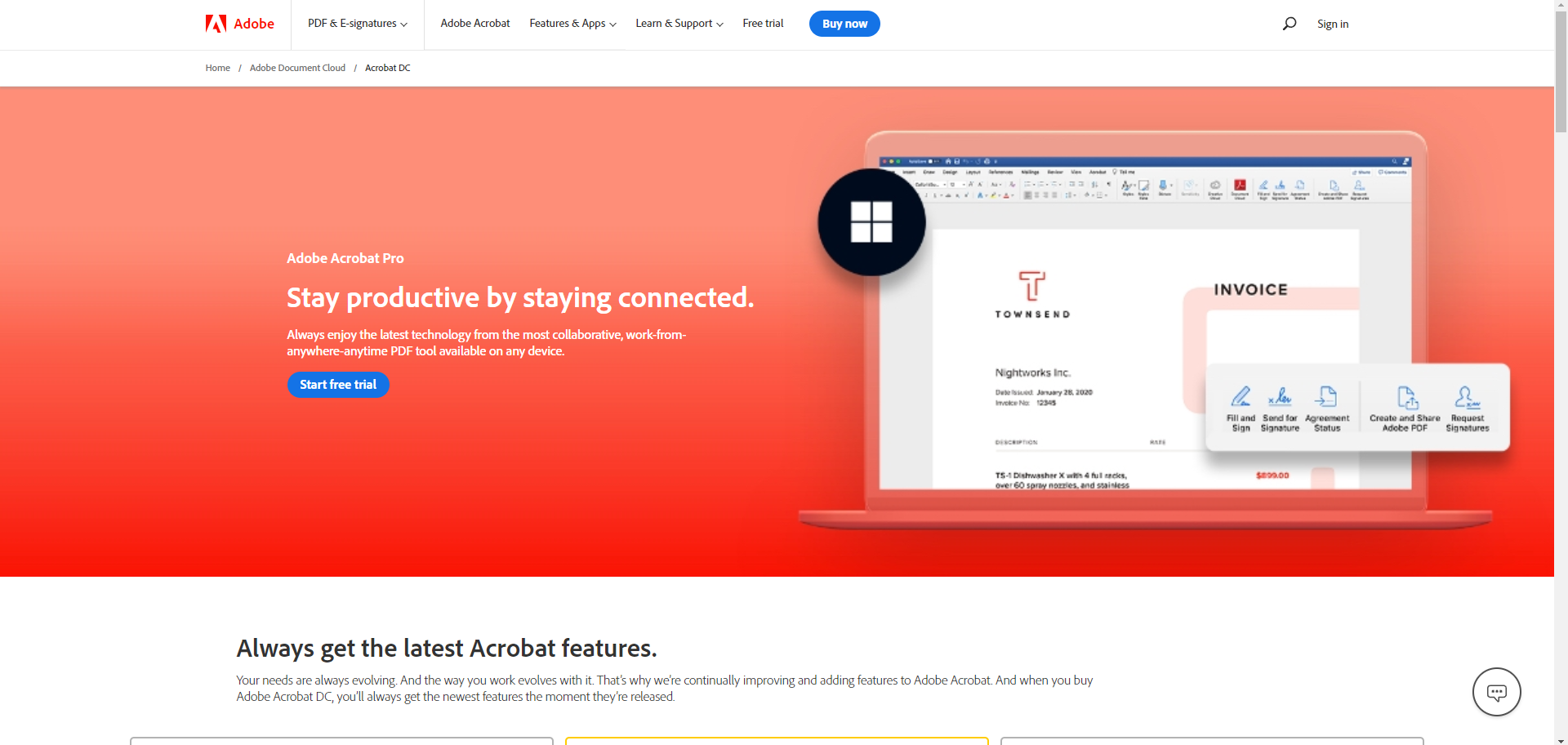 These digitized documents may be viewed online. The software was developed with the specific goal of meeting the needs of business professionals, and it is compatible with the operating systems used by both Windows and Mac computers.
Pricing
Although the app is free, it only offers standard document reading capabilities. From $1.95 per month, you can access additional functionalities, including OCR.
Pros
Brand value that is reliable.

Integrated with other Adobe suite solutions seamlessly.

Apps for mobile phones.
Cons
A premium is charged for advanced features.

Subscription package with recurring payments.
3. Rossum
Users of Rossum receive assistance with the organization, manipulation, and processing of all incoming documents. Processing bills is a very helpful application for the software. It uses artificial intelligence to scan and analyze a wide variety of file kinds, despite the fact that document layouts and formats might vary greatly from one another.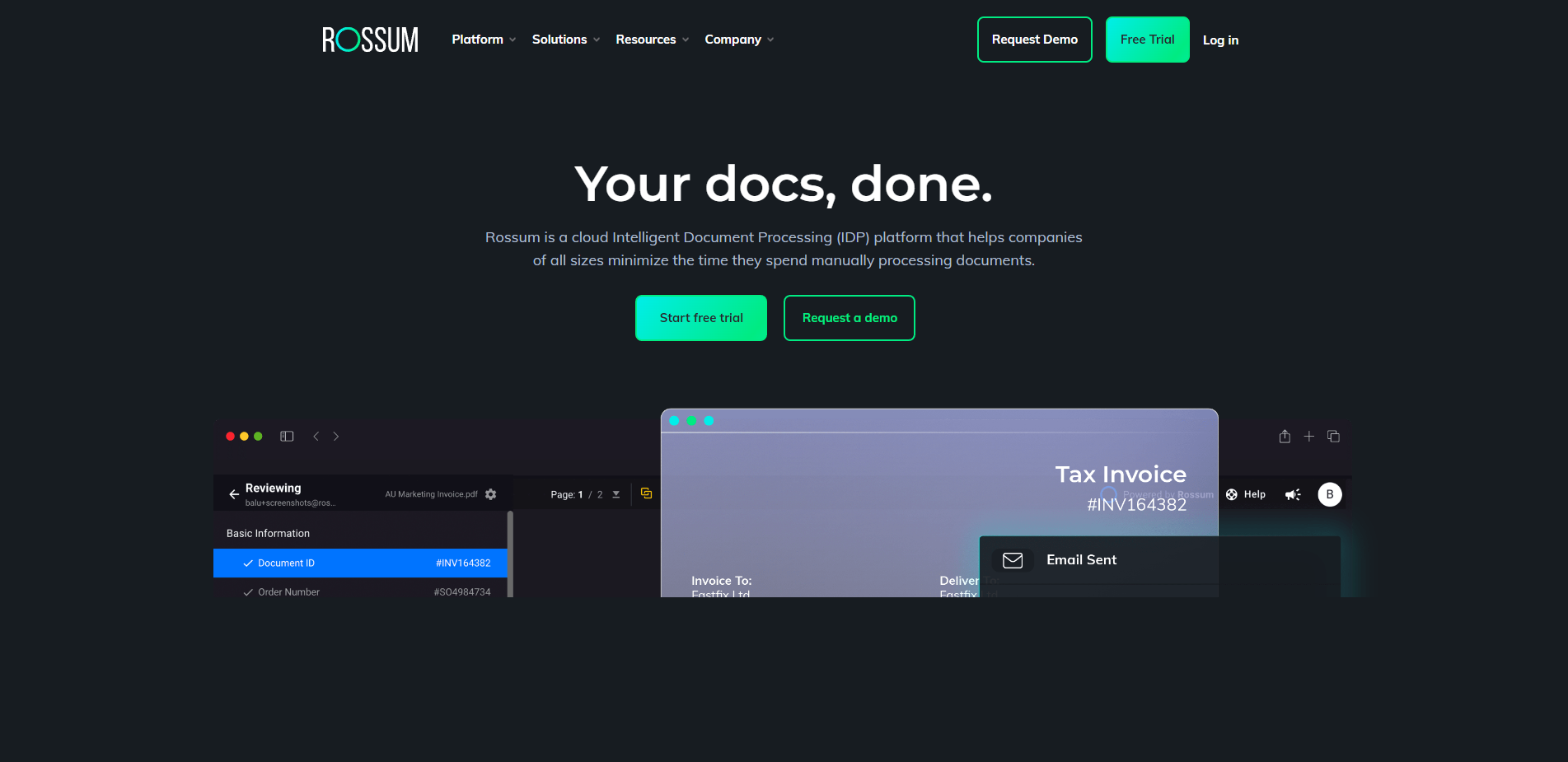 In addition, Rossum offers its customers the option of adding in-depth connectors and coding semantics and receiving automated confirmations, editing requests, and notifications regarding document conversions that are set to match the requirements of a business.
Pricing
You can try Rossum's free version as well as download it for free. For more information about their customized pricing, you can contact them.
Pros 
Extracting data using artificial intelligence.

The customer support is excellent.

The interface is easy to use.
Cons
There is a possibility of difficulty in integrating APIs.

Manual intervention is required for certain features.

An invoicing application that is primarily niche
4. Readiris
Readiris performs automatic conversion of scanned photos, paper documents, and PDF files into text that can be searched and edited. With Readiris, you can convert and manage all of your documents in one location with just a few clicks.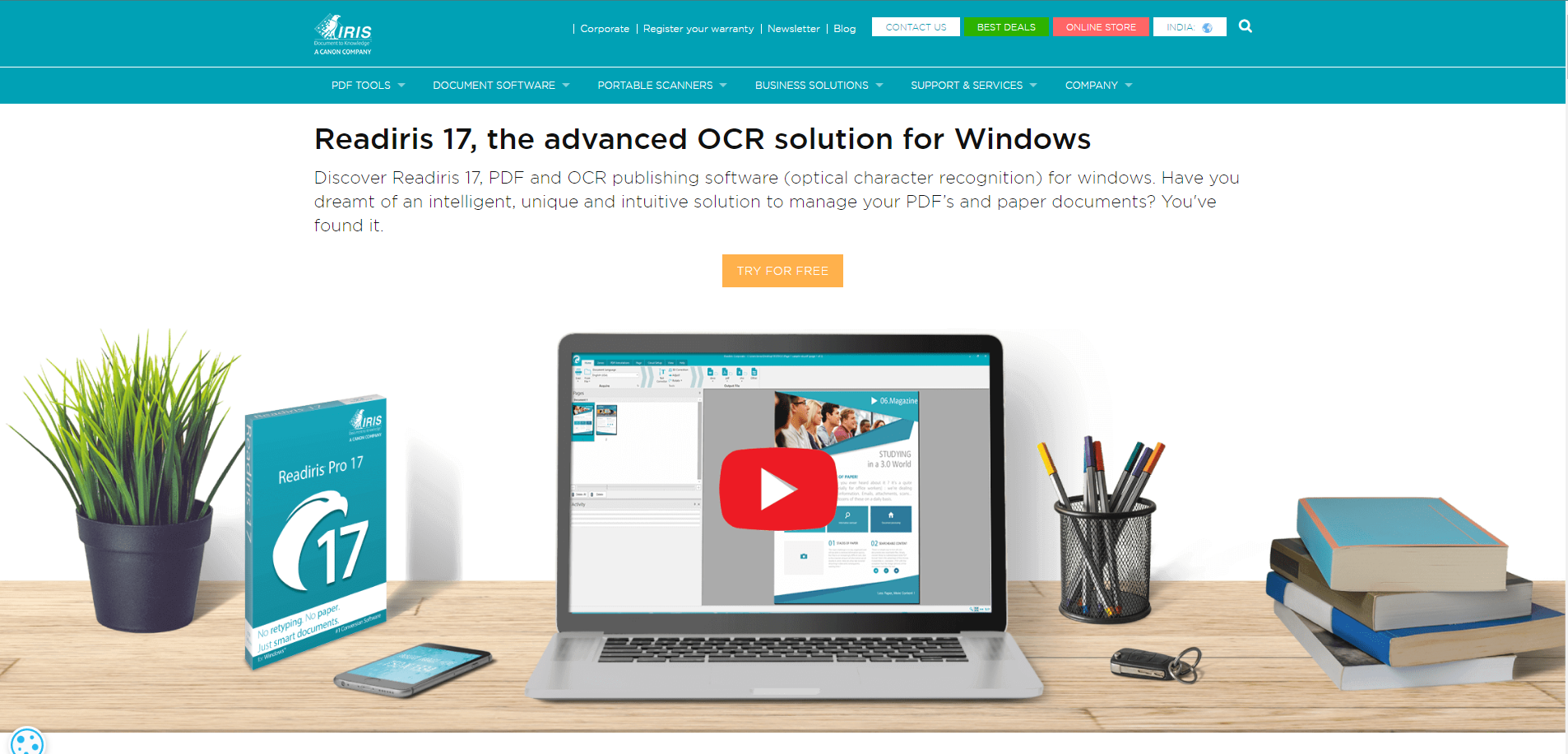 When it comes to converting documents between various file formats, it has the ability to sign papers, modify them, and combine them, and the conversion speed is extremely good. Users can additionally extract messages that are embedded in photographs utilizing the technique that it uses for clever OCR data gathering.
Pricing
Free trials and free versions are not available with Readiris. Each feature of the software costs $33.56 as a one-time payment.
Pros 
Parsing and reading speed is high.

A tidy user interface.

Accuracy is high.
Cons
Shortcuts on the keyboard are limited.

Plain text files have limited options.

The 'save to clipboard' option is not available.

It's expensive for the limited functionality it offers.
5. Docparser
The Zonal OCR technology utilized by Docparser makes it possible to recognize data and then extract it from documents that are image-based. In addition to its sophisticated picture preprocessing features, Docparser includes the ability to extract tabular data, define custom parsing rules, and intelligent filters.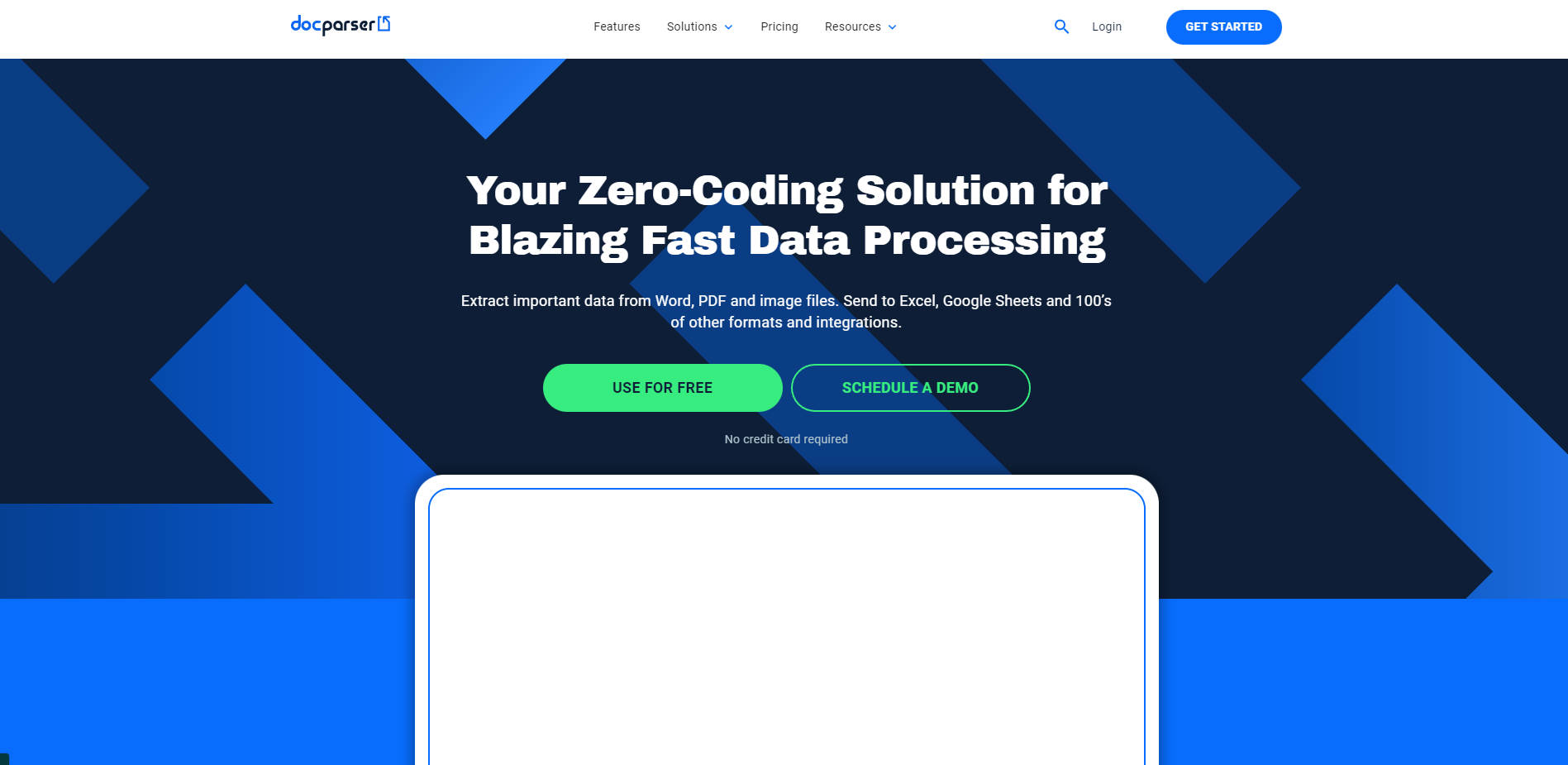 When viewing documents, users can take advantage of the technology that scans barcodes and QR codes, and they can also send documents that have been parsed to a variety of cloud applications directly from the platform.
Pricing
Free and trial versions of Docparser are available. Starting at $39 (Starter) and going up to $149 (Business), the pricing model depends on the features. For enterprise-grade requirements, you can get in touch with them.
Pros
Cloud-based service that is platform agnostic.

Pricing per page is affordable.

Templates for a variety of categories that are ready to use.
Cons
It does not have an auto-recharge feature.

Parsing rules that are complex can significantly increase parsing time
6. ABBYY Flexicapture
ABBYY Flexicapture comes equipped with sophisticated functions that enable users to scan images and PDF documents and convert the scanned data into various formats including text, tables, and more.
ABBYY Flexicapture enables businesses to reduce the need for manual data entry, redirect their attention to more fruitful activities, and automate a variety of administrative procedures. The software enhances productivity in digital workplaces by enabling users to scan, digitize, retrieve, modify, protect, collaborate, and share a wide variety of documents.
Additionally, it enables users to scan documents directly onto their computers.
Pricing
Pricing is available upon request
Pros
The user interface is intuitive and comprehensive, making it easy to use.

The content of tables can easily be reproduced.

Multilingual support is powerful.

Accuracy at its best.
Cons
It is necessary to license multiple users for multiple accesses.

It is not possible to merge multiple files into a single document using any tool.
7. OmniPage Ultimate by Kofax
Documents can be quickly and easily converted into versions that are editable, searchable, and shared with the assistance of OmniPage Ultimate. OmniPage makes it possible for business owners to easily digitize files while maintaining a high level of accuracy, and it streamlines document workflows for corporations.
It is possible to convert important business documents into forms that can be edited and then transmit those documents to pre-programmed business procedures. In addition to this, the OCR solution has the capability to route numerous files to any corporate network, regardless of whether or not it is public.
Pricing
A license for OmniPage Ultimate, which offers OCR functionality, costs $499 for up to two Windows OS computers.
Pros 
An intuitive user interface.

The engine that can be trained.

Automates the process.
Cons
Processing speeds are slow, causing the program to freeze and lag.

With low-resolution inputs, accuracy suffers.
8. Google Doc AI
Users are able to process a wide variety of documents using Google Doc AI. These documents can include PDFs, invoices, payment forms, and other file types. It does this by employing algorithms based on artificial intelligence, which results in more data accuracy and fewer manual human reviews being required.
With just a few clicks of the mouse, you may significantly reduce processing costs, guarantee legal compliance, and derive insights from a large number of documents in order to create superior experiences for your customers.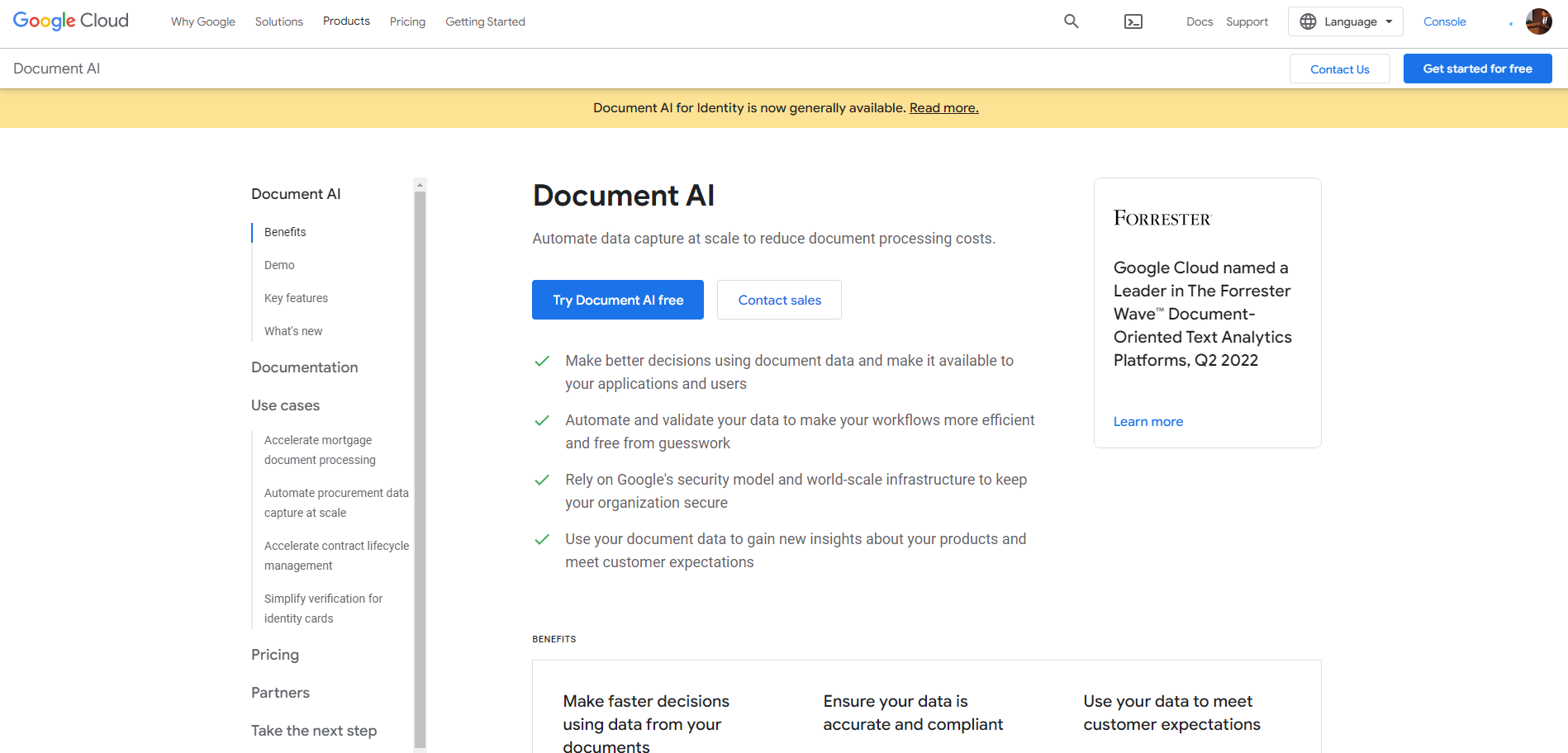 The program is capable of processing up to a billion documents per day, and the platform includes computer vision technology that enables users to interpret and scan information from scanned photos and unstructured words.
Users have the ability to add human reviews, conduct data validation, and make use of custom parsing features. All of these capabilities can help improve the accuracy of data extraction for AI models.
Pricing
The price for 1000 pages begins at $65
Pros 
Delivers high-quality insights from data and is easy to use with scaling capabilities

Reduces human error and automates manual documentation

With deep learning, it is able to recognize over 200 languages and provides multilingual support.

Cloud ecosystem integration is quick and simple.
Cons
The process of customizing existing APIs can be time-consuming and complex

To train the AI model, humans must constantly intervene
Advantages of OCR solutions for a business
OCR software designed for use in organizations is equipped with the capability of sifting through vast amounts of data and gleaning important information from it.
When it comes to the automation of fundamental business processes, such as managing document workflows, OCR for enterprises is utilized. This offers a number of advantages, including the following:
1. Improved productivity
The OCR program has the capability to pull data from a variety of sources, sort it, and arrange it. By employing these tools to automate data entry, employees can save the time and effort that would have been spent on manual processing.
2. Cuts operational Costs
When businesses use OCR solutions to process documents, they don't have to pay additional fees to make adjustments nor do they have to worry about making mistakes due to human error.
OCR technologies transform paper-based documents into their electronic equivalents, allowing users to reduce the amount of physical storage space they require and safely back up data using cloud computing.
By reducing expenses associated with the storage of physical documents, you can save money not just on shipping but also on printing, supply chain logistics, labeling, and other areas.
3. Superior data compliance and security 
During the process of sharing and transporting them, documents that are based on paper are susceptible to being stolen, lost, or damaged. In addition, they have problems with legal and regulatory compliance, which is another area that OCR solutions address, solving the problems of users who are concerned about the privacy and safety of their data.
Quick Links:
Final Thoughts- Top 8 OCR software for your business
Even documents that are not very easily readable by machines might have crucial information extracted from them with the help of a sophisticated OCR program. The storage, sharing, and altering of data are made exceedingly straightforward by these software tools.
You can use programs such as Microsoft Lens and SimpleOCR for basic usage; but, if you have specialized and professional needs, then specialist solutions such as Docsumo, Docparser or ABBY Flexicaptureare better appropriate for the task at hand.
Happy Exploring!